"Feeling lonely poems" have always been widely read for a reason. We want to express ourselves clearly and beautifully without sacrificing our emotions so we ultimately find our solace in poems.
"Feeling of Loneliness is an internal emotional experience." Personally, I believe poems are the most eligible conveyor of our feelings and emotions. Feeling lonely poems have been universally written and extensively read throughout the times.
"The feeling of loneliness found its solace in the hands of poems."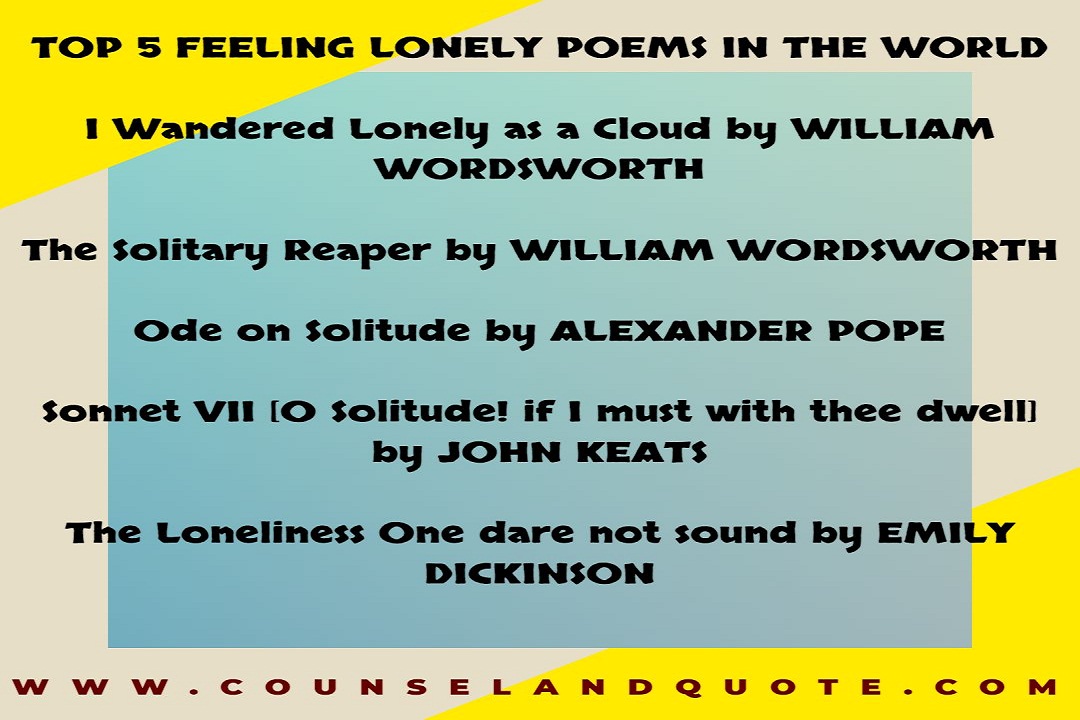 All over the time, we have some enormously brilliant poets across the globe penning their thoughts on loneliness. 
I have handpicked the top 5 feeling lonely poems of world-class poets under my umbrella. 
So, below I'll put down feeling lonely poems one-after-another with brief and precise details of the author.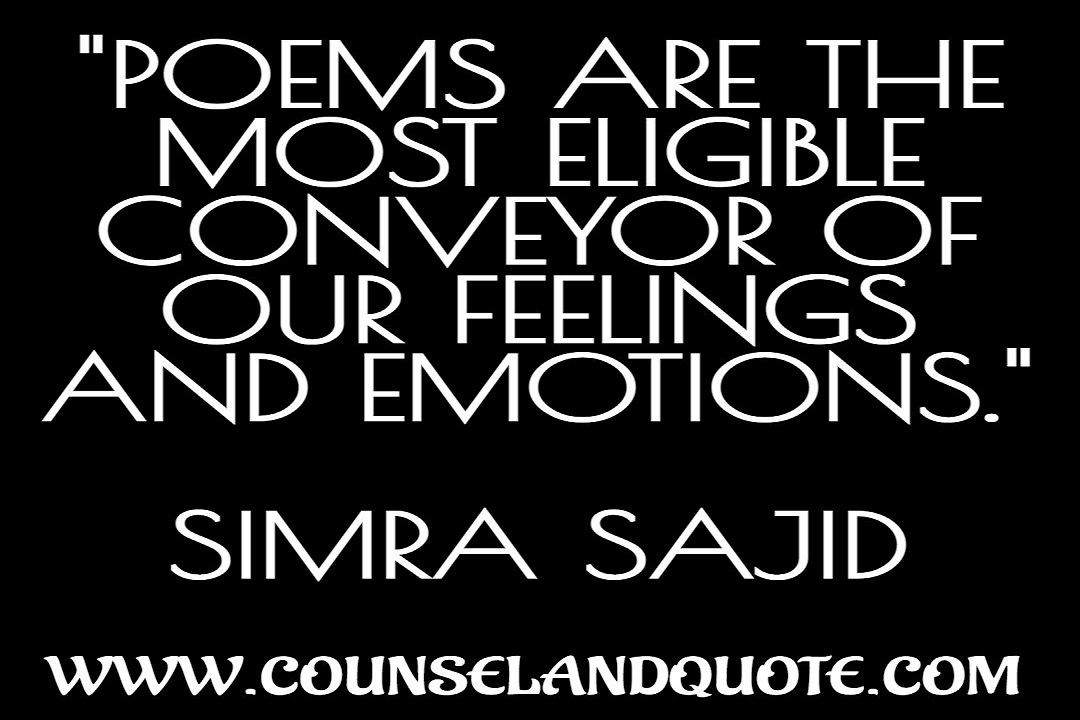 Come on! take a deep breath and, let's get started with the top 5 poems on loneliness. 
Top 5 Feeling Lonely Poems In The World
Top 5 Feeling Lonely Poems In The World
Under this category, I have picked 5 poems of the following poets.
"William Wordsworth, Alexander Pope, John Keats, Emily Dickinson." 
They all are well-acclaimed writers. Below we'll see the astounding gems of these talented poets.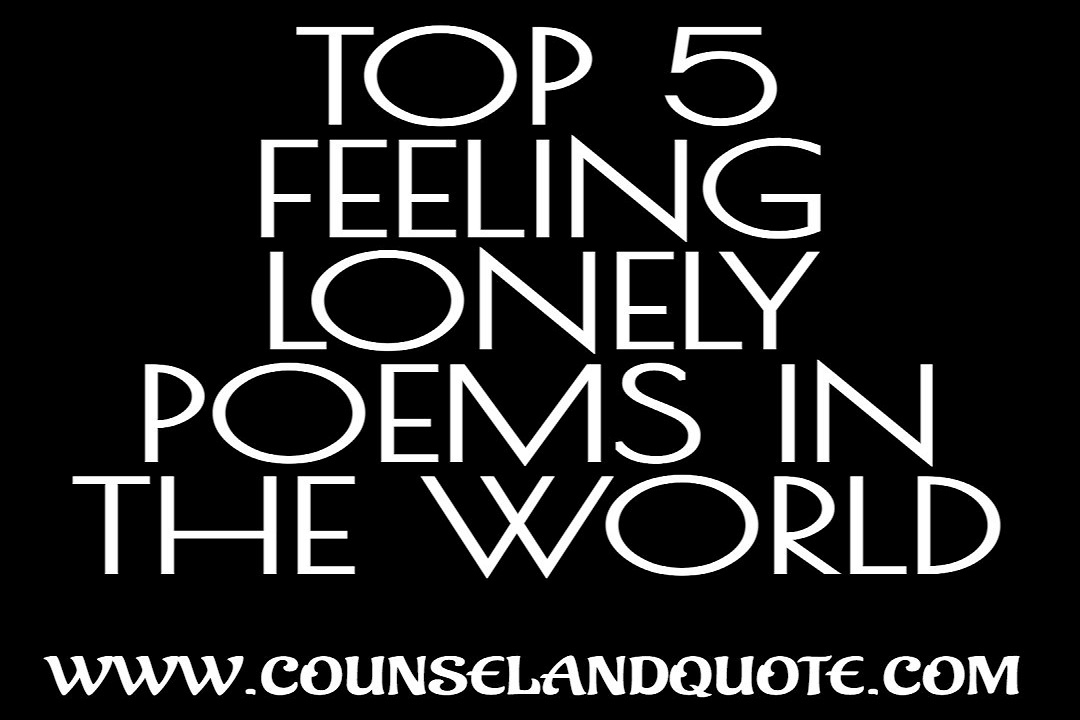 1 – I Wandered Lonely as a Cloud/Daffodils by WILLIAM WORDSWORTH
1 – I Wandered Lonely as a Cloud/Daffodils by WILLIAM WORDSWORTH
I wandered lonely as a cloud
That floats on high o'er vales and hills,
When all at once I saw a crowd,
A host, of golden daffodils;
Beside the lake, beneath the trees,
Fluttering and dancing in the breeze.
Continuous as the stars that shine
And twinkle on the milky way,
They stretched in never-ending line
Along the margin of a bay:
Ten thousand saw I at a glance,
Tossing their heads in sprightly dance.
The waves beside them danced; but they
Out-did the sparkling waves in glee:
A poet could not but be gay,
In such a jocund company:
I gazed—and gazed—but little thought
What wealth the show to me had brought:
For oft, when on my couch I lie
In vacant or in pensive mood,
They flash upon that inward eye
Which is the bliss of solitude;
And then my heart with pleasure fills,
And dances with the daffodils.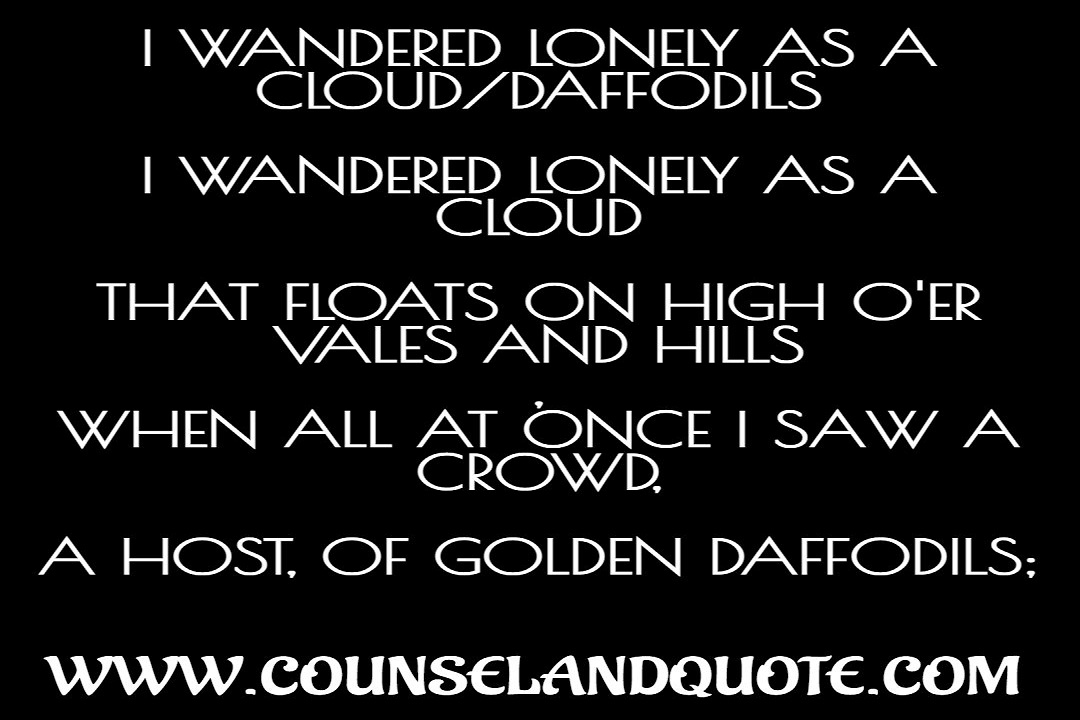 This poem was written in 1804 by Wordsworth's own account and it was first published in 1807 in Poems, in Two Volumes, and a revised version was published in 1815. 
The poem was inspired by an event on 15 April 1802 in which Wordsworth and his sister Dorothy came across a "long belt" of daffodils while wandering around Glencoyne Bay, Ullswater, in the Lake District.
The poem is commonly seen as a classic of English Romantic poetry.
2 – The Solitary Reaper by WILLIAM WORDSWORTH
2 – The Solitary Reaper by WILLIAM WORDSWORTH
Behold her, single in the field,
Yon solitary Highland Lass!
Reaping and singing by herself;
Stop here, or gently pass!
Alone she cuts and binds the grain,
And sings a melancholy strain;
O listen! for the Vale profound
Is overflowing with the sound.
No Nightingale did ever chaunt
More welcome notes to weary bands
Of travellers in some shady haunt,
Among Arabian sands:
A voice so thrilling ne'er was heard
In spring-time from the Cuckoo-bird,
Breaking the silence of the seas
Among the farthest Hebrides.
Will no one tell me what she sings?—
Perhaps the plaintive numbers flow
For old, unhappy, far-off things,
And battles long ago:
Or is it some more humble lay,
Familiar matter of to-day?
Some natural sorrow, loss, or pain,
That has been, and may be again?
Whate'er the theme, the Maiden sang
As if her song could have no ending;
I saw her singing at her work,
And o'er the sickle bending;—
I listened, motionless and still;
And, as I mounted up the hill,
The music in my heart I bore,
Long after it was heard no more.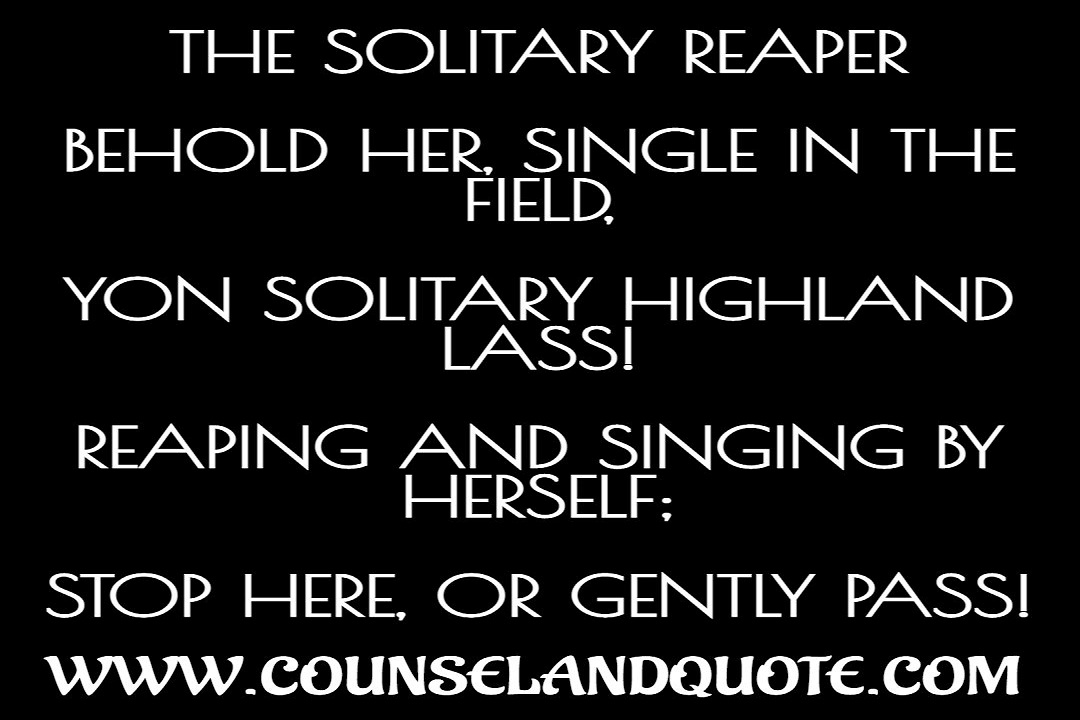 The solitary reaper is one of his best-known works. It is in the form of a ballad. The poem was inspired by him and his sister Dorothy's stay at the village of Strathyre in the parish of Balquhidder in Scotland in September 1803 and it was published in Poems, in Two Volumes in 1807.
About William Wordsworth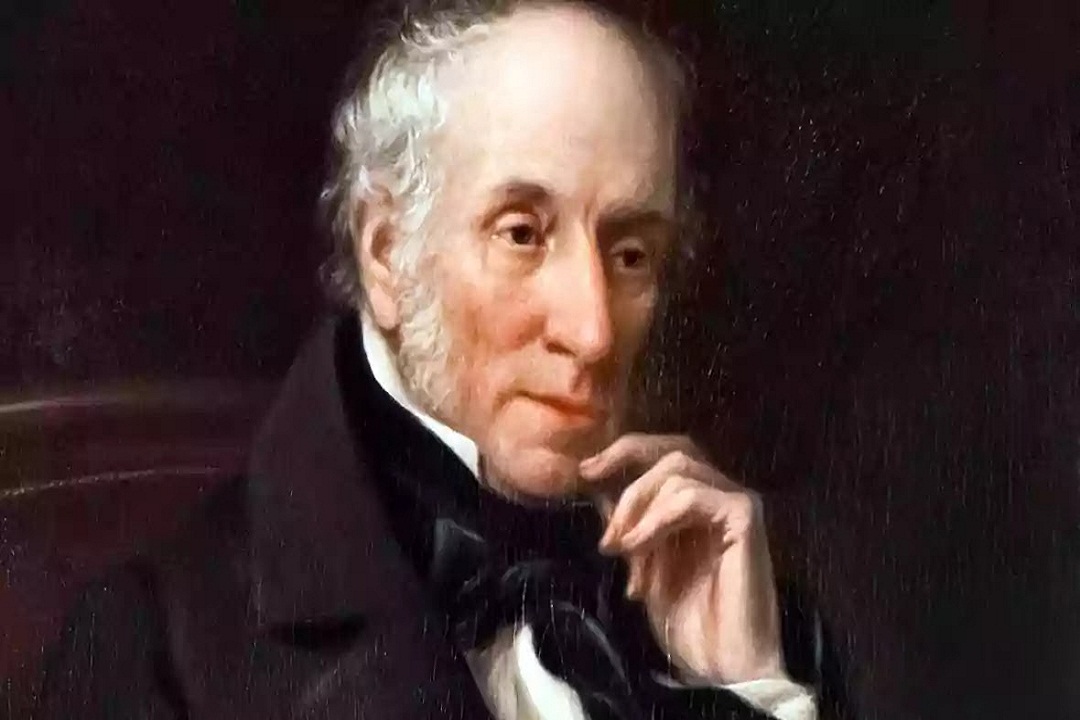 William Wordsworth
He was born on April 7, 1770, in what is now named Wordsworth House in Cockermouth, Cumberland, (now in Cumbria), part of the scenic region in northwestern England known as the Lake District.
Father – John Wordsworth (died when Wordsworth was 13)
Mother – Ann Cookson (died when Wordsworth was 7)
Sister – Dorothy Wordsworth
Brothers – Richard, John and Christopher Wordsworth
Nephew – John Wordsworth 
Great-great-grandson – Richard Wordsworth
Spouse – Mary Hutchinson 
Children – Dora Wordsworth
He completed his schooling from grammar school at Hawkshead, a village in the heart of the Lake District, and his further studies from St. John's College, Cambridge.
William Wordsworth was an English Poet. He along with Samuel Taylor Coleridge, helped launch the Romantic Age in English literature with their joint publication Lyrical Ballads (1798). Their partnership changed both poets' lives and alter the course of English poetry.
He became the Poet Laureate of the United Kingdom on 6 April 1843 and held his office until his death on 23 April 1850.
He had a love for nature which speaks through his work. He began to write poetry while he was at school, but none was published until 1793. His famous poem 'I Wandered Lonely as a Cloud' was written at Dove Cottage in 1804. 
His masterpiece was The Prelude, a semiautobiographical poem of his early years which he had worked on since 1798 and was published after his death.
1 – Resolution and Independence
2 – I Wandered Lonely as a Cloud also known as Daffodils
4 – Ode: Intimations of Immortality
5 – Ode to Duty
7 – Elegiac Stanzas
8 – Peter Bell 
9 – The Prelude
10 – Lucy Gray
11 – The Tables Turned
12 – Lines Composed A Few Miles above Tintern Abbey
 And there are more of his works that are not mentioned in this list.
He died at the age of 80 on 23 April 1850 from pleurisy in Rydal Mount, Westmorland, England. He was buried at St Oswald's Church, Grasmere.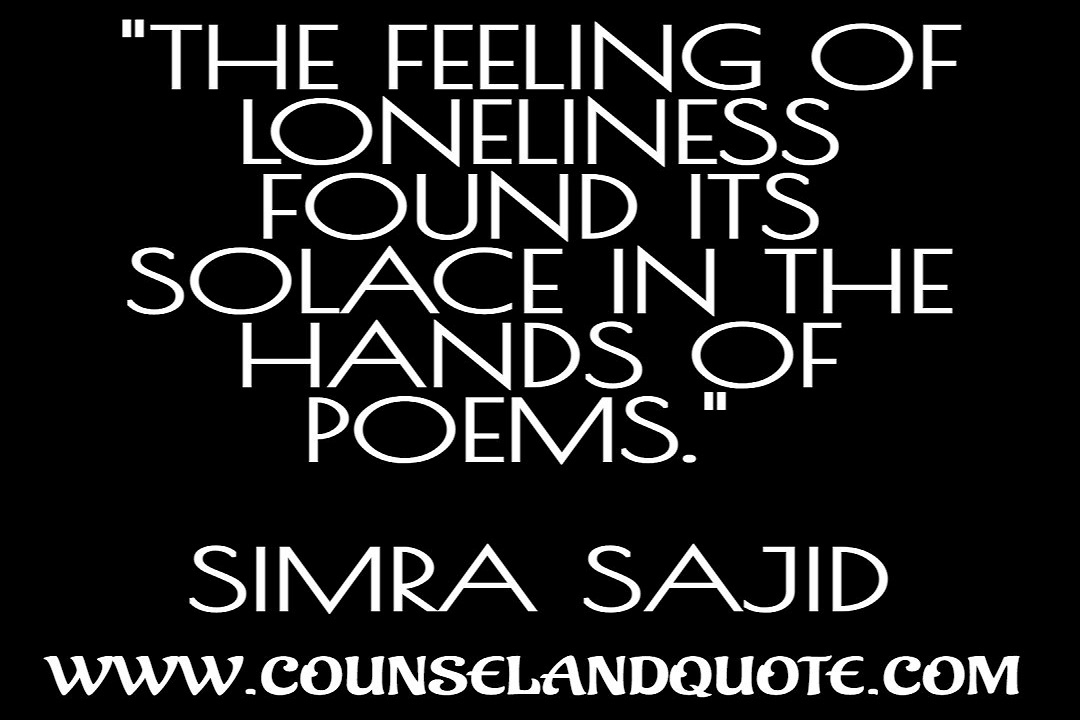 3 – Ode on Solitude by ALEXANDER POPE
3 – Ode on Solitude by ALEXANDER POPE
Happy the man, whose wish and care
A few paternal acres bound,
Content to breathe his native air,
In his own ground.
Whose herds with milk, whose fields with bread,
Whose flocks supply him with attire,
Whose trees in summer yield him shade,
In winter fire.
Blest, who can unconcernedly find
Hours, days, and years slide soft away,
In health of body, peace of mind,
Quiet by day,
Sound sleep by night; study and ease,
Together mixed; sweet recreation;
And innocence, which most does please,
With meditation.
Thus let me live, unseen, unknown;
Thus unlamented let me die;
Steal from the world, and not a stone
Tell where I lie.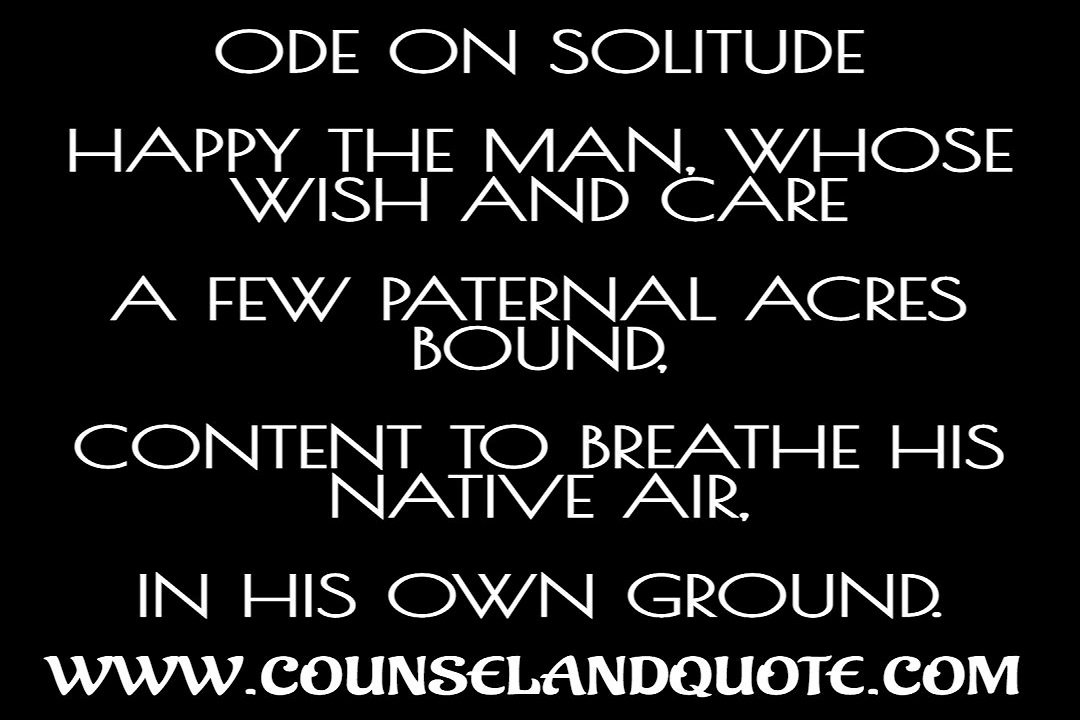 This poem was written when he was twelve years old and widely included in anthologies.
About Alexander Pope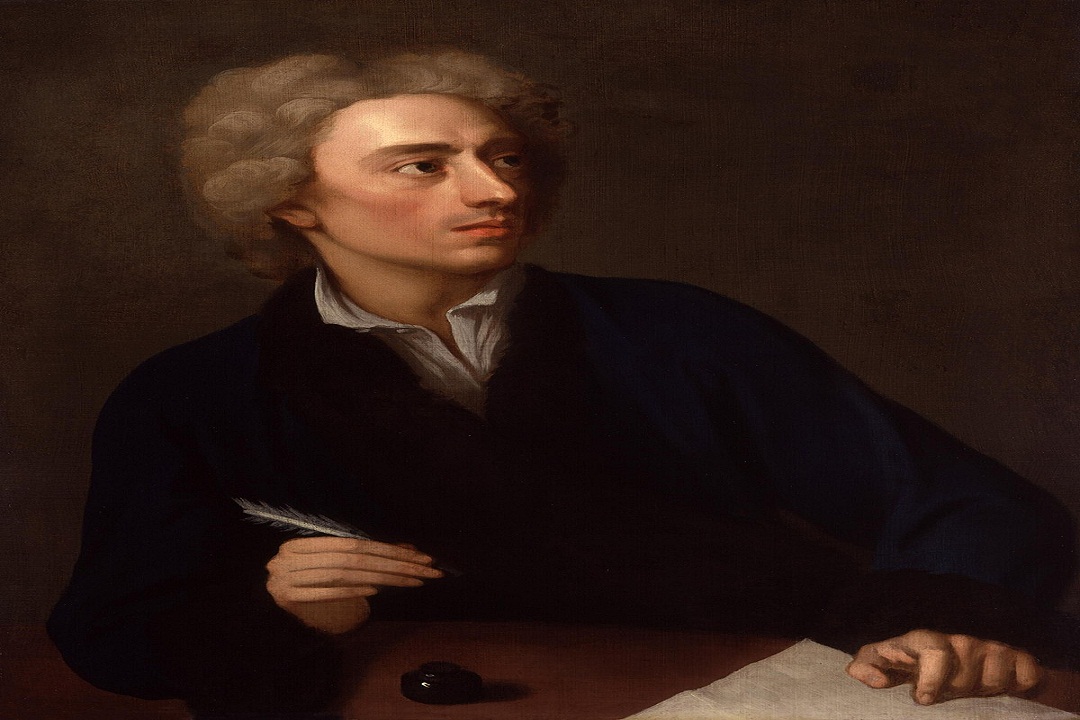 Alexander Pope 
Alexander Pope was born on May 21, 1688, in London, England. During the year of the Glorious Revolution.
Father – Alexander (1646–1717) was a successful linen merchant in the Strand.
Mother – Edith (1643–1733) 
Both of his parents were Catholics.
Pope's education was affected by the recently enacted Test Acts, which upheld the status of the established Church of England and banned Catholics from teaching, attending a university, voting, and holding public office on penalty of perpetual imprisonment. 
Pope was taught to read by his aunt and went to Twyford School in about 1698/99. He then went on to two Roman Catholic schools in London. Such schools, though still illegal, were tolerated in some areas.
Pope's formal education ended and from then on, he mostly educated himself by reading the works of classical writers such as the satirists Horace and Juvenal, the epic poet Homer and Virgil, as well as English authors such as Geoffrey Chaucer, William Shakespeare, and John Dryden. 
He studied many languages, reading works by French, Italian, Latin, and Greek poets.
Alexander Pope was an English poet, translator, and satirist of the Augustan period and one of its greatest artistic exponents. He is considered the foremost English poet of the early 18th century and a master of the heroic couplet. He is best known for satirical and discursive poetry. 
He is the second-most quoted author in The Oxford Dictionary of Quotations, some of his verses have entered common parlance (e.g. "to err is human; to forgive, divine").
After five years of study, Pope came into contact with figures from London literary society such as William Congreve, Samuel Garth, and William Trumbull.
He suffered numerous health problems, including Pott disease, a form of tuberculosis that affects the spine, leaving him with a severe hunchback.
Around 1711, Pope made friends with Tory writers Jonathan Swift, Thomas Parnell, and John Arbuthnot, who together formed the satirical Scriblerus Club. 
Thought Alexander Pope never married but it has been alleged that his lifelong friend Martha Blount was his lover.
3 – The Dunciad
4 – An Essay On Man
5 – Messiah
6 – Translation of the Odyssey
7 –  Moral Essays
8 – Ode on Solitude
9 – Elegy to the Memory of an Unfortunate Lady
10 – Peri Bathous, Or the Art of Sinking in Poetry
And there are more of his works that are not mentioned in this list.
He died on 30 May 1744 (aged 56) in Twickenham, Middlesex, England. His resting place was at St Mary's Church, Twickenham, Middlesex, England.
4 – Sonnet VII [O Solitude! if I must with thee dwell] by JOHN KEATS
4 – Sonnet VII [O Solitude! if I must with thee dwell] by JOHN KEATS
O Solitude! if I must with thee dwell,
Let it not be among the jumbled heap
Of murky buildings; climb with me the steep,—
Nature's observatory—whence the dell,
Its flowery slopes, its river's crystal swell,
May seem a span; let me thy vigils keep
'Mongst boughs pavillion'd, where the deer's swift
leap
Startles the wild bee from the fox-glove bell.
But though I'll gladly trace these scenes with thee,
Yet the sweet converse of an innocent mind,
Whose words are images of thoughts refin'd,
Is my soul's pleasure; and it sure must be
Almost the highest bliss of human-kind,
When to thy haunts two kindred spirits flee.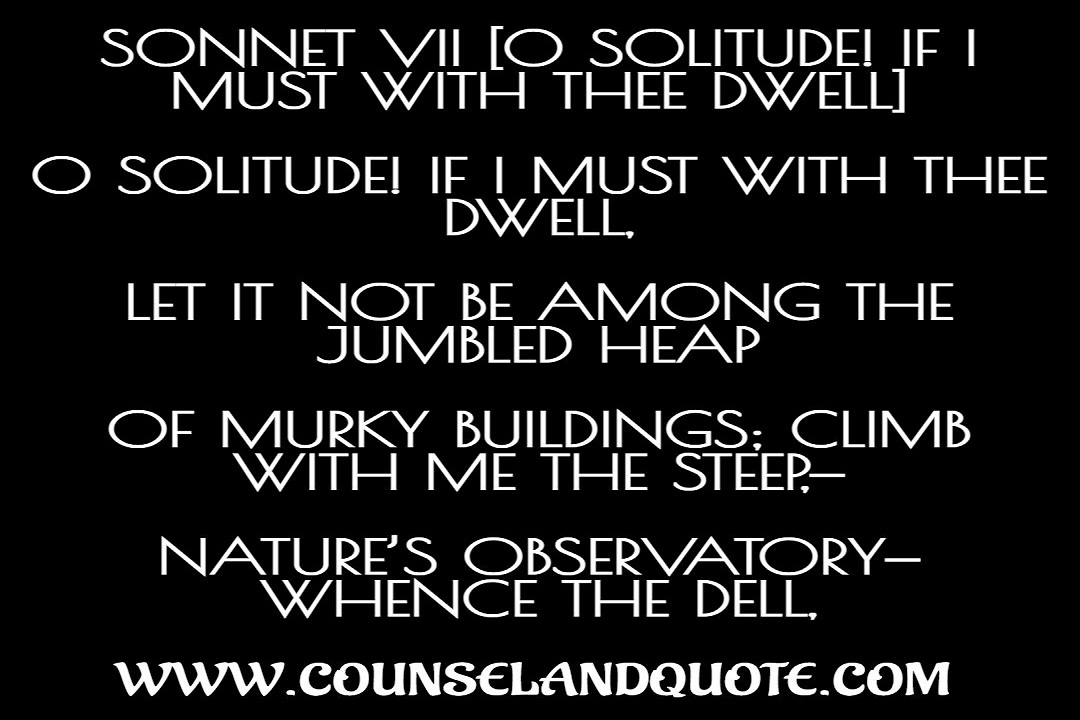 About John Keats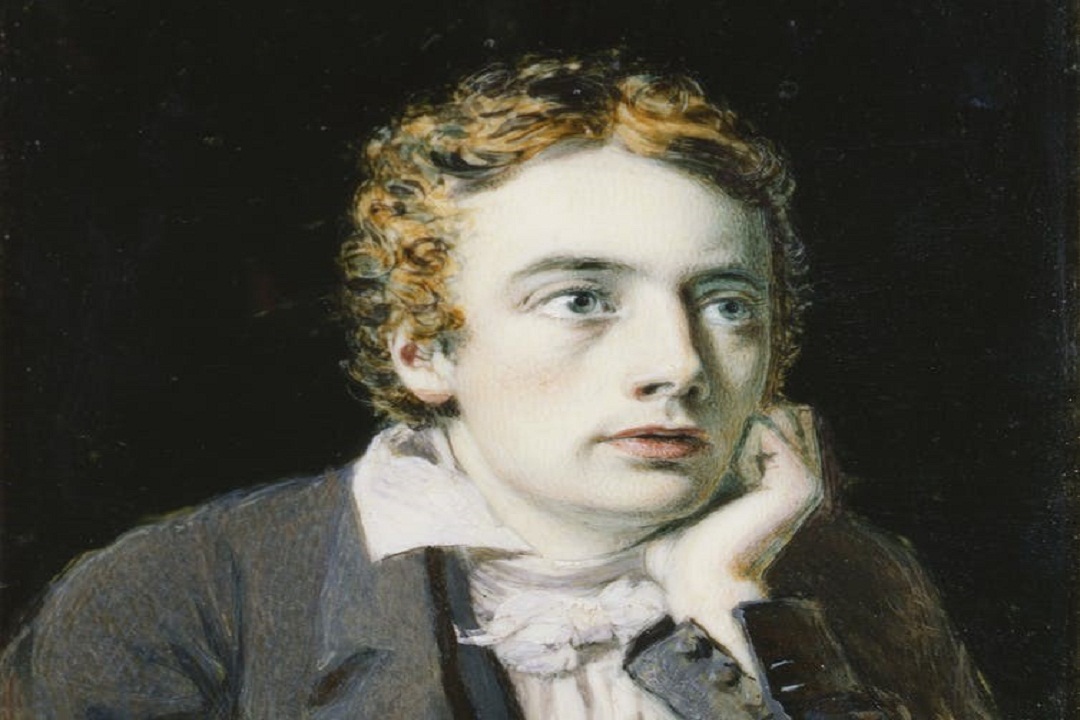 John Keats
John Keats was born on 31 October 1795 in Moorgate, London, England. There is little evidence of his exact birthplace. Although Keats and his family seem to have marked his birthday on 29 October, baptism records give the date as the 31st. 
Father – Thomas Keats (died from a skull fracture in April 1804)
Mother – Frances Keats (died of tuberculosis in March 1810)
Siblings – Frances Mary "Fanny" (1803–1889), Thomas Keats (1799–1818), and George Keats (1797–1841).
In the summer of 1803, John was sent to board at John Clarke's school in Enfield, close to his grandparents' house. The small school had a liberal outlook and a progressive curriculum more modern than the larger, more prestigious schools. 
In the family atmosphere at Clarke's, Keats developed an interest in classics and history, which would stay with him throughout his short life.
The headmaster's son, Charles Cowden Clarke, also became an important mentor and friend, introducing Keats to Renaissance literature, including Tasso, Spenser, and Chapman's translations.
John Keats was a British Poet prominent in the second generation of Romantic poets. Keats had a style "heavily loaded with sensualities", notably in the series of odes. 
Typical of the Romantics, he underlined extreme emotion with natural imagery. Today his poems and letters remain among the most popular and analyzed in English literature 
Money was always a big concern for him, as he struggled to stay out of debt and make his way in the world independently.
Keats's long and expensive medical training with Hammond and at Guy's Hospital led his family to assume he would pursue a lifelong career in medicine, assuring financial security, and Keats seems at that time to have a genuine desire to become a doctor.
However, Keats's training took up increasing amounts of his writing time and he became increasingly ambivalent about it. He felt he was facing a stark choice.
Strongly drawn by ambition, inspired by fellow poets such as Leigh Hunt and Lord Byron, and beleaguered by family financial crises, he suffered periods of depression. 
His brother George wrote that John "feared that he should never be a poet, & if he was not he would destroy himself."
In 1816, Keats received his apothecary's license, which made him eligible to practice as an apothecary, physician, and surgeon, but before the end of the year, he had informed his guardian that he resolved to be a poet, not a surgeon.
 His first poem, the sonnet O Solitude, appeared in the Examiner in May 1816, while his collection Lamia, Isabella, The Eve of St. Agnes, and other poems were published in July 1820 before his last visit to Rome. The compression of his poetic apprenticeship and maturity into so short a time is just one remarkable aspect of Keats's work.
3 – Sleep and Poetry
4 – On First Looking into Chapman's Homer
8 – After dark vapours have oppressed our plains 
9 – As from the darkening gloom a silver dove 
10 – Asleep! O sleep a little while, white pearl!
There are a lot more of his works untouched in this list.
In 1820 Keats displayed increasingly serious symptoms of tuberculosis, suffering two lung hemorrhages in the first few days of February.
John Keats died in Rome on 23 February 1821. His body was buried in the city's Protestant Cemetery.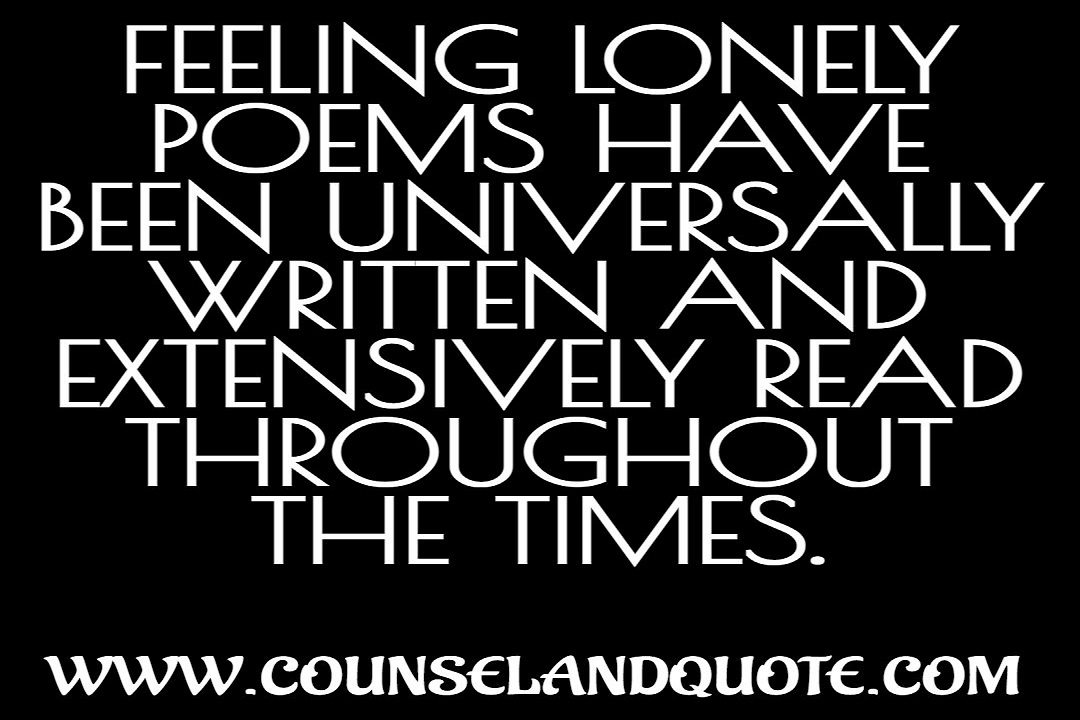 5 – The Loneliness One dare not sound by EMILY DICKINSON
5 – The Loneliness One dare not sound by EMILY DICKINSON
The Loneliness One dare not sound—
And would as soon surmise
As in its Grave go plumbing
To ascertain the size—
The Loneliness whose worst alarm
Is lest itself should see—
And perish from before itself
For just a scrutiny—
The Horror not to be surveyed—
But skirted in the Dark—
With Consciousness suspended—
And Being under Lock—
I fear me this—is Loneliness—
The Maker of the soul
Its Caverns and its Corridors
Illuminate—or seal—
About Emily Dickinson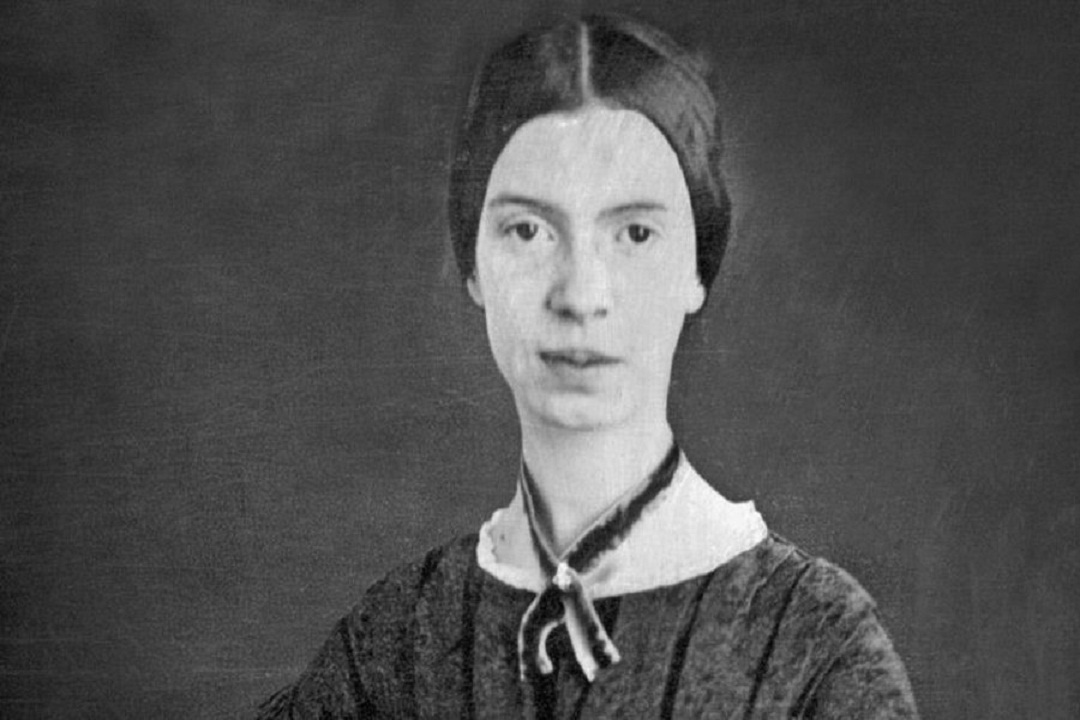 Emily Elizabeth Dickinson 
Emily Elizabeth Dickinson was born on December 10, 1830, into a prominent, but not wealthy family, at the family's homestead in Amherst, Massachusetts, U.S.
Father – Edward Dickinson
Mother – Emily Norcross Dickinson
Brother – William Austin Dickinson
Sister – Lavinia Norcross Dickinson
Sister-in-law – Susan Huntington Gilbert Dickinson
Paternal grandfather – Samuel Fowler Dickinson
Dickinson attended primary school in a two-story building on Pleasant Street. On September 7, 1840, Dickinson and her sister, Lavinia started together at Amherst Academy.
Dickinson began attending Mary Lyon's Mount Holyoke Female Seminary (which later became Mount Holyoke College) in South Hadley.
Emily Dickinson was an American poet. She has been regarded as one of the most important figures in American poetry. While Dickinson was a prolific writer, her only publications during her lifetime were 10 of her nearly 1,800 poems, and one letter.
Her poems were unique for her era. They contain short lines, typically lack titles, and often use slant rhyme as well as unconventional capitalization and punctuation.
Many of her poems deal with themes of death and immortality, two recurring topics in letters to her friends, and also explore aesthetics, society, nature, and spirituality.
 Her first collection of poetry was published in 1890 by personal acquaintances Thomas Wentworth Higginson and Mabel Loomis Todd.
Dickinson was familiar with not only the Bible but also contemporary popular literature. 
The first half of the 1860s, after she had largely withdrawn from social life, proved to be Dickinson's most productive writing period.
2 – A Burdock — clawed my Gown
3 – A Death blow is a Life blow to Some
4 – A Deed knocks first at Thought
Emily Dickinson has written tremendous poems these are just a few of them.
Emily Dickinson died on May 15, 1886 (aged 55) Amherst, Massachusetts, U.S.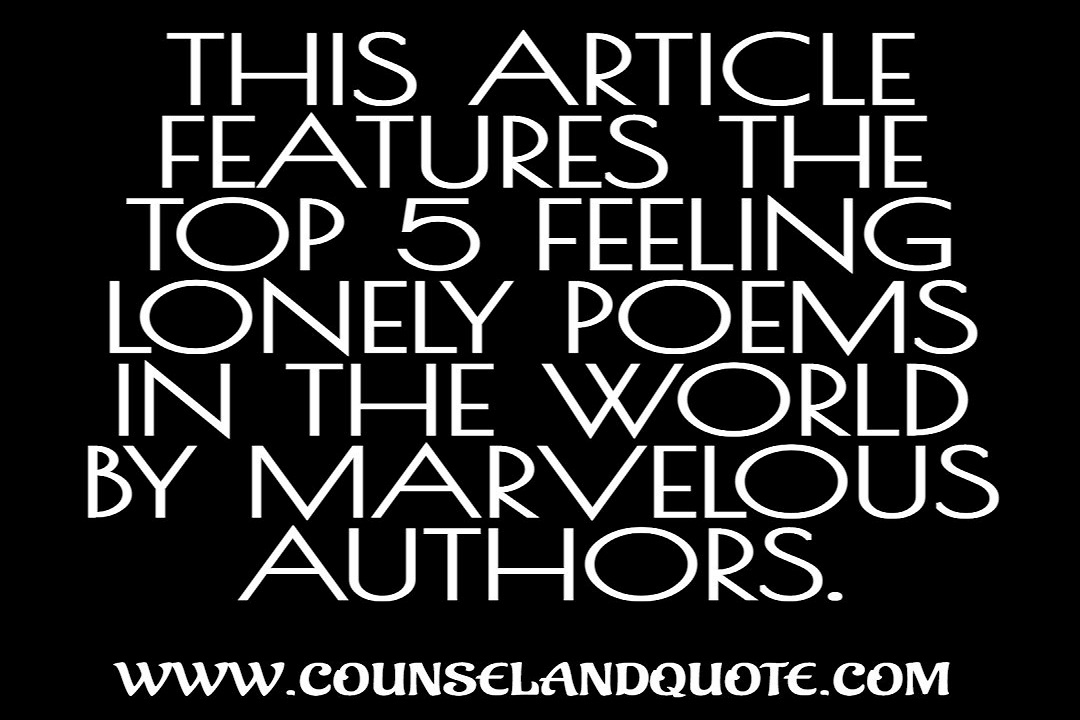 This article features the top 5 Feeling Lonely Poems In The World by marvelous authors. By far, I hope you have enjoyed the journey of reading, unraveling, and feeling the above poems.  
I suppose I have done my part with utmost sincerity of conveying loneliness through 5 feeling lonely poems of exceptional writers.
Kindly enlighten me of your recommendations if you find any to improve my work down in the comment box. Do tell me how do you find this piece and does it resonate with you? Kindly share this with all the lonely souls out there.
Thank You!