Khabib Nurmagomedov Training Motivation comes from his childhood upbringing.
A 9 years boy fighting with a bear gives us chill. But Khabib Nurmagomedov training begins with it. He enjoyed it and showed his courage and power.
Khabib Nurmagomedov is a retired mixed martial art (MMA) champion. He is a Russian athlete. He is widely regarded as one of the greatest fighters in UFC history.
Known for his dominant wrestling and ground-and-pound style, Khabib was undefeated in his professional career, with a record of 29-0. 
He was born on 20th September 1988 in the Tsumadinsky District of the Dagestan Republic.
It was a part of Soviet Russia. Khabib started his career in his home town.
Khabib Nurmagomedov Training begins when he was only 3 years old. His father had started training him formally for the bigger arena when he was only 9 years old.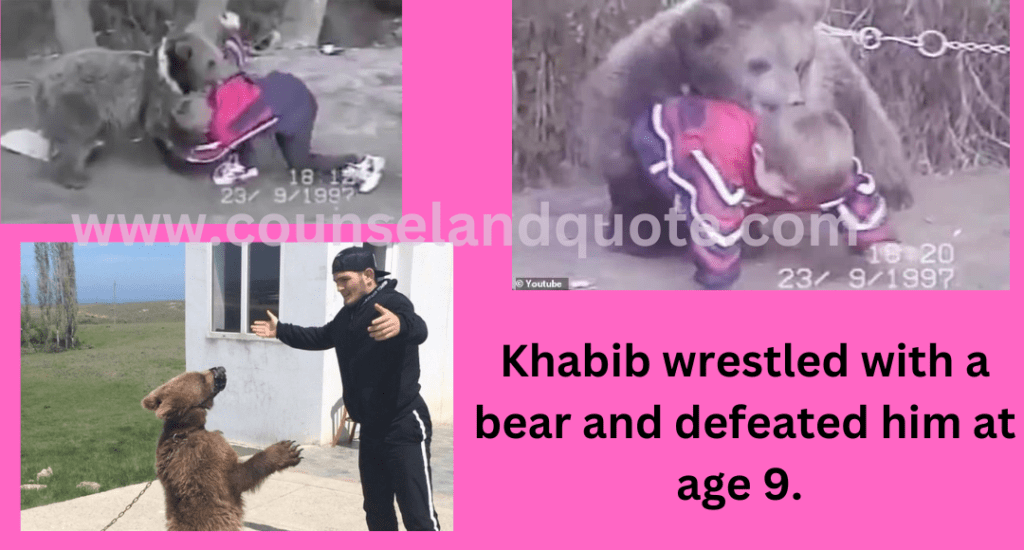 Khabib even wrestled with a bear and defeated him.
Khabib's training was rigorous and his training routine was tough. 
He also trained in public communication and mental toughness.
He developed all the skillsets required to become a lightweight MMA champion under his father's tutelage.
Khabib's father Abdulmanap Nurmagomedov was an athlete and a retired Soviet army officer. He had also wrestled in his younger days and was a professional wrestler. He was also a trained Judo master and Sambo master.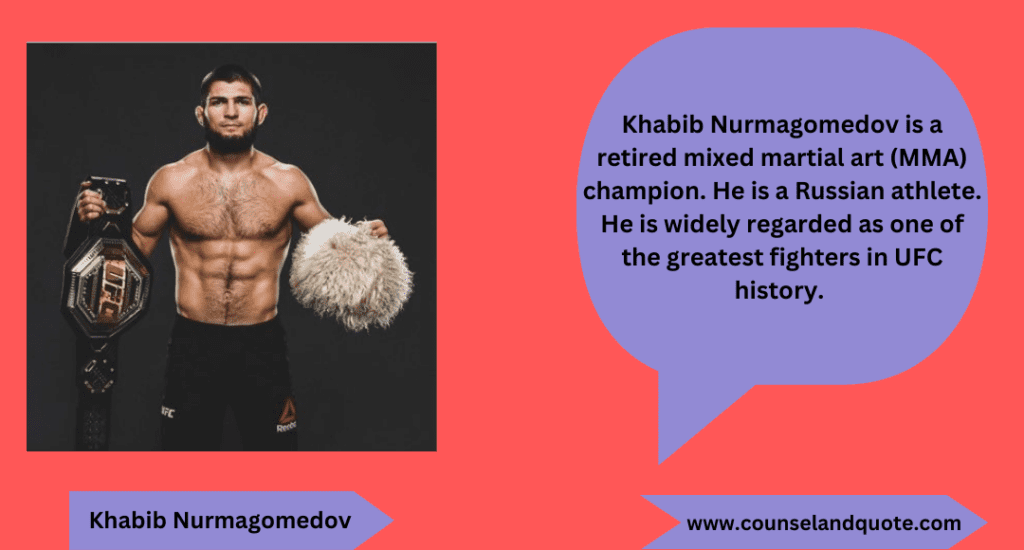 He used to run a Gym where many MMA(Mixed Martial Arts) fighters come to train themselves. Khabib got motivation seeing them training for various events. He also starts dreaming about his fighter's life. 
What Are Khabib Nurmagomedov Training Motivation?
What Are Khabib Nurmagomedov Training Motivation?
Khabib was born into a sports family. His family had a military discipline. He had seen fighter training, workouts, mental toughness training, teamwork and a high level of physical and mental fitness since his childhood.
He got motivated by these ethics and they helped him become the world champion.
1- Motivation To Leave A Legacy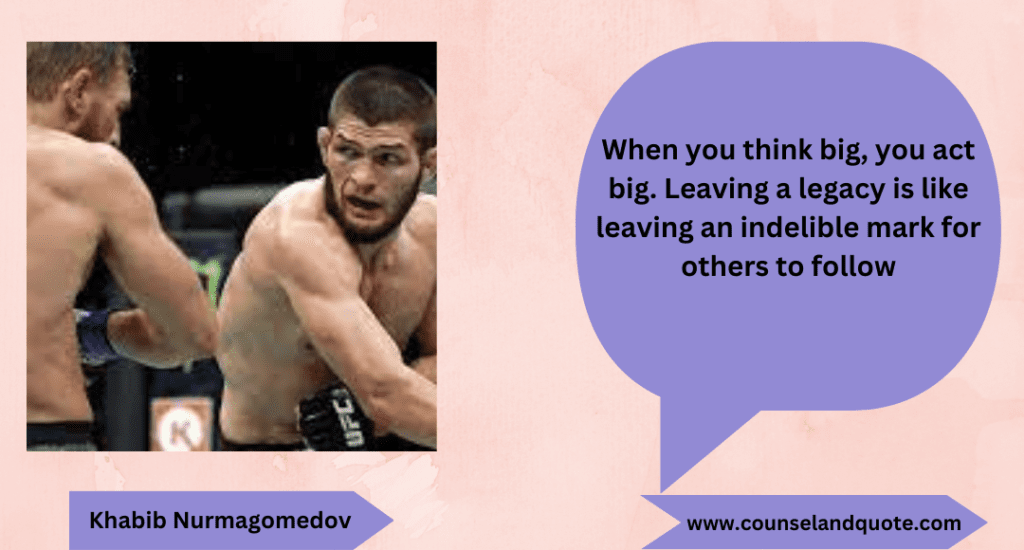 Khabib Nurmagomedov has always been inspired by the desire to leave a lasting legacy.
When you think big, you act big. Leaving a legacy is like leaving an indelible mark for others to follow. He always tried to set high standards.
He knew it from the very first day, he is required to put in the hard work and dedication in his training to become the best fighter to leave a legacy. He proved himself right and left a legacy.
2- Motivation For Growing His Family Name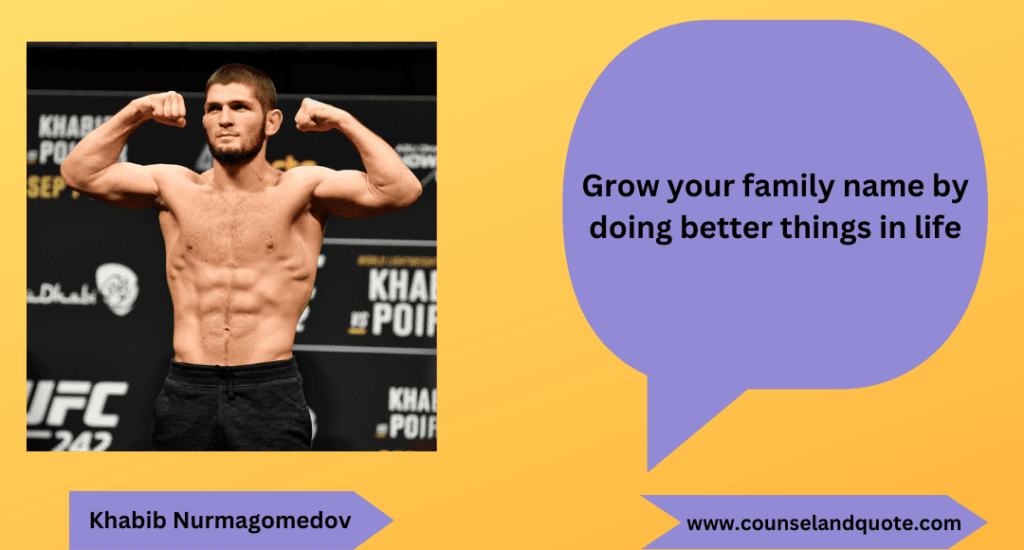 Another major motivation for Khabib is his family. He had a deep desire to shine his family name.
He has spoken openly about his father's huge influence on his life and career. He wanted to highlight his father's contribution to his personal and professional success.
He wants to honour his father and family by continuing to train hard and succeed in the sport. His motivation gave him self-belief. He remained undefeated throughout his career and was named among the greats in MMA history.
3- Motivation For Observing Discipline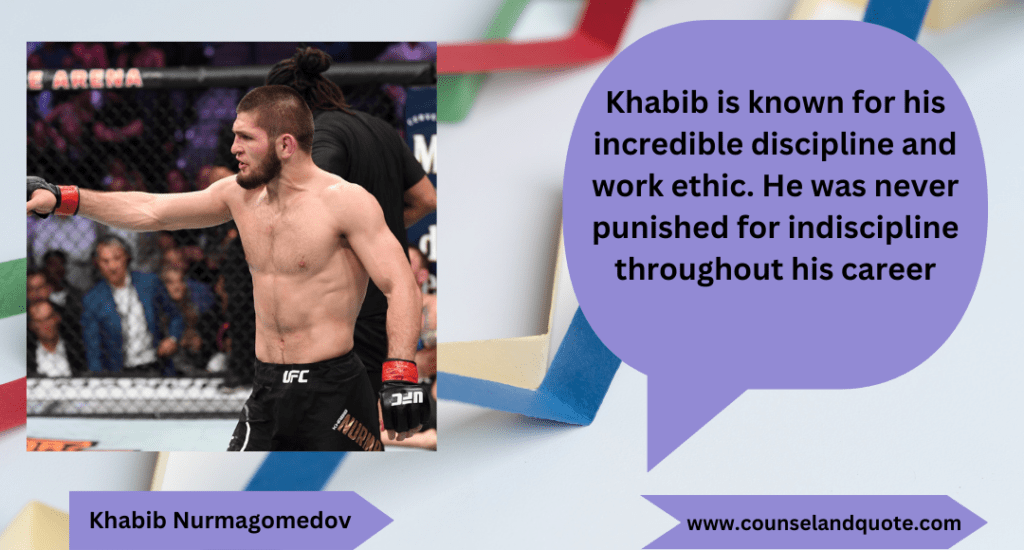 Khabib is known for his incredible discipline and work ethic. He was never punished for indiscipline throughout his career.
He was very vocal about his discipline. It was reflected in his training schedule, work ethic, diet plan and every walk of his life.
He sees training as a way to reinforce and develop these qualities. He believes that hard work and consistency are key to achieving success in any area of life.
4- Motivation To Become Mentally Fit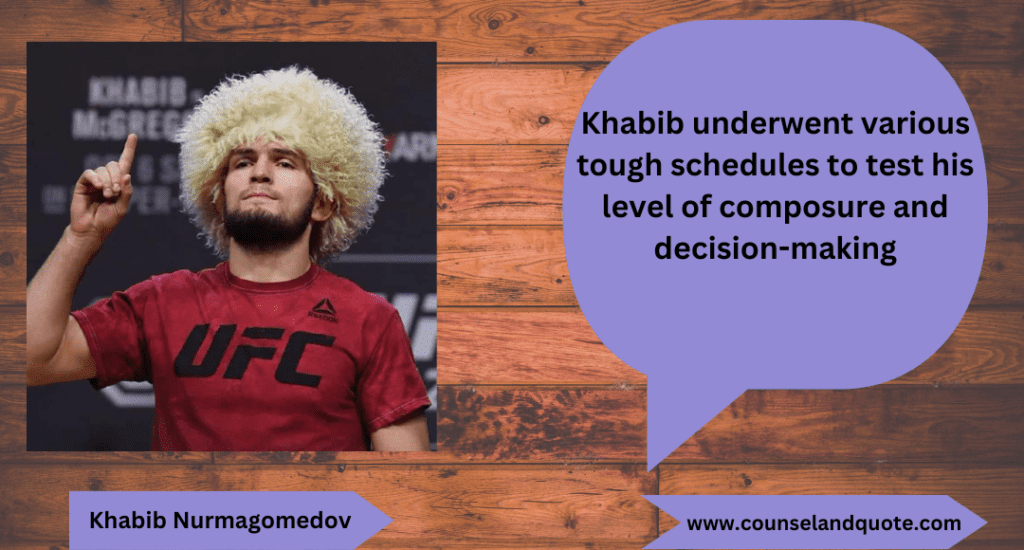 Khabib understands that MMA is as much a mental game as it is physical. If he has to leave a mark in the ring, he has to become mentally tough.
He works hard to develop his mental toughness through training. He underwent various tough schedules to test his level of composure and decision-making. In the ring, you have to take fast decisions correctly and keep yourself calm.
He believes that by stretching his limits in training, he will be better equipped to handle the pressures and win over his opponents.
5- Motivation For Improving Himself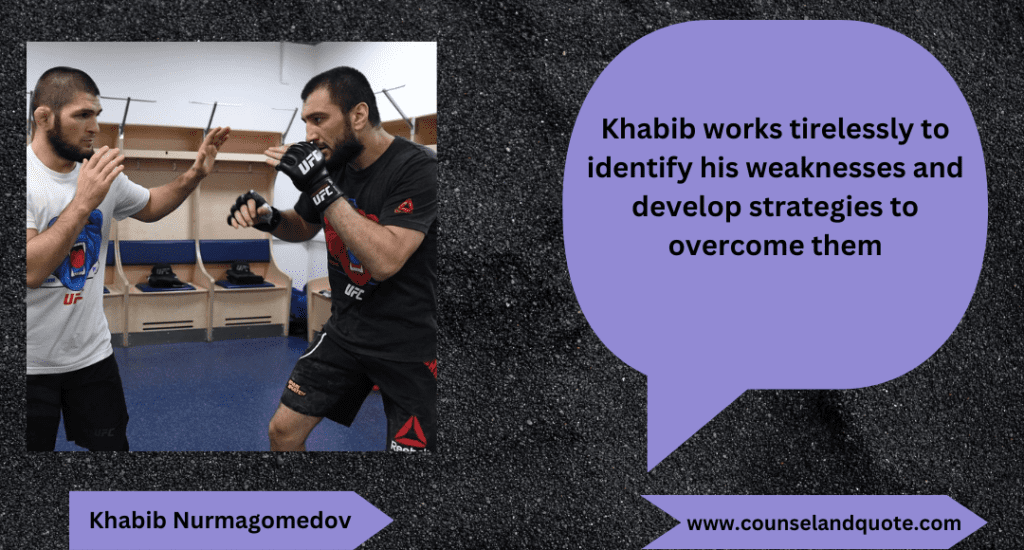 You can improve your game by training hard, Khabib knows it. He improved his game manifolds by training himself hard.
He works tirelessly to identify his weaknesses and develop strategies to overcome them.
He was so motivated to improve the game that he worked constantly on himself. He keeps on refining his skills and techniques.
6- Motivation To Lead A Passionate Life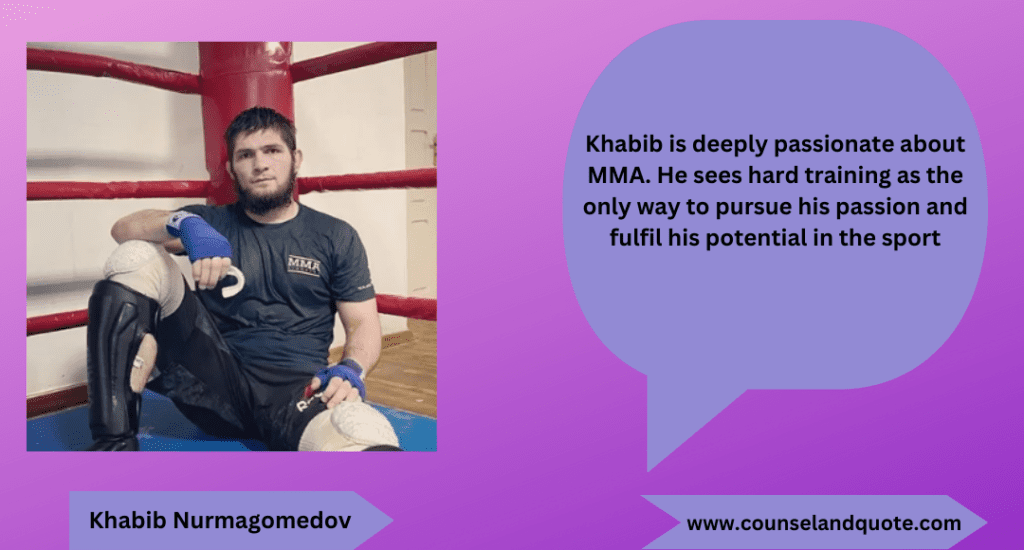 Khabib is deeply passionate about MMA. He sees hard training as the only way to pursue his passion and fulfil his potential in the sport.
He was so passionate that what was incredible for others was a routine for him. No one can compete with his passion.
He loves the challenge of pushing himself to his limits, and the thrill of competing at the highest level. This philosophy defines a champion's mindset.
7- Team Motivation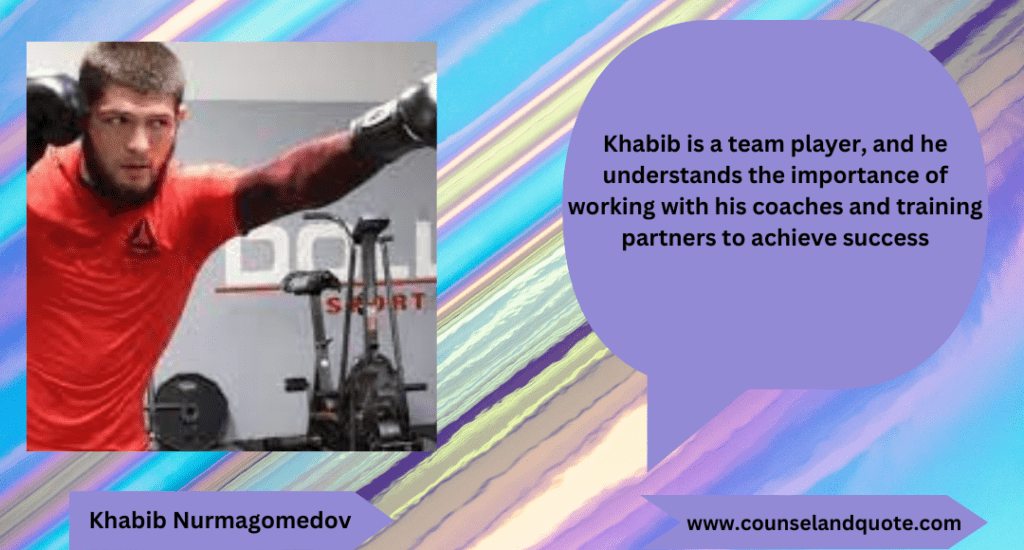 When a team is working with you and for you, then their support becomes a source of motivation.
Khabib is a team player, and he understands the importance of working with his coaches and training partners to achieve success.
He sees training as a collaborative effort and is always looking for ways to support and learn from his teammates.
8- Competitive Spirit Motivates Him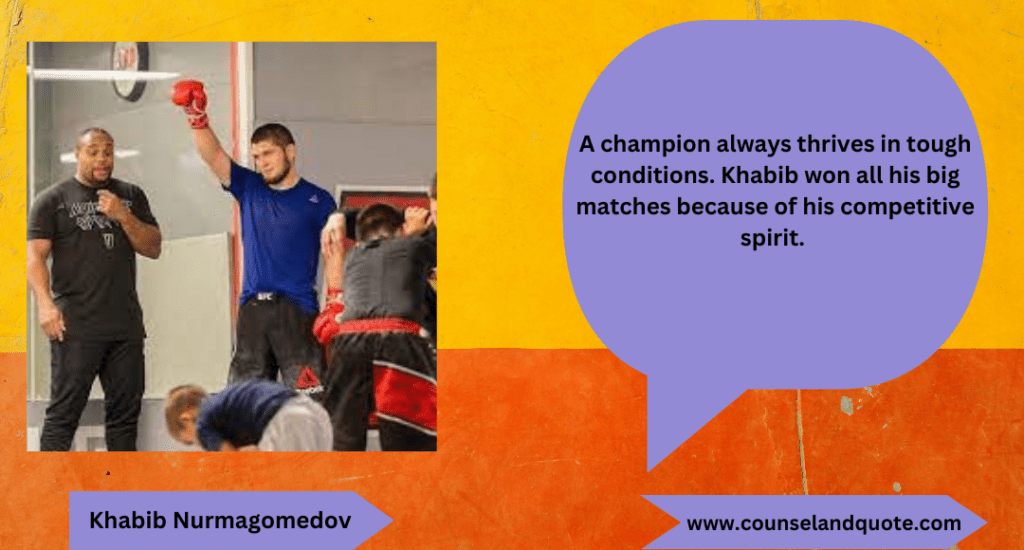 A champion always thrives in tough conditions. Khabib won all his big matches because of his competitive spirit.
He is a born competitor. He thrills and thrives on the challenge of facing tough opponents in the Octagon.
He sees training as a way to prepare himself mentally and physically. He is always ready for challenges and gives his best under tough circumstances.
9- Health & Fitness Motivate Him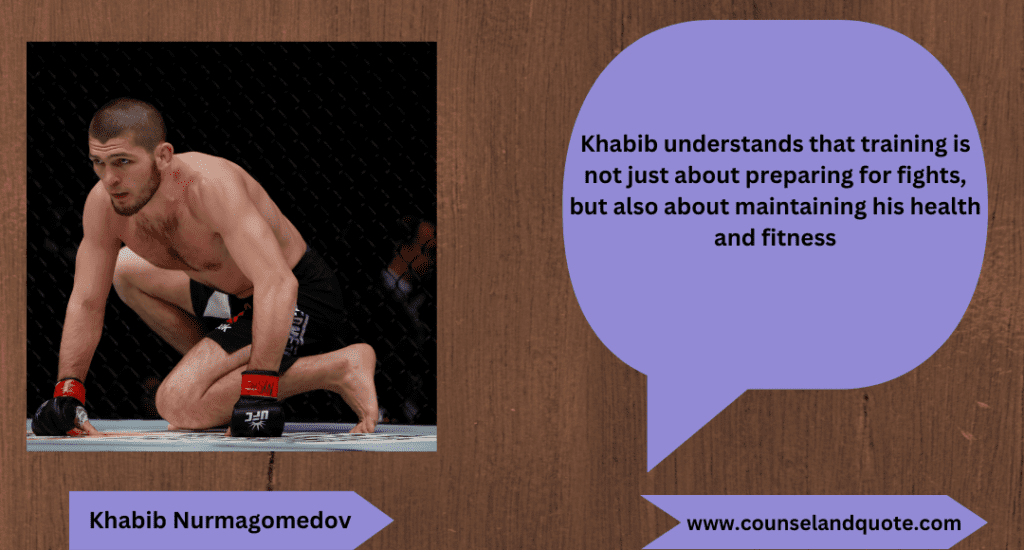 Khabib understands that training is not just about preparing for fights, but also about maintaining his health and fitness. He is so motivated and enthusiastic about his training and workouts.
He takes a holistic approach to his training, focusing on developing his strength, endurance, and flexibility to keep his body in peak condition.
When body and mind match fit, you are already on the winning side.
10- Personal Growth Motivates Khabib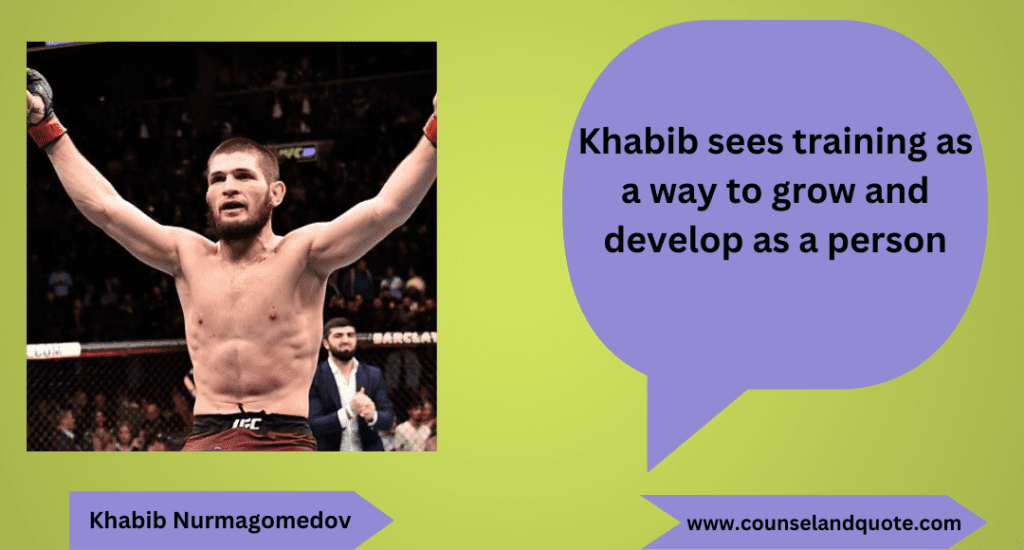 Khabib sees training as a way to grow and develop as a person.
He believes that the challenges he faces in training and competition help him to become a better version of himself, both inside and outside the Octagon.
People recognize him and love him because of his personality. He is a role model for everyone.
Khabib Nurmagomedov Workout & Training Schedule
Khabib Nurmagomedov Workout & Training Schedule
You will get here the training and workout routine of Khabib Nurmagomedov.
He is very disciplined in his daily workout routine. He has his workout philosophy and he is very particular about it.
What Is Khabib Nurmagomedov's Training Philosophy?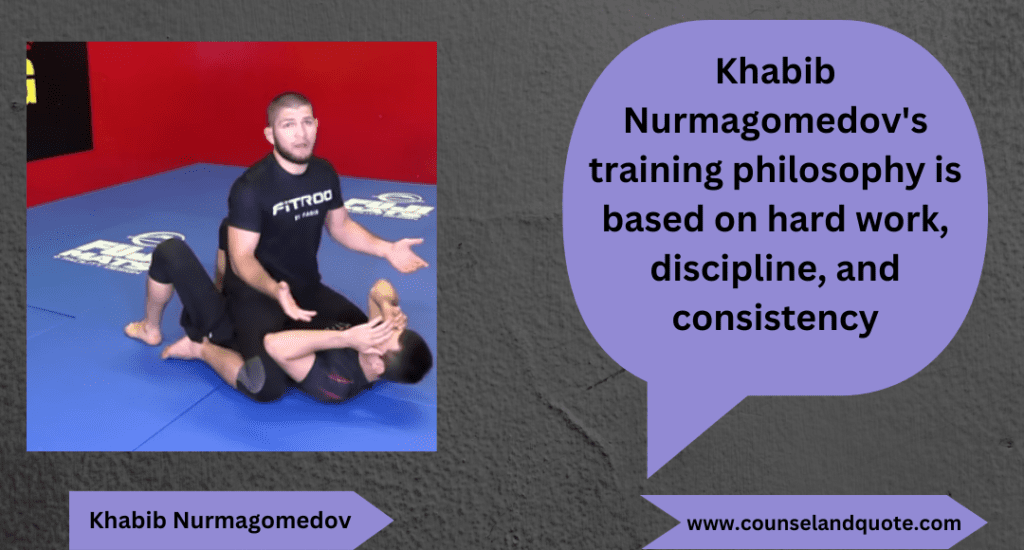 Khabib Nurmagomedov's training philosophy is based on hard work, discipline, and consistency.
Khabib says that success in UFA and MMA is the outcome of hard work and mental toughness. His win against Conor Mcgregor is a testimony to his mental and physical fitness.
The key to success is to focus on the basics and improve them by repeatedly doing them.
He also emphasizes the importance of conditioning, both in terms of cardiovascular endurance and muscular strength.
What Is Khabib Workout Routine?
Khabib's workout and training routine is rigorous and deflating. The single aim of this hard workout is to focus on developing his core strengths.
He emphasised wrestling, grappling, and ground-and-pound.
Khabib believes that by concentrating on these areas, he can control the speed of the match and overwhelm his opponents.
Workout & Training Schedule
Khabib has a training programme two times every day. It runs six days a week.
He takes one day off a week during the off-season for recovery.
He has designed his training schedule to maximize his workout and skill development while minimizing the risk of damage and burnout.
Normally he has the following training routine every day.
Morning Training Session- Conditioning and Strength Training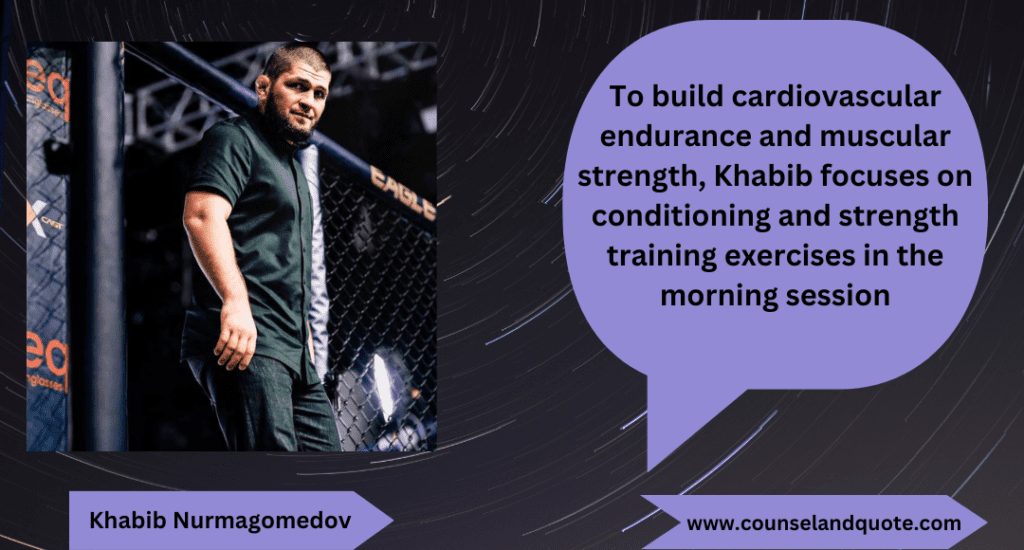 To build cardiovascular endurance and muscular strength, Khabib focuses on conditioning and strength training exercises in the morning session.
He does jumping, stretching, jogging and running. These exercises make him lighter and more active.
Gradually he makes the workout more intense by lifting weights and carrying body weights. Khabib uses barbells, dumbbells, kettlebells, and resistance bands to support his exercise.
Afternoon Training Session- Skill Development and Sparring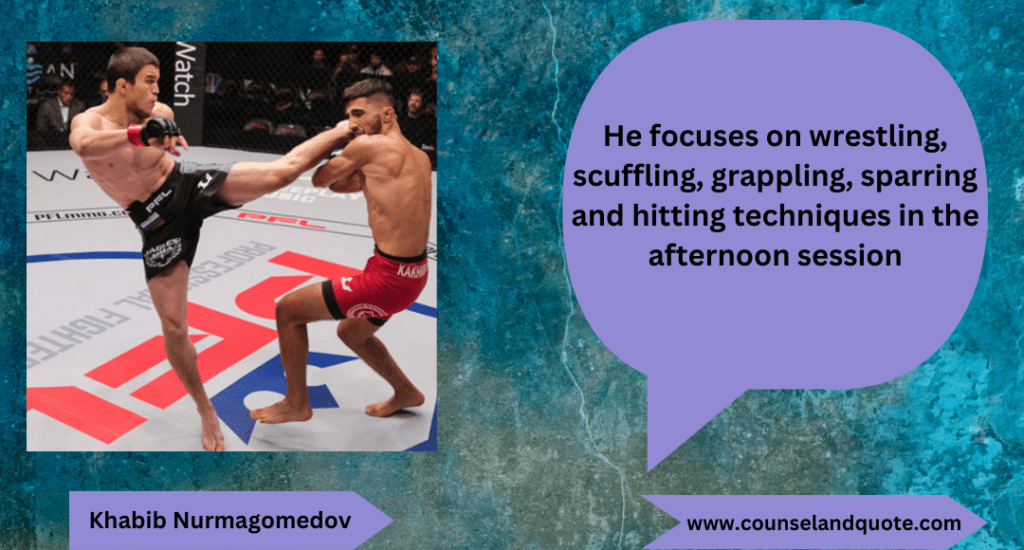 Khabib has dedicated this session to developing his skills and sparring techniques. Hard training for sparring is important for boxing preparation. It opens arms and stronger the punches.
He practices sparring with his team members to simulate real fight situations. He trains himself for hours to master this art.
He also focuses on wrestling, scuffling, grappling and hitting techniques. These are the core areas of any MMA fighter's workout.
He also prepares himself for mental toughness and quick decision making which is highly useful when he is in the ring.
What Are Khabib's Training Techniques?
Khabib Nurmagomedov's training techniques are based upon some basics of wrestling. These are grappling techniques, sparrings, scufflings, grounds & pounds, etc.
Khabib spends hours and hours championing these basics. His consistency and focus make him the undefeated champion.
He has gained proficiency in them. He still practices with the same intensity for more improvement. He is a role model for all MMA fighters.
Wrestling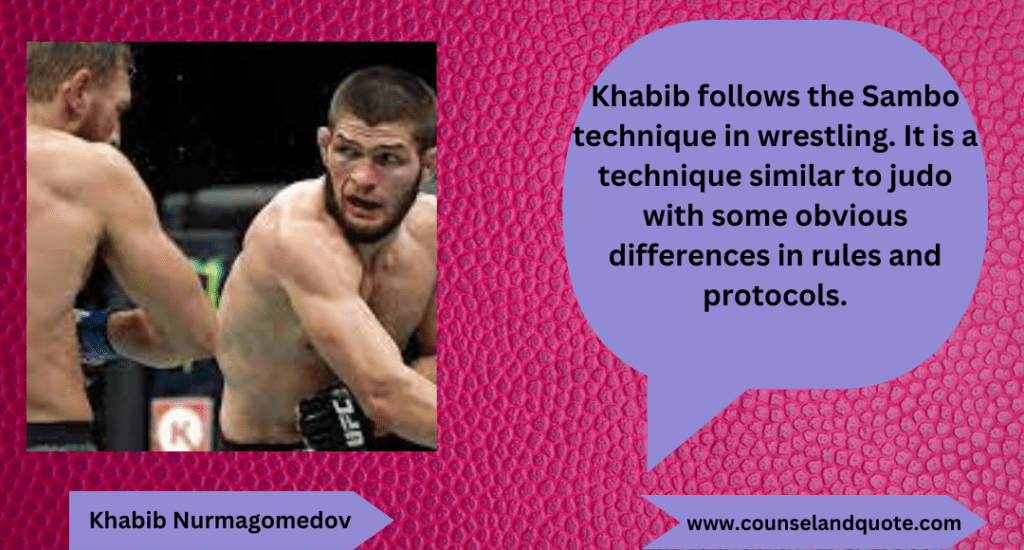 Khabib works on his wrestling. He follows the Sambo technique in wrestling. It is a technique similar to judo with some obvious differences in rules and protocols. There are many kinds of leg locks in the Sambo technique which is the hallmark of Khabib's fighting.
He also practices his defence mechanism against these fighting styles.
He trains himself for throws, clinch work and takedowns. He also develops his defence against these techniques.
Grappling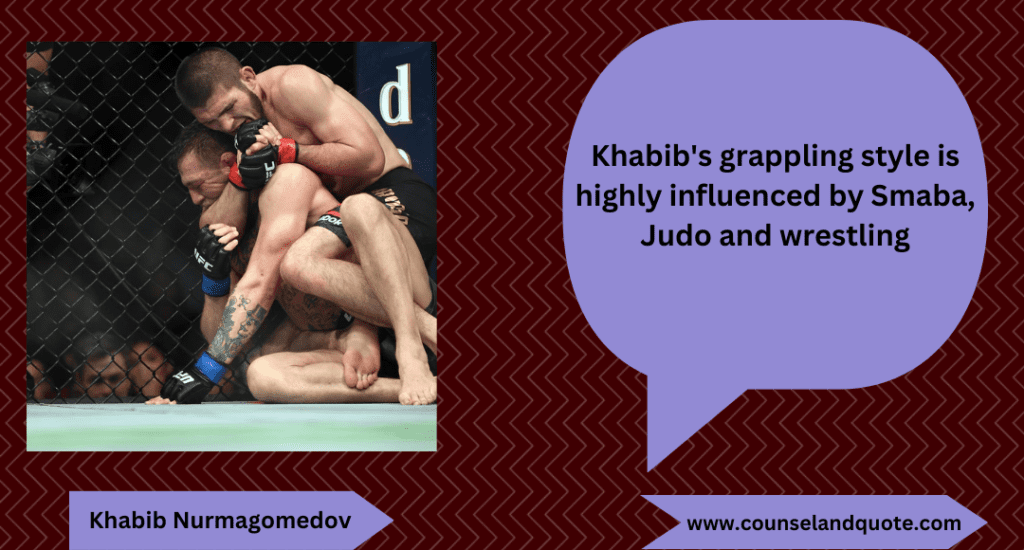 It is a key element for any fighter. You have to be extremely efficient in grappling. Khabib's grappling style is highly influenced by Smaba, Judo and wrestling.
He trains for joint locks and submission techniques. He also practices hard on choking and their defences.
Ground & Pound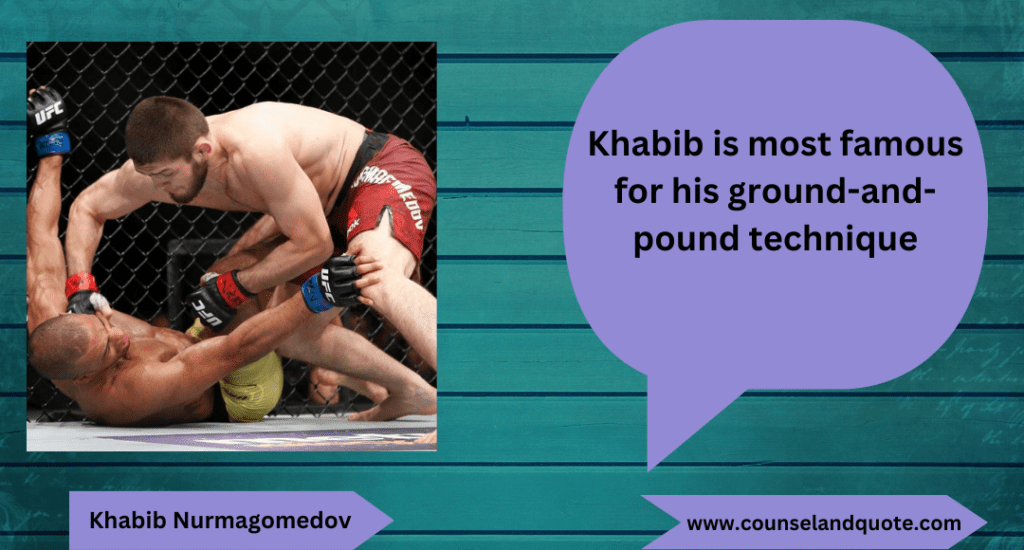 He is most famous for his ground-and-pound technique. Experts call him the master of this art. When he is in the arena, opponents save themselves from this move.
He works on his striking technique from the top position, using a combination of punches, elbows, and hammer fists to inflict damage on his opponents.
Cardiovascular Endurance
Kahbib is extremely fast in the octagon. He pounds like a lion on his opponents. It requires a lot of stamina and pace.
He undergoes many cardiovascular exercises. He does sprinting, swimming, and cycling. He does workouts for aerobic endurance and anaerobic endurance.
Best 5 Lessons From Khabib Nurmagomedov's Life
We see that Khabib is a hard-working fighter with a vision. Hard work defeats talent when talent doesn't work hard.
Khabib is consistent in his approach. All big life changes come after years of consistent efforts. Champions are not born, they are trained. They are trained after years of consistent efforts.
The path to success is not linear. It is filled with hope and hopelessness. You have to be patient. Khabib displayed exemplary patience throughout his career
You have to be accountable for your deeds. Your results are an extension of your actions. Khabib once attacked a wrestler in the audience after he disrespected his family. Khabib took accountability and publicly apologized for his actions.
Your faith reflects in your behaviour. Khabib is immensely faithful to the will of God. Khabib always focuses on the better and moral things in life. He left a good mark to follow for his fans and followers.
Conclusion
Khabib Nurmagomedov Training Motivation & workout routine is discussed here. His efforts are not ordinary.
An extraordinary work routine and consistency along with patience have made him an icon. He is a role model for every youth who wants to achieve something big in life.
Please share Khabib's training motivation and workout routine with your friends and relatives.
His approach to life can be an inspiration to them. They can find a positive shift in their life goals.
You can become a catalyst for their better future. May God bless you. Amen.
Thank You.