Ben Stokes Quotes will hit sixes and fours in your head!
He is an inspiration for his fans.
This English international cricketer holds the Test world record for most runs in an inning at number six and is the captain of the England Test team.
He played exemplary in the 2019 cricket world cup final.
We are awed by his performance in the game.
Let's get to know him in a better way off the pitch.
His quotes will hint at his inner thoughts and perspective with regard to the manner he leads his life.
Without taking any more seconds, let's get straight to Ben Stokes Quotes.
Happy Reading!
Ben Stokes Quotes
Ben Stokes Quotes
Ben Stokes Motivational Quotes
1- "Everyone goes through bad form but it does end."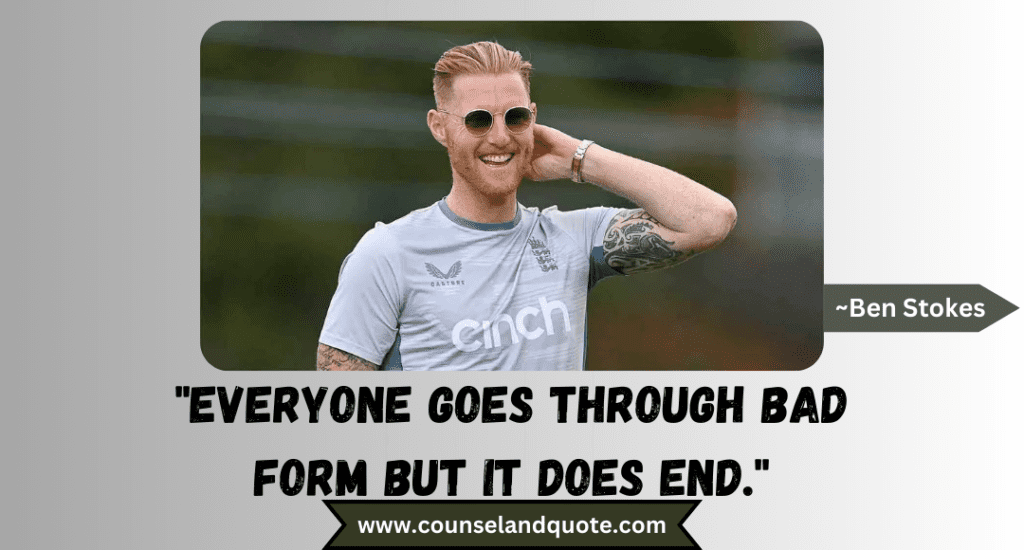 2- "What happens on the pitch stays on it. Off it you have to let it go."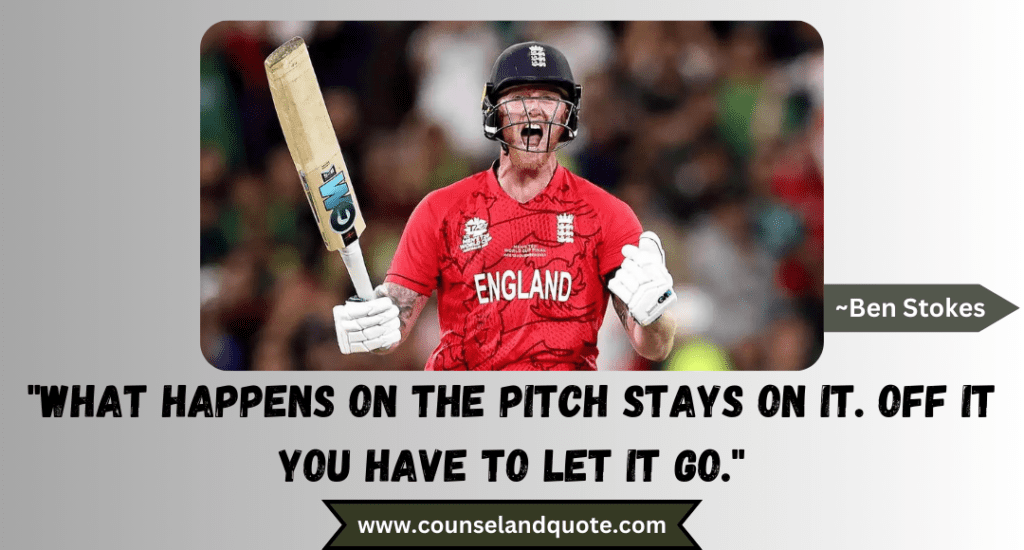 3- "It's the same with success and failure. There's always the momentum thing, but you just have to put whatever happened in the past behind you."
4- "It's amazing how quickly things can change."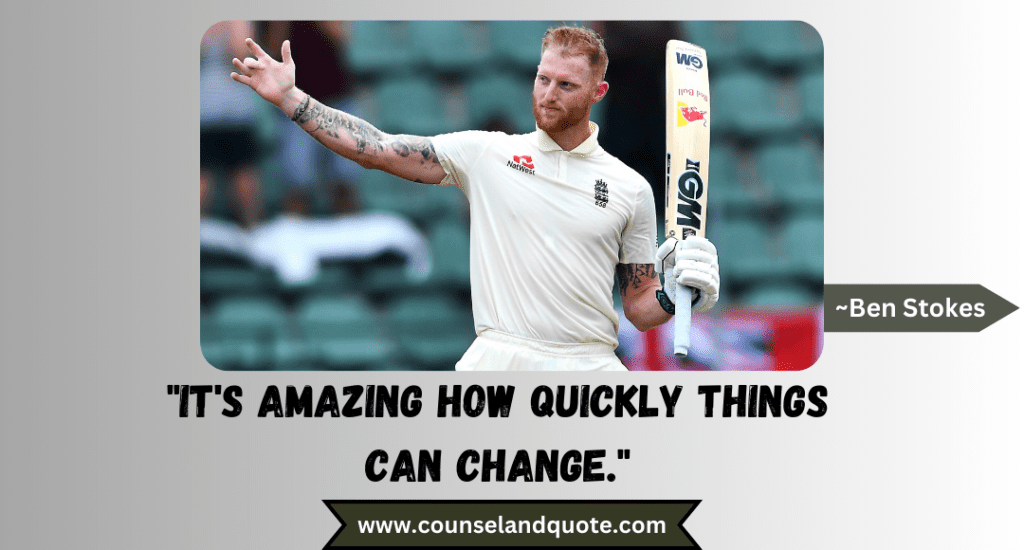 5- "You can do well one day and then not do well the other and you are not as good as everyone says."
Ben Stokes Quotes
6- "Setbacks make you want to be better again."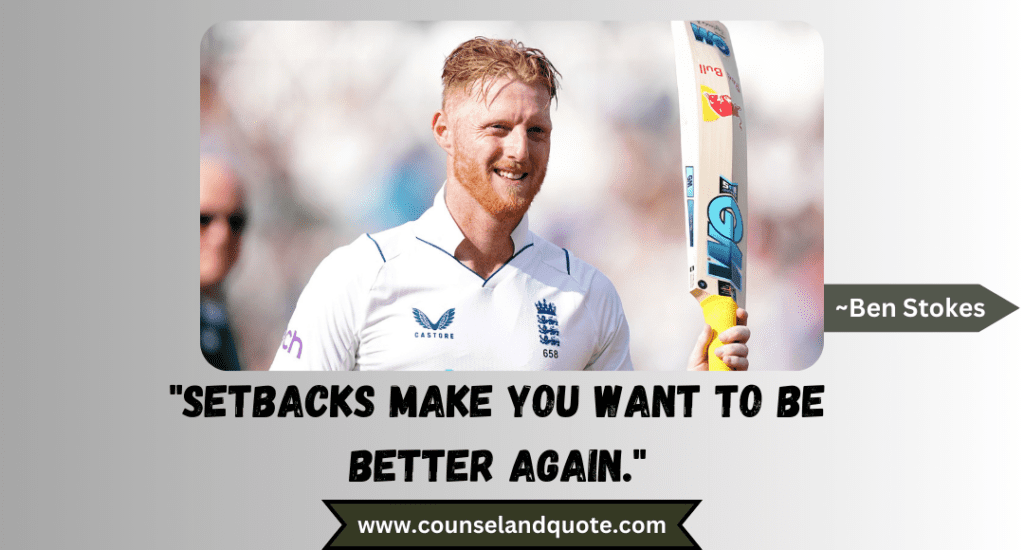 7- "There is always that thing when you step up a level and you worry, am I going to be good enough? There's always doubt in my mind."
8- "I am always trying to get better as a player, no matter how things are going, always trying to expand my game and look into how I can hit more areas or bowl different balls or whatever it is."
9- "I've definitely done things to change my behaviour. There are certain things you can't do when you get to a certain level in what you do. When it gets to a certain time, you're a story to somebody. It is something I have taken on board."
10- "I'd rather be remembered as a player who came on and impacted a lot of games for England. If I ever take a selfish thought-process of, 'I'm doing this for myself,' then things will be seriously wrong."
Ben Stokes Inspirational Quotes
11- "Nothing good happens after midnight."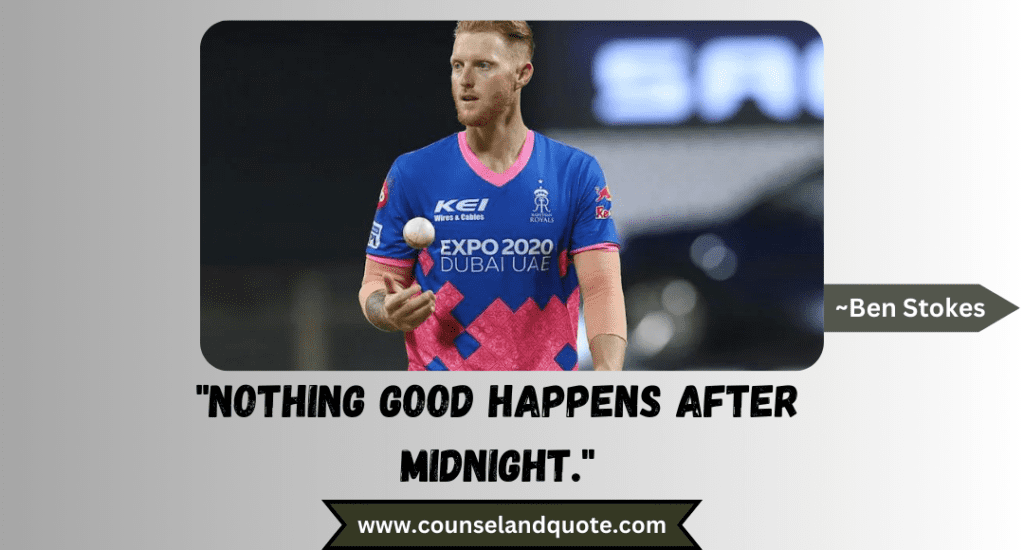 12- "Never give up. It's never over until it's over."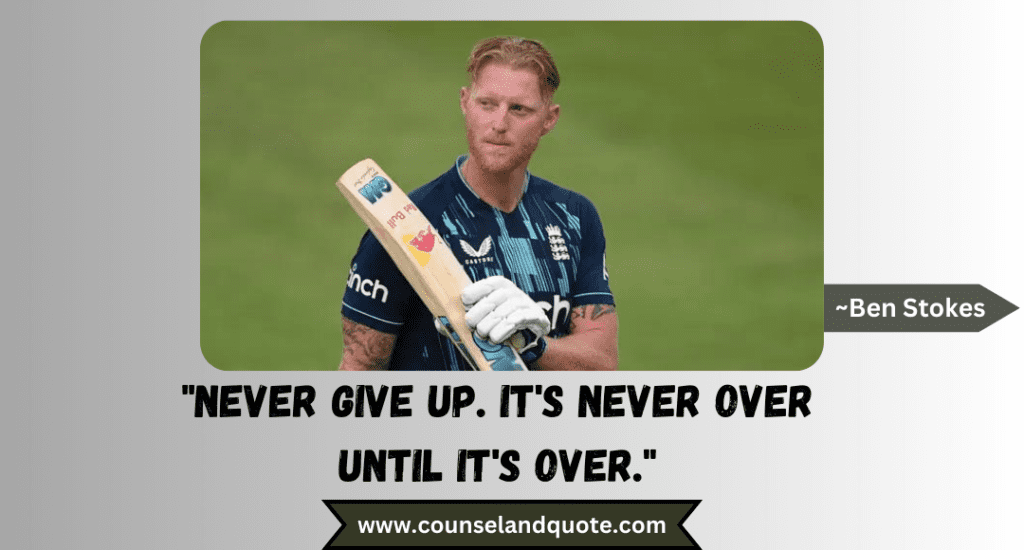 13- "For me it is about always trying to find ways to improve and get better."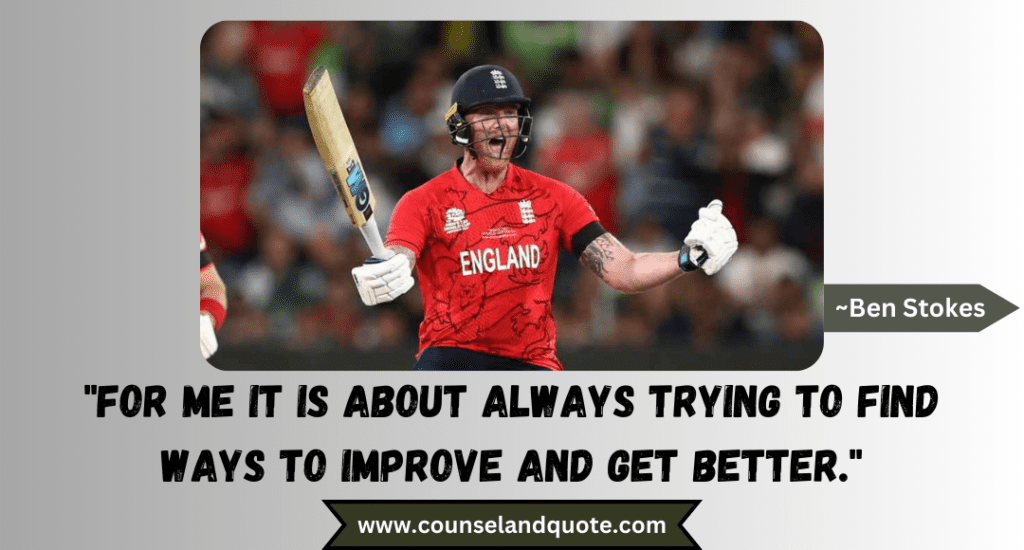 14- "It's always been there, that competitive instinct… I just want to win."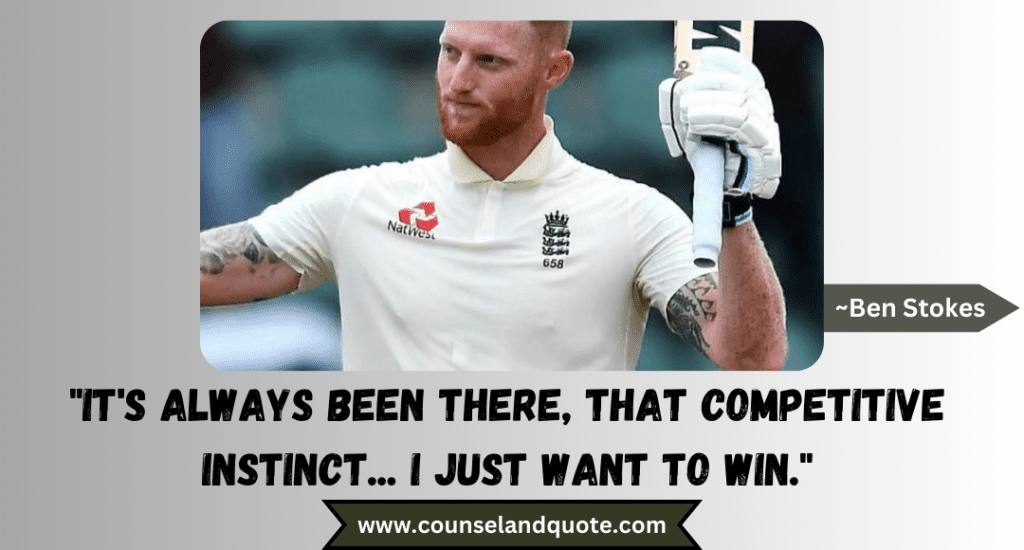 15- "In terms of how I want to influence the game, I try to have a positive effect with the ball or bat in my hand.'
Ben Stokes Quotes
16- "I played number 6 in rugby league so I had the ball quite a lot. I tried to make the plays, so you are in the action."
17- "I always look to perform with the bat and the ball and do good for my team."
18- "Cricket and family are my life."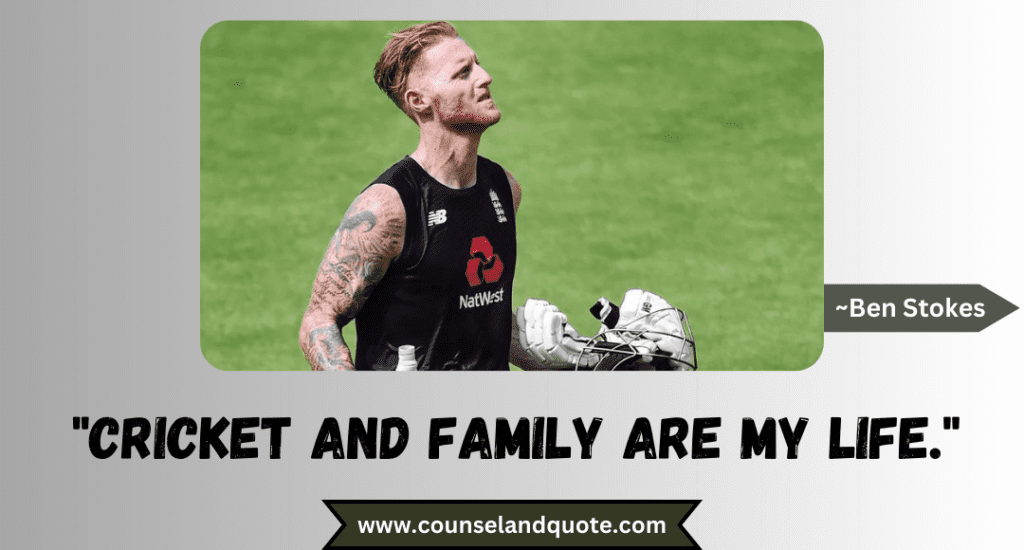 19- "I'm always looking to learn and am never happy with how I am going. I think once you get comfortable with what you are offering it is dangerous territory to be in."
20- "You are never the complete article but the feeling you get when people come up to you and say 'thank you for the great summer' and inspiring children is such a great feeling."
Ben Stokes Quotes
21- "As a kid I lost my temper quite easily and tended to look away from the game itself. Now I know how to manage that and get the best out of myself."
22- "I used to love going out and celebrating with the lads. But we can do that in the hotel and I don't miss it. I don't feel that urge any more. Once you make the transition to not doing it then you don't miss it."
23- "As players ourselves, to inspire other players to do what we do is awesome."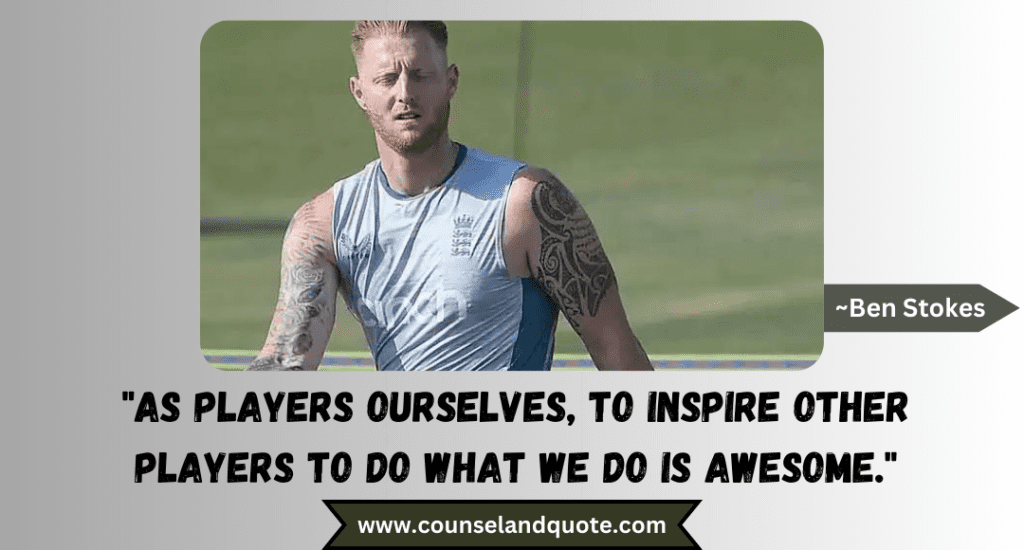 24- "It's all good being there for people when things are going well and smoothly but what really comes through is how you operate with someone when they need you the most."
25- "I'm not going to hate anybody who beats me. But. I. Just. Don't. Like. Losing."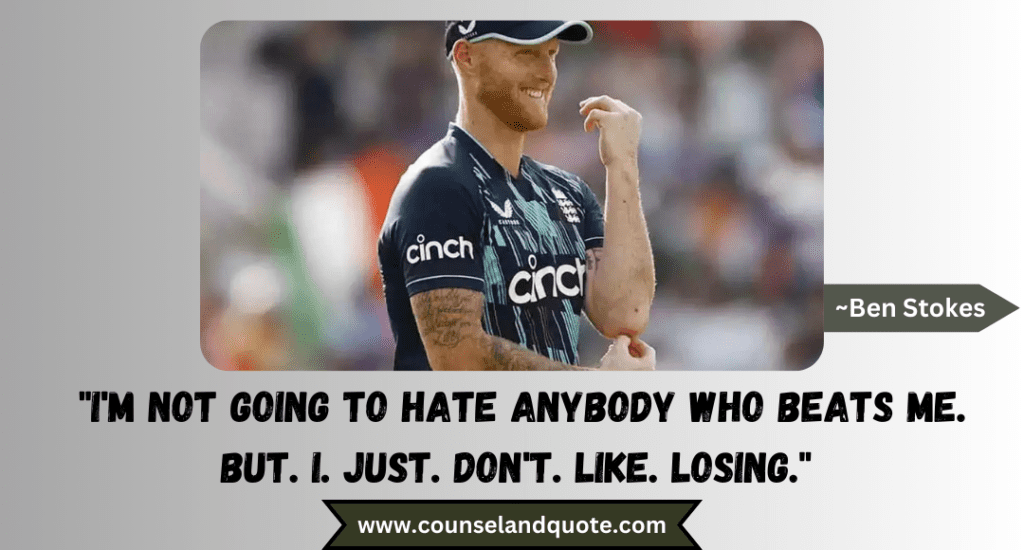 Ben Stokes Famous Quotes
26- "I now know in myself not to punch lockers."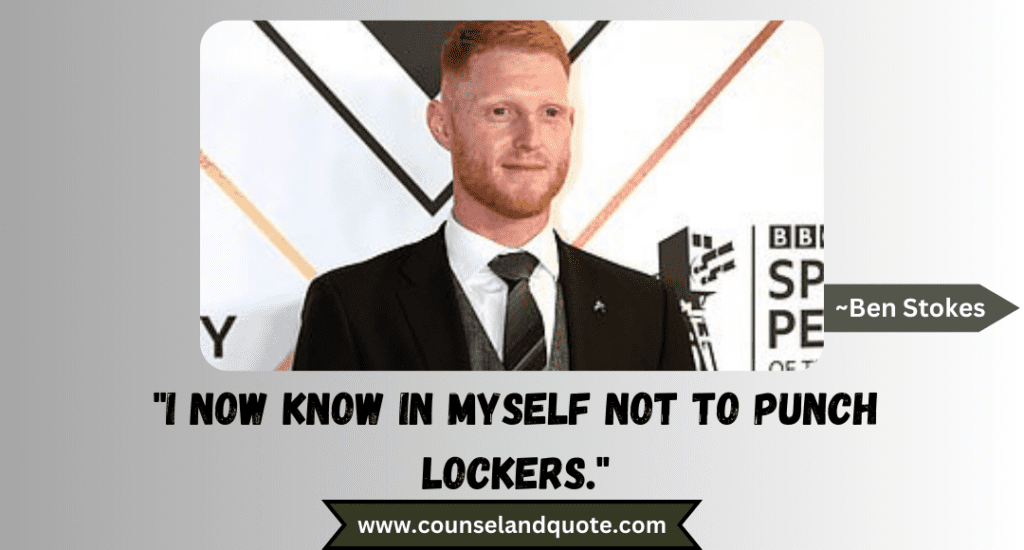 27- "My dad's a fitness freak himself."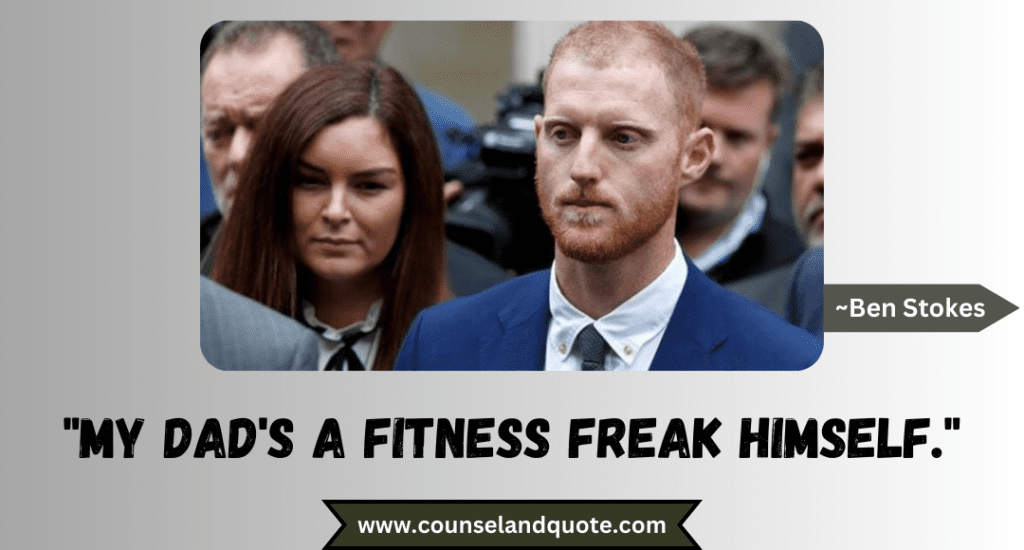 28- "I like to be aggressive."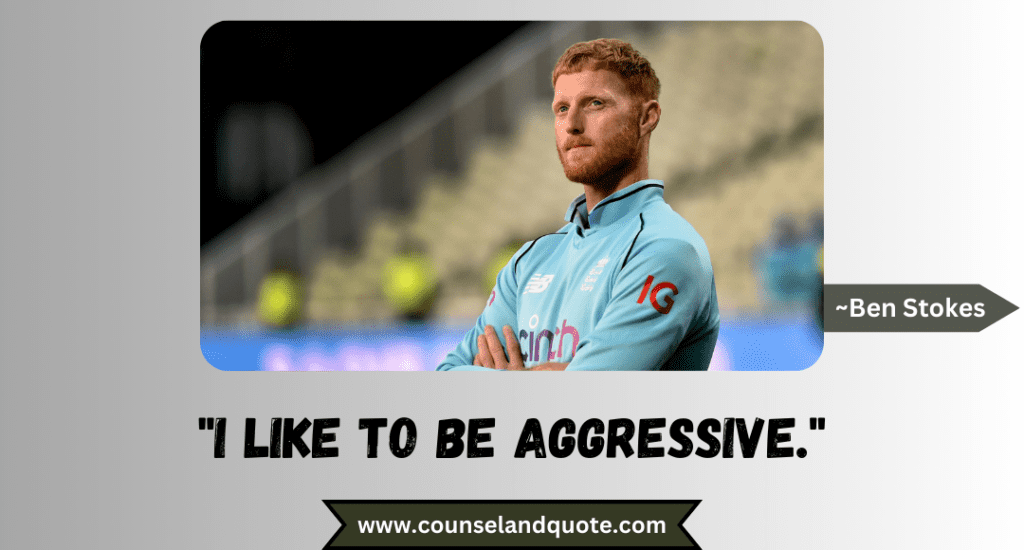 29- "I am extremely nervous before anything. People who say they aren't nervous are telling a white lie. Nerves get you going, as you are playing for so much at the highest level."
30- "You can never beat your own mind when it plays tricks on you."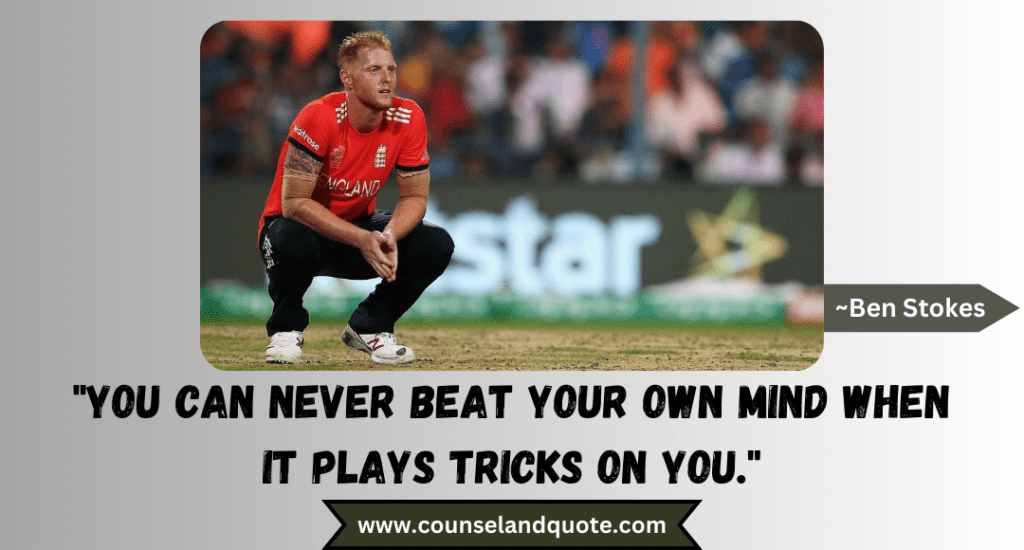 Ben Stokes Quotes
31- "We are all about the equality through society and sport."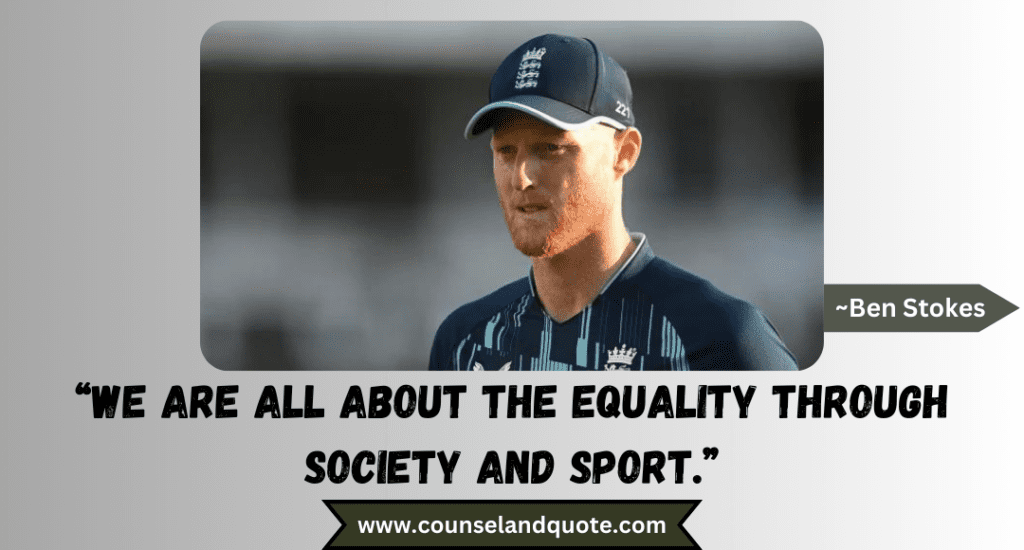 32- "You can't just be letting certain people get away with certain things and not others."
33- "It's always great when games can go to day five."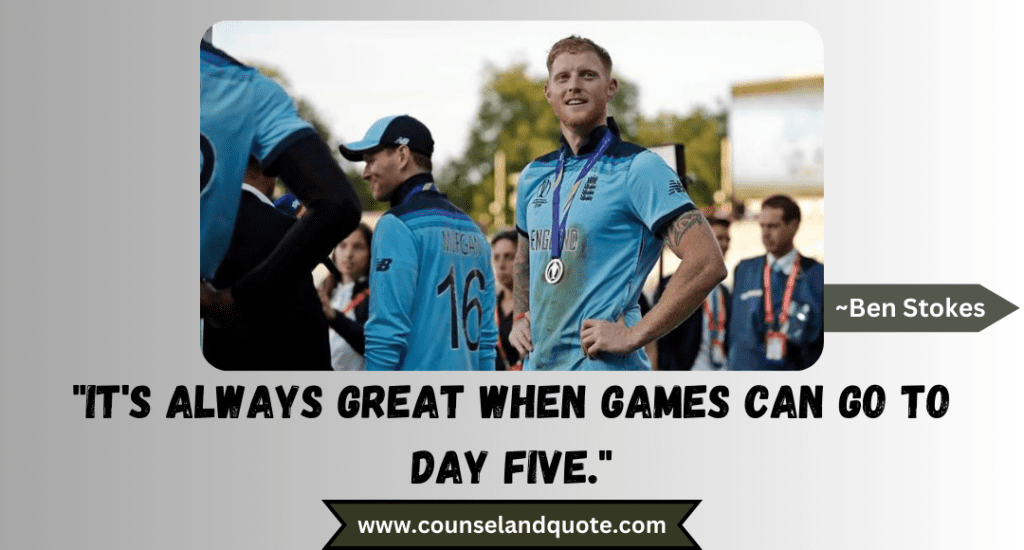 34- "There is nothing better than being there at the end and getting your team over the line."
35- "I don't need to be going out reverse-sweeping for six and four straightaway. Singles can be just as important as boundaries, rotating the strike and not letting the bowlers settle."
Ben Stokes Quotes
36- "T20 is generally the fun side of cricket. You've got to have a sense of humour. Some days you can turn up and get whacked. Next game turn up, bowl the same and you don't go for many. You have to take it as it comes."
37- "Being the player who wants to impact every game is what I've always tried to be."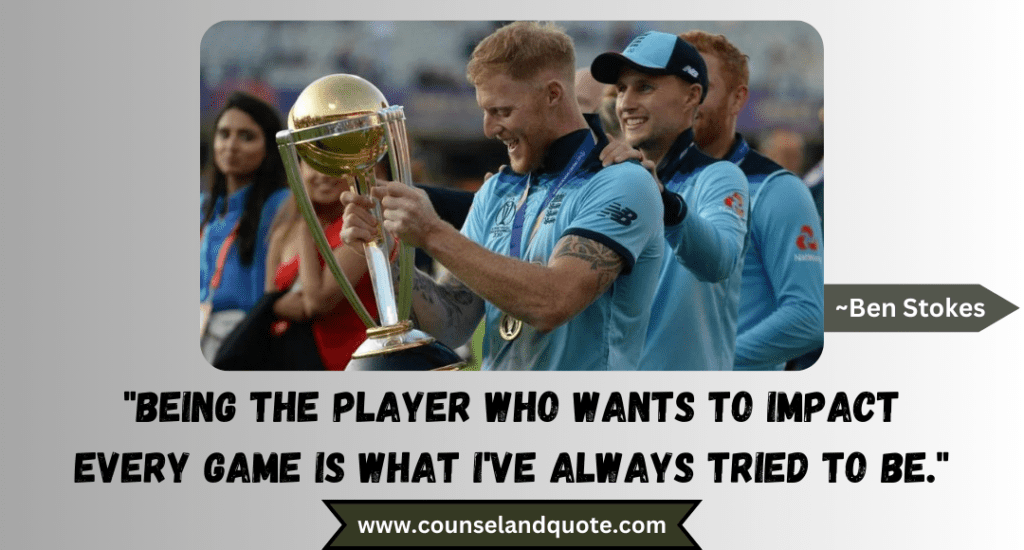 38- "All I'm interested in is putting in consistent performances. If awards come along with that, great. It means you are doing something right."
39- "Getting the opportunity to captain England is a huge honour – even if it's only the once you can still say 'yeah, I've captained England."
40- "I don't want to look back on my career and say, 'I wish I'd averaged this or that.'"
Ben Stokes Quotes
41- "It was just bred in me that I would not back down to guys who were bigger than me."
42- "You just keep your feet on the floor. I never feel I get too high and I never feel I get too low about things. Everyone else may deal with things like that differently but that is just how I go about it."
43- "The older you get the harder you've got to train."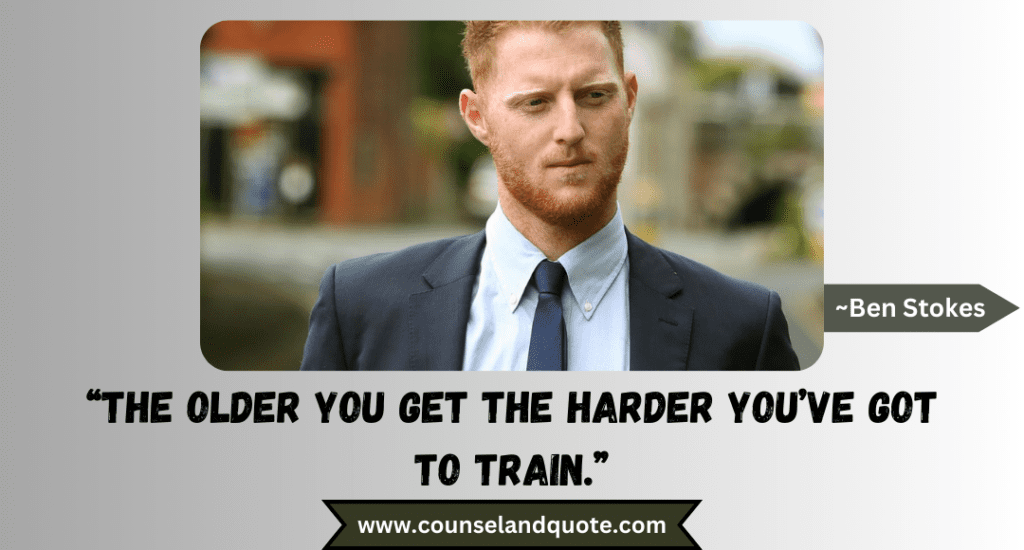 44- "Just being in the whole environment around the IPL, around the people that you ge to play with and against means it's going to be really, really good."
45- "We've got to be good enough to put runs on board."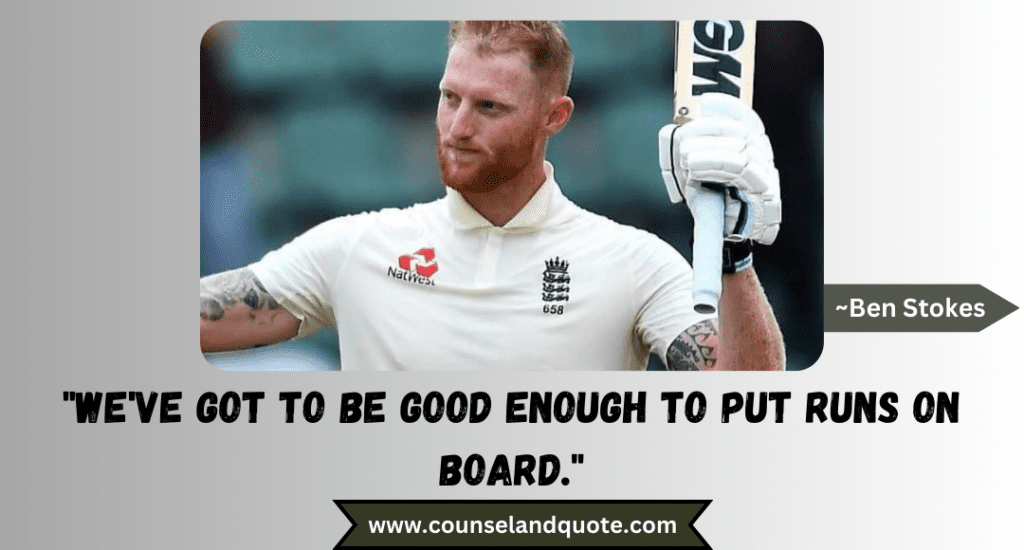 Ben Stokes Quotes
46- "I don't want to be remembered as the guy who had a fight in the street."
47- "As a batter, I just try to put myself in a bubble, not letting anything in from the outside, looking only at how many runs I can score."
48- "One-day cricket is a lot more draining because it's a lot faster. You don't get as much break. You are running a lot harder."
49- "As professional sportsmen at the top of the game we do have worries. We do think of the worst and that's absolutely fine. There's no weakness in feeling like that."
50- "There has always been sledging in cricket."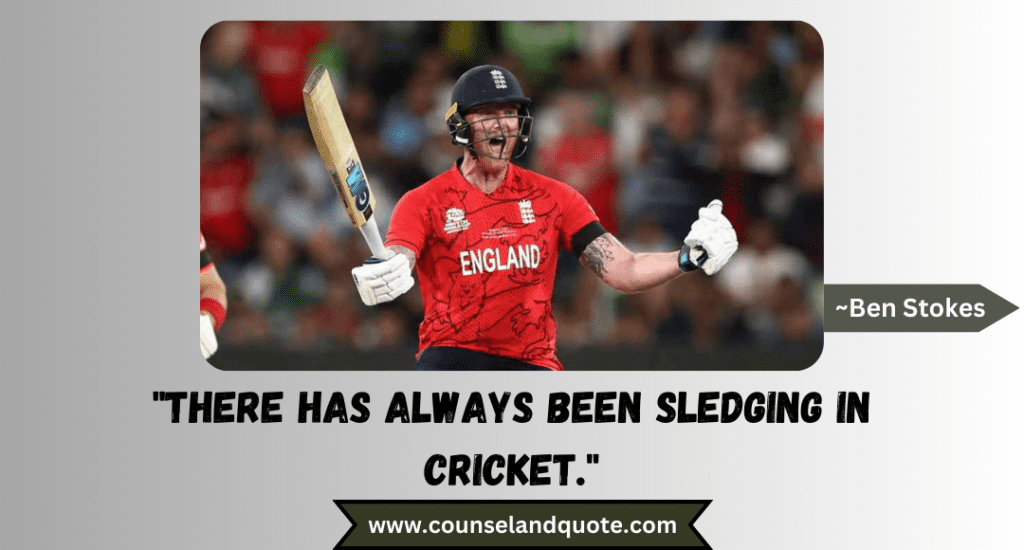 Ben Stokes Quotes
51- "I just love being involved in the game and the high-pressure situations and it probably brings the best out of me."
52- "We shouldn't be too critical of players if they do have lean patches."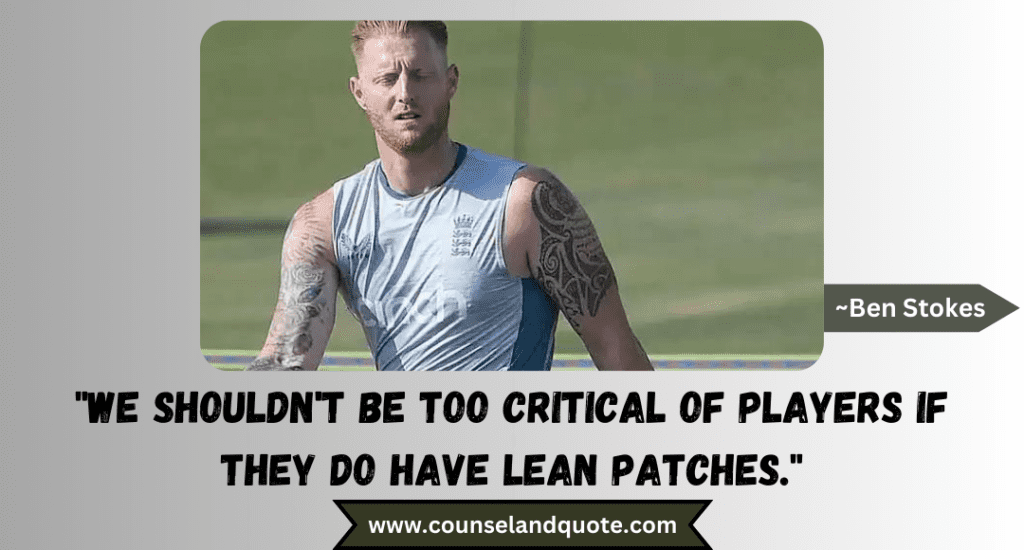 53- "You don't have niggles when you're 20. But as you get older you start to feel it."
54- "Captaincy did not change me as a player whatsoever, when I had the ball in my hand, I operated in the same manner like I always do."
55- "You can't feel your way into an Ashes series, you have to be switched on from ball one. That's just me in a nutshell."
Ben Stokes Quotes
56- "In a World Cup final the adrenalin is going. Emotion sometimes get the better of me but that is adrenalin and wanting us to do well."
57- "Most people acquire a softer side with age and sometimes with dad that has been quite weird to see."
58- "It's fine for a bowler to have a plan but I feel as a batter you need to have another plan to counteract what they're doing."
59- "I know I'm in a very fortunate position. I make a good living doing something I used to do for fun as a kid messing around in the garden. I'm in a fortunate position, so you try and give what you can, I guess."
60- "I just go out there and try to do what I am paid to do, which is score runs and take wickets."
Ben Stokes Quotes
61- "I have really enjoyed the responsibility of leading the team and making the decisions out there."
62- "It's a cliche but I would rather be involved in a winning team than have good figures."
63- "There are guys that you look at and you want to really bowl at them or bat against them, certain guys who really get your juices flowing."
64- "Playing for England is always the main priority."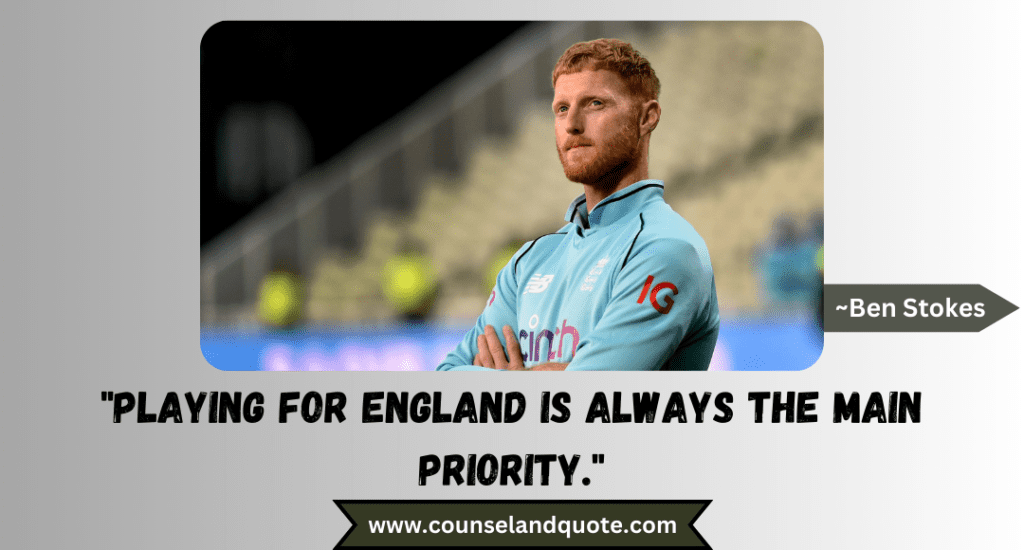 65- "I've got a lot of traits from my dad's side."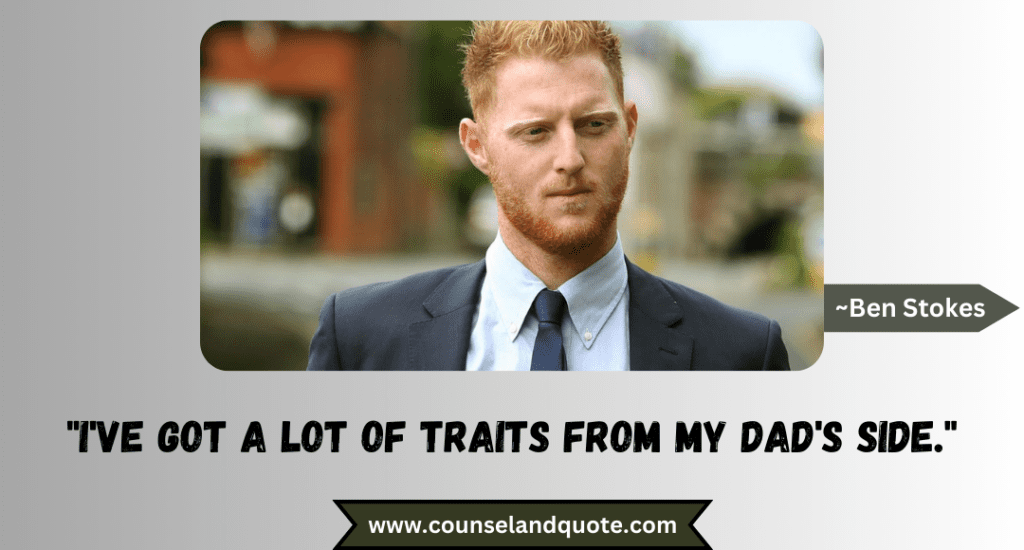 Ben Stokes Quotes
66- "I think sometimes I have been drawn into trying to be too aggressive too early. I have learnt that I can give myself time."
67- "For anyone to question our fight or desire I think is wrong. They should know how much it means to play for England – how much to wear the Three Lions on your chest."
68- "Sometimes you feel fine. You might have a day when you feel awful about what's going to happen in the game. It ebbs and flows. Just embrace it."
69- "It's fine for a bowler to have a plan but I feel as a batter you need to have another plan to counteract what they're doing."
70- "2019 will be very hard to top and wipes away anything that happened the year before that."
Ben Stokes Quotes
71- "Players are under such pressure in crucial moments, especially at the highest level with what is on the line."
72- "I always look to perform with the bat and the ball and do good for my team."
73- "The Ashes are the biggest Test series played in the world."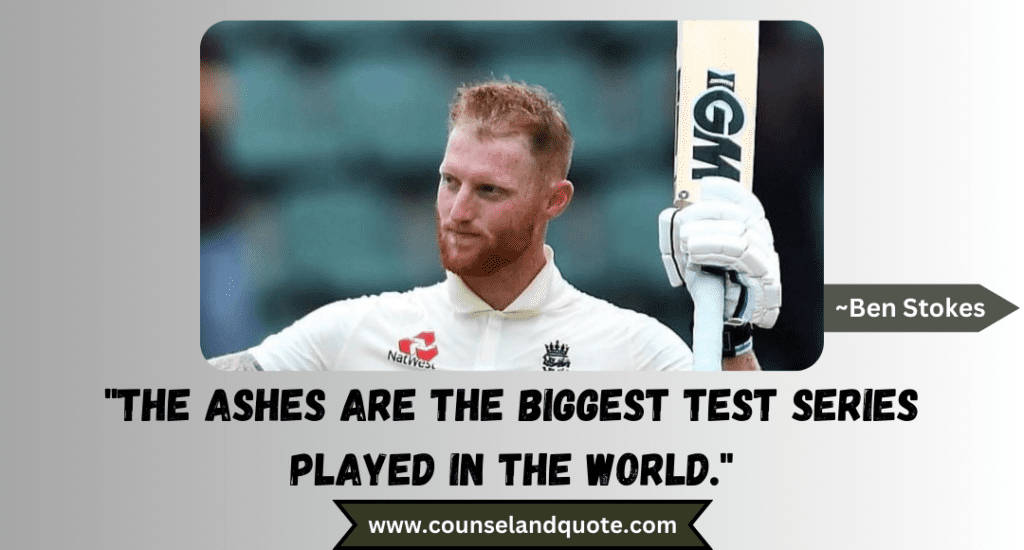 74- "It's one of the greatest sporting environments you can be in, the first morning of an Ashes series. It's hard to explain, you can only really explain it when you're out there. It's awesome."
75- "When I get on the pitch I have to make sure I am getting hundreds and taking six-fors."
Ben Stokes Quotes
76- "On the field, MS epitomises calmness and, from a cricket point of view, has the best angle in terms of field placements."
"I'm always thinking about the private battle, even in the field. I'm always trying to be better than the other person I'm against."
77- "I normally say 'crikey' when I get to 30, to be honest, so I kept on looking at the scoreboard."
78- "That's the great thing about being an all-rounder. You can impose yourself on the game with bat and ball."
79- "I don't think punching lockers is the way forward for anyone. There's only going to be one winner there."
80- "I think 2019 will always have a special place for fans."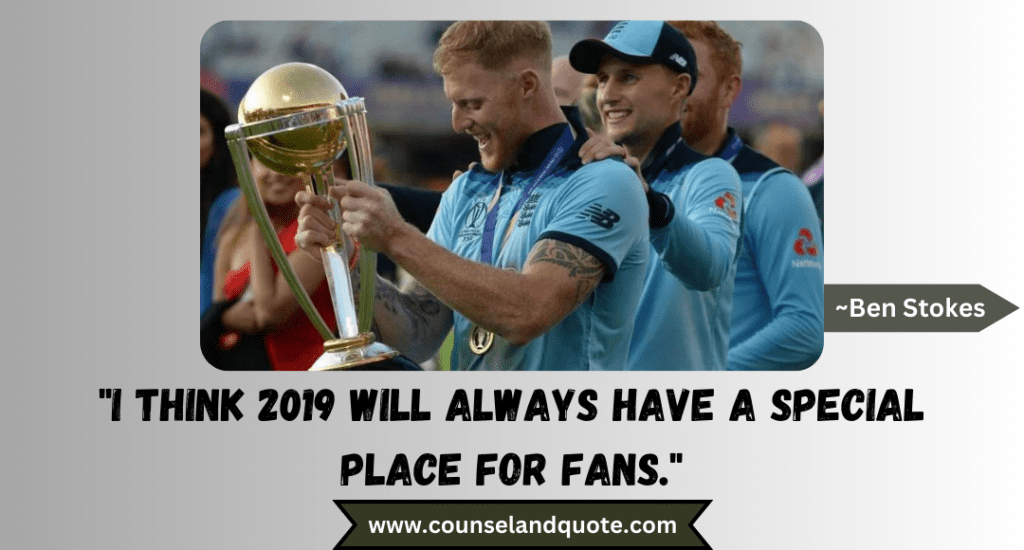 Ben Stokes Quotes
81- "There are guys that you look at and you want to really bowl at them or bat against them, certain guys who really get your juices flowing."
82- "I fell off a wall in Cockermouth when I was 18. The slate on the top of the wall was loose and I tried to jump up and sit on it. I ended up falling backwards and the tile ended up falling back onto my hand."
83- "It's not as if I ever left the pitch thinking 'I wish I'd given a bit more today.' You were always going to get everything from me."
84- "You do what you have to do to get an advantage."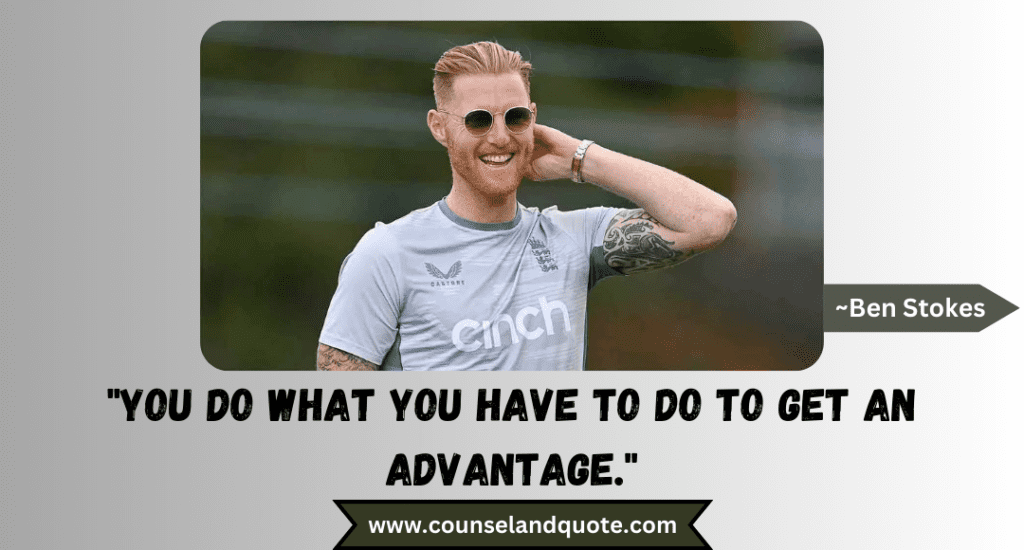 85- "I used to be guilty of trying to get a wicket every ball, but I've learned the game is not that easy. That's come with experience."
86- "Being an instinctive player is great but there's time in the past where I've let how I'm playing at the time affect me, thinking I can play some big shots and I'd be alright."
87- "I'm not necessarily a form player, more of an in-the-moment player."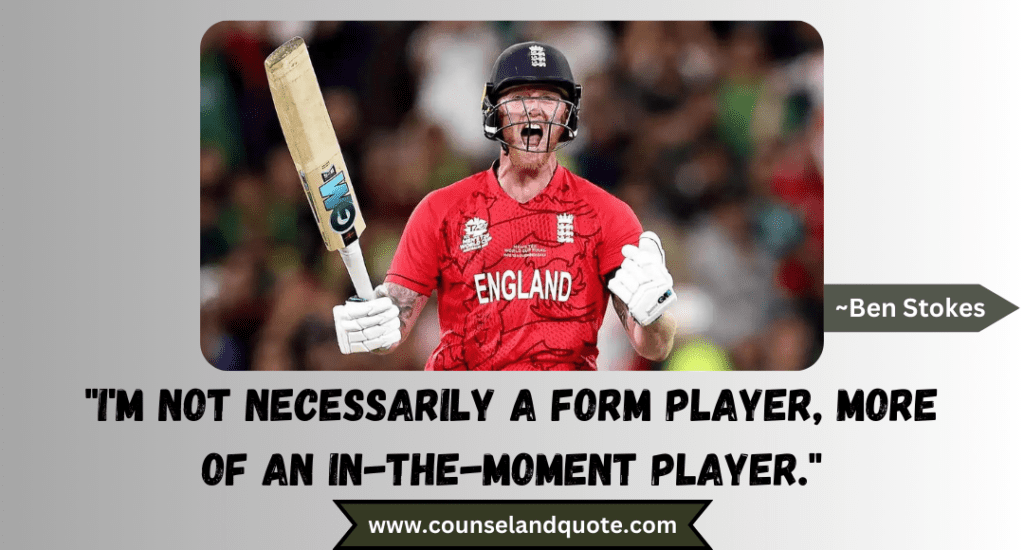 88- "You can't be happy about anything after a 5-0 loss."
Ben Stokes Tattoo Quotes
89- "May people respect you, Trouble neglect you, Angels protect you, Heaven accepts you."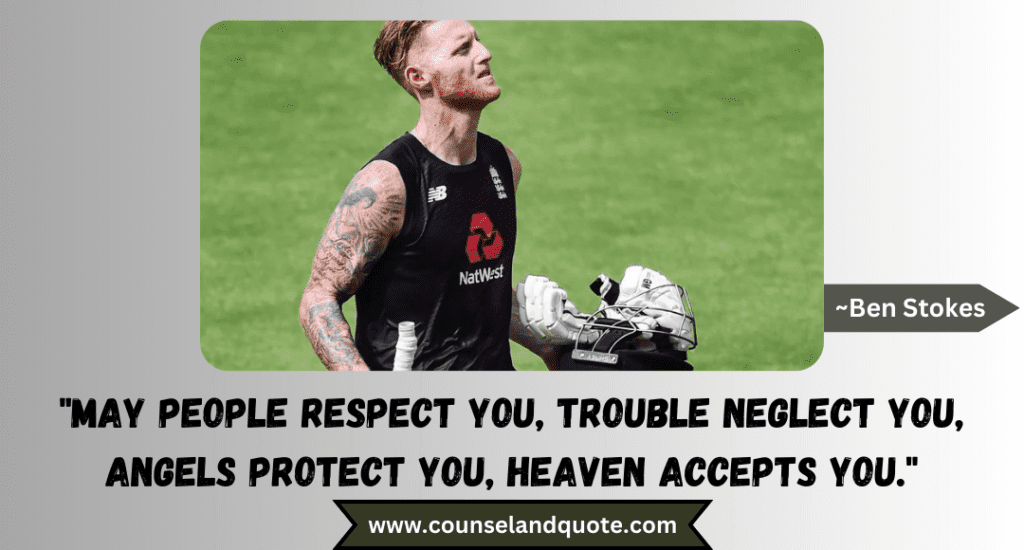 90- "Being the best you can be is only possible if you desire to be a champion and your fear of failure is non-existent."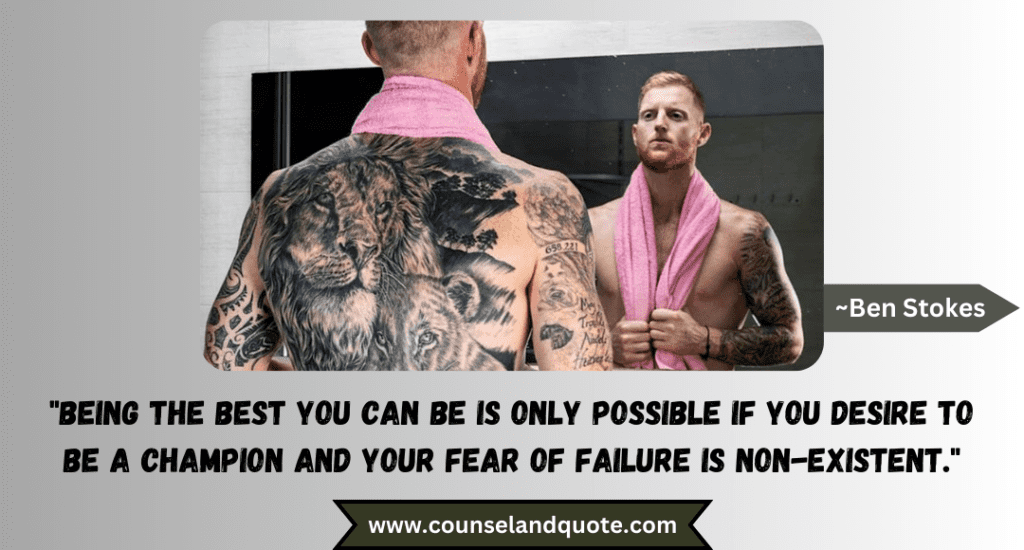 Conclusion
This article incorporates Ben Stokes Inspirational Quotes, Ben Stokes Motivational Quotes, and Ben Stokes Tattoo Quotes to get you a better understanding of your favorite player.
We hope you have enjoyed and taken heed of our this piece.
Kindly drop your valuable suggestions in the comment box to up our work.
Share this article with your family and friends.
Spread the word and help the world!
Thank You!