Cristiano Ronaldo Quotes are the extraction of ideas championed by the great soccer player, Cristiano Ronaldo.
The man, the sensation, is considered a class player and is counted among the greatest footballers of all time and is frequently called GOAT by his fans.
He is a Portuguese footballer who plays forward and wears number 7 proudly.
He is currently playing for both the Al Nassr club and Portugal national team.
Ronaldo has a massive follower and fan base across all his social media platforms.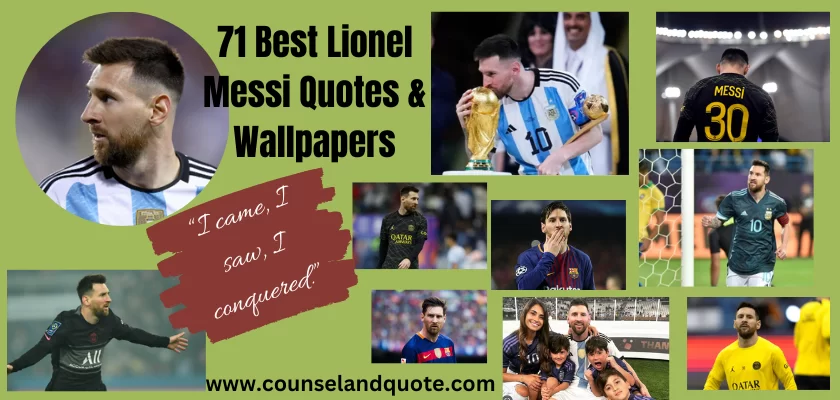 Also, check our this piece-
In this article, we have compiled the top 50 Cristiano Ronaldo Famous Quotes, we hope you'll love these too.
So, go ahead and enjoy!
Happy Reading!
Cristiano Ronaldo Quotes
Cristiano Ronaldo Quotes
Cristiano Ronaldo Quote
Cristiano Ronaldo Famous Quotes
1- "I never tried to hide the fact that my only goal is to be the best."
2- "I am not the humblest person in the world. I admit that."
3- "Dedication, hard work all the time, and belief."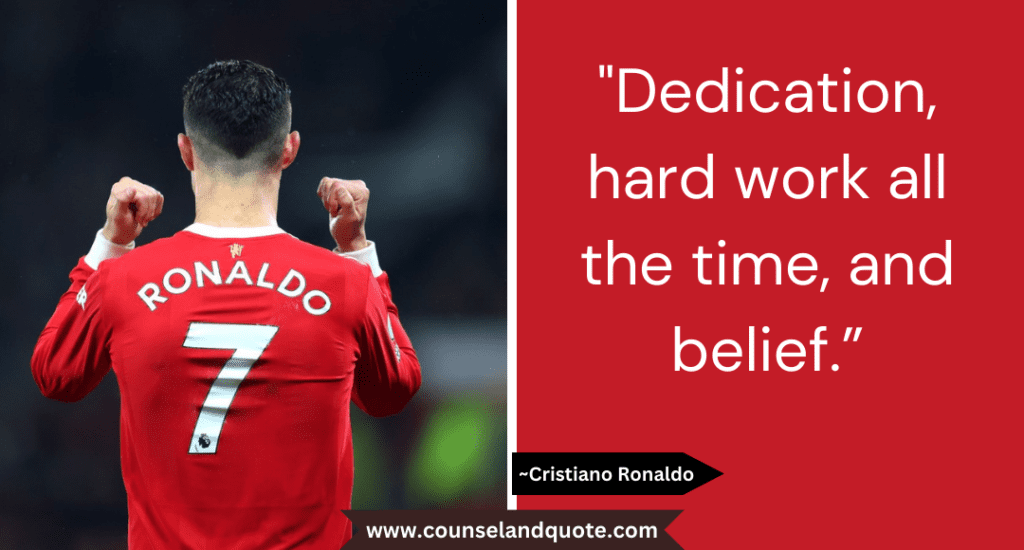 4- "When you lose a person you love so much, surviving the loss is difficult."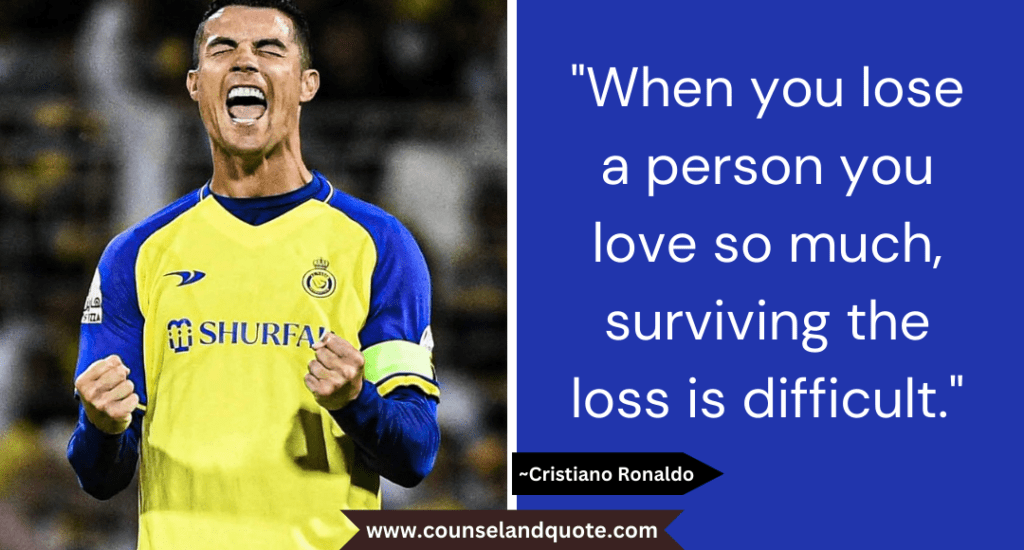 5- "I see myself as the best footballer in the world. If you don't believe you are the best, then you will never achieve all that you are capable of."
6- "I have practically no private life. I'm already used to this and ready for it. Yes, sometimes it is hard, but it is the choice I made."
7- "Talent isn't everything. You can have it from the cradle, but it is necessary to learn the trade to be the best."
8- "I love Manchester. Everyone knows that – I have said it many times. Manchester is in my heart."
9- "Every season is a new challenge to me, and I always set out to improve in terms of games, goals, assists."
10- "I see football as an art and all players are artists.
If you are a top artist, the last thing you would do is paint a picture somebody else has already painted."
11- "I know I'm a good professional, I know that no one's harder on me than myself and that's never going to change, under any circumstances."
12- "It obviously bothers people when Real Madrid win. It makes them jealous. There isn't a level playing field."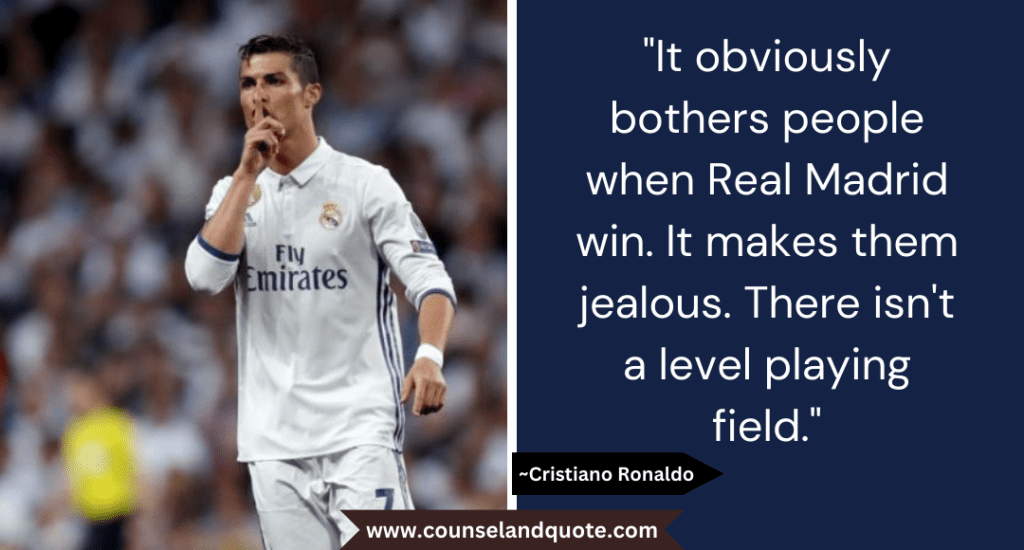 13- "People have to understand one thing: at the age of 18, I arrived at a dream club like Manchester United. It was a dream come true. But, even at that moment, I was thinking about playing in England for some years and then going to play in Spain. Even at that time I was thinking that way, and I always gave 100% everything."
14- "I would be very proud if, one day, I'm held in the same esteem as George Best or Beckham. It's what I'm working hard towards."
15- "I am not a perfectionist, but I like to feel that things are done well. More important than that, I feel an endless need to learn, to improve, to evolve, not only to please the coach and the fans, but also to feel satisfied with myself. It is my conviction that here are no limits to learning, and that it can never stop, no matter what our age."
16- "There are people out there who hate me and who say I'm arrogant, vain, and whatever. That's all part of my success. I am made to be the best."
17- "I don't want to be compared to anyone – I'd like to impose my own style of play and do the best for myself and for the club here."
18- "My father always taught me that when you help other people, then God will give you double. And that's what has really happened to me. When I have helped other people who are in need, God has helped me more."
19- "If you think you're perfect already, then you never will be."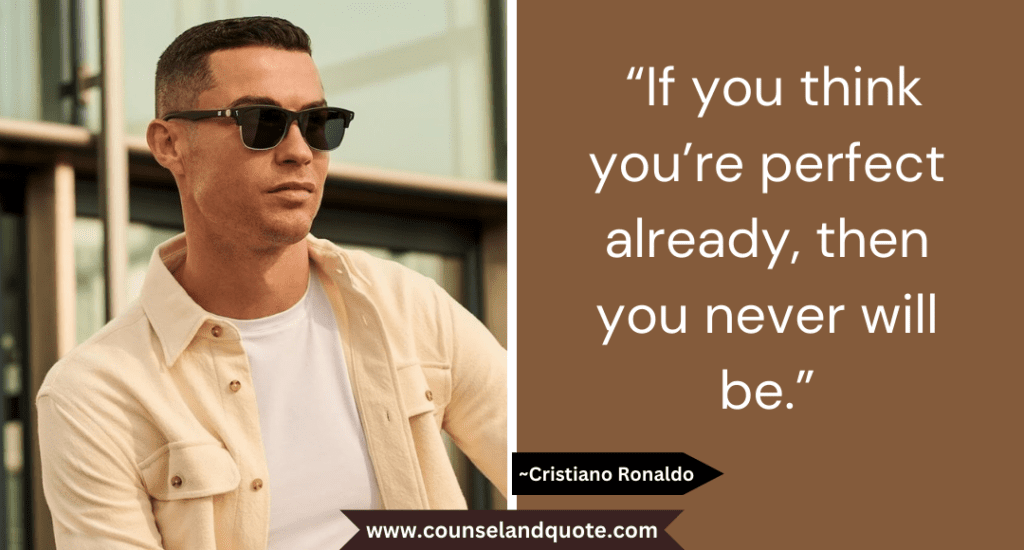 Cristiano Ronaldo Wallpaper
20- "Your love makes me strong, your hate makes me unstoppable."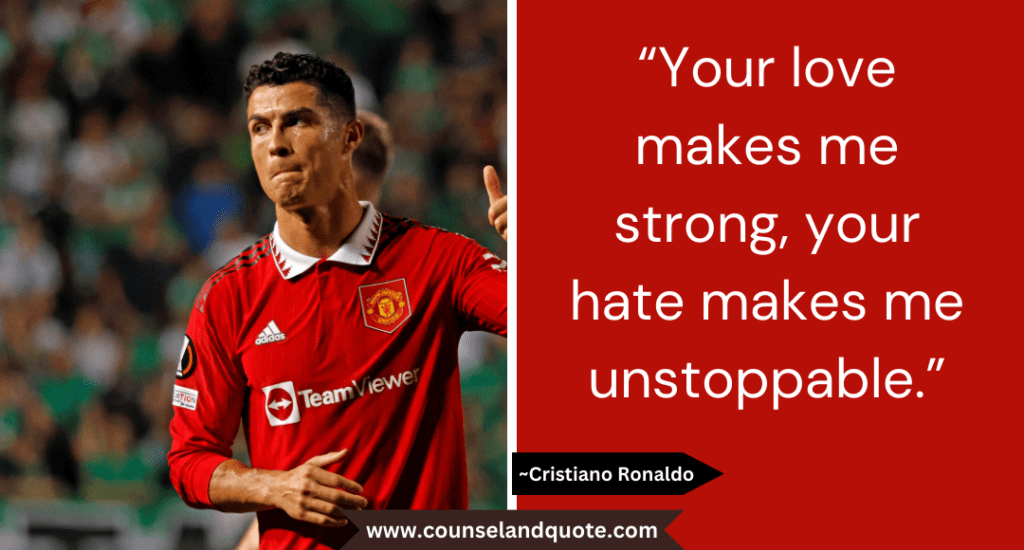 21- "Why lie? I'm not going to be a hypocrite and say the opposite of what I think, like some others do."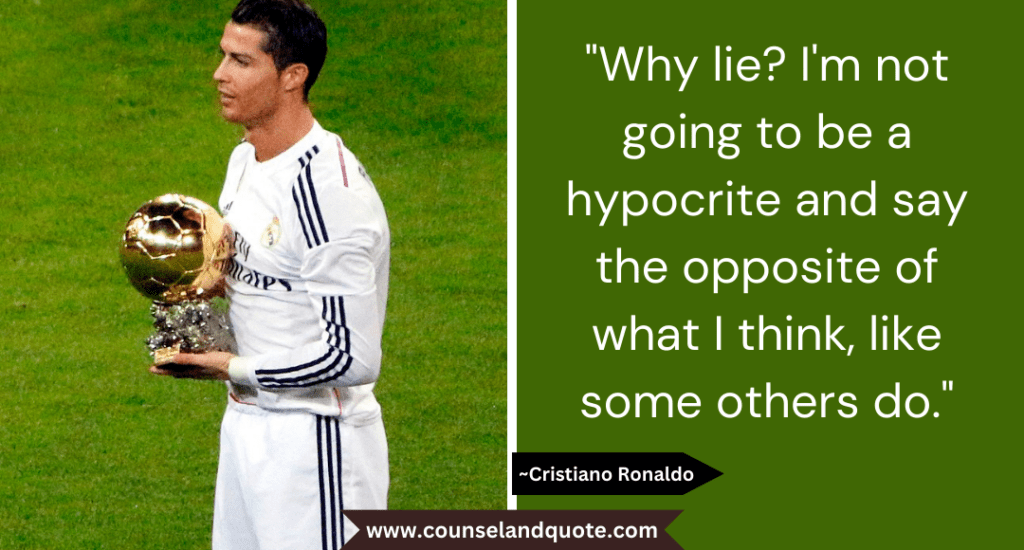 22- "I'm living a dream I never want to wake up from."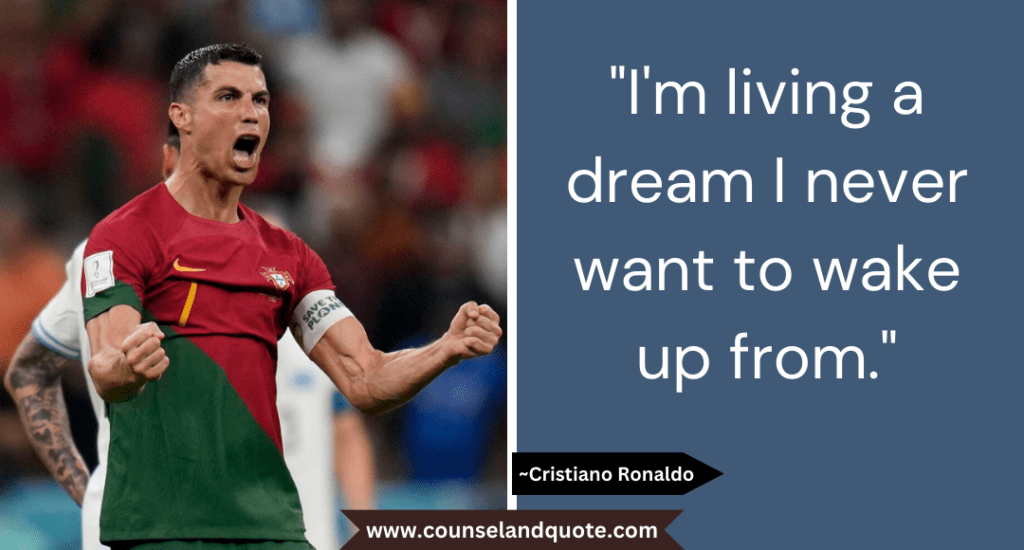 23- "Winning – that's the most important to me. It's as simple as that."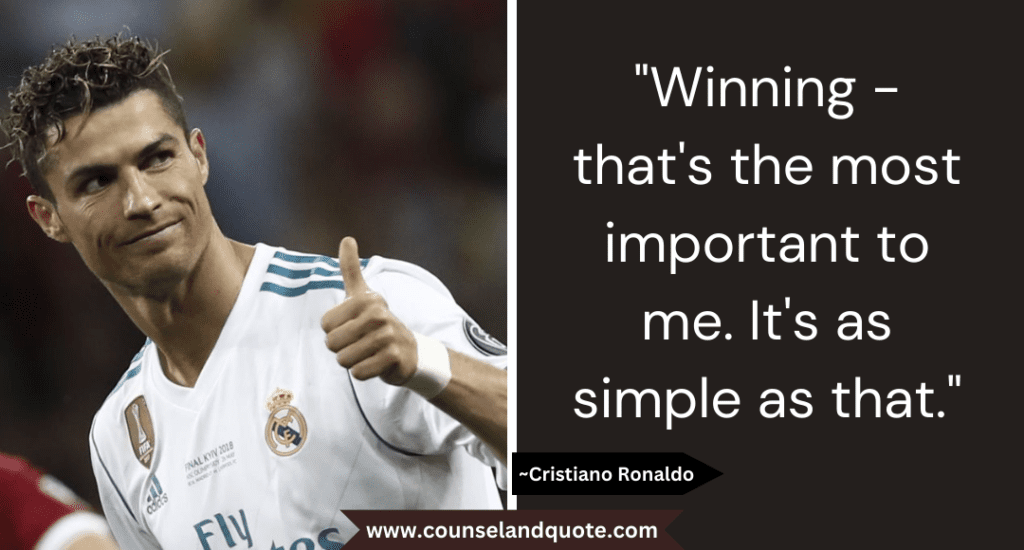 24- "I'm not going to change the world. You're not going to change the world. But we can help – we can all help."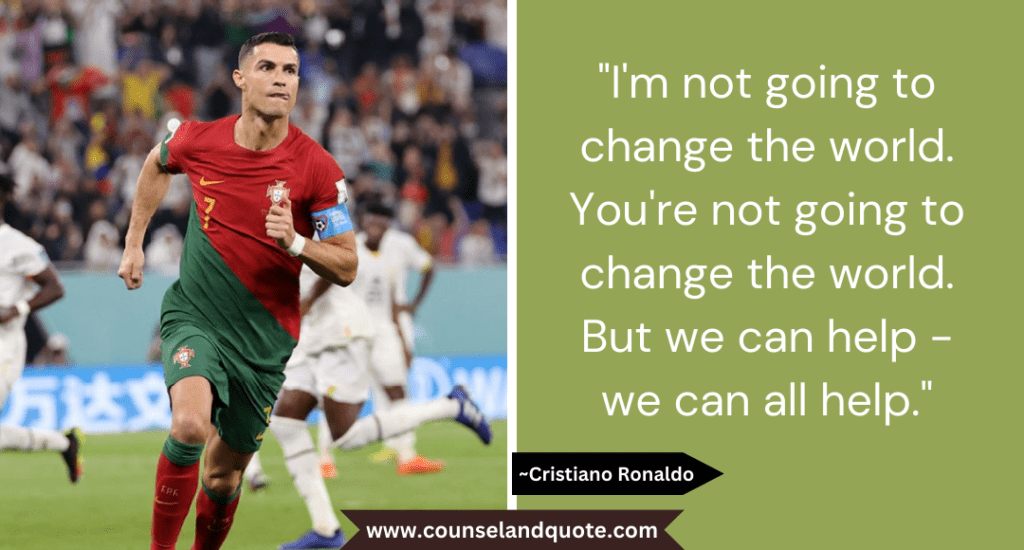 25- "I have my flaws too, but I am a professional who doesn't like to miss or lose."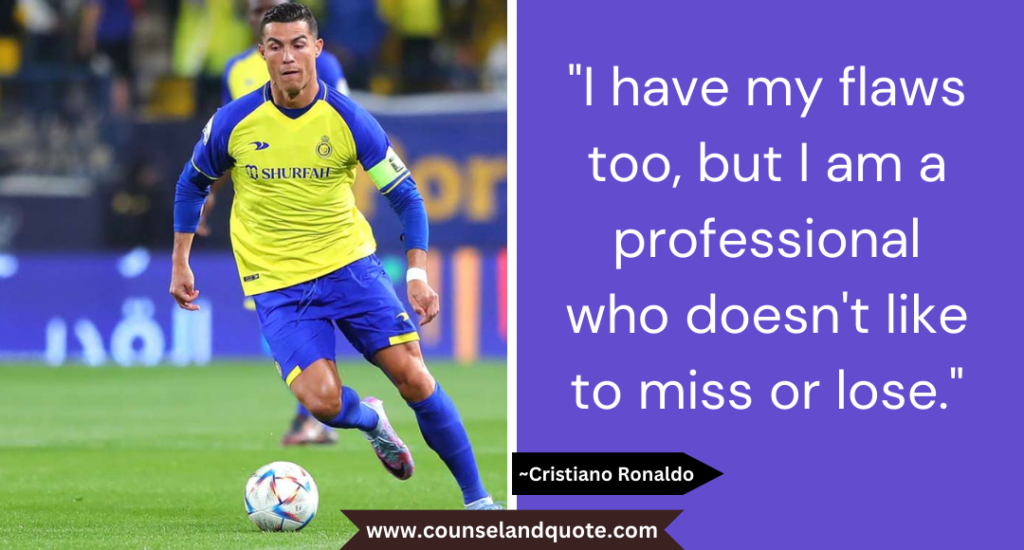 Cristiano Ronaldo Quotes About Life
26- "I don't mind people hating me, because it pushes me."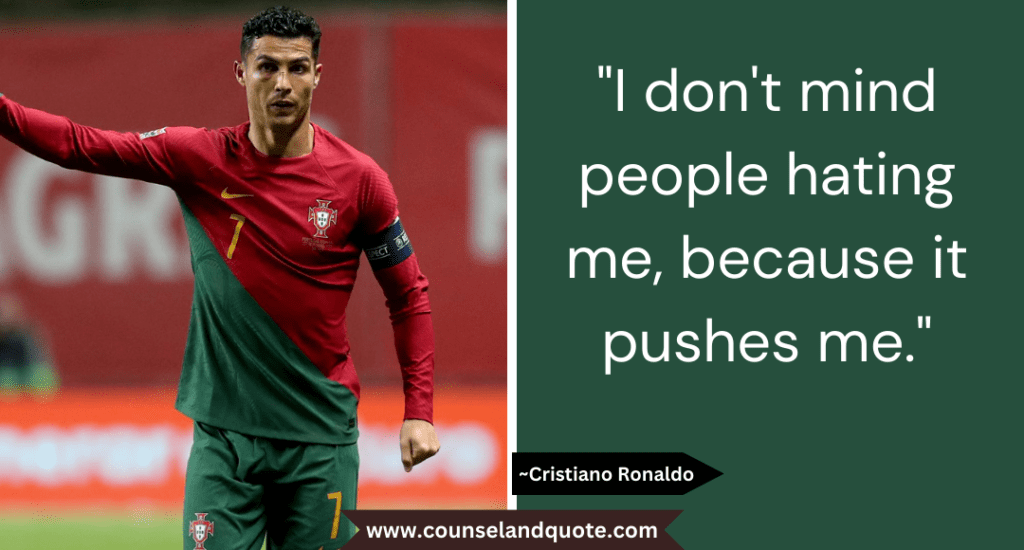 27- "We cannot live being obsessed with what other people think about us. It's impossible to live like that."
28- "I don't like being alone."
29- "I'm aware that, whatever the circumstances, there will always be speculation about me."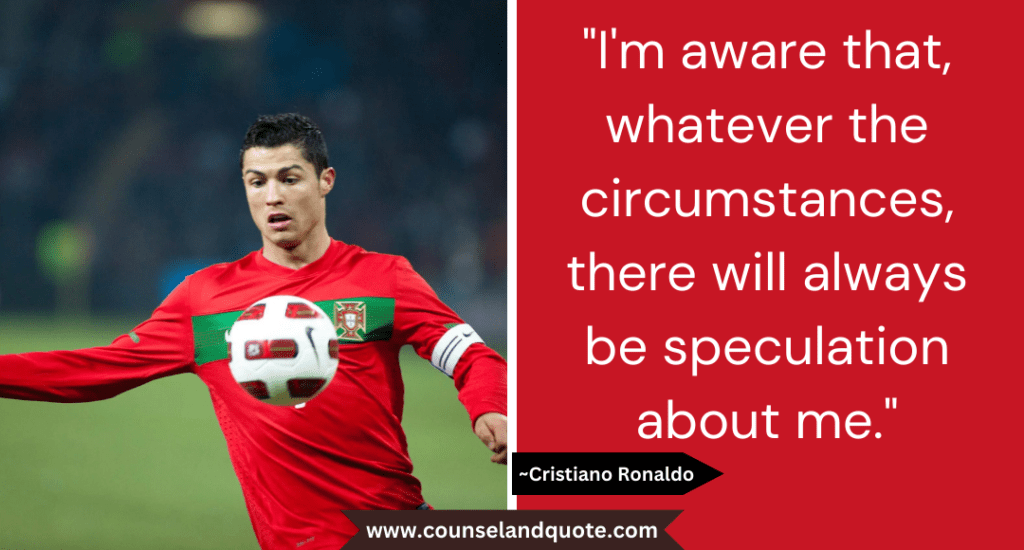 30- "I was ironing my own clothes when I was 11 years old. My mental strength goes back to those days."
31- "Many people look at me and think they know me but they don't at all. This is the real me. I am a humble person, a feeling person. A person who cares about others, who wants to help others."
Cristiano Ronaldo Quotes About Hard Work
32- "Talent without working hard is nothing."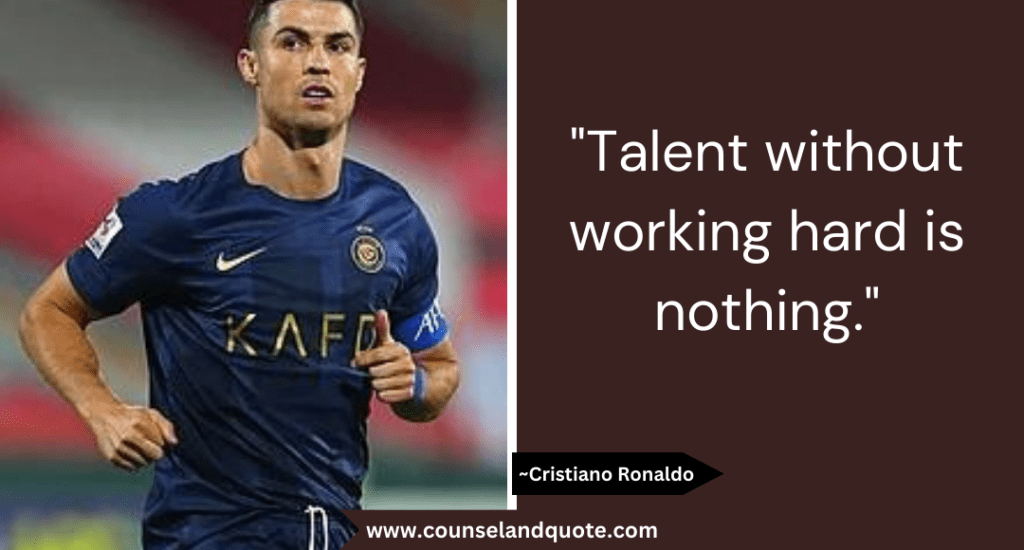 33- "I want to consistently play well and win titles. I'm only at the beginning."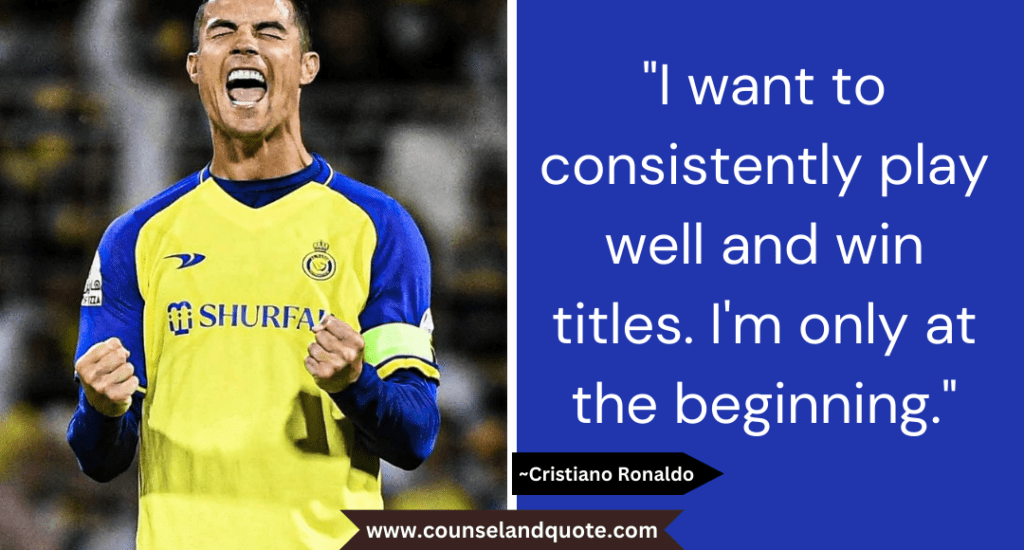 Cristiano Ronaldo Quotes About Dream
34- "I want to consistently play well and win titles. I'm only at the beginning."
35- "To me, being the best means proving it in different countries and championships."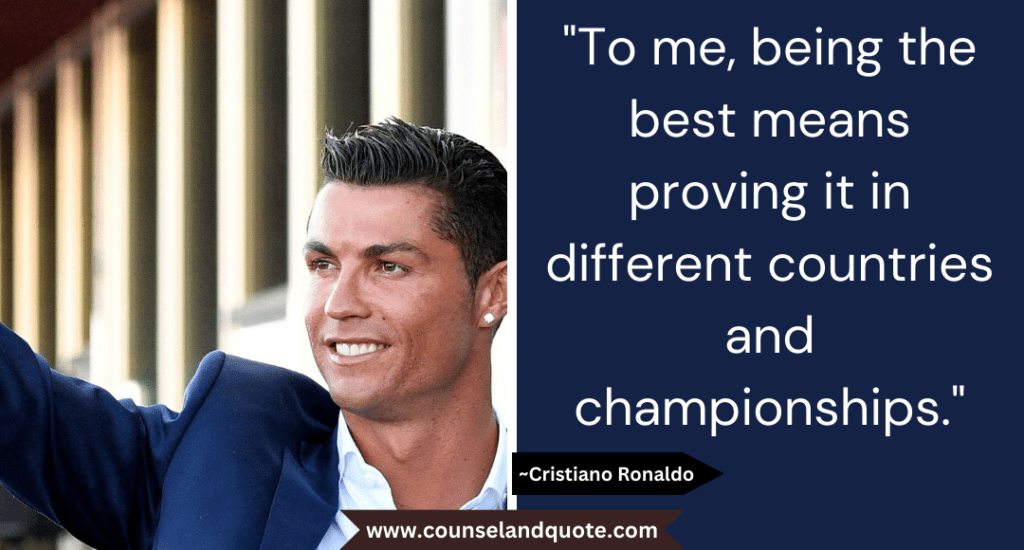 36- "Don't let small obstacles be in the way of being victorious. Remember you are stronger than the challenges you face."
37- "There is no harm in dreaming of becoming the world's best player. It is all about trying to be the best. I will keep working hard to achieve it but it is within my capabilities."
Cristiano Ronaldo Quotes About Soccer
38- "Without football, my life is worth nothing."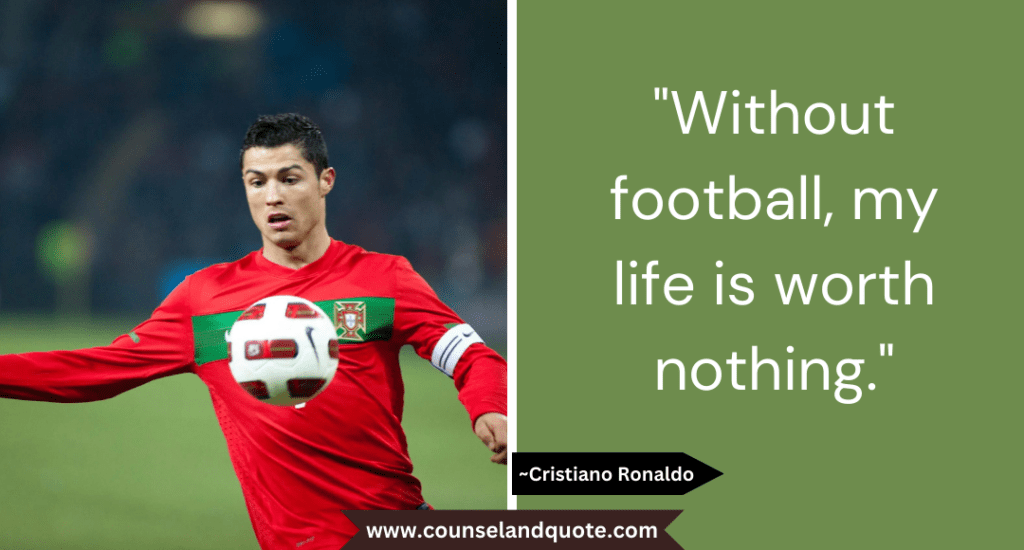 39- "Lots of young players have triumphed at United, so why can't it happen to me? I'm not worried I'm young – it's an incentive to do the best I can."
40- "I want to be remembered as part of the group of the greatest players ever."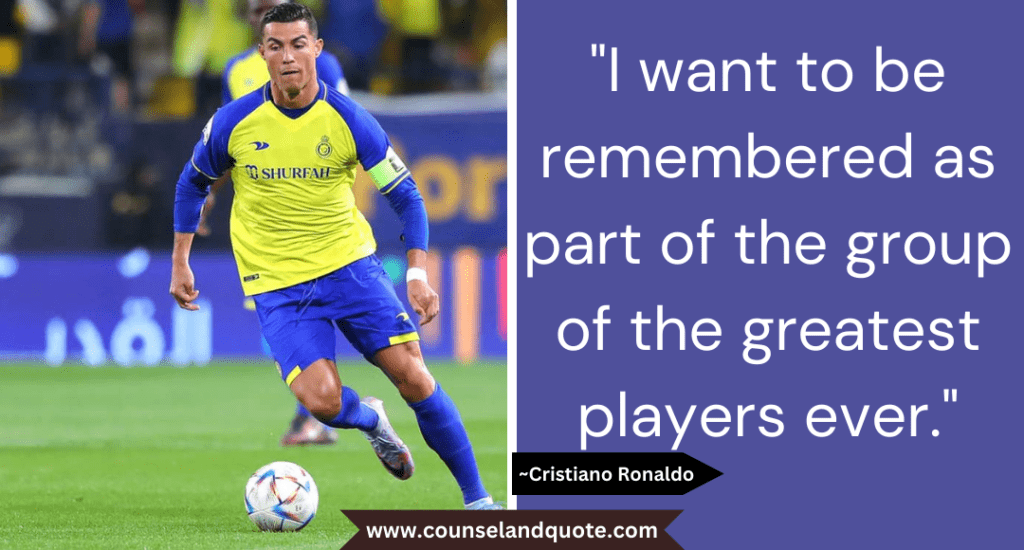 41- "Scoring goals is a great feeling, but the most important thing to me is that the team is successful – it doesn't matter who scores the goals as long as we're winning."
42- "It gives me the happiest feeling in the world. I just love scoring. It doesn't matter if it's a simple goal from close range, a long shot or a dribble around several players, I just love to score all goals."
43- "I have two Golden Boot awards at home. It would be nice to win another, but I wouldn't mind it if I didn't."
44- "The high point of my career was winning the Champions League. No one will ever erase that from my memory, in the same way that no one will ever erase the fact that I did it in a Manchester United shirt."
45- "I think sometimes the best training is to rest."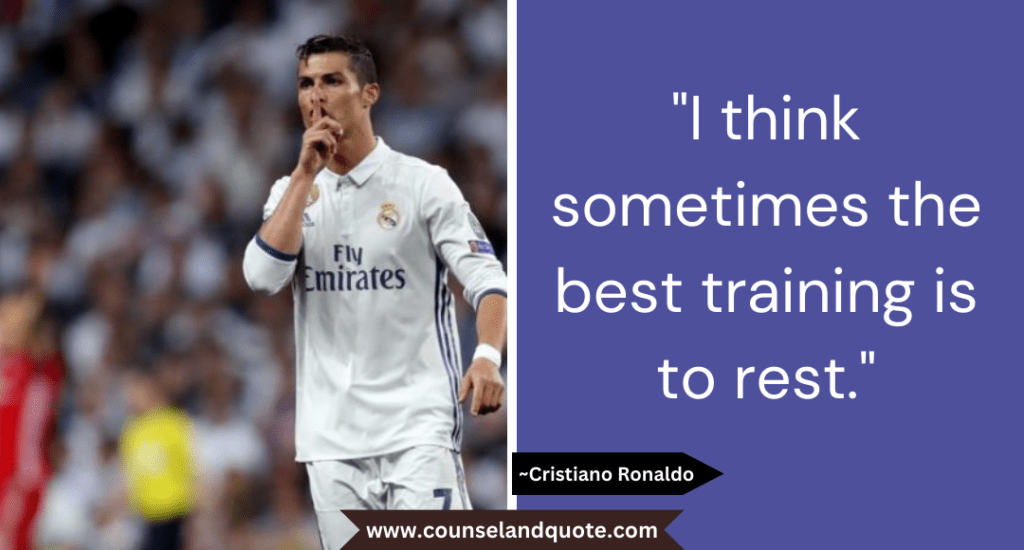 46- "There's no point in making predictions. It's not worth speculating because nothing is set in stone and things change all the time in football. Today there are opportunities that no one knows if they will come round again in the future."
47- "I don't have to show anything to anyone. There is nothing to prove."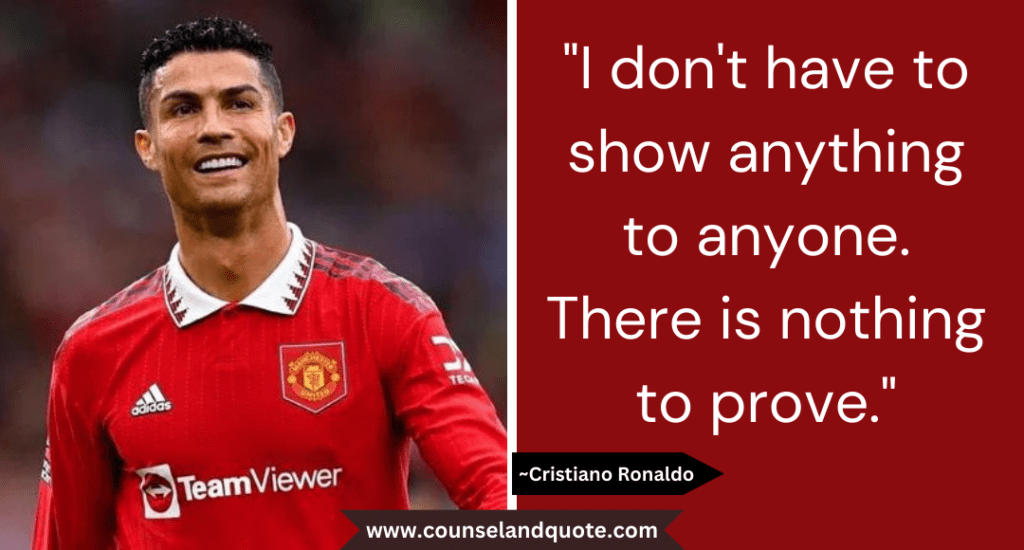 48- "In football, I don't have a lot of friends. The people who I really trust, there are not many… Most of the time, I'm alone."
Cristiano Ronaldo Quotes About Family
49- "I still learn, but I think it's the best thing in life to have a kid."
50- "I have two Golden Boot awards at home. It would be nice to win another, but I wouldn't mind it if I didn't."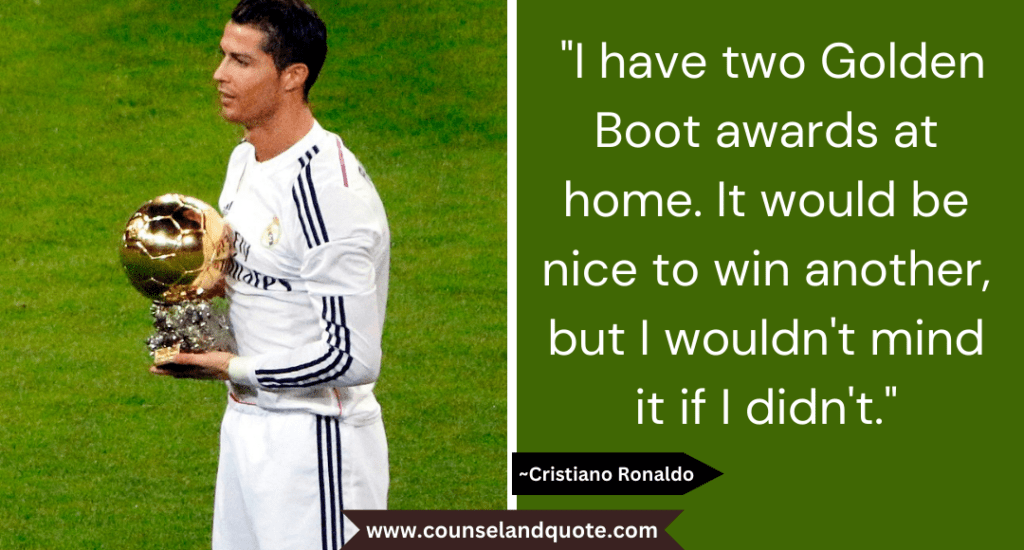 Conclusion
We hope you've enjoyed our collection of Cristiano Ronaldo Quotes to the core.
They are inspirational and embody his passion. If you are a fan of Ronaldo then don't forget to mention your favorite Cristiano Ronaldo Quote in the comment box.
And please share this piece with your family, friends and all the "die-hard" fans of Cristiano Ronaldo.
Spread the word and help the world!
Thank You!