Famous Muhammad Ali Quotes are exceptional!! Muhammad Ali Quotes mirror the flamboyant personality of "the Greatest."
He has given us much to ponder, function, and incorporate these gems in our lives.
He is one of a kind! A charming, committed, confident man changed the world, and of course, the field of Boxing has never witnessed this great a champ ever.
Muhammad Ali was an American heavyweight professional Boxer and is widely regarded as one of the greatest sports personalities of all time.
Without wasting any more time, let's get straight to Ali Quotes. Happy Reading!
Famous Muhammad Ali Quotes
Famous Muhammad Ali Quotes
Muhammad Ali Quotes
Ali Quotes
Muhammad Ali Motivational Quotes
1- "The will must be stronger than the skill."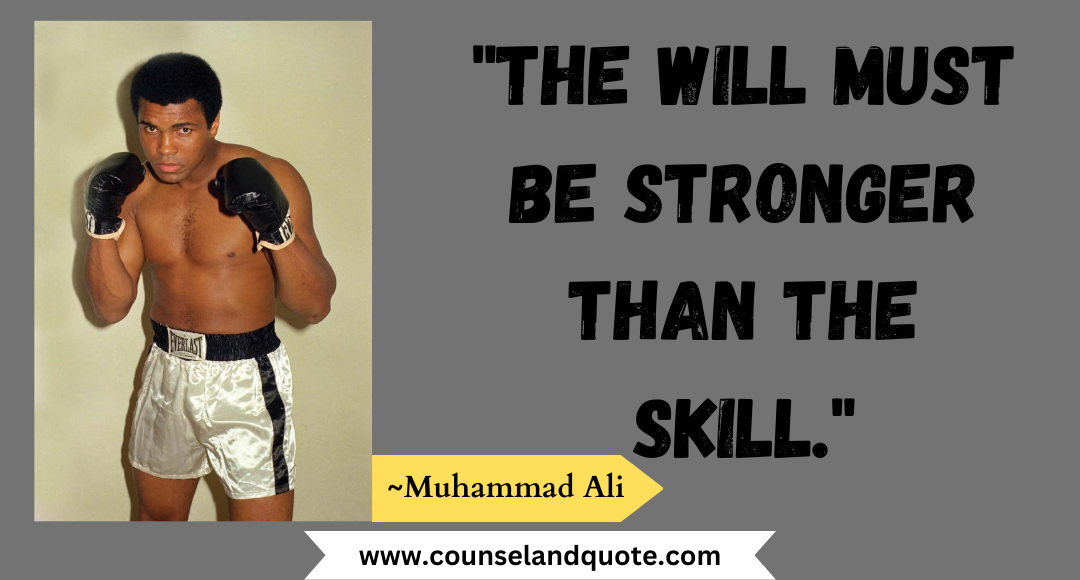 2- "A man who has no imagination has no wings."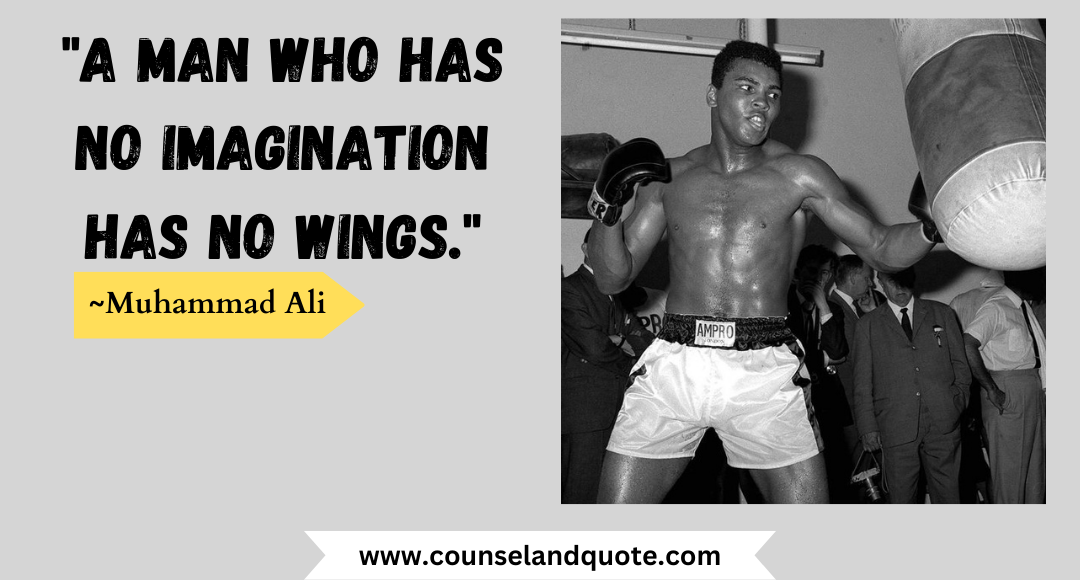 3- "There are no pleasures in a fight, but some of my fights have been a pleasure to win."
4- "Float like a butterfly. Sting like a bee. You can't hit what your eyes don't see."
5- "Hating people because of their color is wrong. And it doesn't matter which color does the hating. It's just plain wrong."
6- "It's lack of faith that makes people afraid of meeting challenges, and I believed in myself."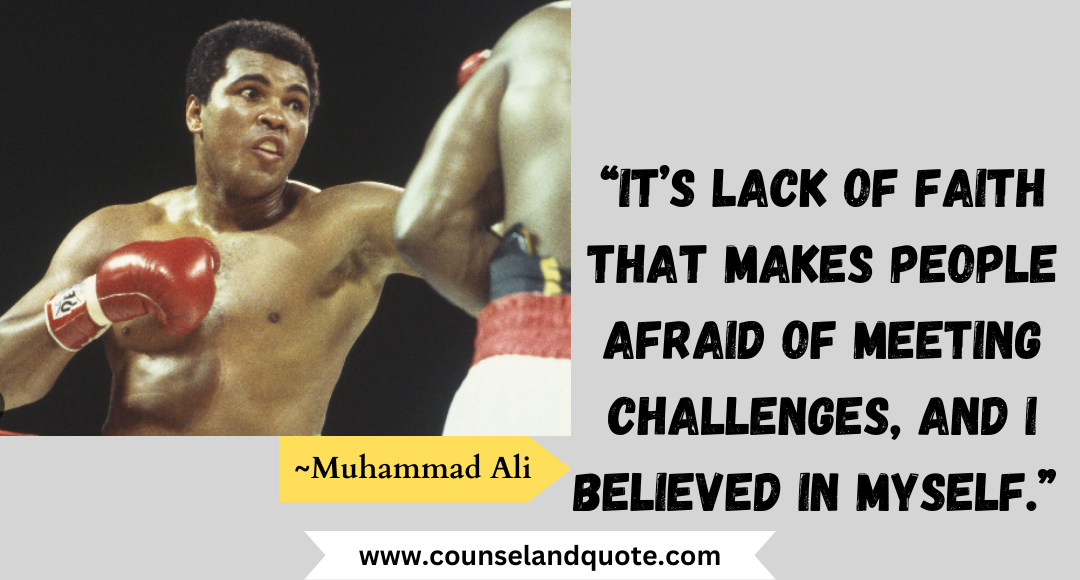 7- "I wanted to use my fame and this face that everyone knows so well to help uplift and inspire people around the world."
8- "I've wrestled with alligators / I've tussled with a whale / I done handcuffed lightning / And throw thunder in jail."
9- "It's not bragging if you can back it up."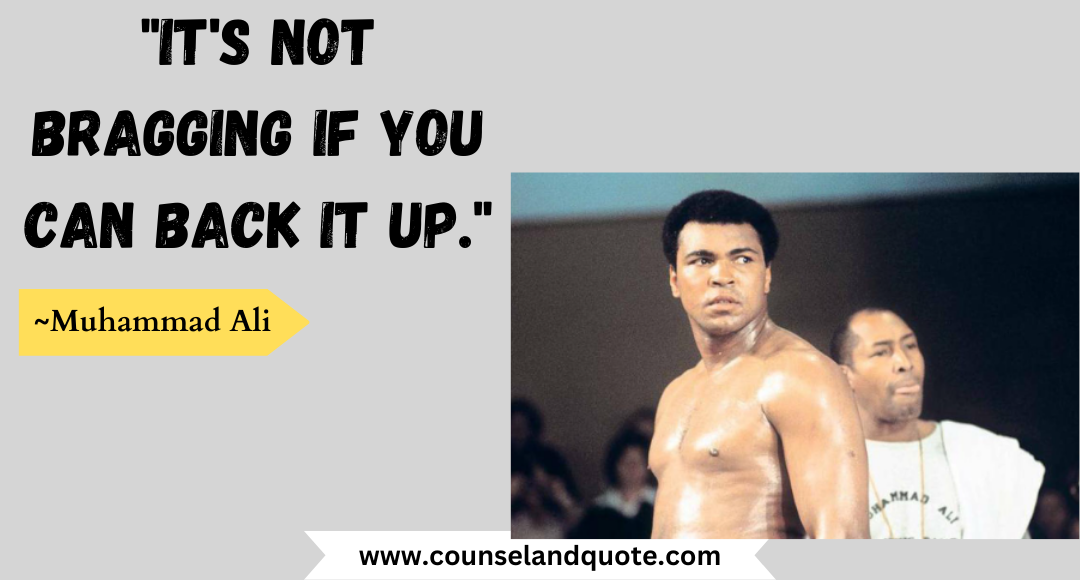 10- "What you're thinking is what you're becoming."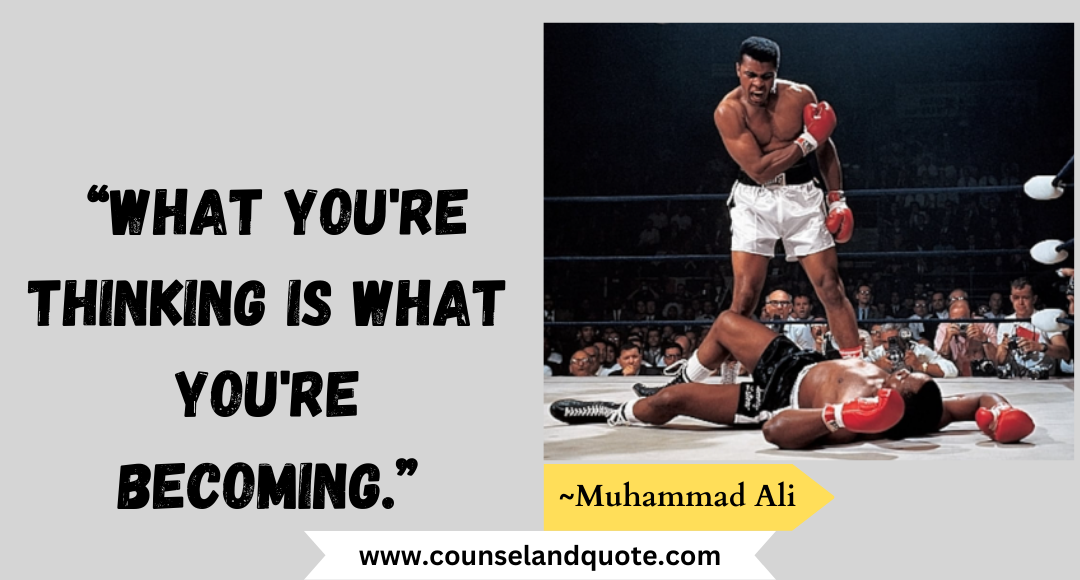 Famous Muhammad Ali Quotes
11- "I am the greatest. I said that even before I knew I was. I figured that if I said it enough, I would convince the world that I was really the greatest."
12- "I used to tease Joe Louis by reminding him that I was the greatest of all time. But Joe Louis was the greatest heavyweight fighter ever."
13- "It isn't the mountains ahead that wear you down. It's the pebble in your shoe."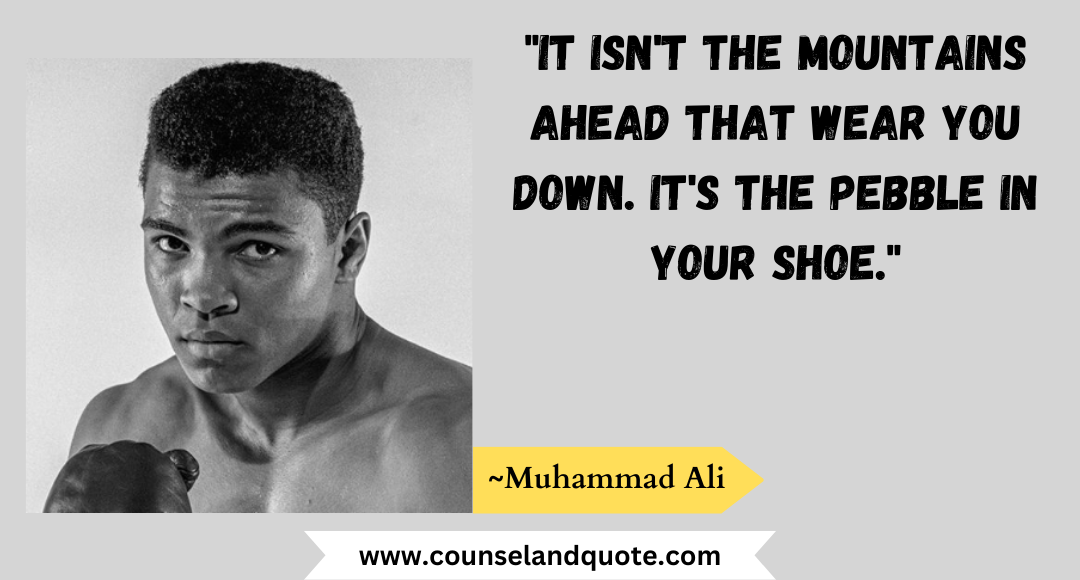 14- "To be able to give away riches is mandatory if you wish to possess them. This is the only way that you will be truly rich."
15- "I'm a fighter. I believe in the eye-for-an-eye business. I'm no cheek turner. I got no respect for a man who won't hit back. You kill my dog, you better hide your cat."
16- "The fight is won or lost far away from the witnesses, behind the lines, in the gym and out there on the road, long before I dance under those lights."
17- "If my mind can conceive it, if my heart can believe it–then I can achieve it."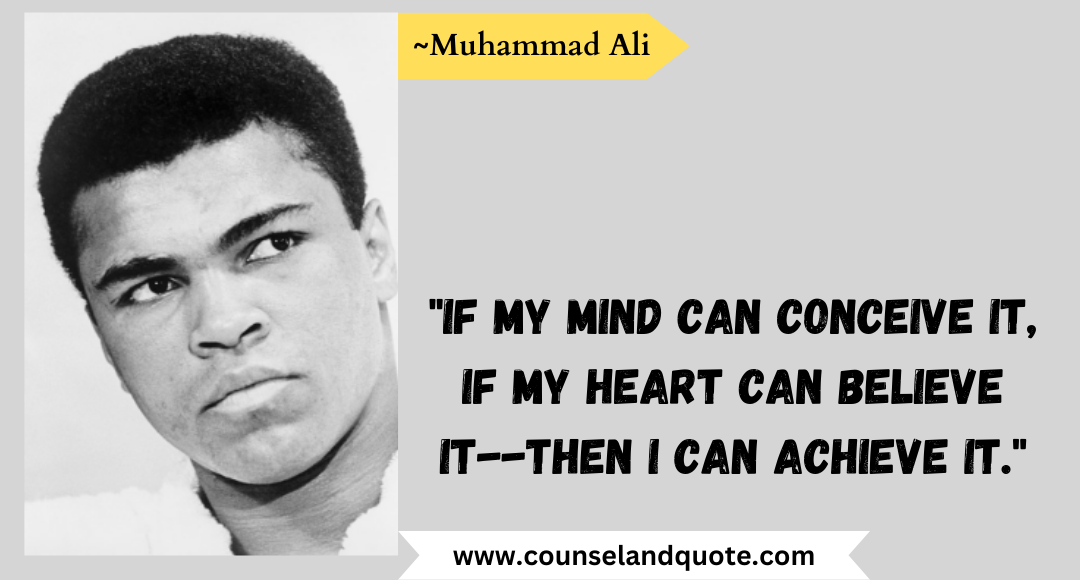 18- "It's lack of faith that makes people afraid of meeting challenges, and I believed in myself."
19- "Service to others is the rent you pay for your room here on earth."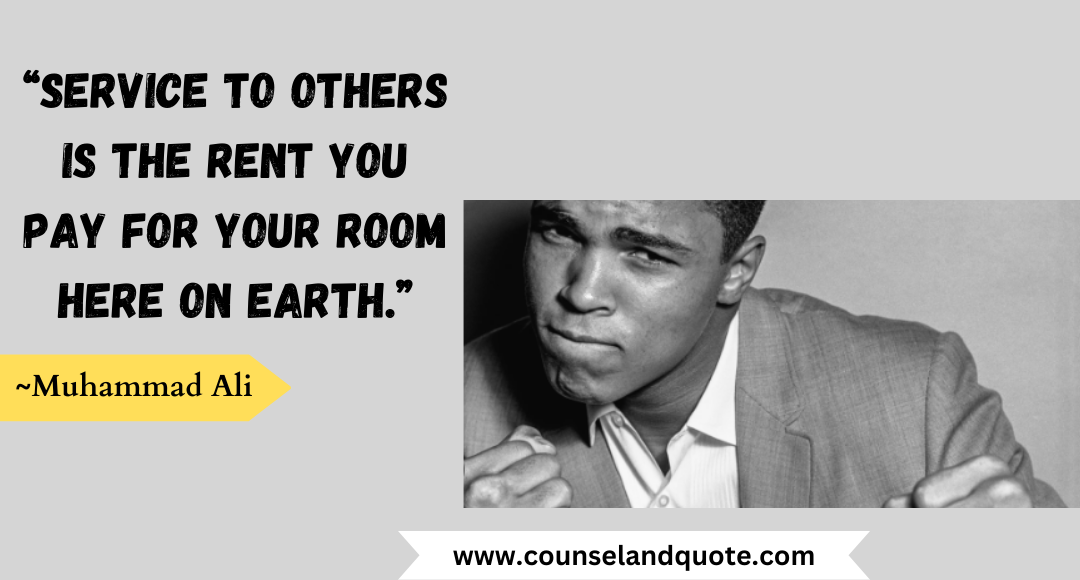 20- "No one knows what to say in the loser's locker room."
Famous Muhammad Ali Quotes
21- "To be a great champion you must believe you are the best. If not pretend you are."
22- "I am America. I am the part you won't recognize. But get used to me. Black, confident, cocky; my name, not yours; my religion, not yours; my goals, my own; get used to me. "I'm not the greatest, I'm the double greatest."
23- "Impossible is just a word thrown around by small men who find it easier to live in the world they've been given than to explore the power they have to change it. Impossible is not a fact. It's an opinion. Impossible is potential. Impossible is temporary. Impossible is nothing."
24- "I've made my share of mistakes along the way, but if I have changed even one life for the better, I haven't lived in vain."
25- "Braggin' is when a person says something and can't do it. I do what I say."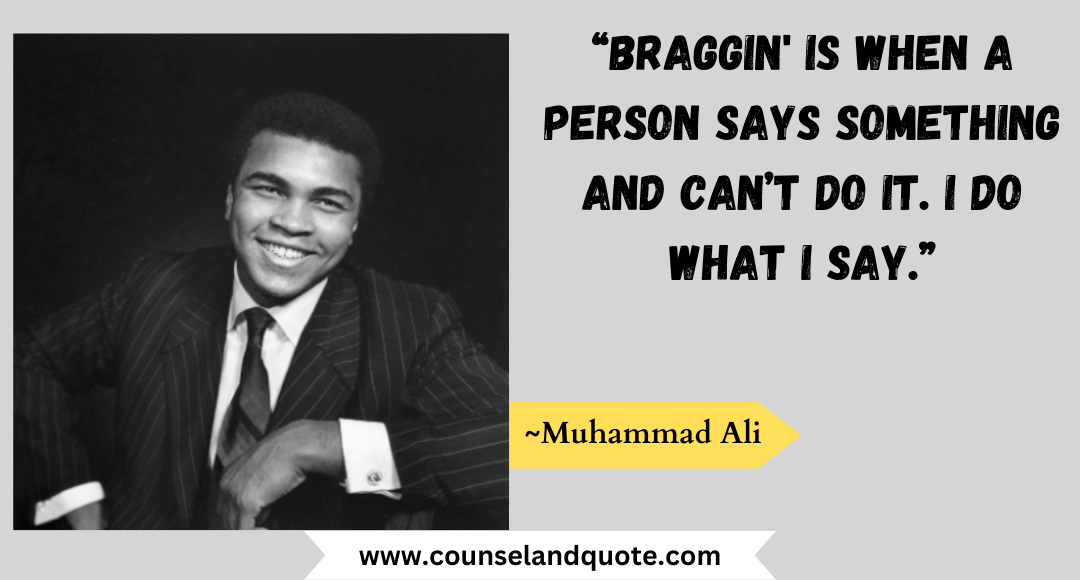 26- "I said I was 'The Greatest,' I never said I was the smartest!"
27- "It will be a killer, and a chiller, and a thriller, when I get the gorilla in Manila."
28- "It's the repetition of affirmations that leads to belief. And once that belief becomes a deep conviction, things begin to happen."
29- "I know where I'm going and I know the truth, and I don't have to be what you want me to be. I'm free to be what I want."
30- "Champions aren't made in gyms. Champions are made from something they have deep inside them—a desire, a dream, a vision. They have to have last-minute stamina, they have to be a little faster, they have to have the skill and the will. But the will must be stronger than the skill."
Famous Muhammad Ali Quotes
31- "At home I am a nice guy: but I don't want the world to know. Humble people, I've found, don't get very far."
32- "I've wrestled with alligators,
I've tussled with a whale.
I done handcuffed lightning
And throw thunder in jail.
You know I'm bad.
just last week, I murdered a rock,
Injured a stone, Hospitalized a brick.
I'm so mean, I make medicine sick."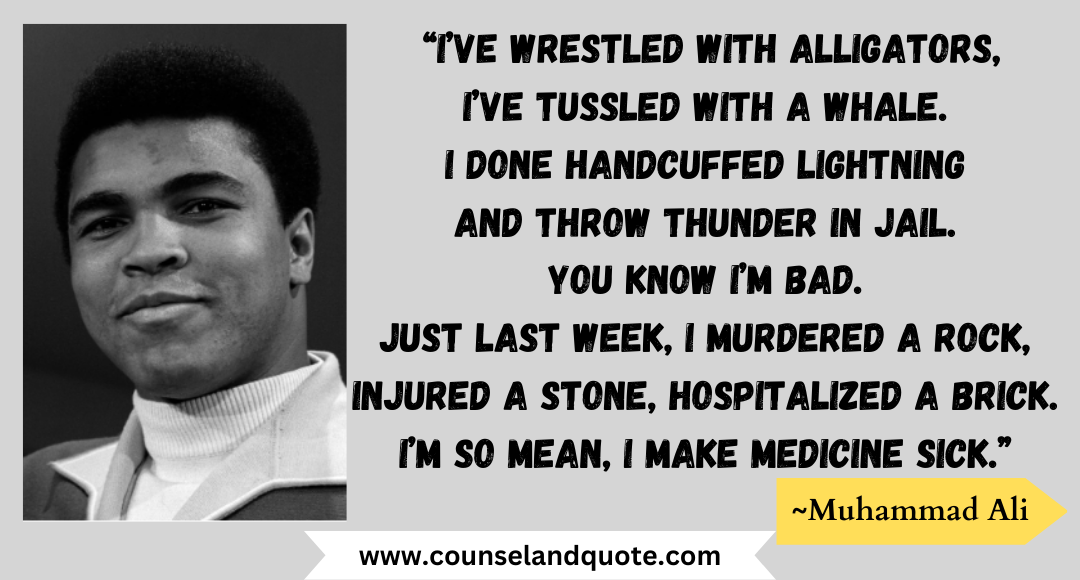 Muhammad Ali Quotes About Life
33- "I shook up the world. Me!"
34- "It's hard to be humble when you're as great as I am."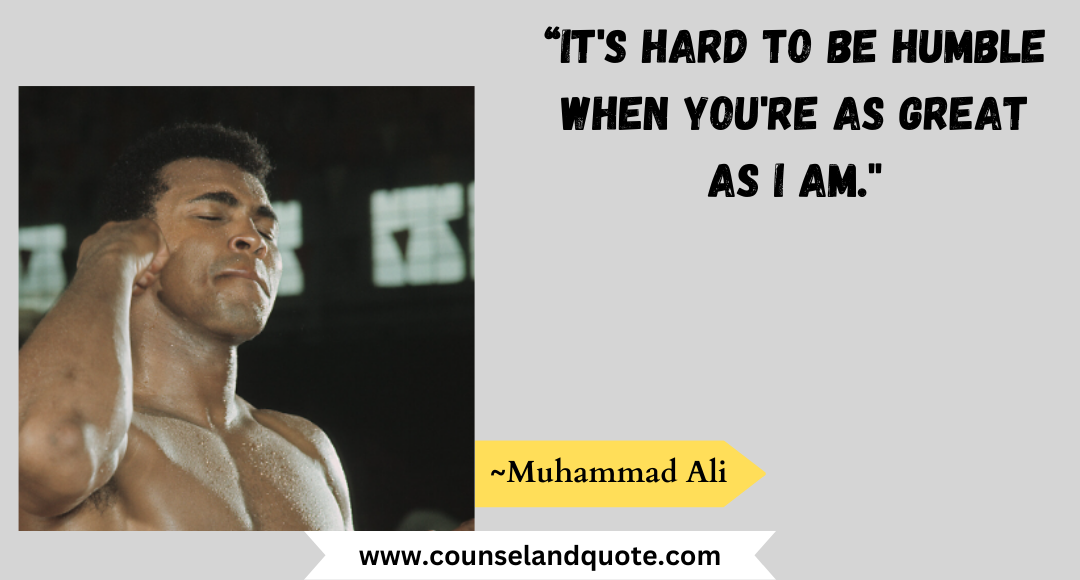 35- "The best way to make your dreams come true is to wake up."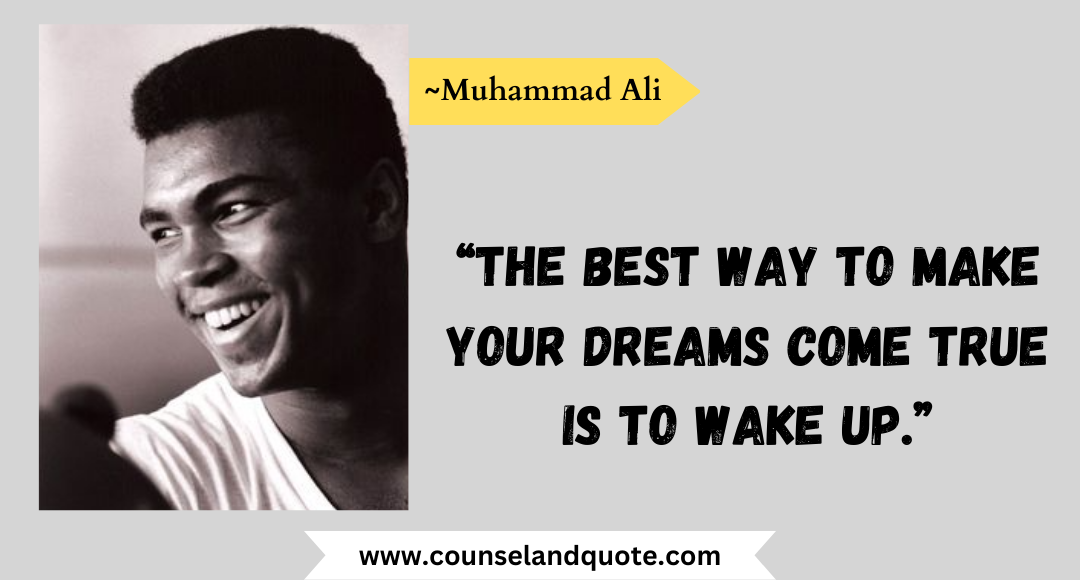 36- "What you are thinking is what you are becoming."
37- "I'm young; I'm handsome; I'm fast. I can't possibly be beat."
38- "Inside of a ring or out, ain't nothing wrong with going down. It's staying down that's wrong."
39- "If you even dream of beating me you'd better wake up and apologize."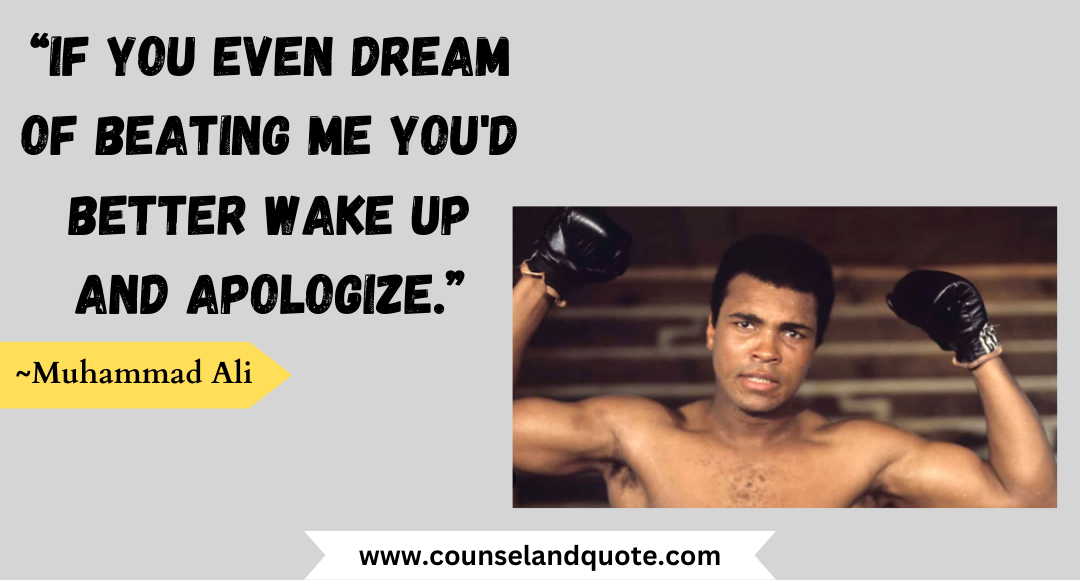 40- "Life is a gamble. You can get hurt, but people die in plane crashes, lose their arms and legs in car accidents; people die every day. Same with fighters: some die, some get hurt, some go on. You just don't let yourself believe it will happen to you."
Famous Muhammad Ali Quotes
41- "He who is not courageous enough to take risks will accomplish nothing in life."
42- "Live everyday as if it were your last because someday you're going to be right."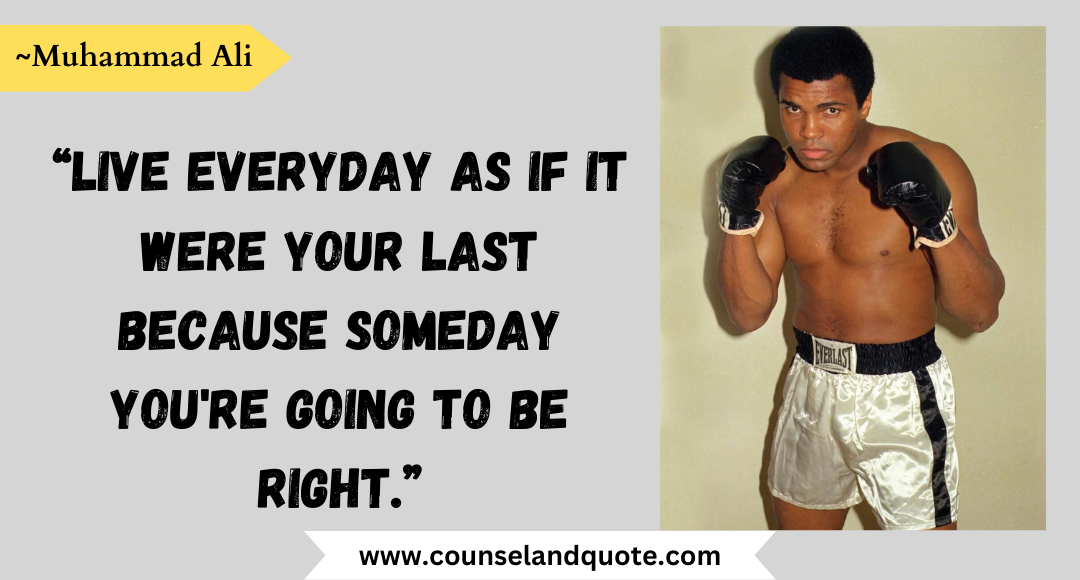 43- "A man who views the world the same at 50 as he did at 20 has wasted 30 years of his life." 
44- "He's (Sonny Liston) too ugly to be the world champ. The world champ should be pretty like me!"
45- "I am an ordinary man who worked hard to develop the talent I was given. I believed in myself, and I believe in the goodness of others."
46- "I'm the most recognized and loved man that ever lived cuz there weren't no satellites when Jesus and Moses were around, so people far away in the villages didn't know about them."
47- "Silence is golden when you can't think of a good answer."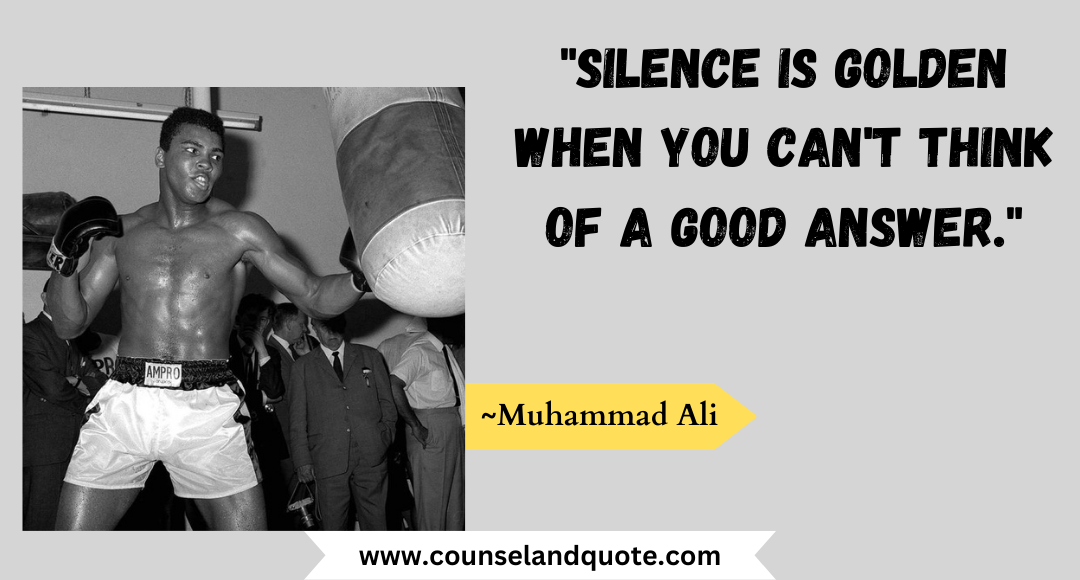 48- "Don't count the days. Make the days count."
49- "Age is whatever you think it is. You are as old as you think you are."
50- "My only fault is that I don't realize how great I really am."
Famous Muhammad Ali Quotes
51- "Friendship… is not something you learn in school. But if you haven't learned the meaning of friendship, you really haven't learned anything."
52- "What keeps me going is goals."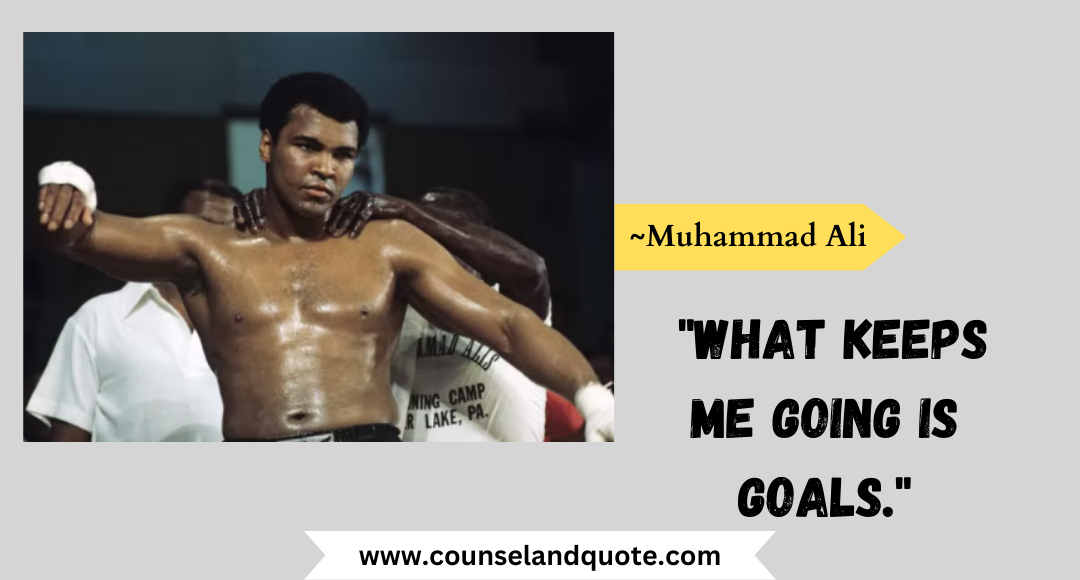 53- "I'm so fast that last night I turned off the light switch in my hotel room and was in bed before the room was dark."
54- "You lose nothing when fighting for a cause … In my mind the losers are those who don't have a cause they care about."
55- "I always bring out the best in men I fight, but Joe Frazier, I'll tell the world right now, brings out the best in me. I'm gonna tell ya, that's one helluva man, and God bless him."
56- "I'm the greatest thing that ever lived! I'm the king of the world! I'm a bad man. I'm the prettiest thing that ever lived."
57- "I am the astronaut of boxing. Joe Louis and Dempsey were just jet pilots. I'm in a world of my own."
58- "Why should they ask me to put on a uniform and go 10,000 miles from home and drop bombs and bullets on Brown people in Vietnam while so-called Negro people in Louisville are treated like dogs and denied simple human rights? No I'm not going 10,000 miles from home to help murder and burn another poor nation simply to continue the domination of white slave masters of the darker people the world over. This is the day when such evils must come to an end. I have been warned that to take such a stand would cost me millions of dollars. But I have said it once and I will say it again. The real enemy of my people is here. I will not disgrace my religion, my people or myself by becoming a tool to enslave those who are fighting for their own justice, freedom and equality. If I thought the war was going to bring freedom and equality to 22 million of my people they wouldn't have to draft me, I'd join tomorrow. I have nothing to lose by standing up for my beliefs. So I'll go to jail, so what? We've been in jail for 400 years."
Muhammad Ali Religion Quotes
59- "I believe in the religion of Islam. I believe in Allah and peace. "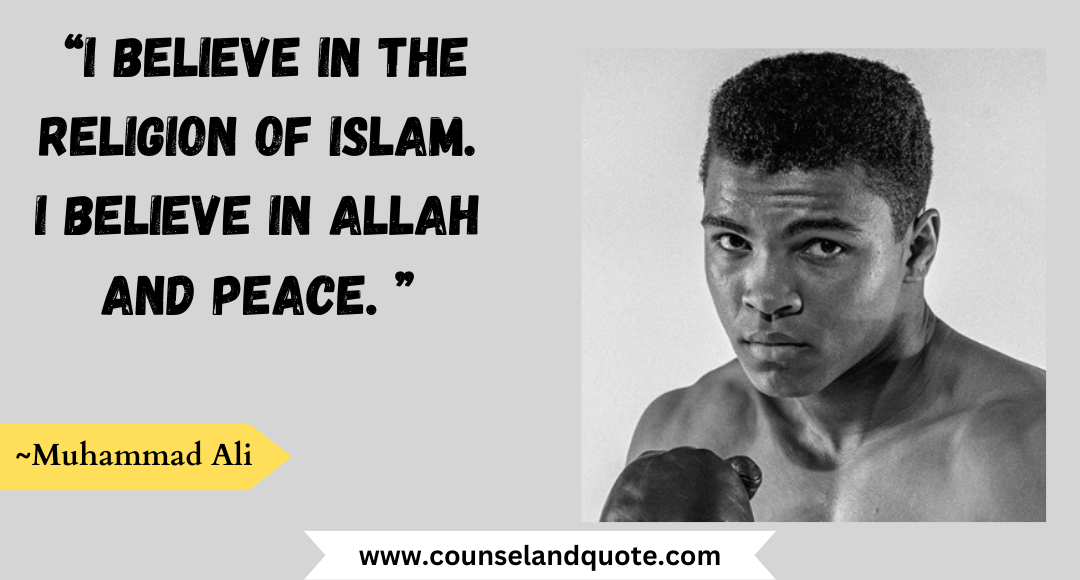 60- "The only thing that matters is submitting to the will of God."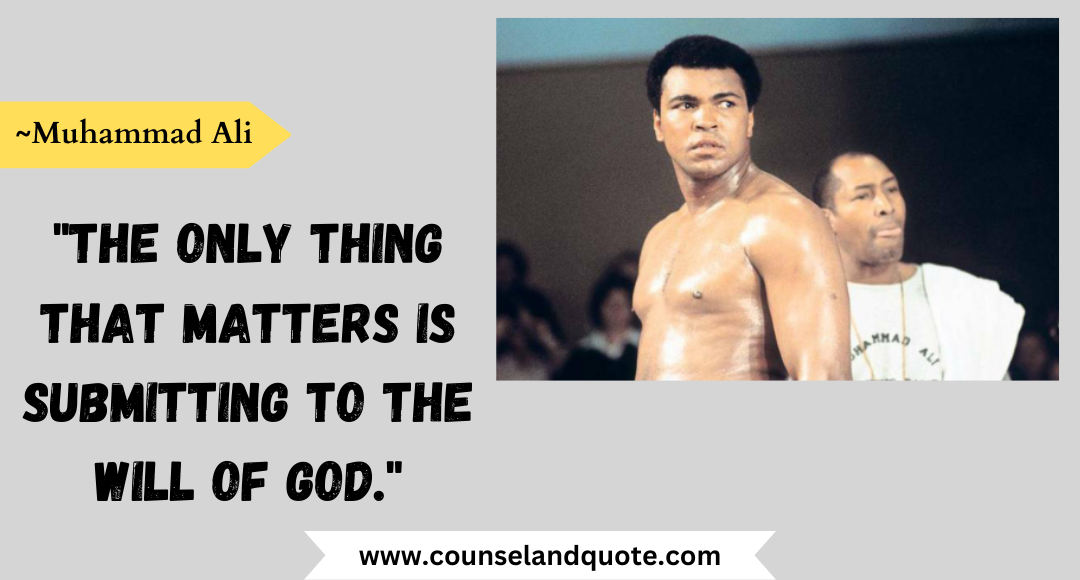 Famous Muhammad Ali Quotes
61- "The word 'Islam' means 'peace.' The word 'Muslim' means 'one who surrenders to God.' But the press makes us seem like haters."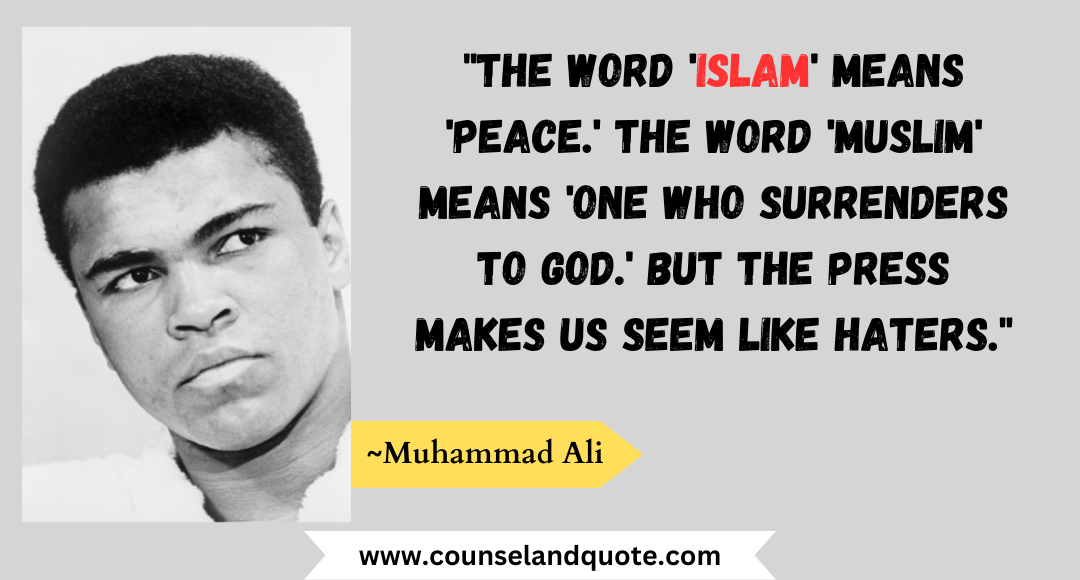 62- "I'm just hoping that people understand that Islam is peace and not violence."
63- "Allah's the Arabic term for God. Stand up for God, fight for God, work for God and do the right thing, and go the right way, things will end up in your corner."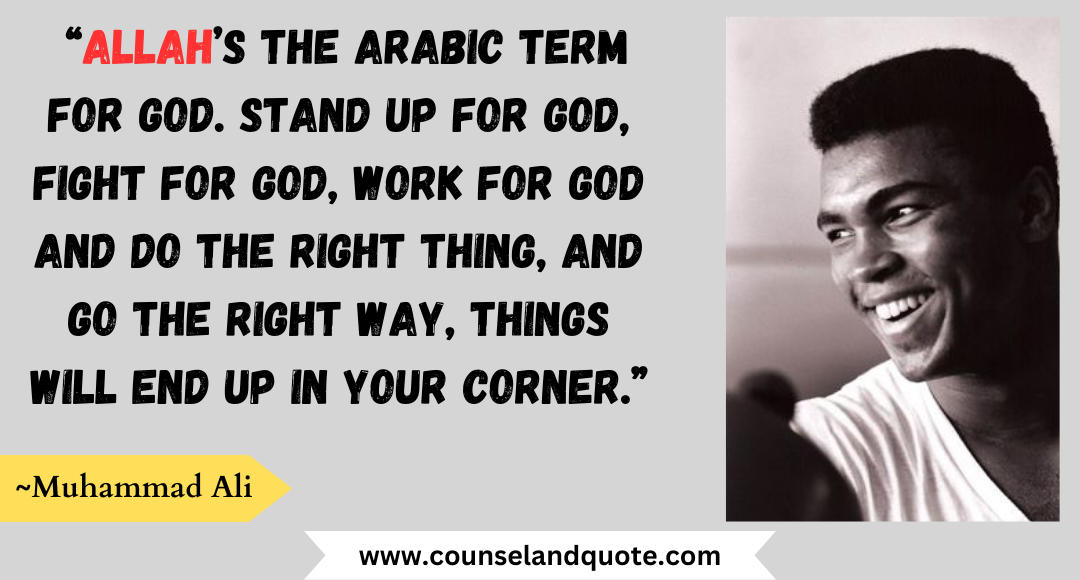 64- "My principles are more important than the money or my title."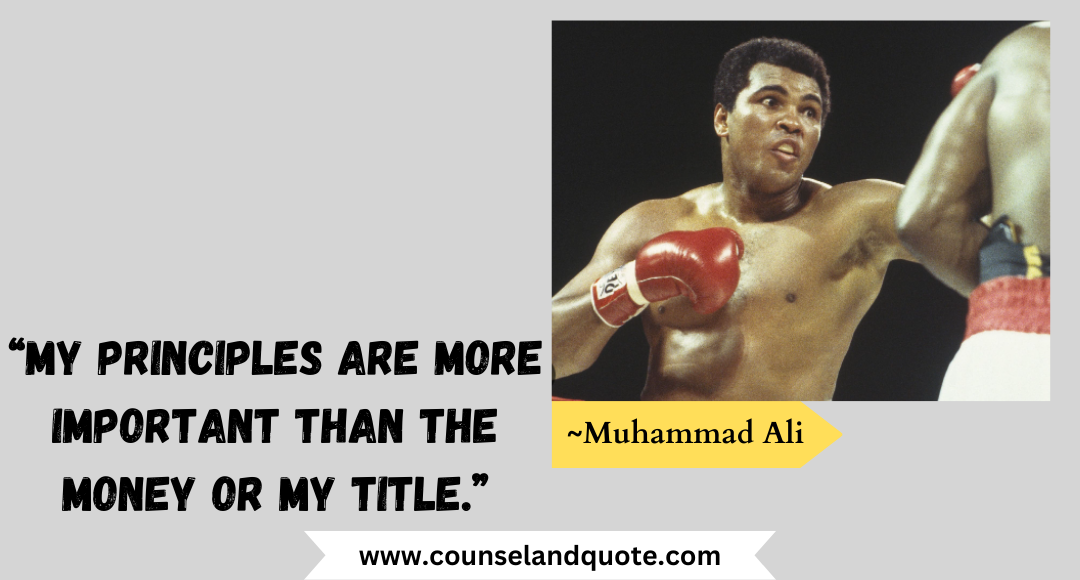 65- "Everything I do now, I do to please Allah…Being a true Muslim is the most important thing in the world to me. It means more to me than being black or being American."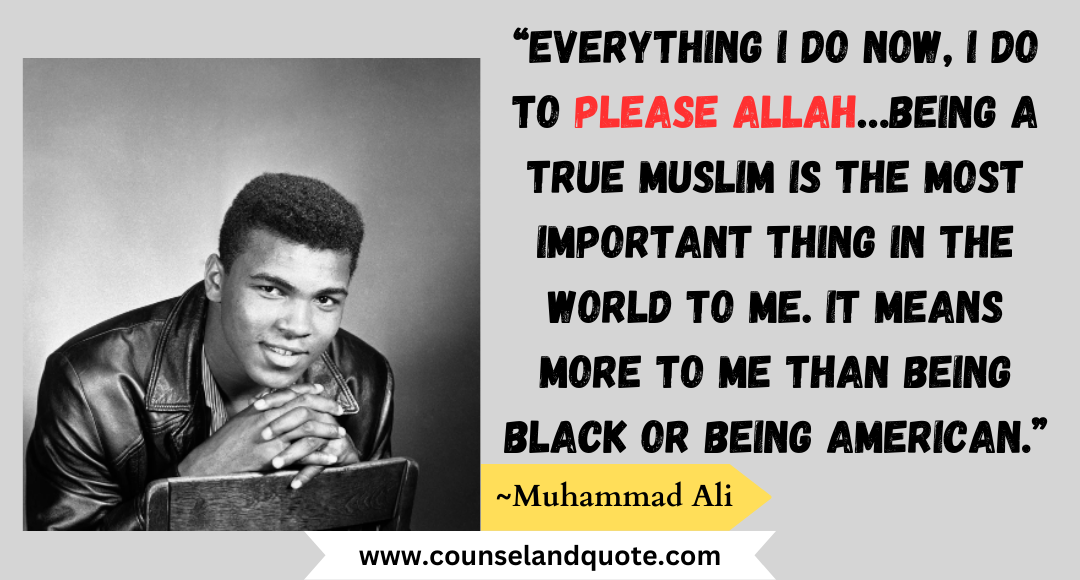 66- "I'm no leader; I'm a little, humble follower."
67- "My lectures, based on Islamic teachings, were on various subjects. Some of the titles were, 'The Intoxication of Life,' 'The Purpose of Life,' 'The Real Cause of Man's Distress,' 'The Journey to the Goal in Life,' and, one of my favorites, 'The Heart of Man.' They contained important insights that spoke to something deep inside me."
68- "Terrorists are not following Islam. Killing people and blowing up people and dropping bombs in places and all this is not the way to spread the word of Islam. So people realize now that all Muslims are not terrorists."
69- "The name Muhammad is the most common name in the world. In all the countries around the world – Pakistan, Saudi Arabia, Morocco, Turkey, Syria, Lebanon – there are more Muhammads than anything else. When I joined the Nation of Islam and became a Muslim, they gave me the most famous name because I was the champ."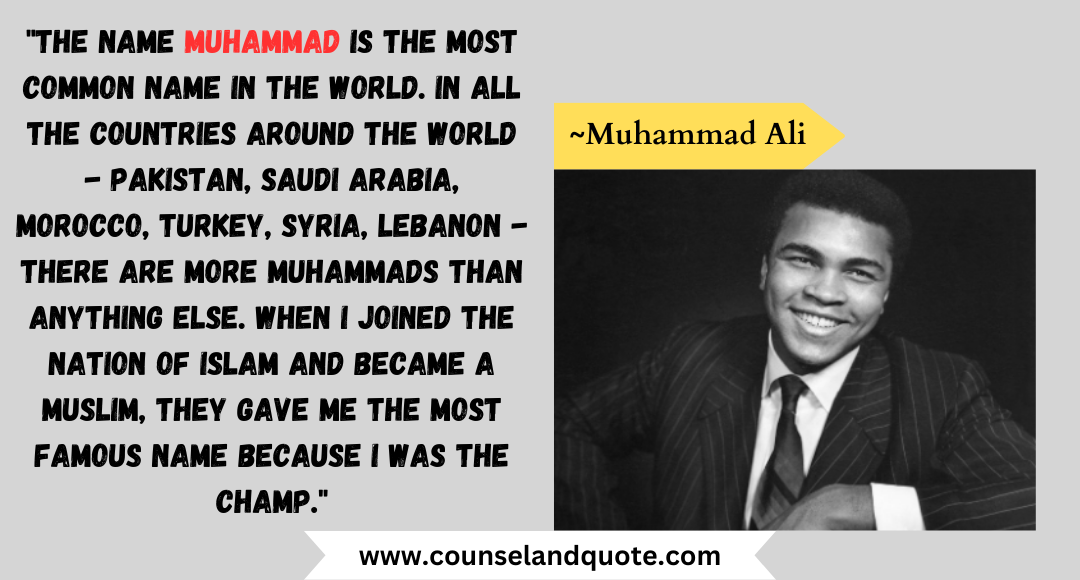 70- "I didn't want to submit to the army and then, on the Day of Judgment, have God say to me, 'Why did you do that?' This life is a trial, and you realize that what you do is going to be written down for Judgment Day."
Muhammad Ali Quotes
Muhammad Ali Quotes On Love
71- "I wish people would love everybody else the way they love me. It would be a better world."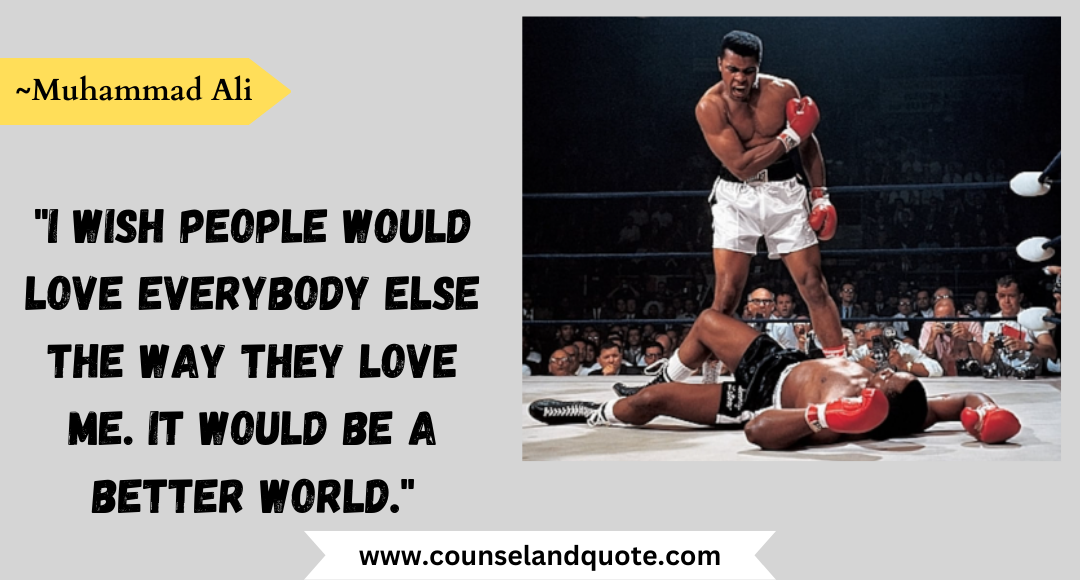 Muhammad Ali Funny Quotes
72- "I should be a postage stamp. That's the only way I'll ever get licked."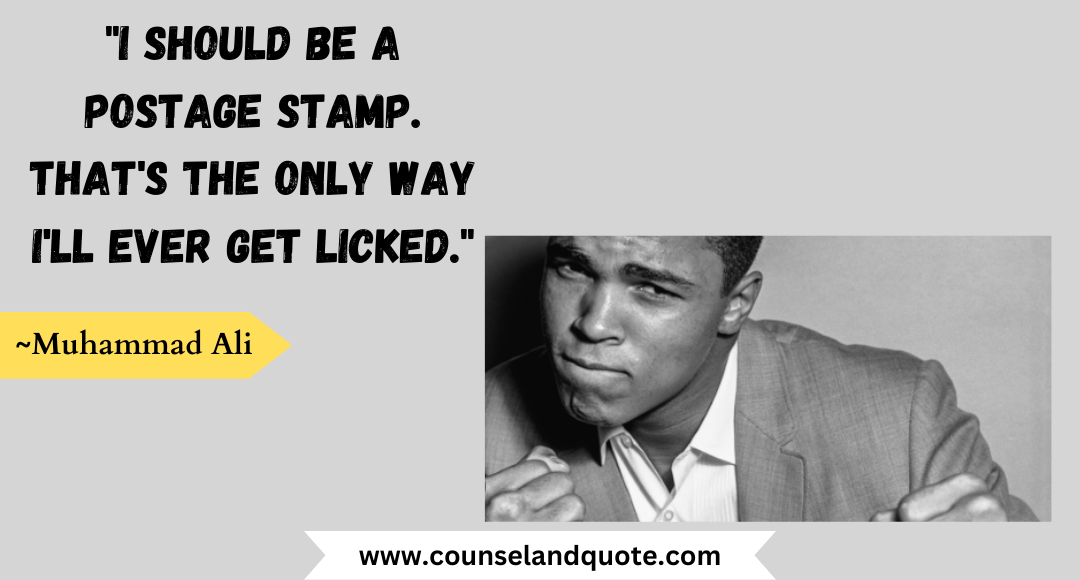 73- "My way of joking is to tell the truth. That's the funniest joke in the world."
74- "I'm so mean, I make medicine sick."
75- "Joe Frazier is so ugly that when he cries, the tears turn around and go down the back of his head."
76- "If they can make penicillin out of moldy bread, they can sure make something out of you."
77- "I've seen George Foreman shadow boxing, and the shadow won."
78- "It's just a job. Grass grows, birds fly, waves pound the sand. I beat people up."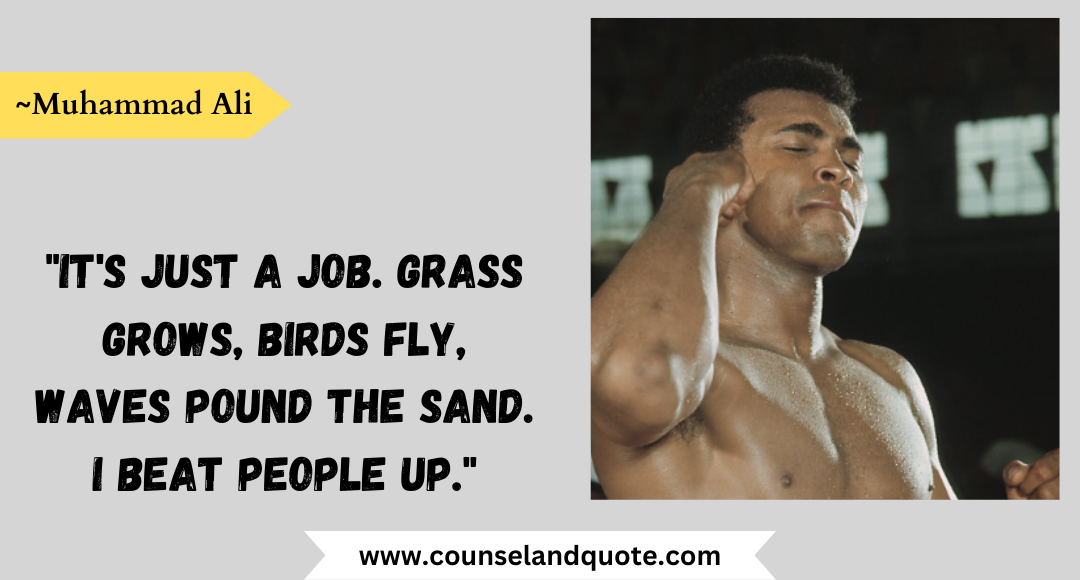 Muhammad Ali Quotes Training
79- "I don't count the sit-ups. I only start counting when it starts hurting because they're the only ones that count. That's what makes you a champion."
80- "I hated every minute of training, but I said, 'Don't quit. Suffer now and live the rest of your life as a champion."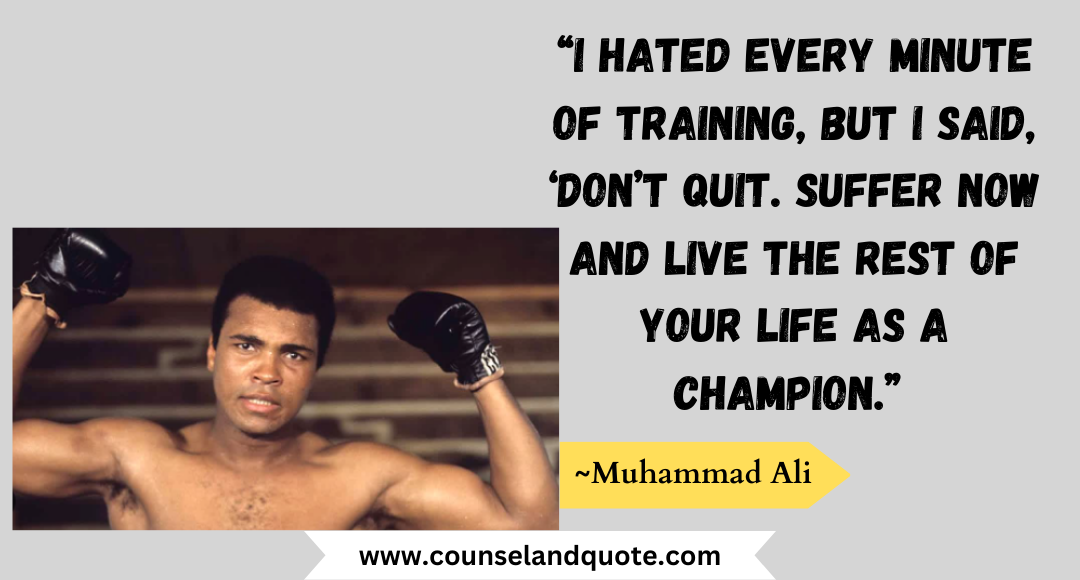 Ali Quotes
81- "Only a man who knows what it is like to be defeated can reach down to the bottom of his soul and come up with the extra ounce of power it takes to win when the match is even."
Conclusion
We hope you've enjoyed this post so far!
Would love to hear from you. Do let us know your favorite Muhammad Ali Quotes.
Kindly circulate this article with your friends and family.
Spread the word and help the world.
Thank You!