Will Smith at the Oscars is a story now. 'Will Oscars slap' is the talk of the town now.
Will Smith is an American actor and rapper. His performances made him a celebrity world over. 
His full name is Willard Carroll Smith II. He was born in Philadelphia, Pennsylvania, United States. His date of birth is 25th September 1968. 
He is lovingly called 'The Fresh Prince.' 
His professional world journey is a source of inspiration for many. His motivational and inspirational quotes electrify the world.  
His best stage performances earned him this name. 
The Fresh Prince of Bel-Air (1990–1996) has given him the name, fame, and career. It was his first major breakthrough as a lead actor in any show. 
He has won many Grammy Awards & Academy Awards. 
Will Smith At The Oscars/ Will Oscars Slap
Will Smith At The Oscars/ Will Oscars Slap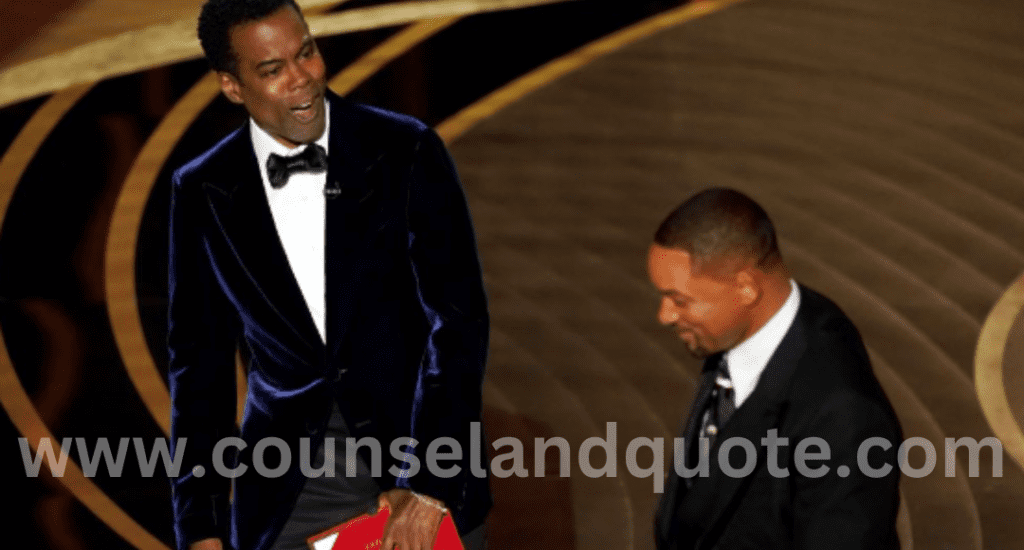 Will Smith At The Oscars, Will Smith Oscars Slap has been in hot news and sizzling views.
His slap at Chris rock has many versions and stories. 
Some found it scripted, and to some others, it was impulsive. 
He had to face backlash from the industry and the public alike for his indiscreet action.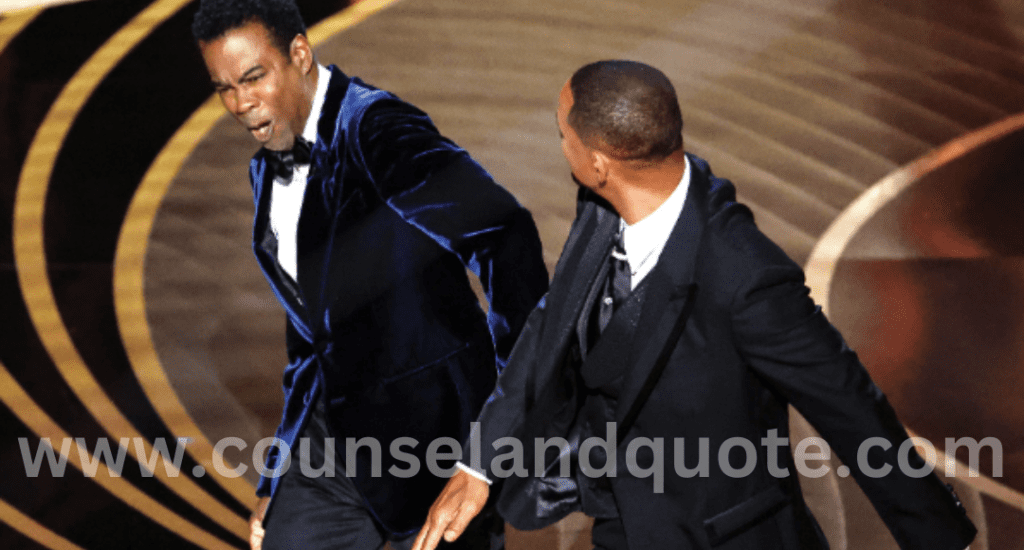 He slapped Chris Rock and shouted at him in the 94th Academy Award presentation ceremony. 
The 2022 event of Oscars earned a bad name for Will Smith though he won the best actor Oscars award in the same ceremony. 
The incident happened as the show presenter and comedian Chris Rock cracked a joke about Smith's wife Jada Pinkett Smith's shaved head.
The joke was in connection with Jade Pinkett Smith's role as the main protagonist of the film G.I. Jane. 
Pinkett Smith had been diagnosed with alopecia areata in 2018.
But the joke about his wife irritated Will Smith. 
He stood up in rage and went on the stage. He slapped Chris Rock and yelled at him.
Later he returned to his seat and yelled twice at Chris Rock, don't take his wife's name from his mouth. 
He was visually animated and upset. It was really a dark moment for his career and Oscars night. 
(YouTube Video Source- Guardian news)
Will Smith's Apology
On the same eventful night, Smith won the Academy award for best actor. 
He won it for his role in the movie King Richard.
He apologized to the Academy and the other nominees for his ignominious action with Chris Rock. But he didn't apologize to Chris Rock.
Later enraged fans and Academy members' pressure buckled him down and he tendered an unconditional apology. 
He had to resign from Academy's membership.
The Academy also announced its decision to ban Will Smith from future Oscars ceremonies and associated events for a period of 10 years. 
It was a huge loss for his image and running projects.
Will Smith Happiness Quotes
Will Smith Quotes About Fear, Love, Life, & Success
Will Smith has been in the limelight since his younger days. He has seen many phases and patches of life. 
That is why his quotes are powerful and full of life and wisdom.
These Will Smith happiness quotes will inspire, and motivate you.  
1- Will Smith said, "her happiness is not my responsibility. She should be happy and I should be happy individually. Then we come together and share our happiness. Giving someone a responsibility to make you happy when you can't do it for yourself is selfish" let that sink in.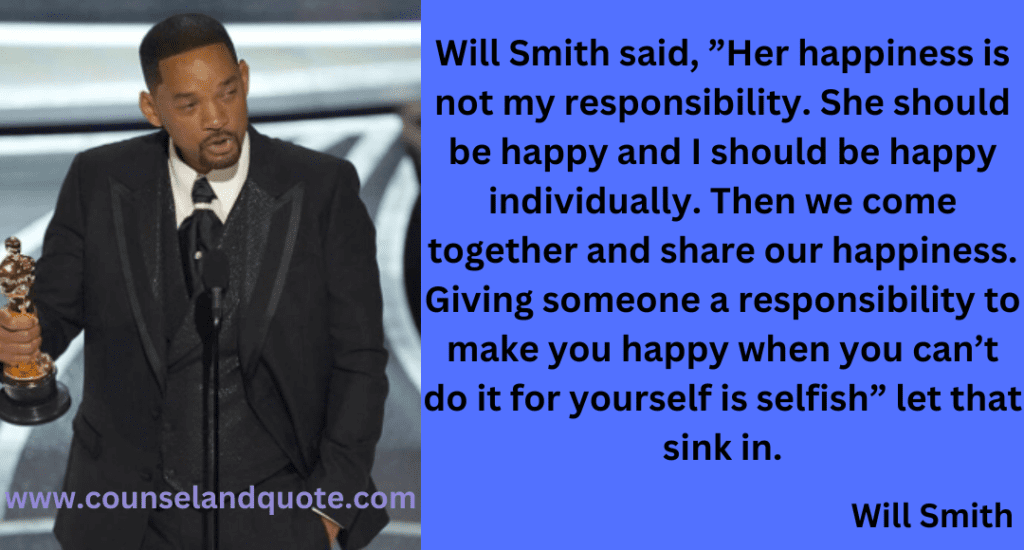 2- If you're not making someone else's life better, then you're wasting your time. Your life will become better by making other lives better
3- Life isn't how many breaths you take, but it's the moments that take your breath away
4- There's no reason to have a plan B because it distracts from plan A
5- I believe you need to be educated on what you want to do in life, but I don't believe you necessarily need college to get there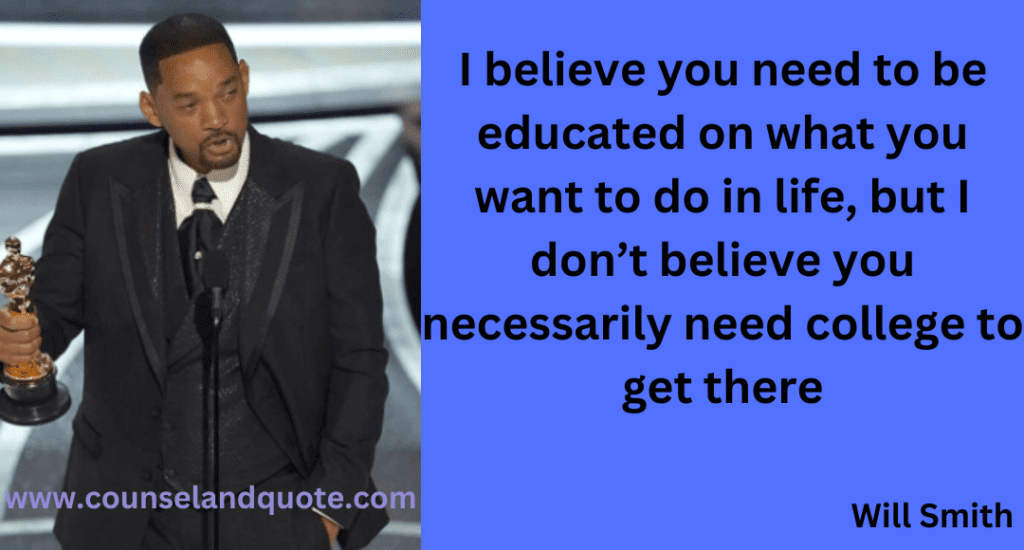 6- There are two kinds of people in this world. There are hammers and nails. You decide what to be
7- Money & success don't change people; they merely amplify what is already there
Will Smith Happiness Quotes
Will Smith Quotes About Fear, Love, Life, & Success
8- Any man has a chance to sweep any woman off her feet. He just needs the right broom
9- If you're absent during my struggle, don't expect to be present during my success
10- You can't be scared to die for the truth. The truth is the only thing that is ever going to be constant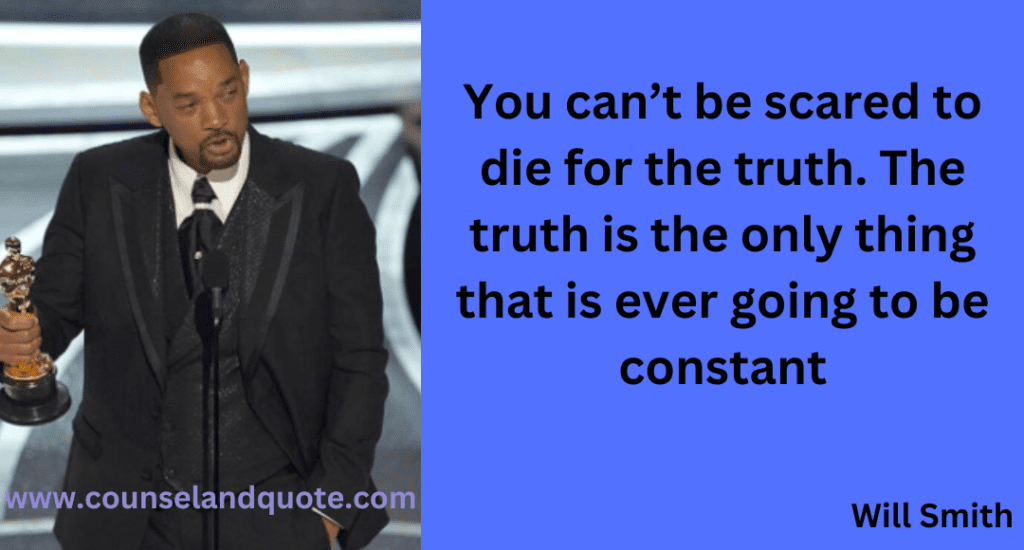 11- Stop letting people who do so little for you control so much of your life
12- Throughout life people will make you mad, disrespect you and treat you badly. Let God deal with the things they do because hate in your heart will consume you too
13- Never lie, steal, cheat, or drink. But if you must lie, lie in the arms of the one you love. If you must steal, steal away from bad company. If you must cheat, cheat death. And if you must drink, drink in the moments that take your breath away
14- Don't chase people. Be yourself, do your own thing and work hard. The right people, the ones who really belong in your life will come to you and stay with you
Will Smith Happiness Quotes
Will Smith Quotes About Fear, Love, Life, & Success
15- Never underestimate the pain of a person, because, in all honesty, everyone is struggling. Some people are just better at hiding it than others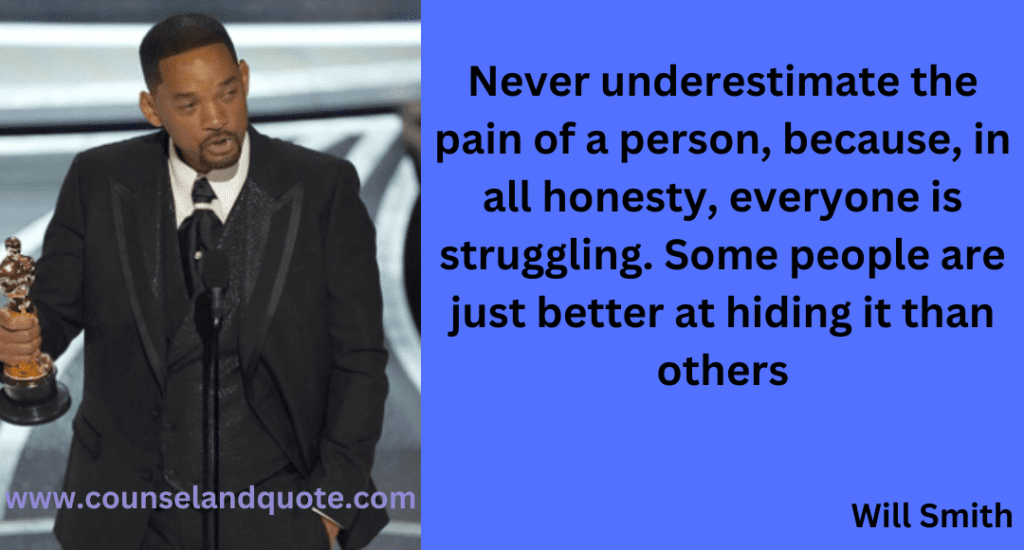 16- I was raised in a Baptist household, went to a Catholic church, lived in a Jewish neighbourhood, and had the biggest crush on the Muslim girls from one neighbourhood over
17- People leap and hope to God they can fly! Because otherwise, we just drop like a rock wondering the whole way down why in the hell did I jump?
18- The only thing that I see that is distinctly different about me is, I am not afraid to die on a treadmill. You might have more talent than me, you might be smarter than me. But if we get on the treadmill together, there are two things. You are getting off first. Or I am going to die. It's that simple
19- Greatness is not this wonderful, esoteric, elusive, godlike feature that only the special among us will ever taste, it's something that truly exists in all of us
20- I've viewed myself as slightly above average in talent. And where I excel is a ridiculous, sickening work ethic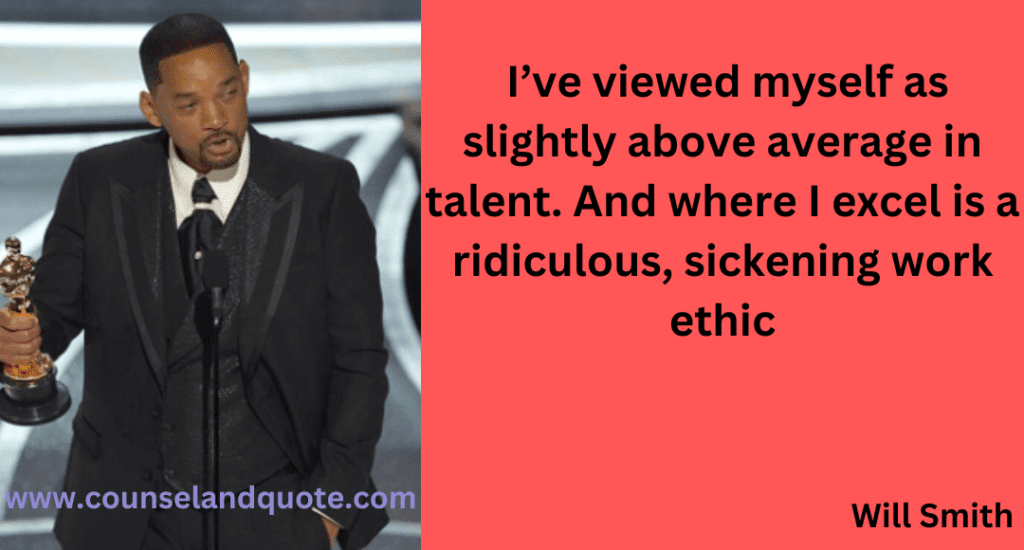 21- There are so many people who have lived and died before you. You will never have a new problem. You're not going to ever have a new problem. Somebody wrote the answer down in a book somewhere
Will Smith Happiness Quotes
Will Smith Quotes About Fear, Love, Life, & Success
22- Let your smile change the world. Don't let the world change your smile
23- If you're not willing to work hard, let someone else do it. I'd rather be with someone who does a horrible job but gives 110% than with someone who does a good job and gives 60%
24- Look at your 5 closest friends. Those 5 friends are who you are. If you don't like who you are then you know what you have to do
25- When you create art, the world has to wait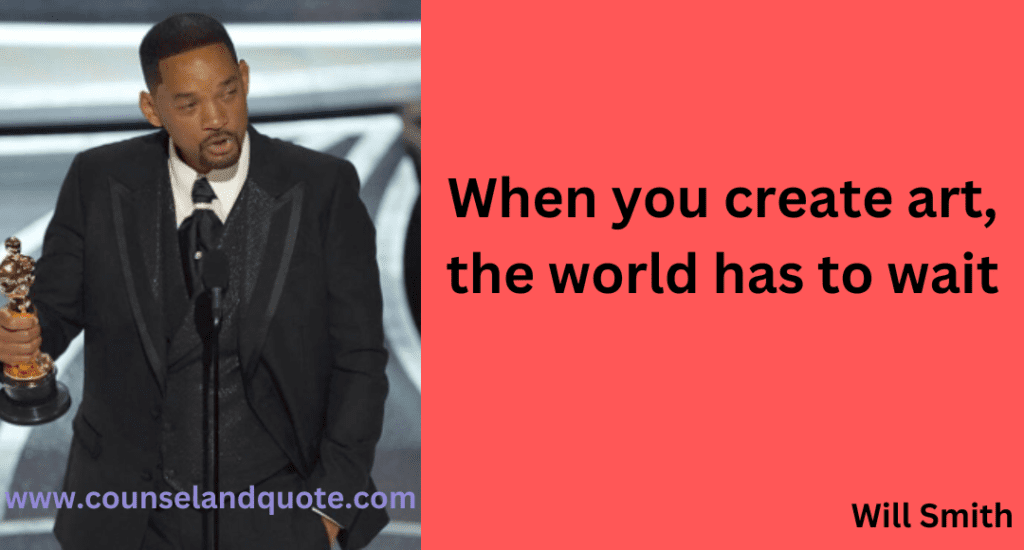 26- I know how to learn anything I want to learn. I absolutely know that I could learn how to fly the space shuttle because someone else knows how to fly it, and they put it in a book. Give me the book, and I do not need somebody to stand up in front of the class
27- I don't know what my calling is, but I want to be here for a bigger reason. I strive to be like the greatest people who have ever lived
28- Boys laugh at what they put girls through but they won't be laughing when they're wiping tears off their daughter's face for the same reason
29- I'm motivated by fear. Fear of fear. I hate being scared to do something. I started attacking things that I was scared of
30- Don't let success go to your heads and don't let failure into your hearts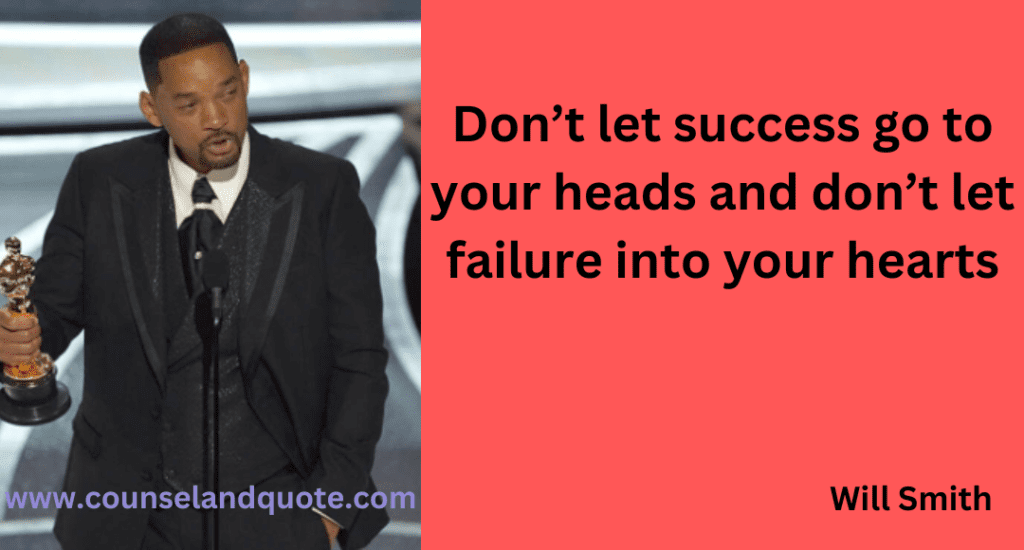 31- Smiling is the best way to face every problem, crush every fear, and hide every pain
32- Running and reading are the keys to life
33- You don't set out to build a wall. You don't say, I'm going to build the biggest, greatest wall that's ever been built. You don't start there. You say, 'I'm going to lay this brick as perfectly as a brick can be laid.' You do that every single day. And soon you have a wall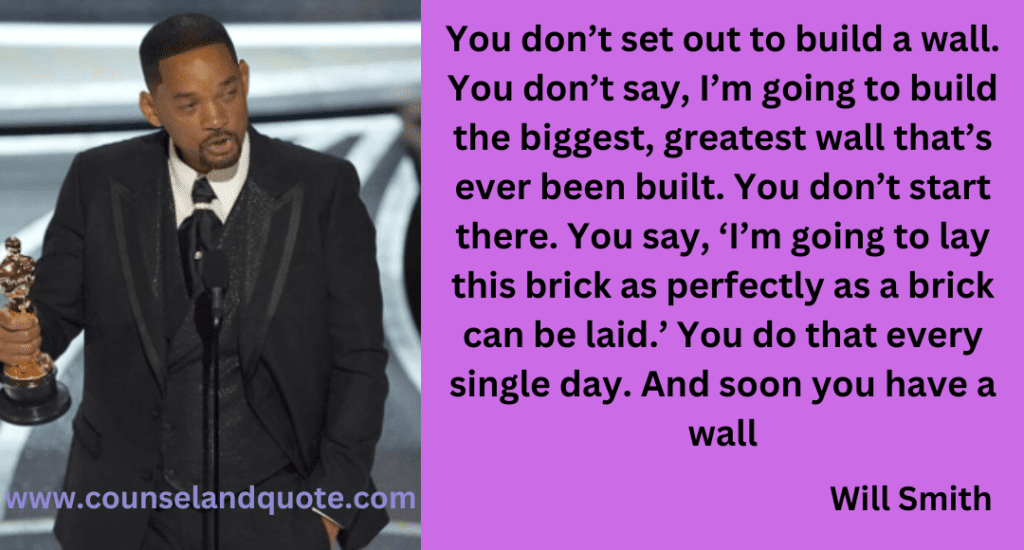 Inspirations & Takeaways From Will Smith's Life
Bad days are there in your mind. When you bring them out, they show up.

What you want to become is easy. Someone before you has done that. Study his life

Plan A is enough to make you successful. Sometimes plan B becomes a distraction for you

Learn from everything that comes your way

Everyone struggles. There is nothing new in it. The news is that who emerges victorious
This article will shake your thoughts and stir you. It has lessons to learn and methodology to live a happy life. 
It has remorse, inspiration, and motivation. It has all the ingredients to change one's life. 
Someone somewhere wants to make their life better. Help them by sharing these words.
You are a catalyst of change. May God Bless You. 
Thank You.