MS Dhoni Quotes, the words of one of the most loved cricketers of India, are a treat to read.
The star cricketer of the Indian National Team has a strong work ethic and mental attitude due to which he succeeded in his professional life.
Apart from being a superstar player, his fans drool over his "Captain Cool" image.
The way he handles pressure is the best part of his personality and there's so much to learn from him, be it personally or professionally.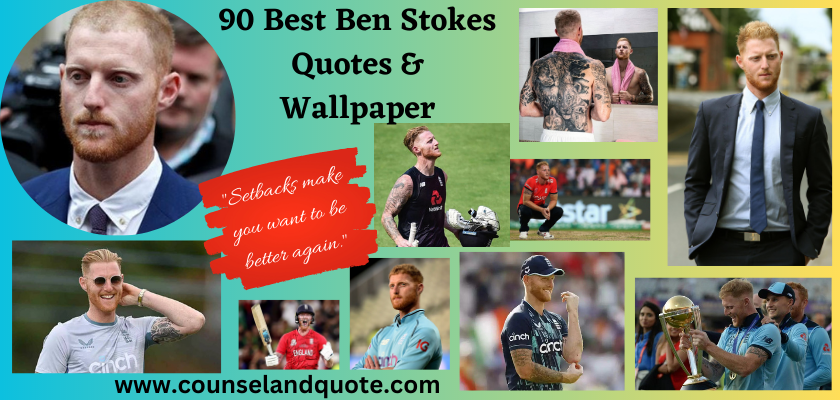 Mahendra Singh Dhoni led the Indian National Cricket Team in limited-overs formats for a good 10 years(2007-2017) as a Captain and left an impression on all of us that is hard to leave our heads.
Without further ado, let's get straight to the MS Dhoni Quotes.
Enjoy!
MS Dhoni AI Generated Images
MS Dhoni AI Generated Images
MS Dhoni Quotes
MS Dhoni Best Motivational Quotes
1- "Never let success get to your head and failure to your heart."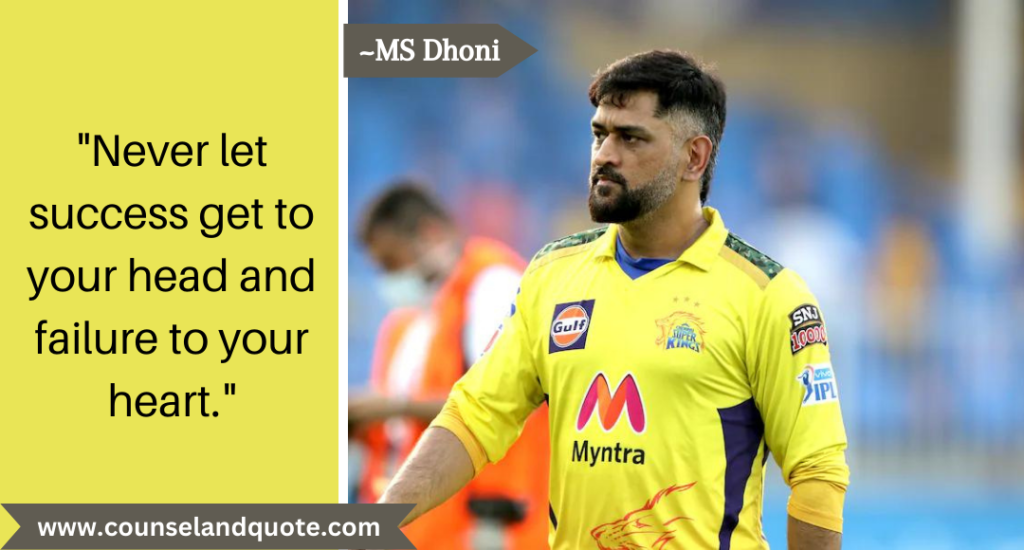 2- "I never allow myself to be pressured."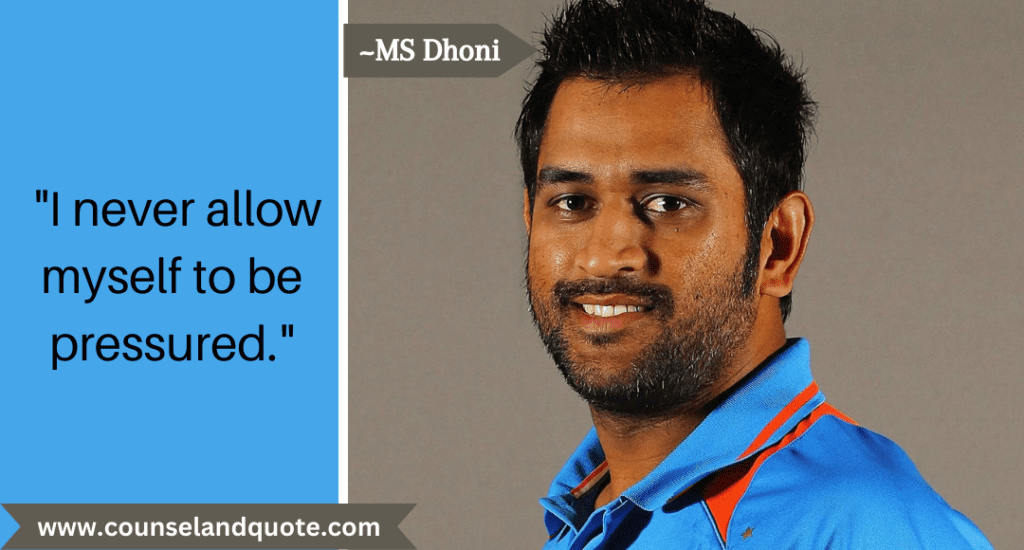 3- "Leadership is the capacity to translate vision into reality."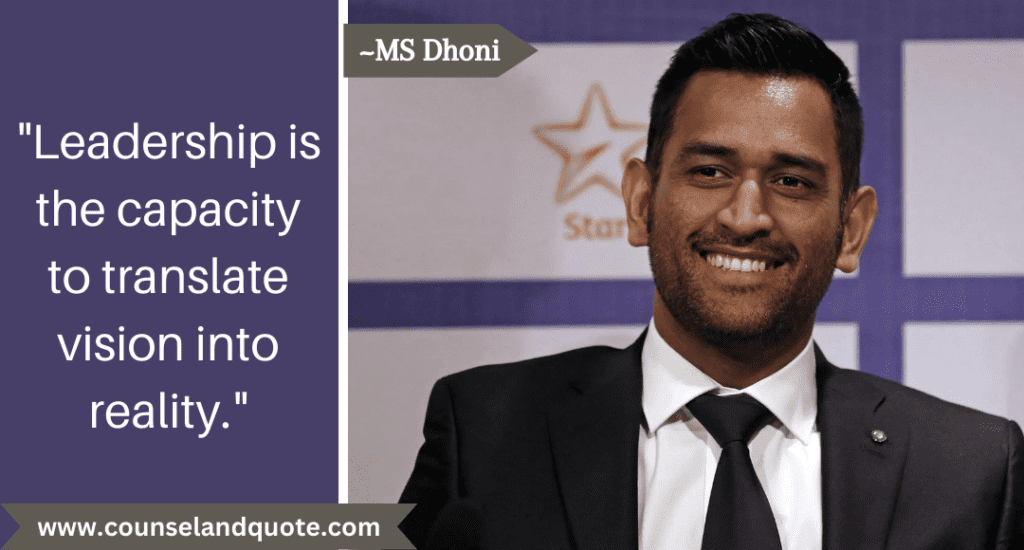 4- "The cameras used to pass by me; now they're stopping for me."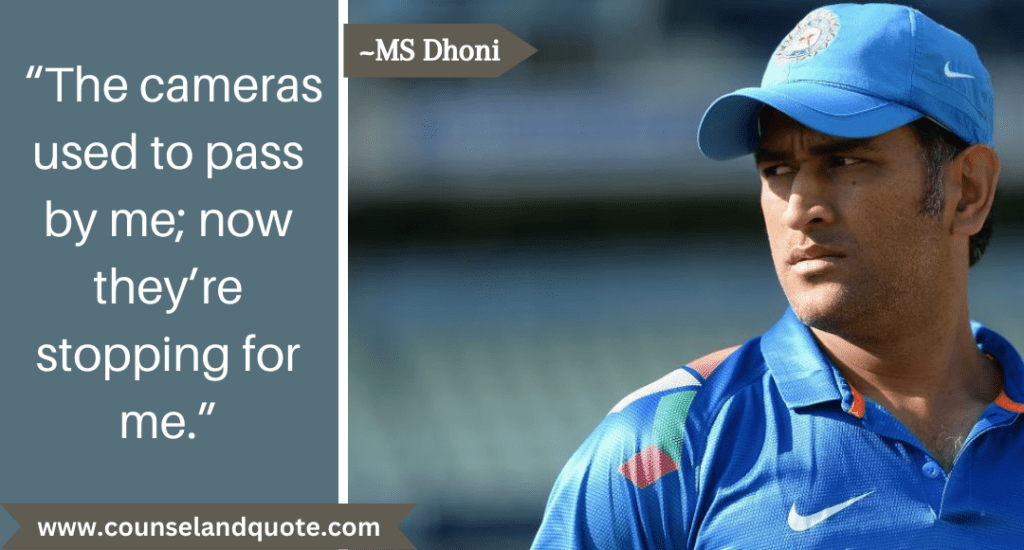 5- "The Process Is More Important Than The Results. And If You Take Care Of The Process, You Will Get The Results."
6- "You die, you die. You don't see which is the better way to die."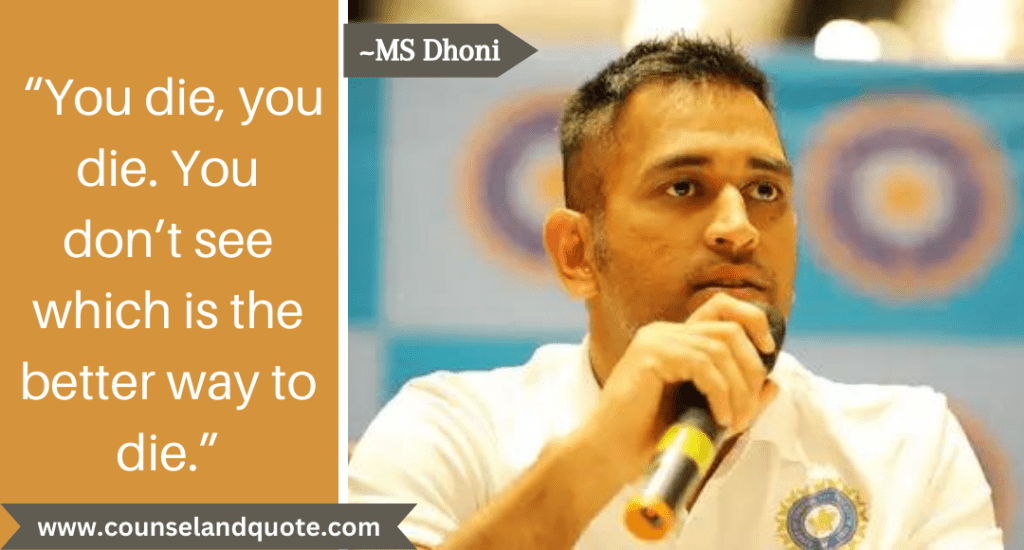 7- "Life may have its bad days which leave you feeling demotivated, But don't you worry!" Always Remember That: "PICTURE ABHI BAAKI HAI MERE DOST"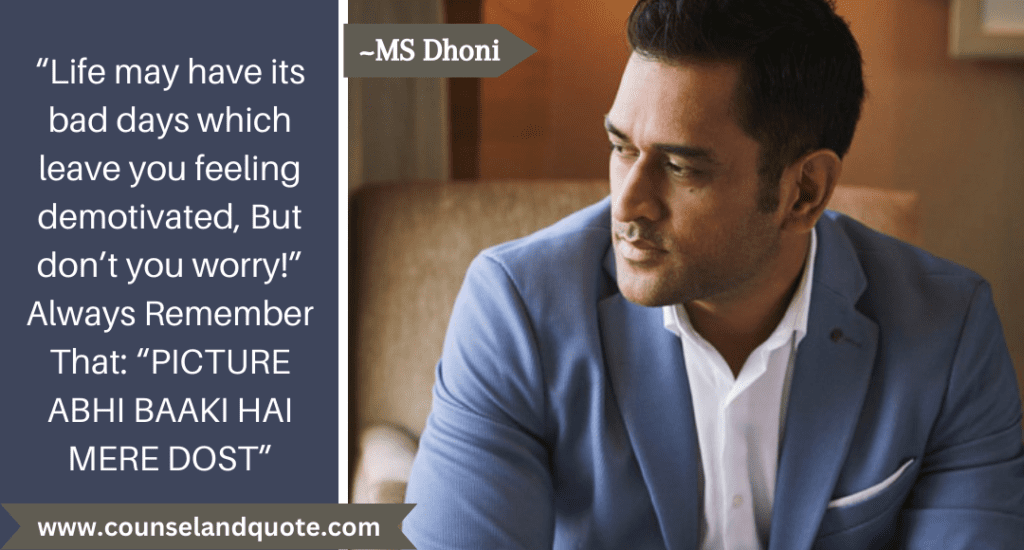 8- "You learn a lot more when you're going through a rough period compared to the good times when everything goes your way."
9- "My goal is not to be better than anyone else, but to be better than I used to be."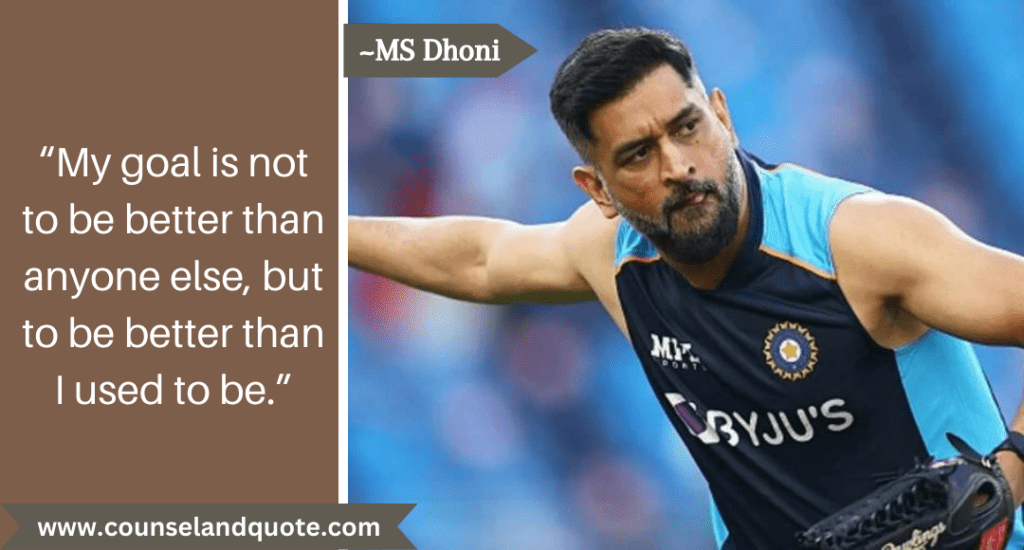 10- "Life and cricket matches are alike in some ways, they are both very unpredictable."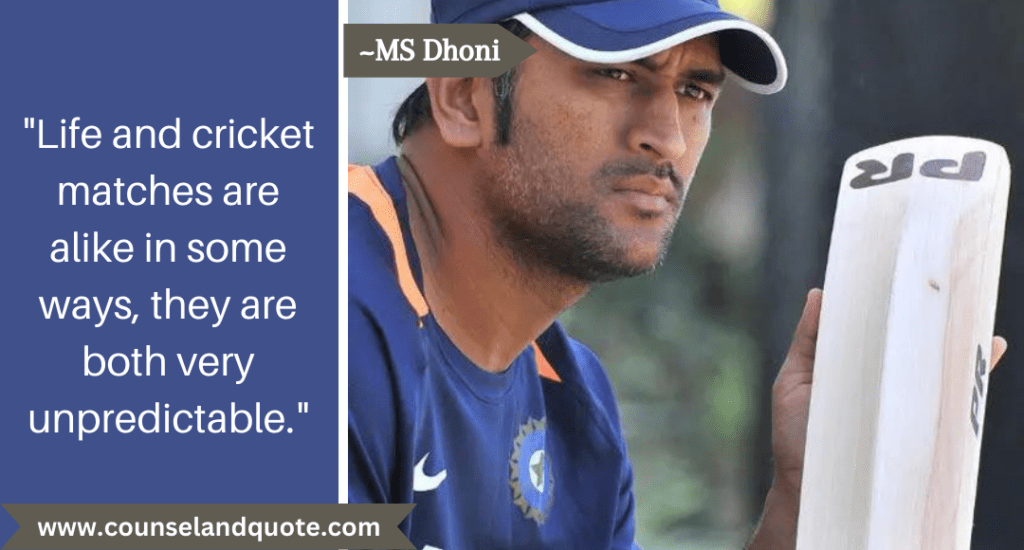 MS Dhoni Quotes
11- "Self-Confidence has always been one of my good qualities. I am always very confident. It is in my nature to be confident, to be aggressive. And it applies in my batting as well as wicket keeping."
12- "Everybody has views in life, and it should be respected."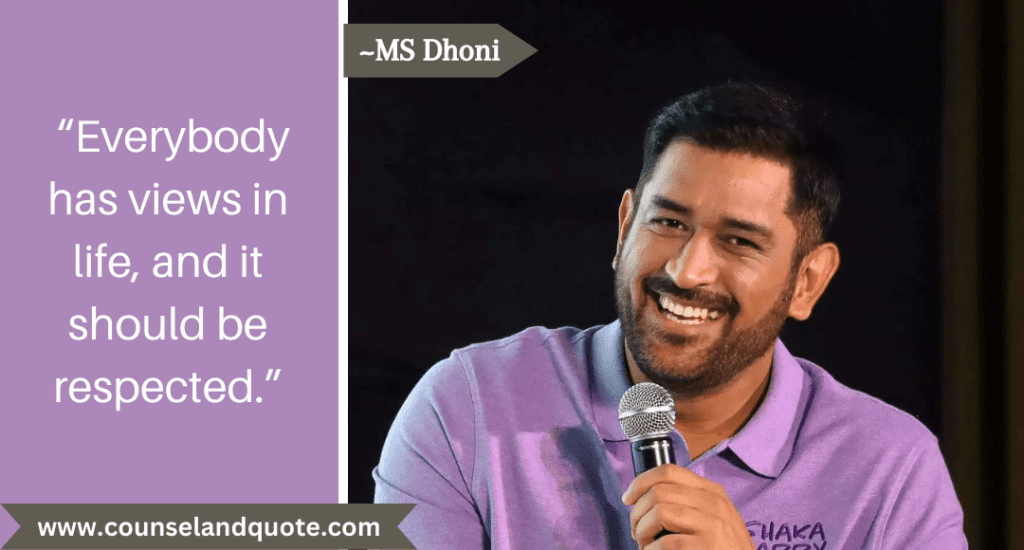 13- "I have three dogs at home. Even after losing a series or winning a series, they treat me the same way."
14- "I am a reflection of my team, and my team is a reflection of me."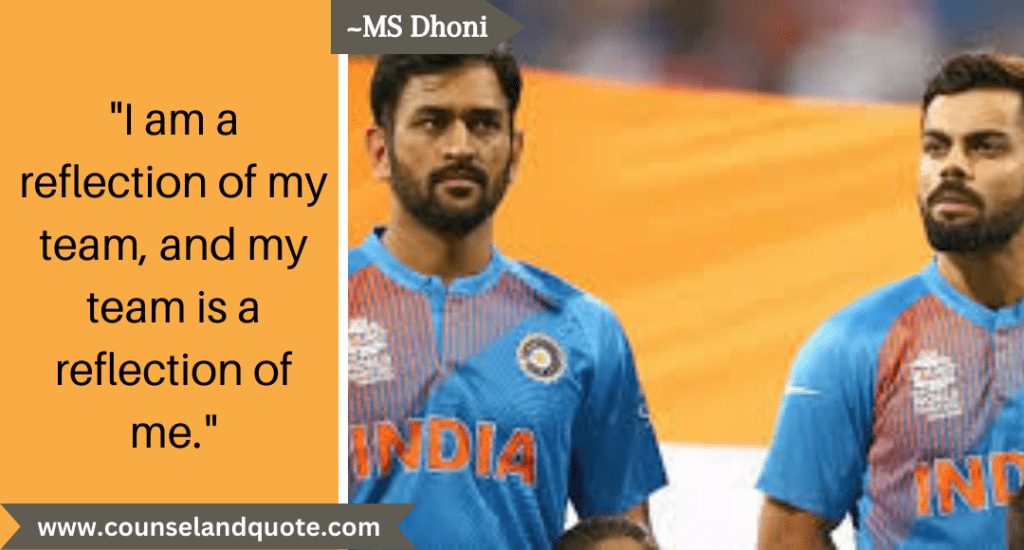 15- "A loss makes you humble. It tests the other batsmen and bowlers. Also, if you keep winning you don't know what area you need to work on."
16- "You have to learn to perform in pressure situations. You have to be like a duck, calm and unruffled on the surface, but paddling furiously underneath."
17- "If you don't really have a dream, you can't really push yourself; you don't really know what the target is."
18- "If you want to do something, do it. If you're doing it, give your best."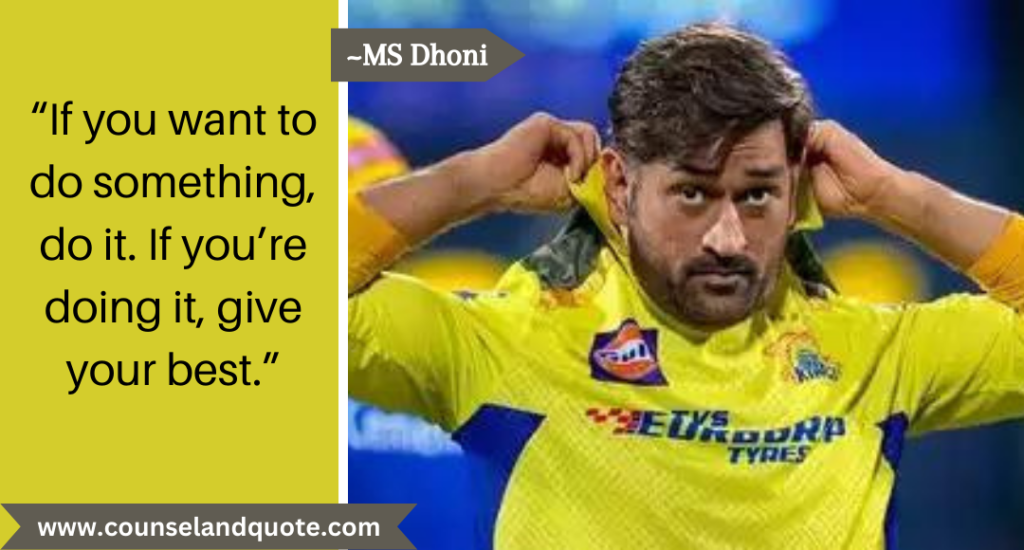 19- "I am always the one who is responsible for anything bad that happens in Indian cricket. Everything that happens is because of me."
20- "Forget Fear, Do Something Different."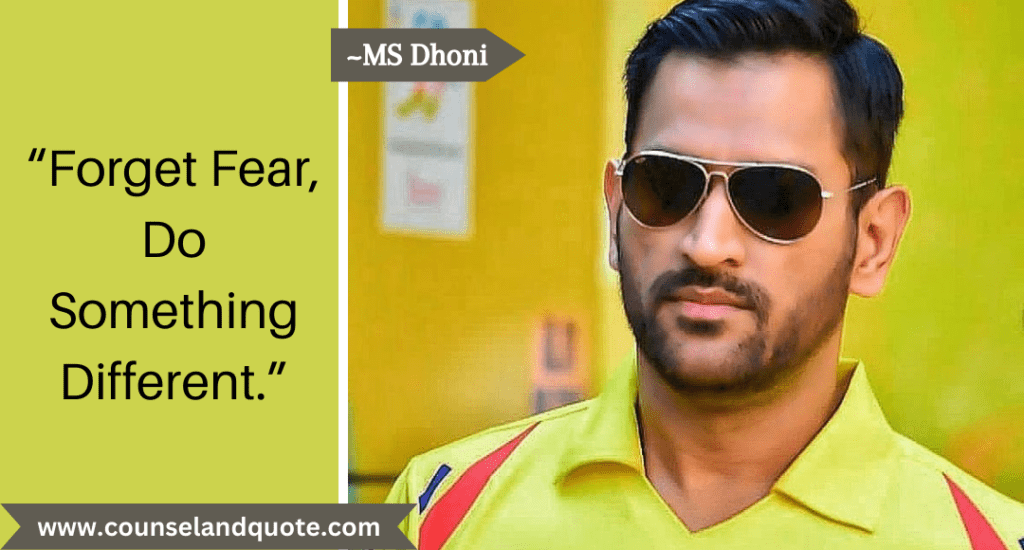 MS Dhoni Quotes
21- "When people say 'He's in the form", nobody has seen the form. It's a state of mind where you are confident and you think very positively and everything you think about, you think it's very achievable. It's about how you treat the mind."
22- "If You Keep Winning, You Don't Know The Areas You've To Work Hard."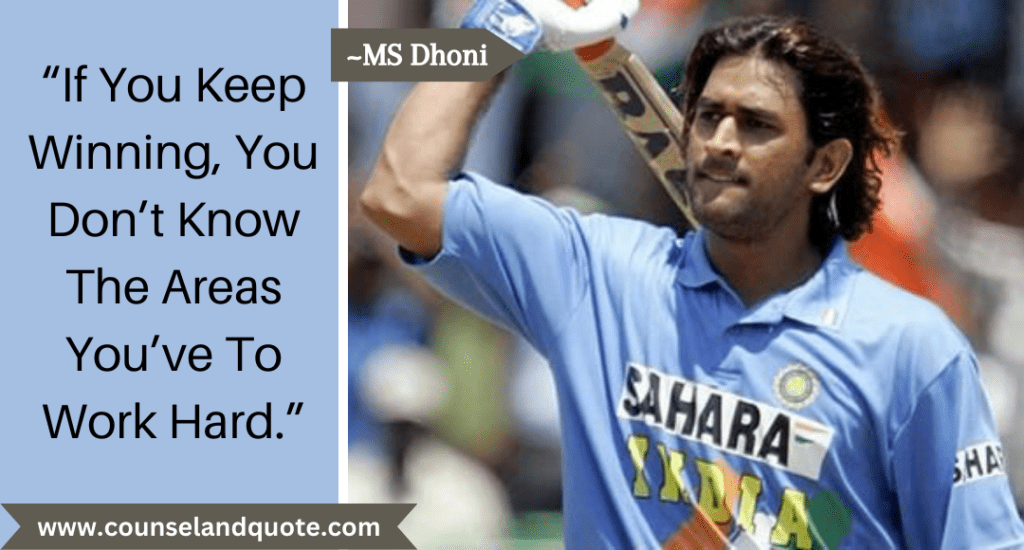 23- "No. I am on National duty Everything else can wait."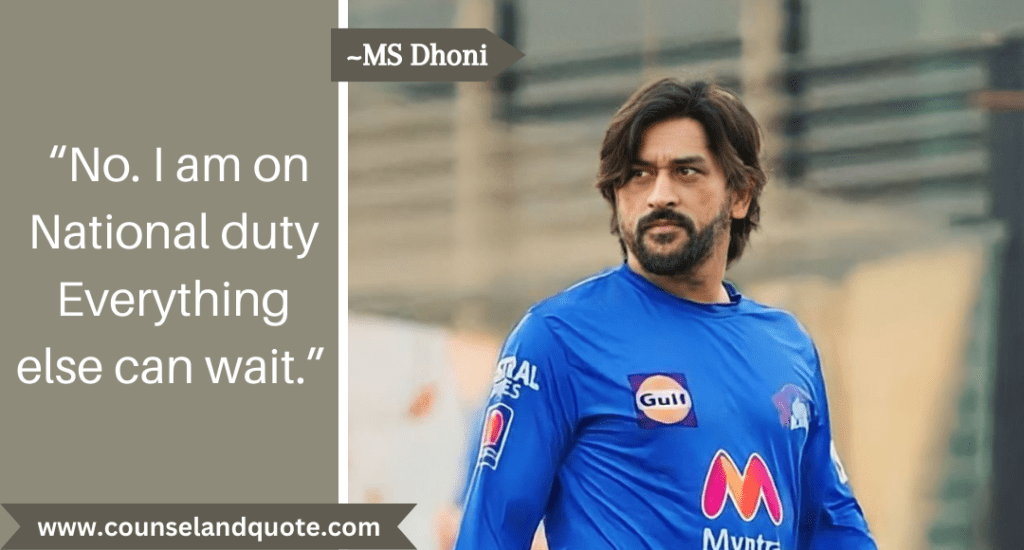 24- "Finishing is one of the most difficult things to do in cricket. A player can't be a finisher in just 6 months or one year. You have to be used to that responsibility, keeping on doing what is required from you over a period of time."
25- "I am not the most talented player, but I always try to be the best."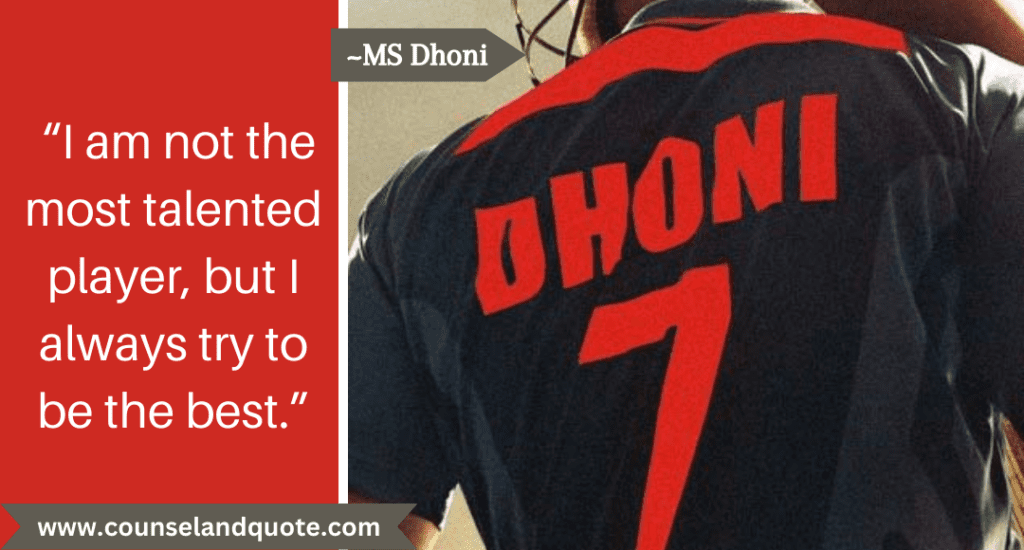 26- "Cricket is not everything, not by any means, but it is a large part of who I am. Therefore, I want to play in all the formats of the game and to play as much as possible because, before long, it will be over."
27- "For me, opposition is just another opposition."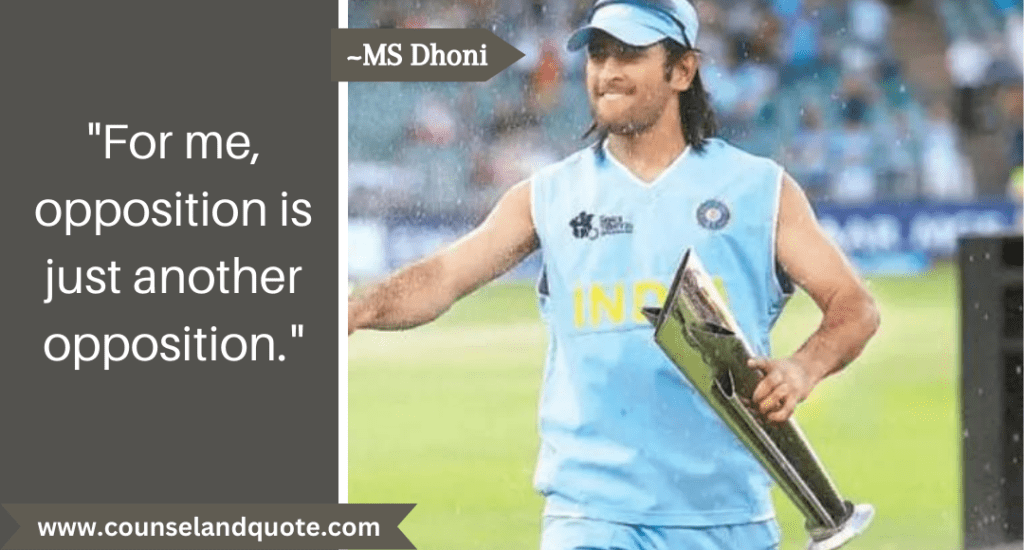 28- "Without any Motion or Movement, There is no Life."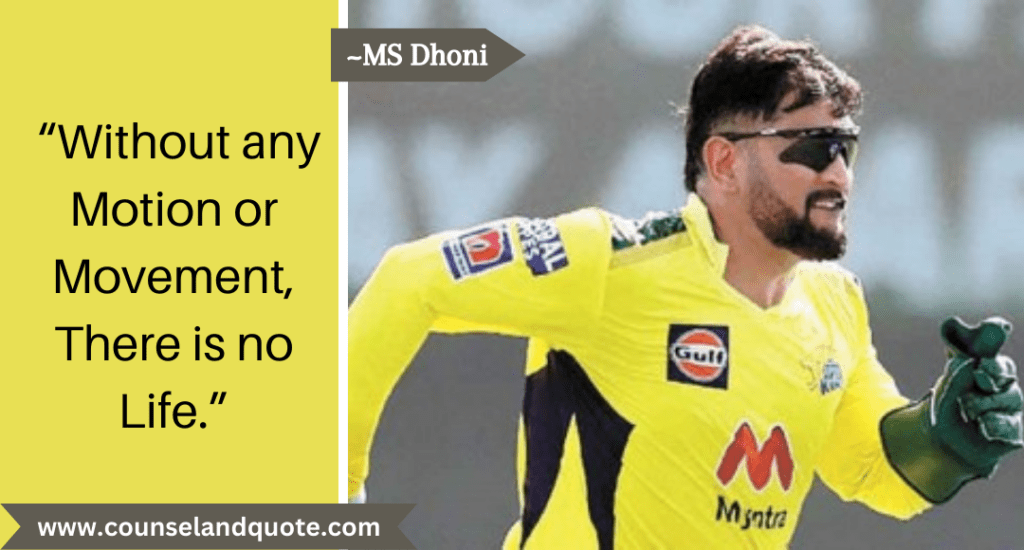 29- "You have seen cricketers who are not god-gifted, but even then, they have gone far. That's because of the passion."
30- "Even if the chances for you to win are very low, try to give at least a tough fight."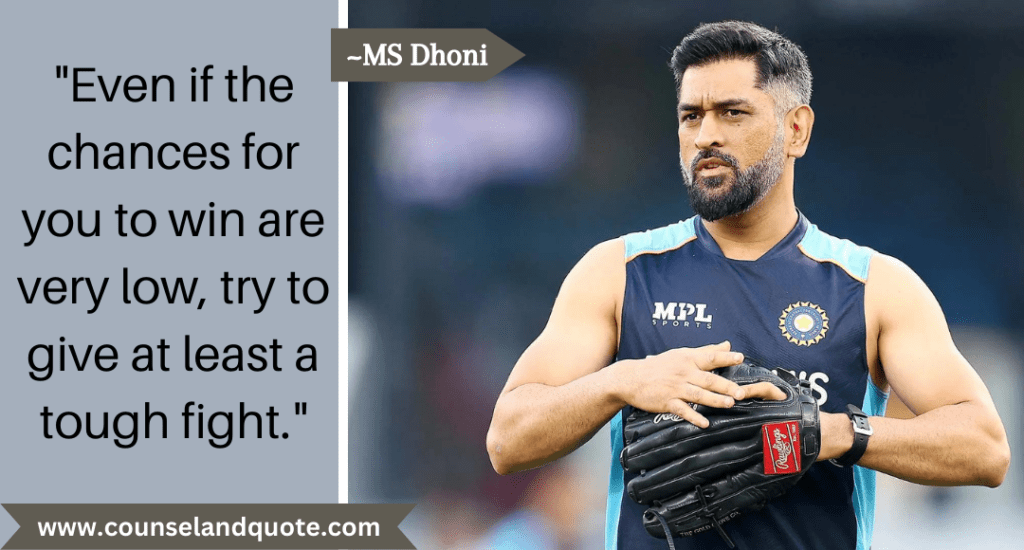 MS Dhoni Quotes
31- "Listen to your elder's advice not because they are always right, but because they have more experience of being wrong."
32- "It's like having 100 kgs put over you. That's good enough to weigh you down. After that even if you put a mountain, it will not make a difference."
33- "Unless you know the individual, it's very difficult to advise that individual as to what he needs to do."
34- "It's important to back your strengths, but you have to work on your weaknesses."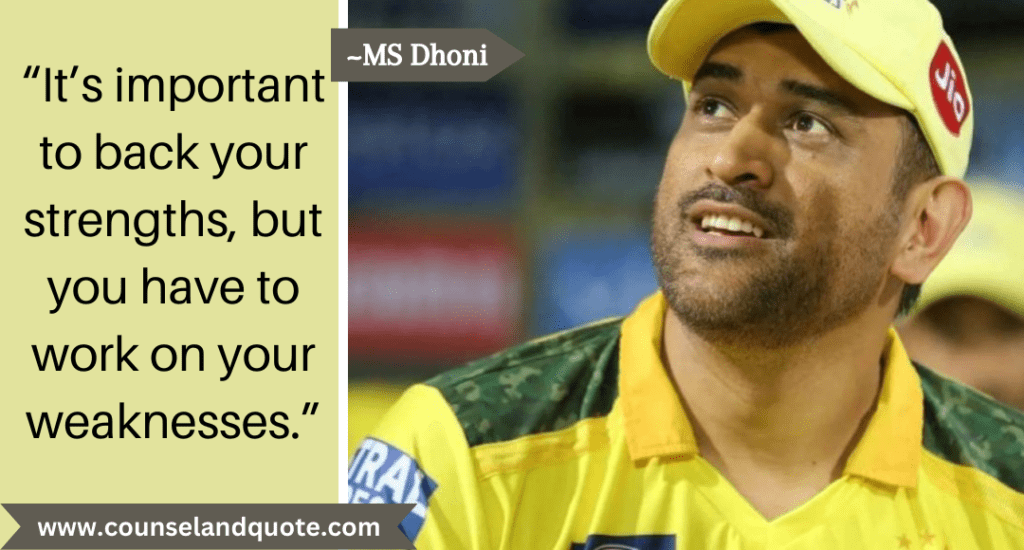 MS Dhoni Inspirational Quotes
MS Dhoni Success Quotes
35- "I don't mind repeating everything."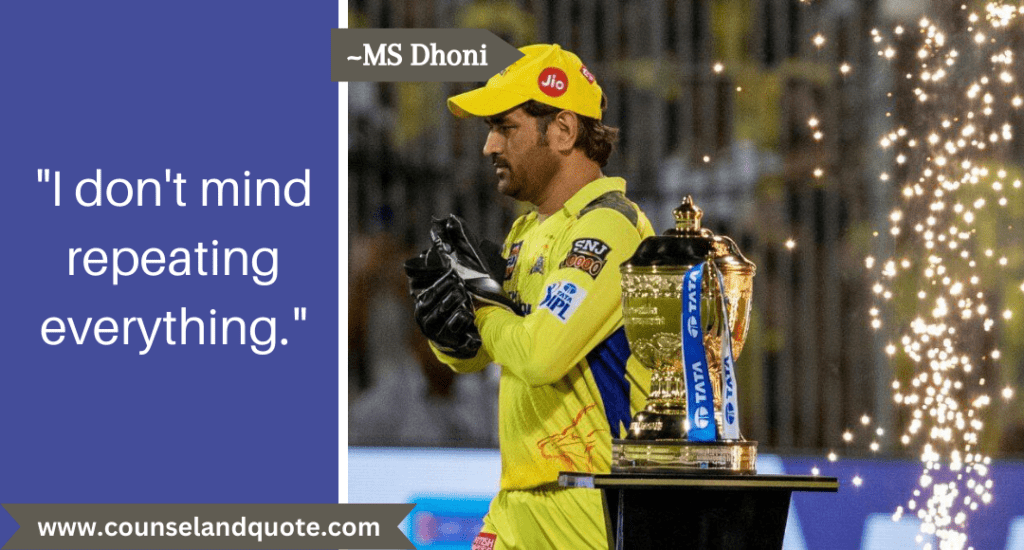 36- "If you're playing against an aggressive side, you need to play an aggressive game."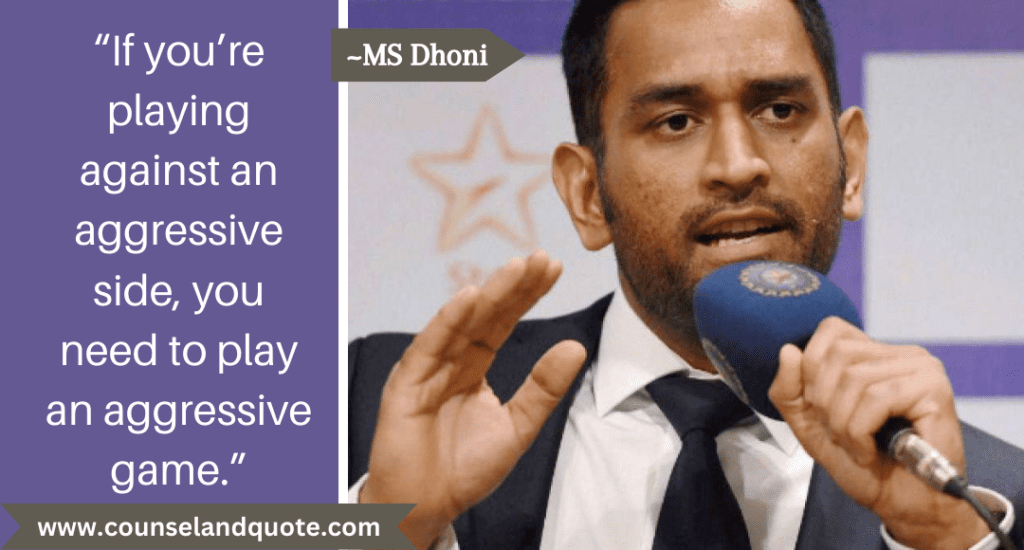 37- "I believe in giving more than 100% on the field, and I don't really worry about the result if there's great commitment on the field. That's victory for me."
38- "I live for the moment – not the future, not the past."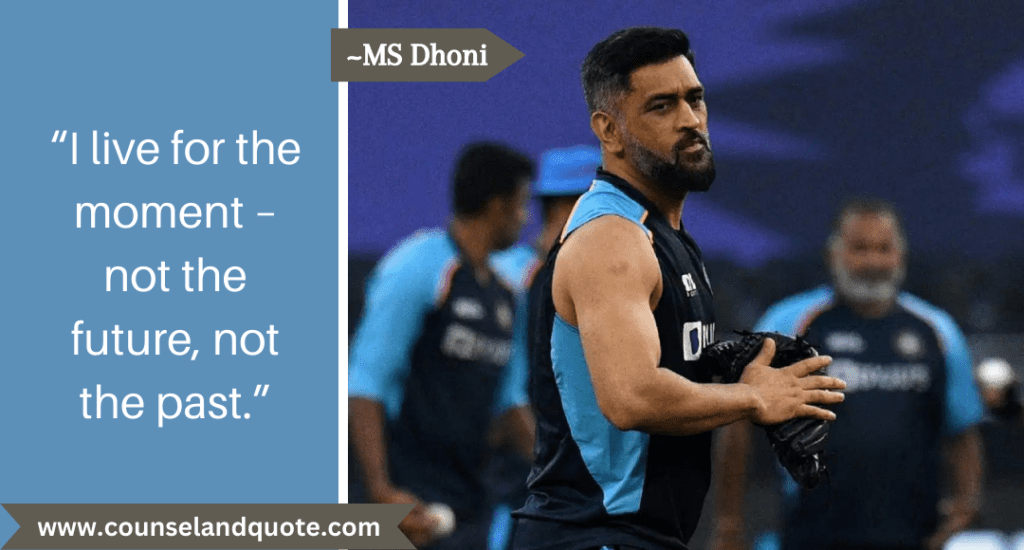 39- "The real learning comes from losing."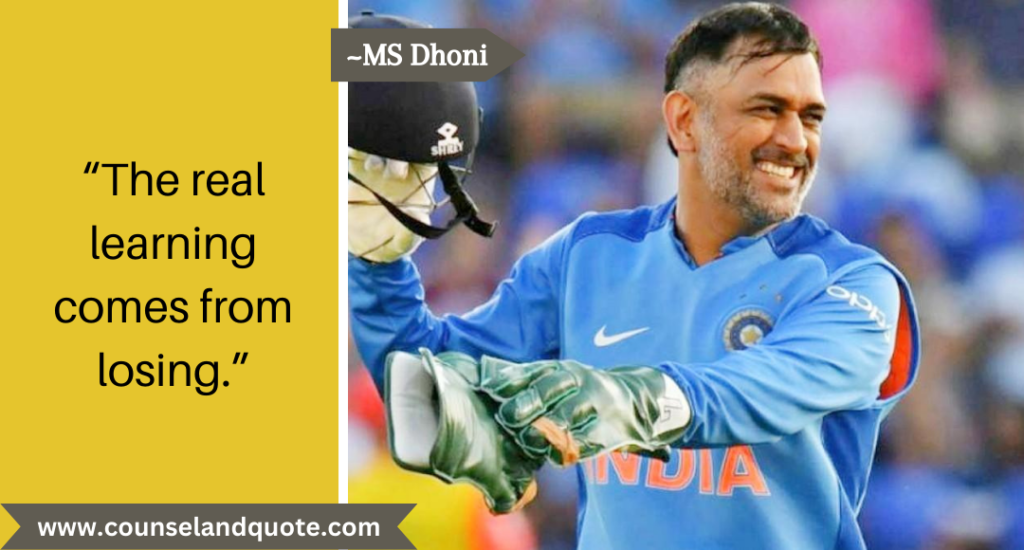 40- "You need to perform consistently, and if you're raising the standard, you have to stand by it. You have to keep on doing well."
41- "I am not a big hitter, I am a smart hitter."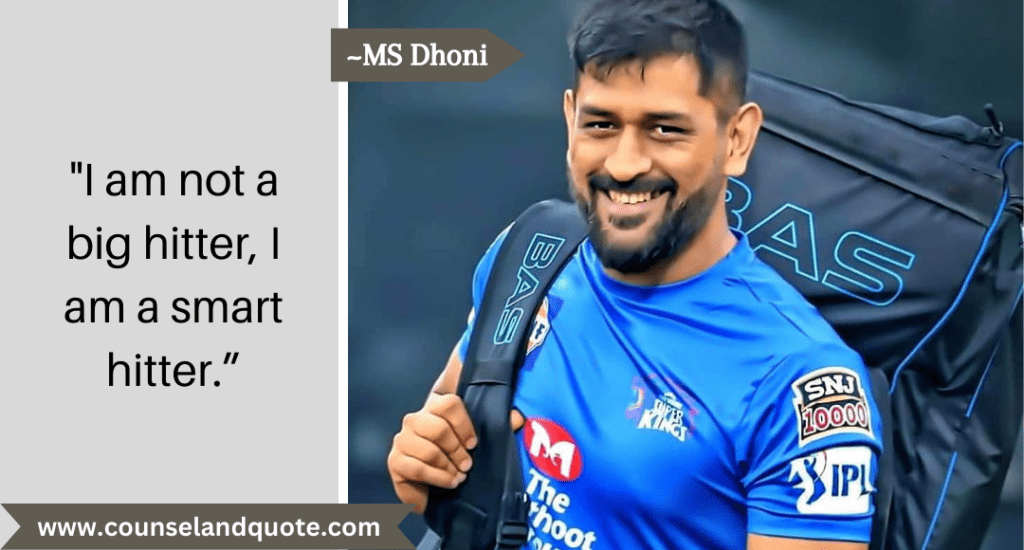 42- "I don't study cricket too much. Whatever I have learned or experienced is through cricket I've played on the field, and whatever little I have watched."
43- "The real battle is not on the cricket field. It's in your mind."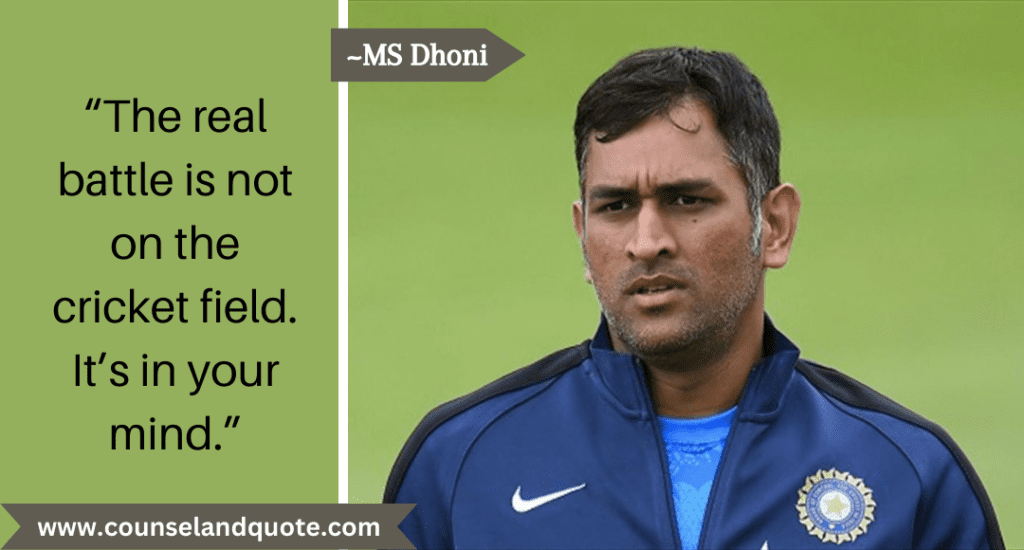 44- "Gut feeling is all about the experiences that you have had in your life. It is about being in difficult scenarios, knowing what worked, what did not work, and then taking a decision."
45- "I focus on cricket because it is something I am good at."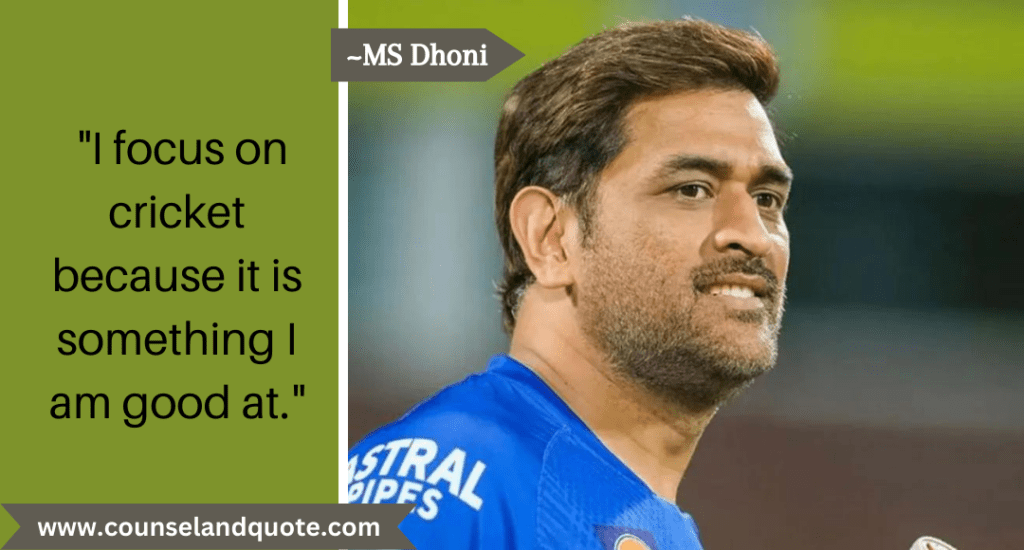 46- "I have more than I will ever need for one life."
47- "If you are not 100 percent fit and not at your best [and still play], it's cheating."
48- "I live in the present with an eye on the future."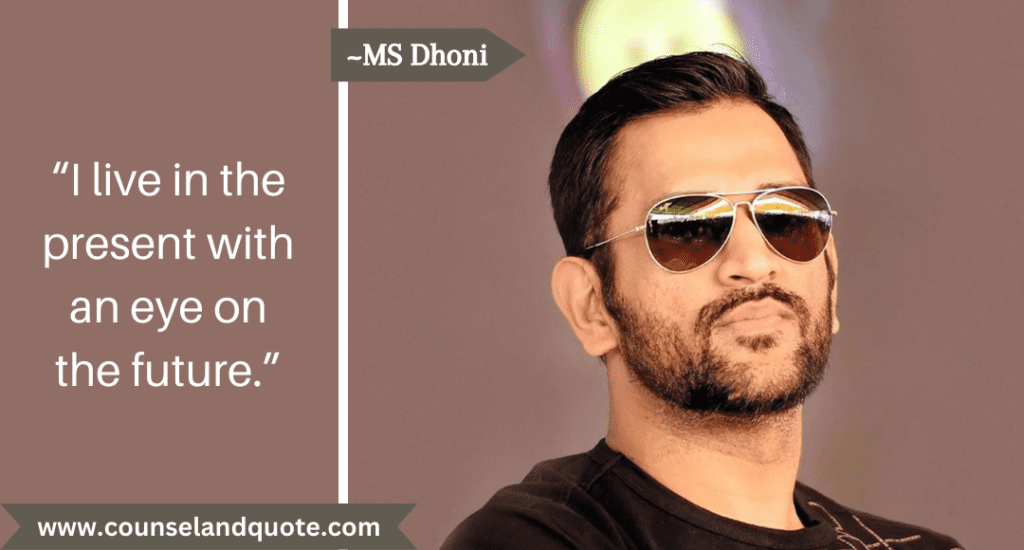 49- "For me, it's important to build good partnerships rather than score centuries. Once, you have those partnerships, you will also get centuries."
50- "Strong Characters are needed in the game."
51- "I like to make statements on the field."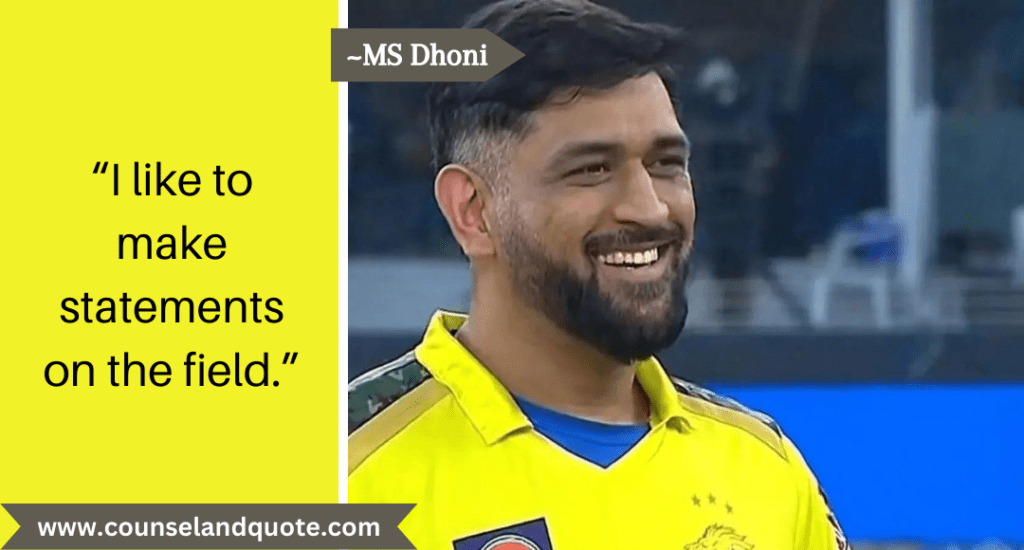 52- "Maybe because I bat aggressively and go for big hits at times, people tend to remember my batting. But I have always done well as a stumper, too."
53- "You should always find ways to learn and evolve."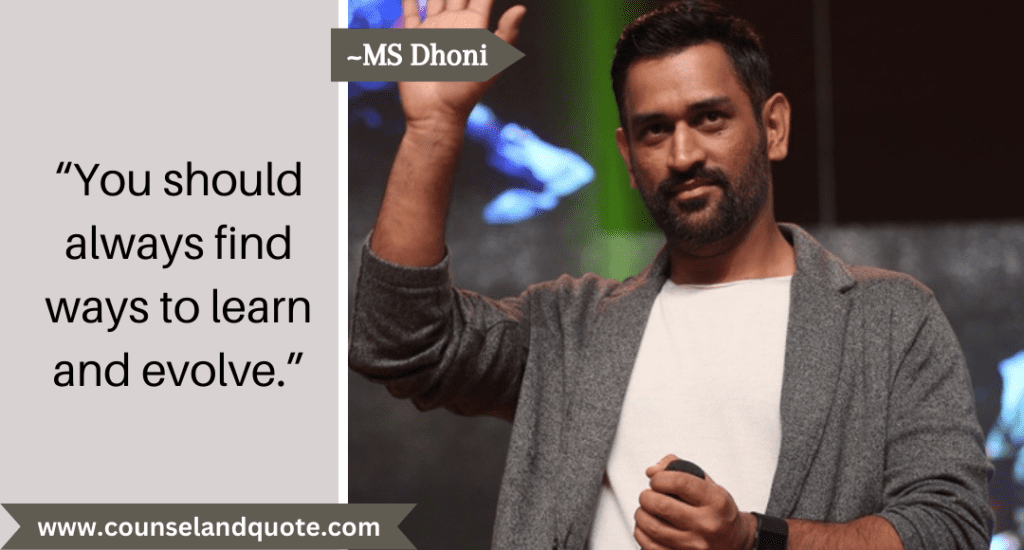 54- "Winning the World Cup was very special because it meant so much to so many."
MS Dhoni Motivational Quotes
MS Dhoni Motivational Wallpaper
55- "One Day Reality Will Be Better Than Your Dreams."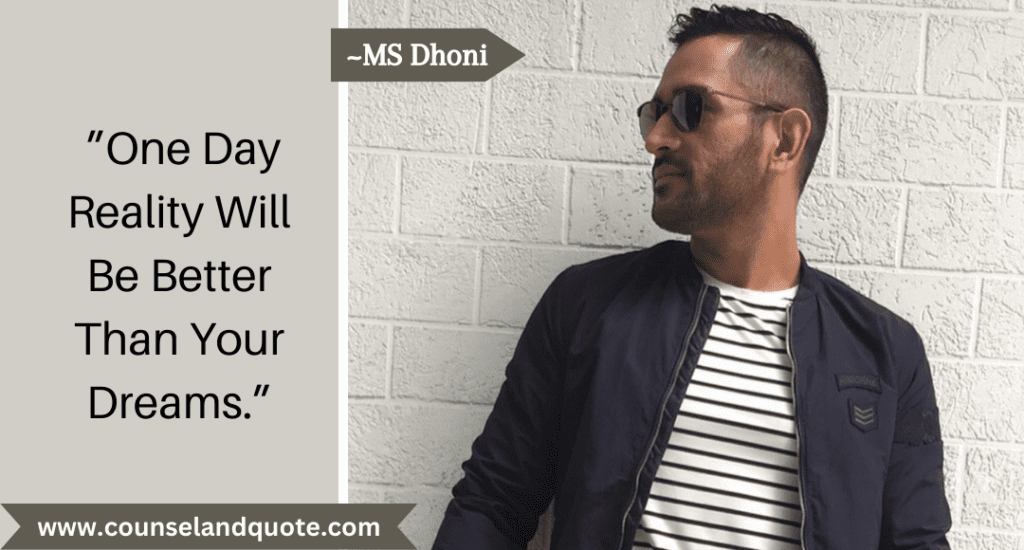 56- "You don't play for the crowd; you play for the country."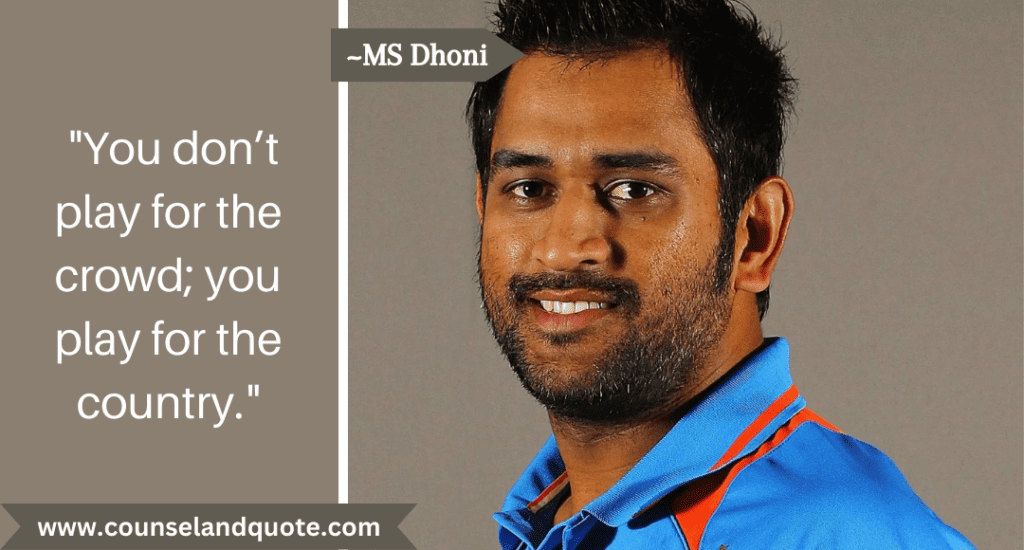 57- "I don't regret anything in life. What does not kill you makes you stronger."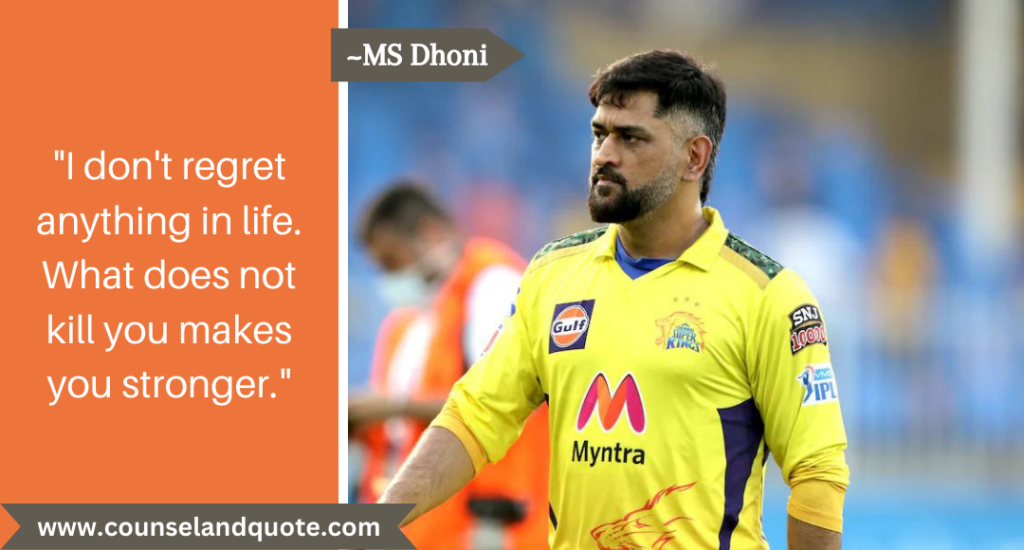 58- "I don't play for records. I play to win matches."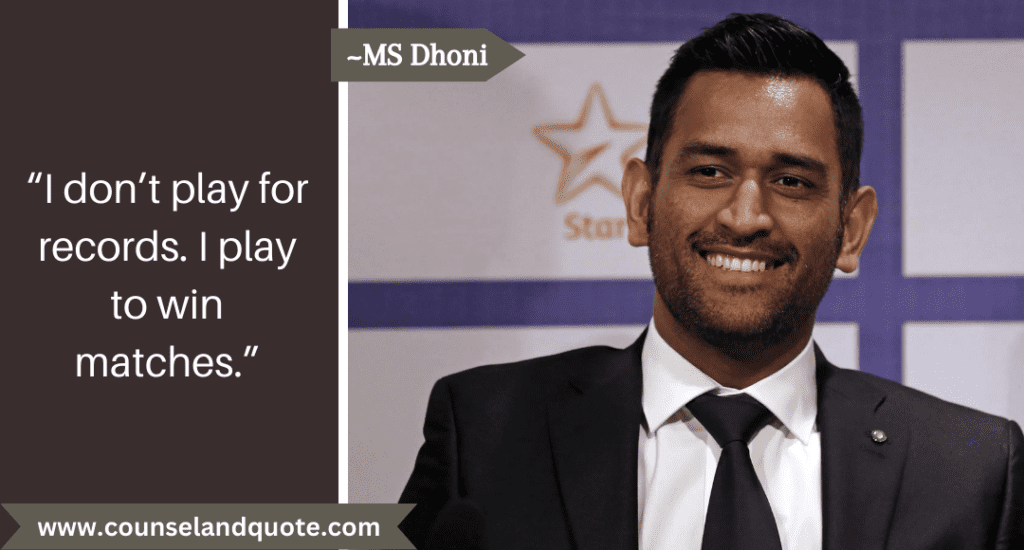 59- "Forget Fear, Do Something Different."
60- "I want people to remember me as a Good Person, Not as a Good Cricketer."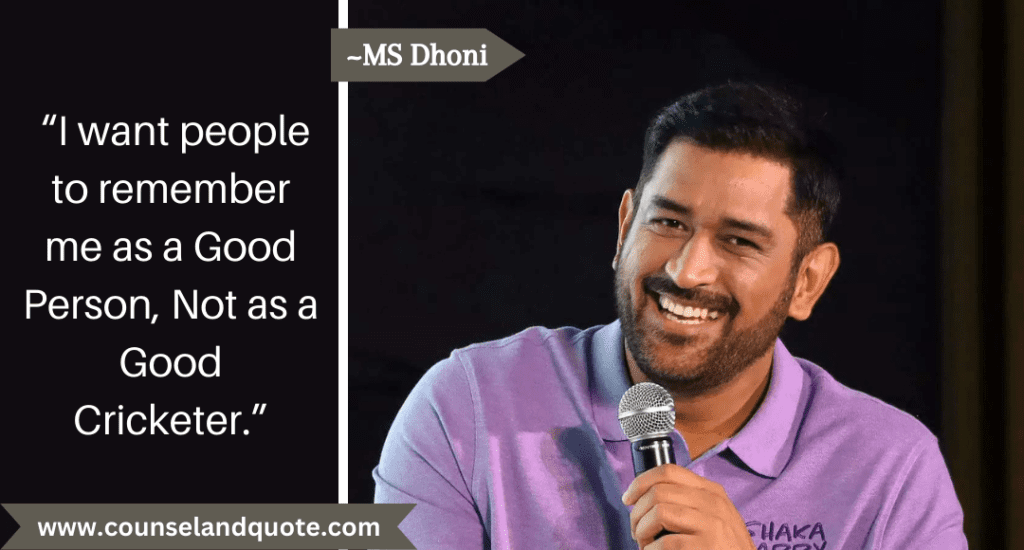 61- "Face The Failure, Until The Failure Fails To Face You."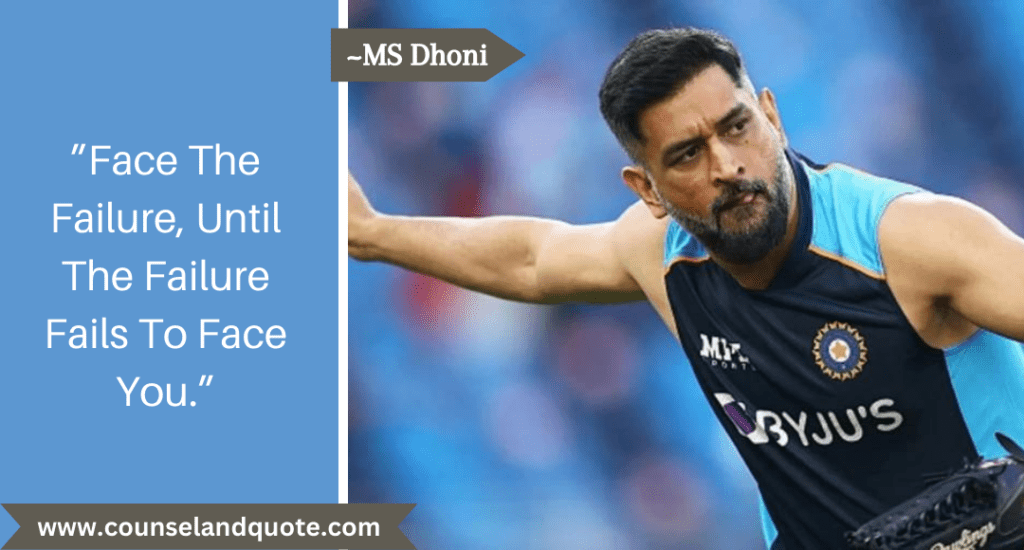 62- "It's important to learn and not repeat the same mistakes. What's done is done."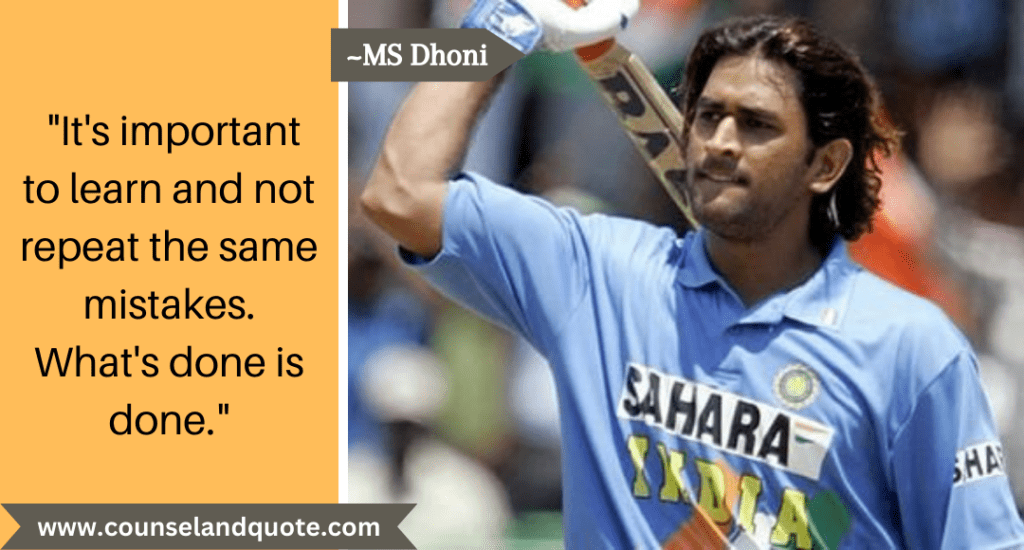 63- "I love to be in the moment; I love to analyze things a bit."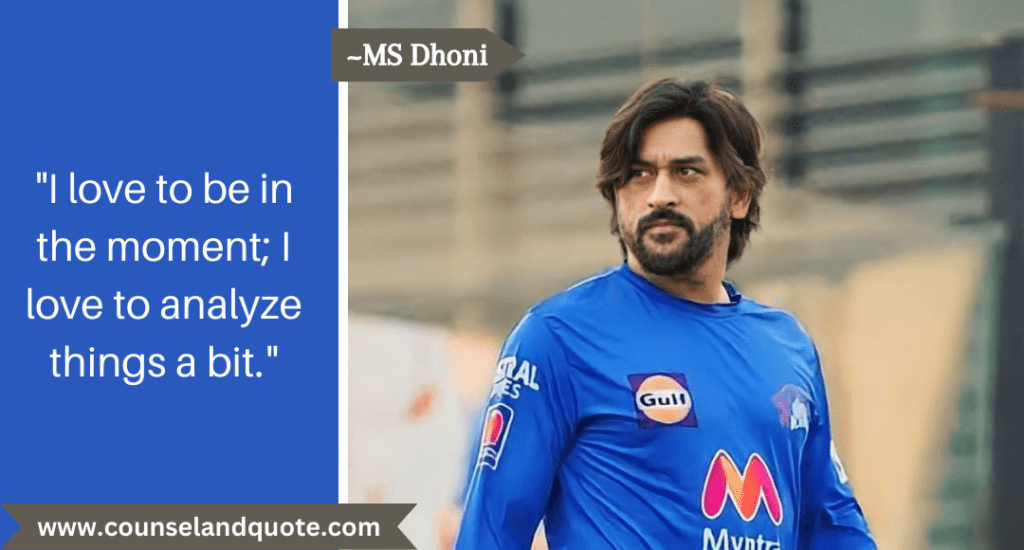 64- "Till the full stop doesn't come, the sentence isn't complete."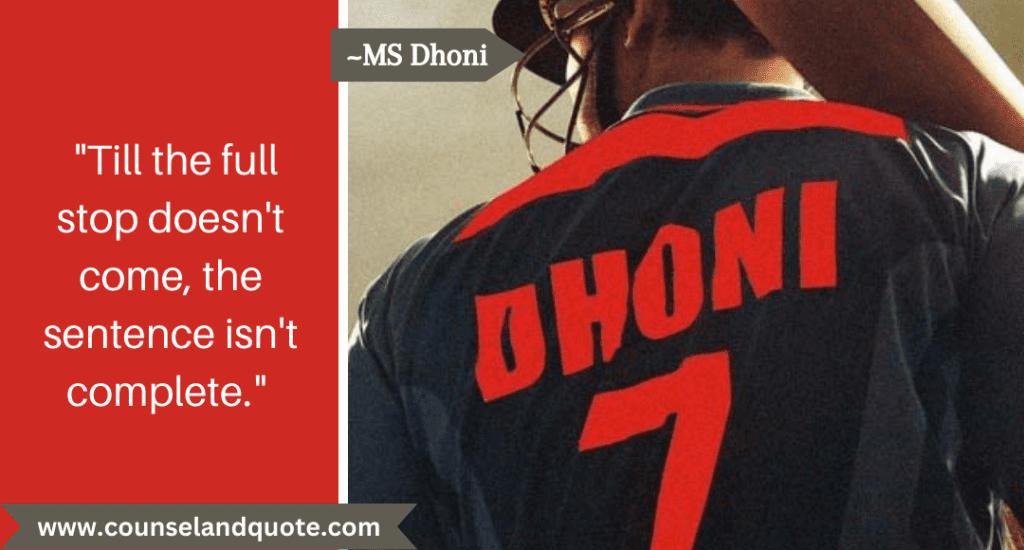 65- "Take Action In Silence, No Lion Attacks In Noise."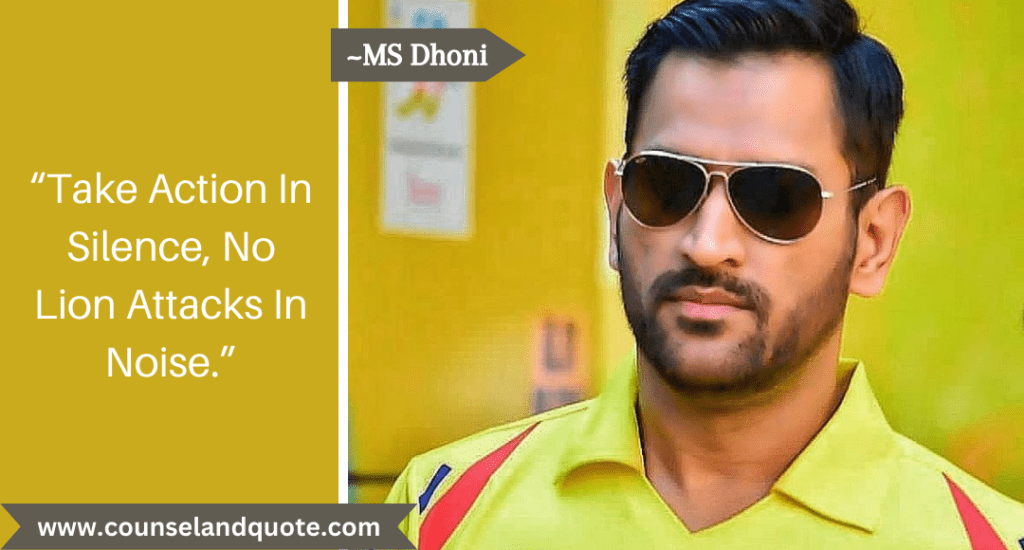 Conclusion
So, that's guys! I hope you have gotten pumped up by now.
With this article, we desire to spread the mindset of the blockbuster MS Dhoni.
MS Dhoni Quotes bring out all the MS Dhoni Inspirational Quotes that will motivate you to do more and be more.
Kindly share this piece with your family and friends to let them aware of his brilliant thinking pattern and inspire them.
And we would love to hear your favorite MS Dhoni Motivational Quotes below in the comments.
Spread the word and help the world!
Thank You!