Nelson Mandela Quotes About Forgiveness will leave you awe-struck!
After going through the atrocities he faced during the major course of his life, Forgiveness Nelson Mandela Quotes will leave you shook and extremely motivated simultaneously.
Mandela has been synonymous with freedom, success, goodness, and forgiveness, and we know him as a super inspirational personality.
Nobel Peace Prize(1993) and much more honors and awards are to his credit for spearheading the cause of the anti-apartheid regime.
He is a true nationalist who has been instrumental in peacefully vanishing apartheid in South Africa.
A Quick Biography of Nelson Mandela!
A Quick Biography of Nelson Mandela!
Name
Nelson Mandela
Full Name
Nelson Rolihlahla Mandela
Date Of Birth
18 July 1918
Place Of Birth
Mvezo, Union Of South Africa
Alma Mater

University of Fort Hare
University of London
University of South Africa
University of the Witwatersrand
Political Party
African National Congress(ANC)
Political Affiliations
South African Communist Party
Notable Works
Long Walk to Freedom (Autobiography)
Position In South Africa
1st President of South Africa (10 May 1994 – 14 June 1999),

11th President of the African National Congress (7 July 1991 – 20 December 1997),

4th Deputy President of the African National Congress (25 June 1985 – 6 July 1991)
Occupation
Activist,
Politician,
Philanthropist,
Lawyer
Website
Nelson Mandela Foundation
Nicknames
Madiba,
Dalibunga
Most Significant Work
Eradication Of Apartheid Regime
&
Fostering Racial Reconciliation
Duration In Prison
27 Years
Charitable Foundation
Nelson Mandela Foundation
Awards & Honors
Sakharov Prize (1988)
Bharat Ratna (1990)
Nishan-e-Pakistan (1992)
Nobel Peace Prize (1993)
Lenin Peace Prize (1990)
Presidential Medal of Freedom (2002)
& many more
Spouses
Evelyn Ntoko Mase,
​
Winnie Madikizela,
​
Graça Machel
Children
Makgatho, Makaziwe, Zenani, Zindziswa & More
Grandchildren
Ndaba Mandela, Mandla Mandela & More
Date Of Death
5 December 2013 
Place Of Death
Johannesburg, South Africa
Resting Place/Place Of Burial
Mandela Graveyard, Qunu, Eastern Cape
His life is an endless inspiration, so let's move straight to the 20 Best Nelson Mandela Quotes Forgiveness.
Forgiveness Nelson Mandela Quotes Video!
Nelson Mandela Quotes About Forgiveness
Nelson Mandela Quotes Forgiveness
Forgiveness Nelson Mandela Quotes
1- "Forgiveness liberates the soul, it removes fear. That's why it's such a powerful weapon."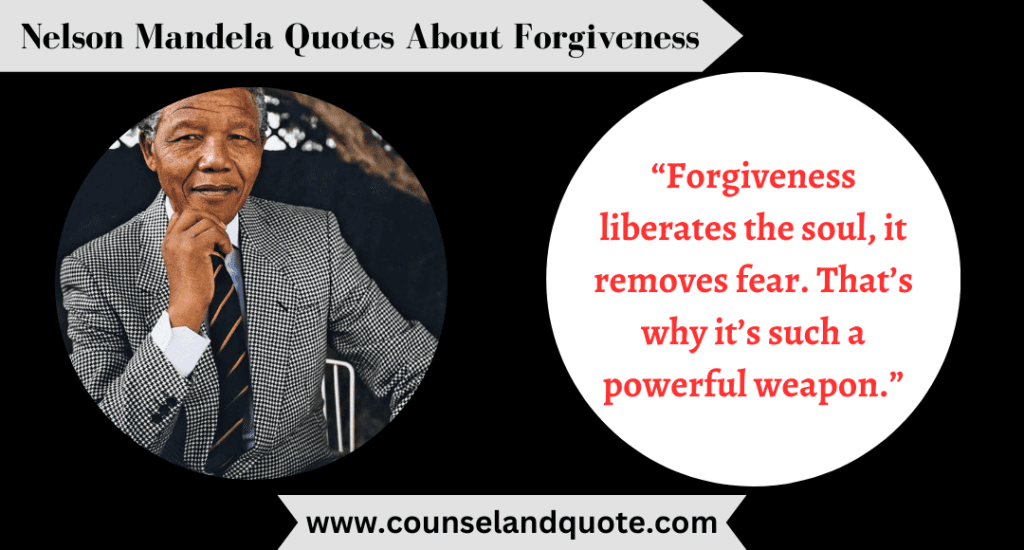 2- "Resentment is like drinking poison and then hoping it will kill your enemies."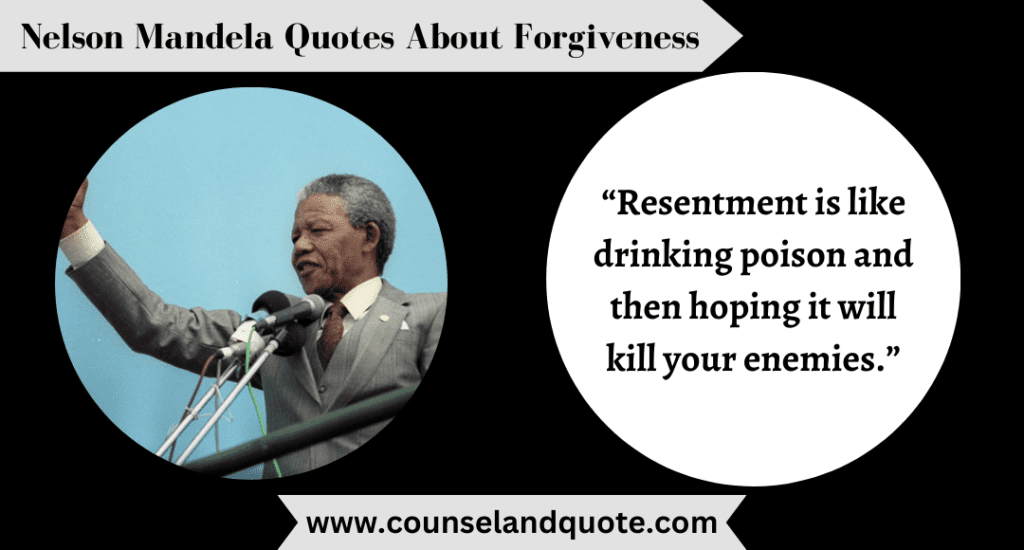 3- "You will achieve more in this world through acts of mercy than you will through acts of retribution."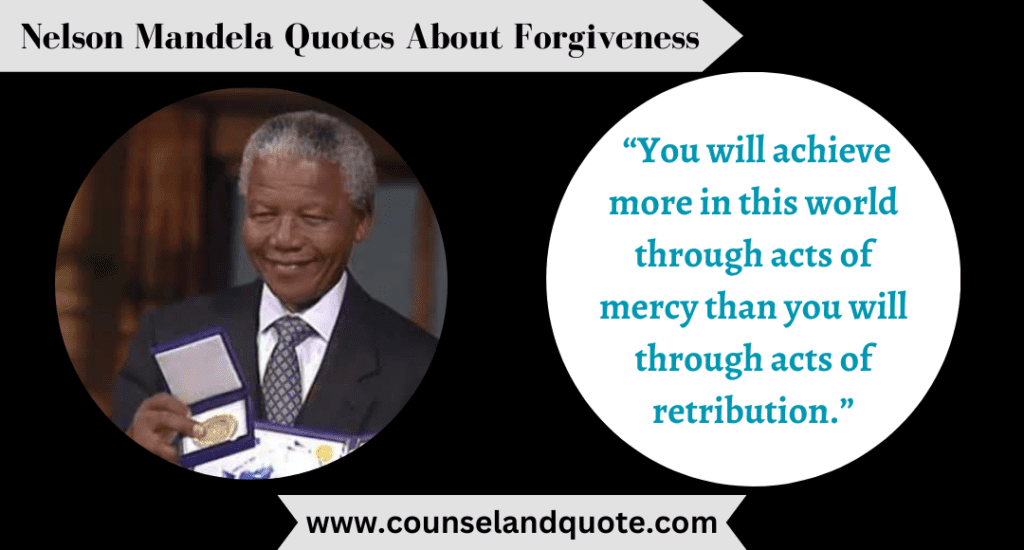 4- "We must strive to be moved by a generosity of spirit that will enable us to outgrow the hatred and conflicts of the past."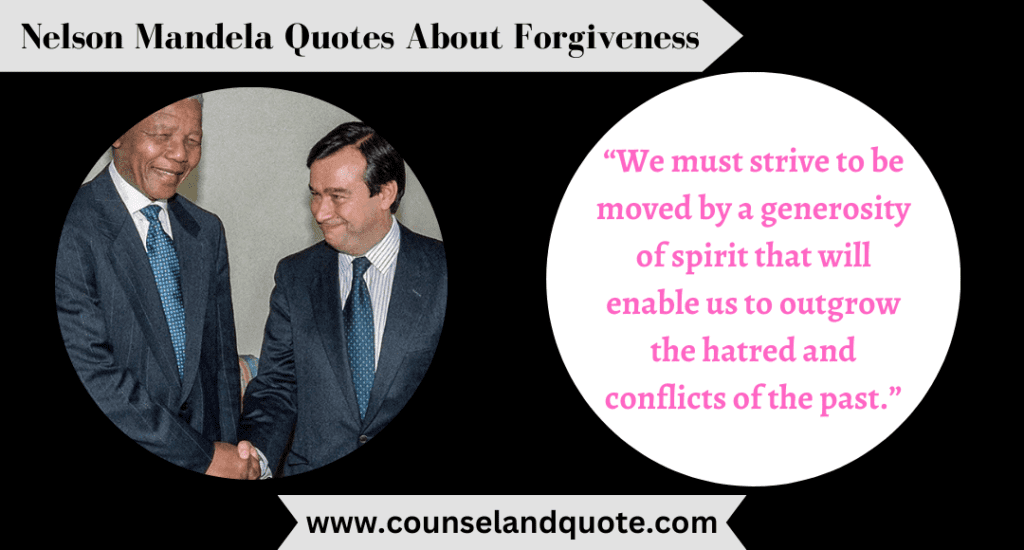 5- "Courageous people do not fear forgiving, for the sake of peace."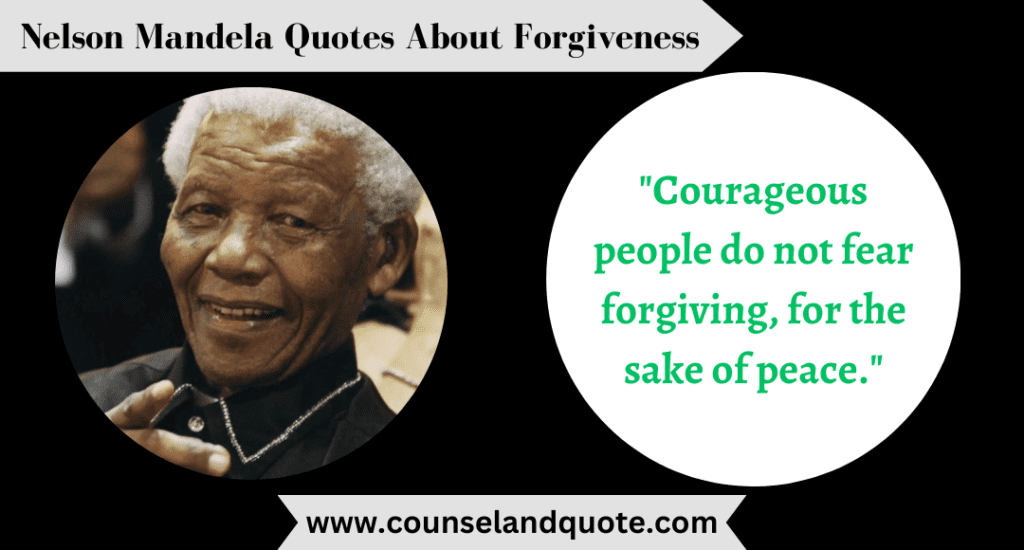 6- If you want to make peace with your enemy, you have to work with your enemy. Then he becomes your partner."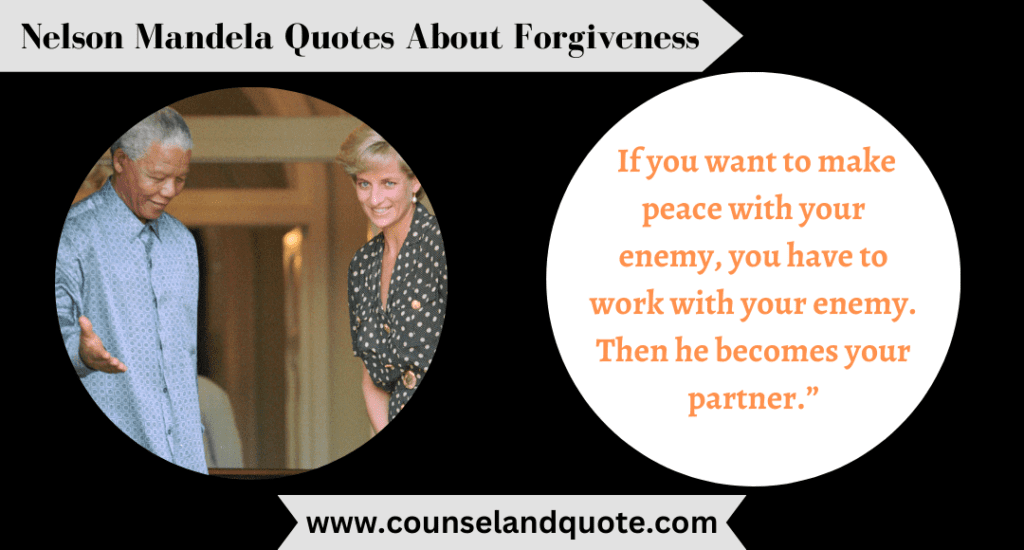 7- "If there are dreams about a beautiful South Africa, there are also roads that lead to their goal. Two of these roads could be named Goodness and Forgiveness."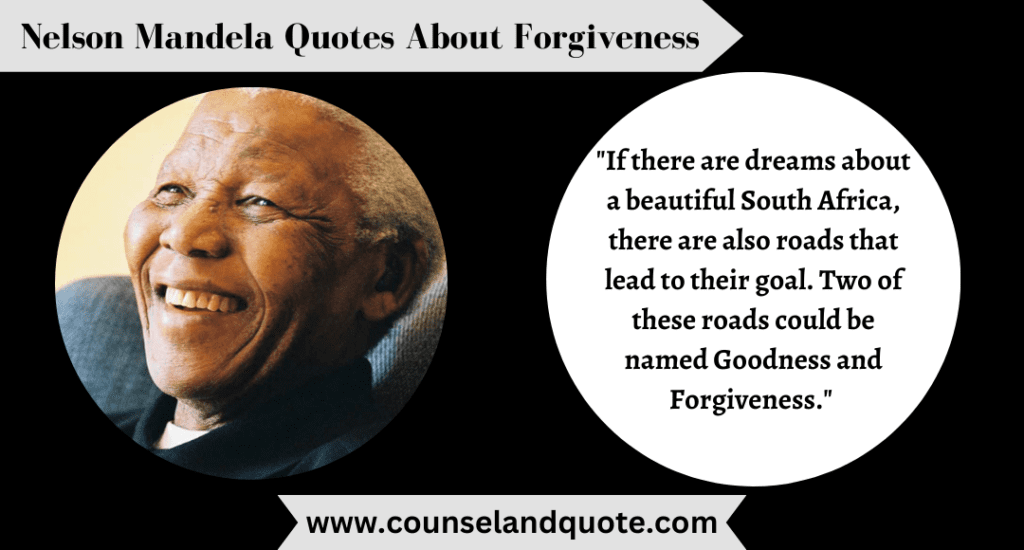 8- "In my country, we go to prison first and then become President."
9- "It never hurts to think too highly of a person; often they become ennobled and act better because of it."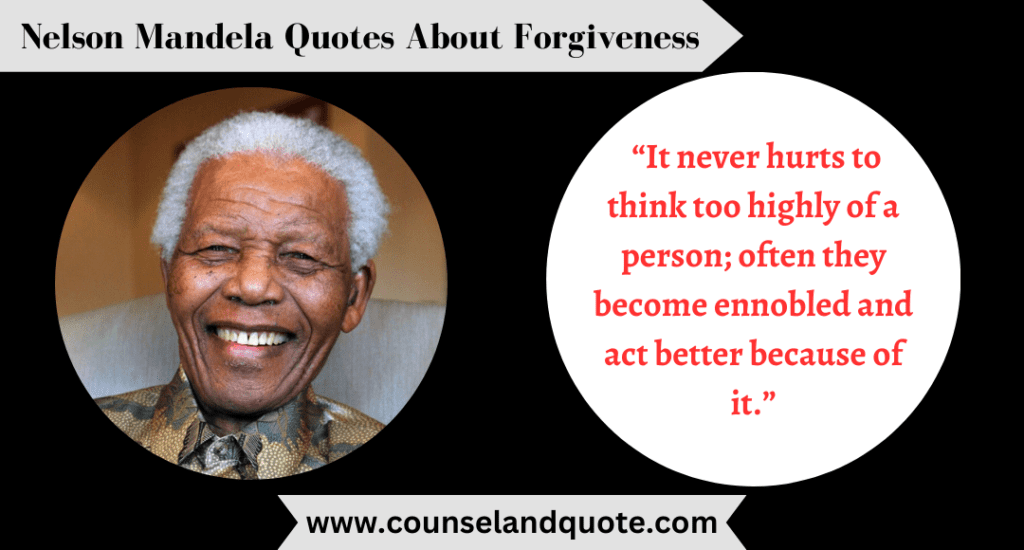 10- "I have a special attachment to the people who befriended me during times of distress."
11- "As I walked out the door toward the gate that would lead to my freedom, I knew if I didn't leave my bitterness and hatred behind, I'd still be in prison."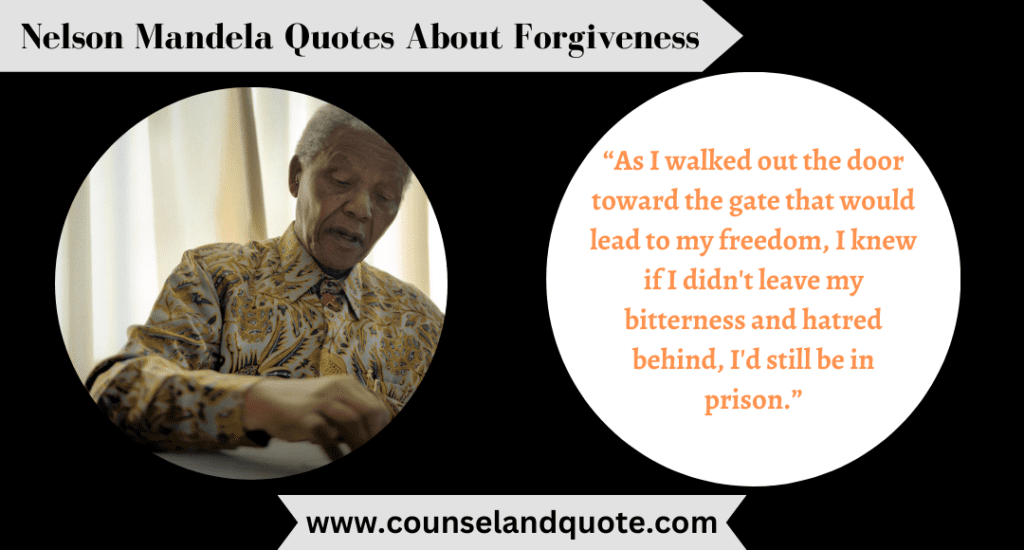 12- "A good head and a good heart are always a formidable combination."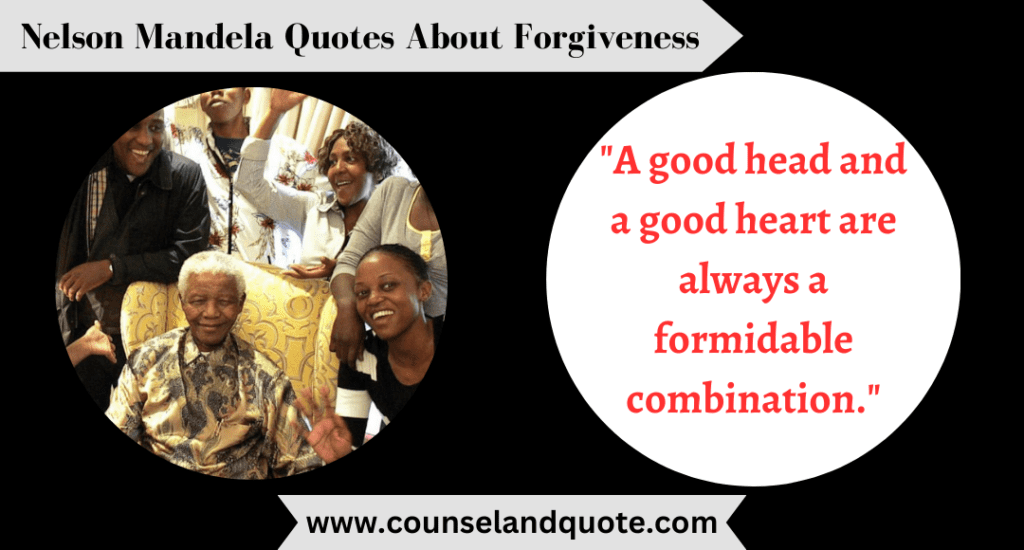 13- "For to be free is not merely to cast off one's chains, but to live in a way that respects and enhances the freedom of others."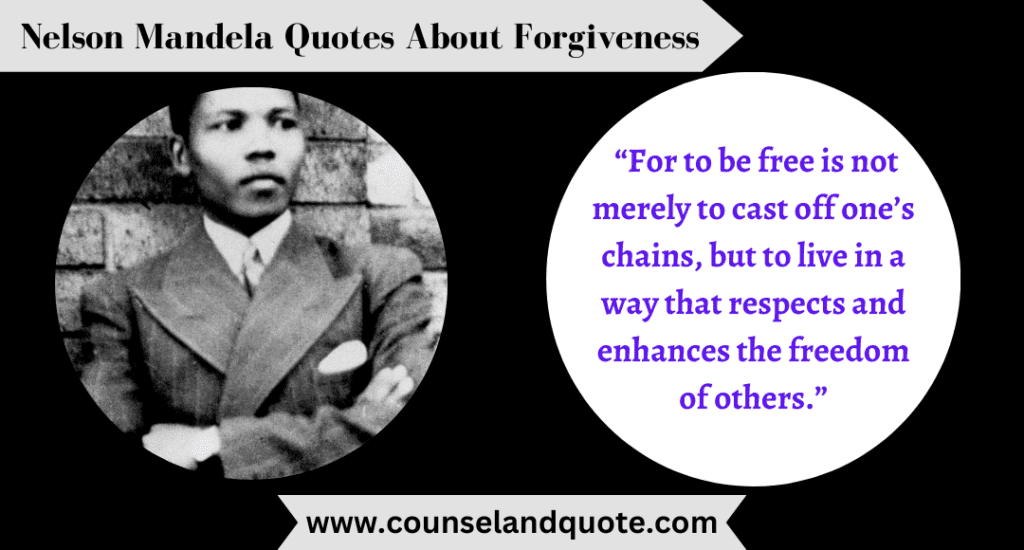 14- "Reconciliation does not mean forgetting or trying to bury the pain of conflict, but that reconciliation means working together to correct the legacy of past injustice."
15- "No one is born hating another person because of the color of his skin, or his background, or his religion."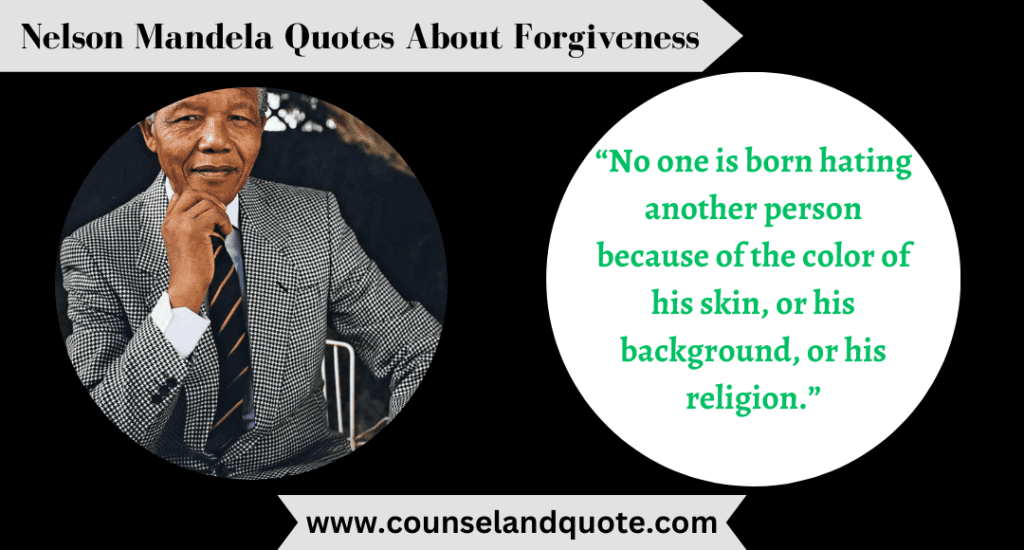 16- "We forgive but not forget."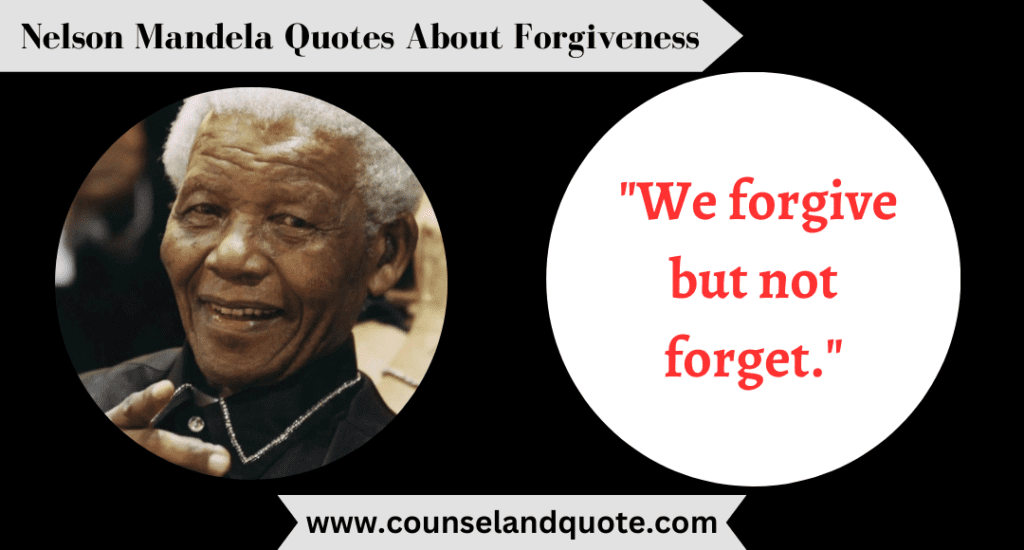 17- "It is in your hands, to make a better world for all who live in it."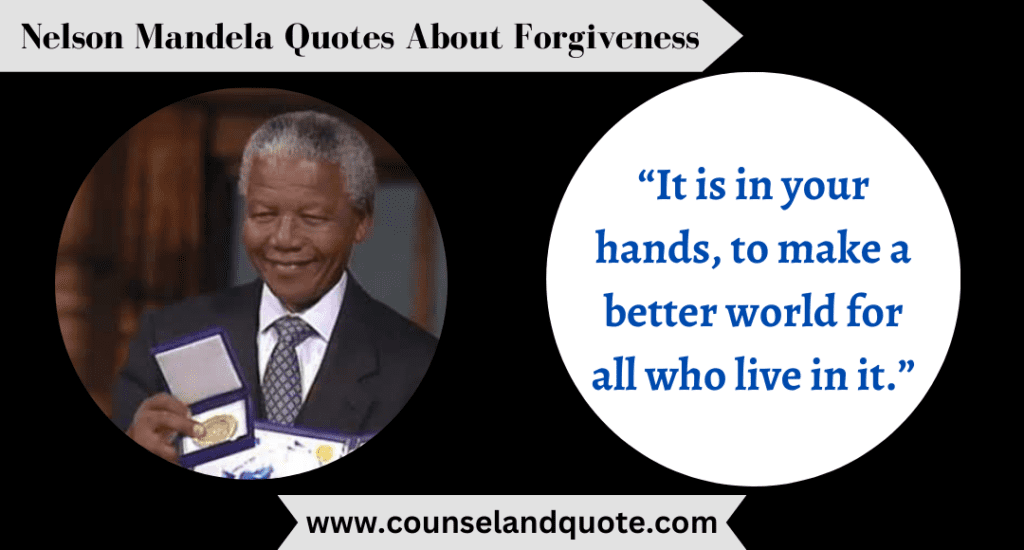 18- "I am not a saint, unless you think a saint is a sinner who keeps trying."
19- "Only free men can negotiate. Prisoners cannot enter into contracts."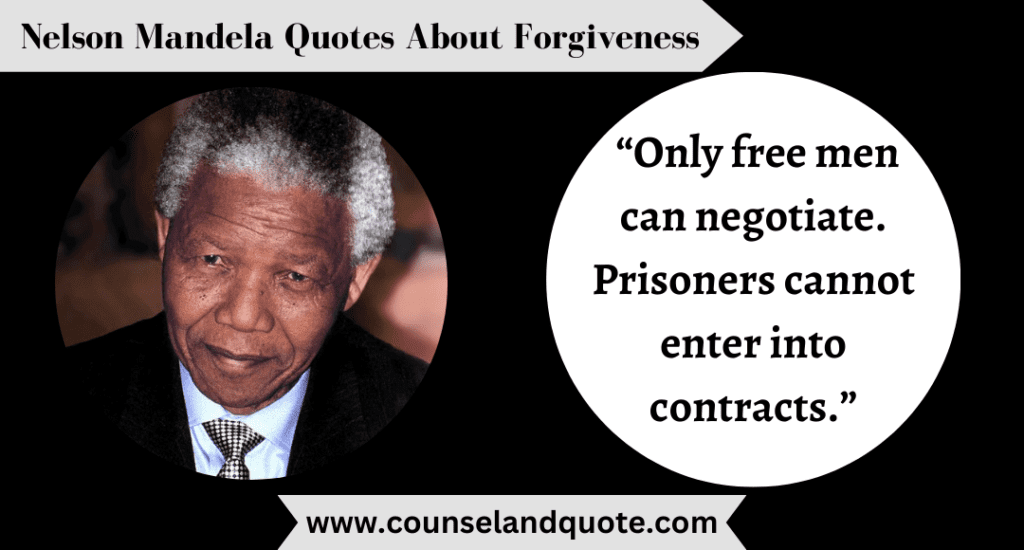 20- "As we let our own light shine, we unconsciously give other people permission to do the same."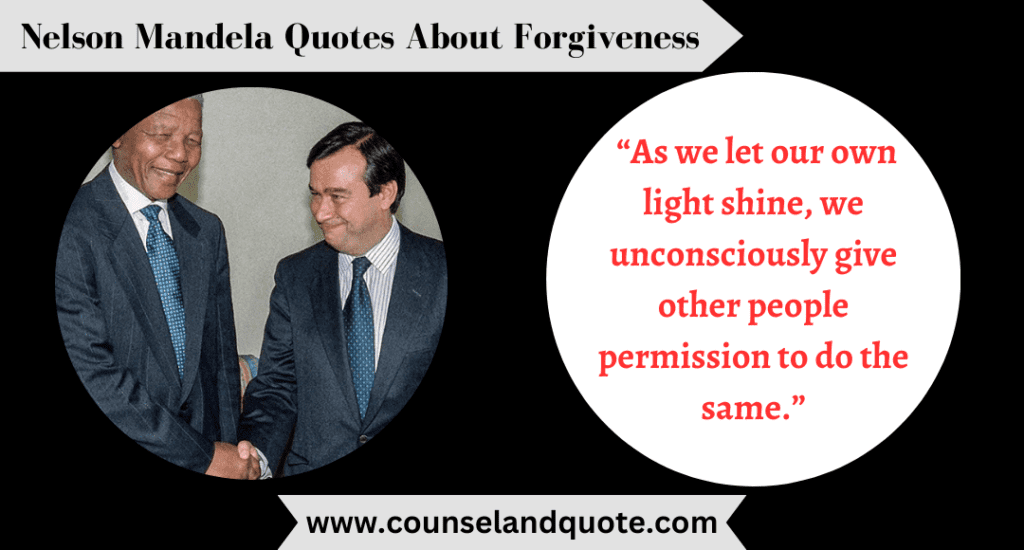 Conclusion
We hope to influence you positively with Nelson Mandela Quotes About Forgiveness.
Please share your favorite Forgiveness Nelson Mandela Quotes in the comment section.
As we intend to inspire you by touching your soul with the words of the great Nelson Mandela, we would be glad if you actively participate in this noble cause and spread the message within and beyond your circle.
Do mention your opinion of our work and let us know through the comments.
Spread the word to help the world!
Thank You!