The Way Of The Superior Man by David Deida Book Summary and Free PDF is presented here.
The The Way Of The Superior Man by David Deida is more like a guidebook. This book takes us on the journey of emotional maturity.
The full name of the book is 'The Way of the Superior Man: A Spiritual Guide to Mastering the Challenges of Women, Work, and Sexual Desire. The book is written by David Deida. 
David Deida is an author of more than 10 books on masculinity, spirituality and sexuality. He is based in America and his books are translated into more than 25 languages.
It is a master book. Though, the book was written many years ago, its messages are still relevant and will remain so for years and decades to come. The book deals with masculine behaviour and its effects on our relationships.
This book has many lessons for a man to become a masculine man, though this book is not specifically about man but about masculinity. Be it masculinity in men or women.
Why this Book- The Way Of The Superior Man by David Deida
Why this Book- The Way Of The Superior Man by David Deida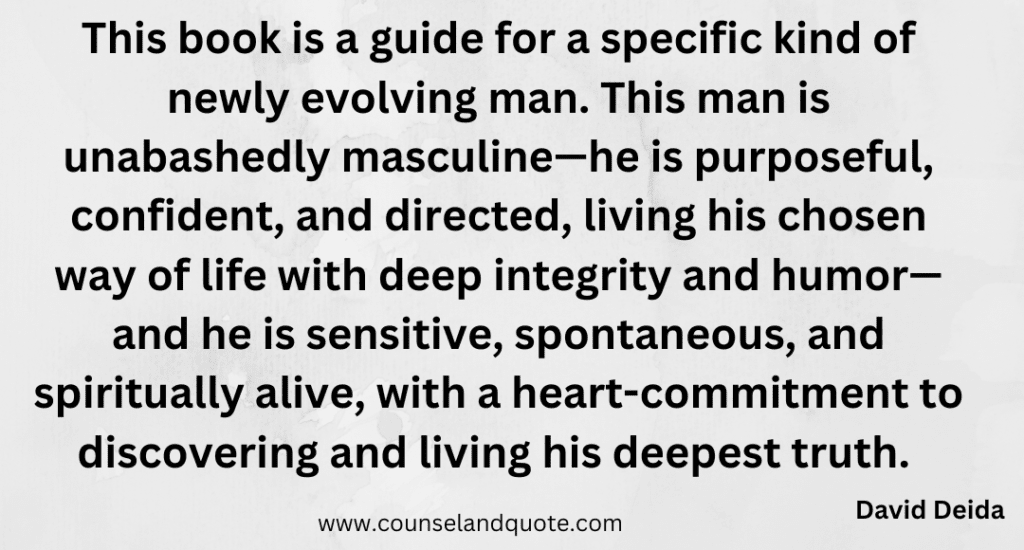 This book gives a deeper understanding of masculine and feminine energies, relationship dynamics, and personal growth.
It talks in detail about the career, family, intimacy and spirituality.
This book leads every person to live a masculine life of integrity, authenticity, and freedom.
It even delves deeper into sexual intimacy and suggests ways to live a fulfilled life.
How Does this Book The Way Of The Superior Man Impact You?
The book guides and impacts you on the following counts.
Men who want to know their masculinity and femininity and use these energies to guide their lives and relationships.
Discover your life purpose and passion to attain self-actualization.
Maintain the polarity between masculinity and feminity to live a healthy and happy relationship.
Improve your communication and emotional intimacy skills to live a happier male-female connection.
How the swing between masculinity and feminity affects your spirituality.
The Way Of The Superior Man by David Deida Book Summary
The Way Of The Superior Man by David Deida Book Summary is distilled cautiously to cover every bit of the book's learnings and messages.
The summary is divided into 8 powerful Principles. These principles convert a childish boy into a mature man.
Principle 1- Know Your Real Edge and Don't Fake It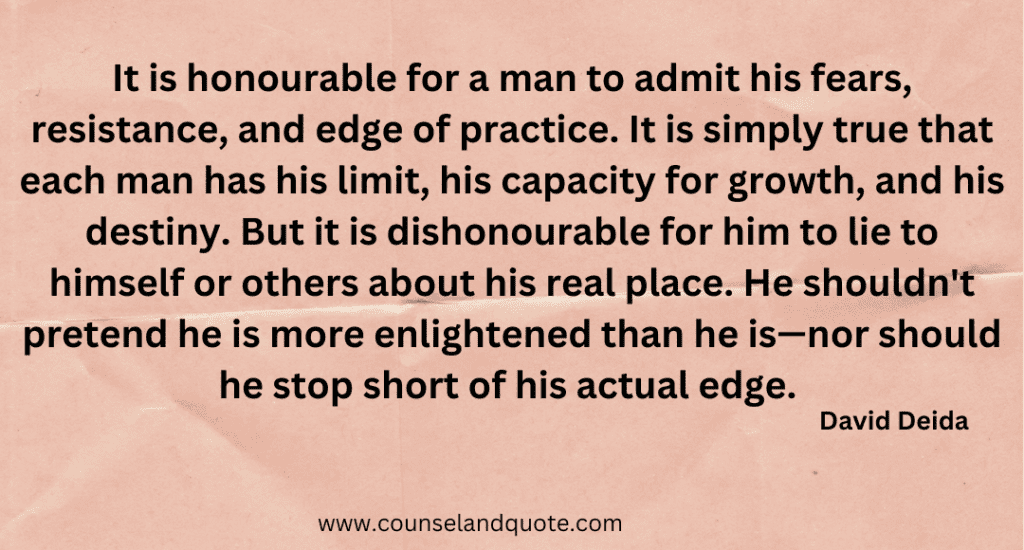 This principle teaches us to challenge our comfort zone and not ever try to live within our comfort zone. If you dare live within your edge, your growth will stop. You will only survive. The successful journey from boyhood to adulthood requires smashing your comfort zone.
David Deida says it is less important what is your limit or quality. The important thing is if you are doing justice with your full potential. If you are leading the kind of life that speaks about your significance. If your actions are the true reflection of your passion and maturity. Ask yourself these questions and evaluate answers.
David Deida warns people not to fake their actions and feelings. You are not making anyone else fool but yourself.
He says when you live your full potential and real life, you feel freedom. You are free from laziness and ostentation.
Immature boys fake their actions and fool themselves. They live well within their edge and boast about themselves. But real men always live on the real edge and expand their limits. These real masculine men have different levels of energy and confidence. They attain higher standards. They attract everyone, especially the opposite sex.
Principle 2- Live as If Your Father Were Dead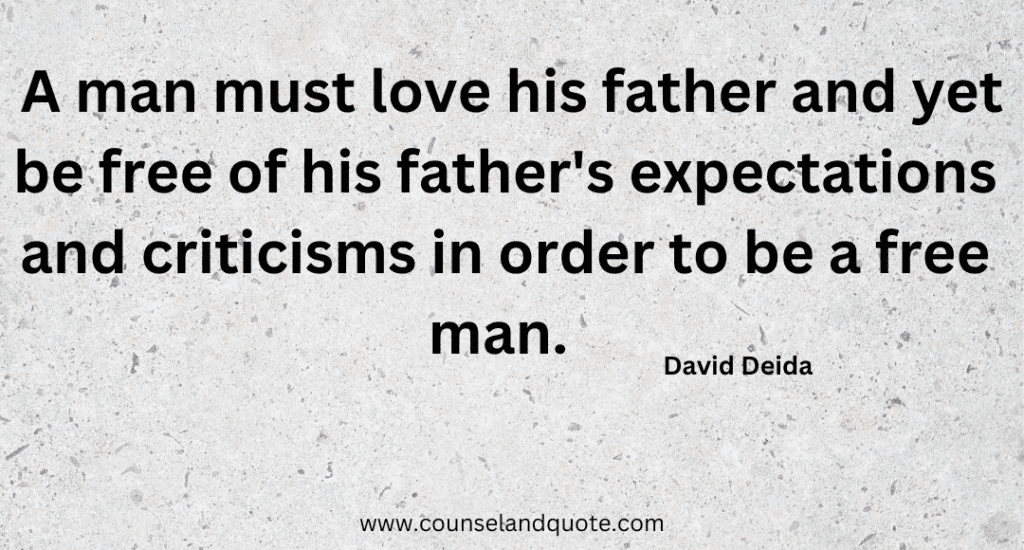 This principle is a bit unconventional. We all love and respect our fathers. We always try to listen to them and emulate them. We all try to make our fathers feel proud of us. This feeling makes us insecure and creates self-doubt in us.
David says when you are dependent upon your father for everything, your personality doesn't grow naturally. You will always be low in confidence and be emotionally immature.
He says to gain ultimate maturity and progress, you have to feel free from your father's expectations and criticism. Because they bog down the free flow of your decision-making and innovations which your progress requires.
Principle 3- Don't Expect Challenges to Finish in Life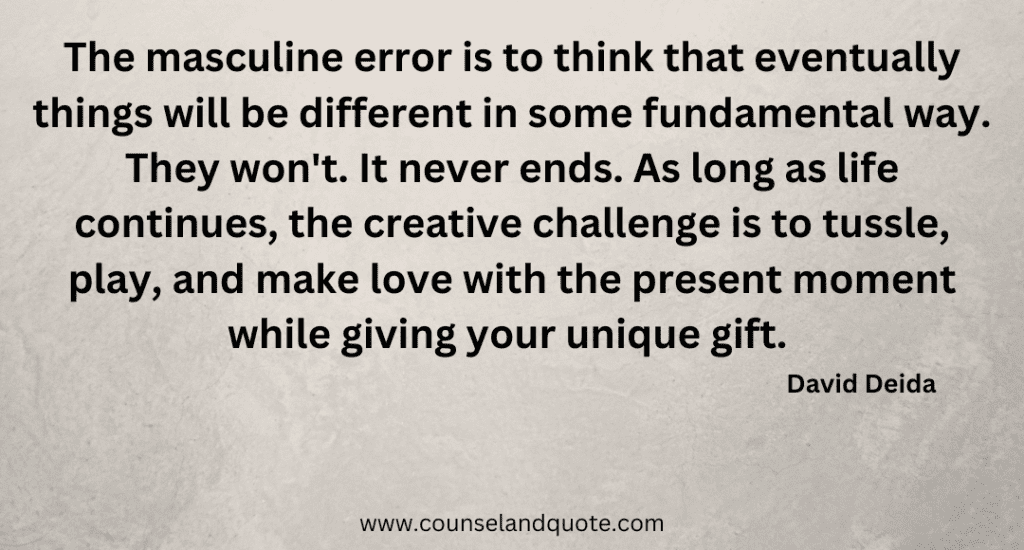 David warns that don't believe in the myth that one day everything will be fine. Nothing will be fine on its own. You have to strive to make your life better and it is not a one-day process. You have to accept the challenges life is throwing at you and consistently perform well to make favourable circumstances for you.
He teaches us the art of tackling the uncertainties of life. He says your masculinity is the best element to fight out the challenges and win over them. Your tough moments make you mature and teach you powerful life lessons.
The way you take on the problems and tests of life impacts your relationships. Your confidence gives power to your life partner and grows their love and trust in you.
Whatever good you want to achieve and accomplish in life, career, spirituality, etc depends on you and your mindset. Challenge polishes leaders and bogs down laggards. Who are you is important.
Principle 4- Don't Use Your Family as an Excuse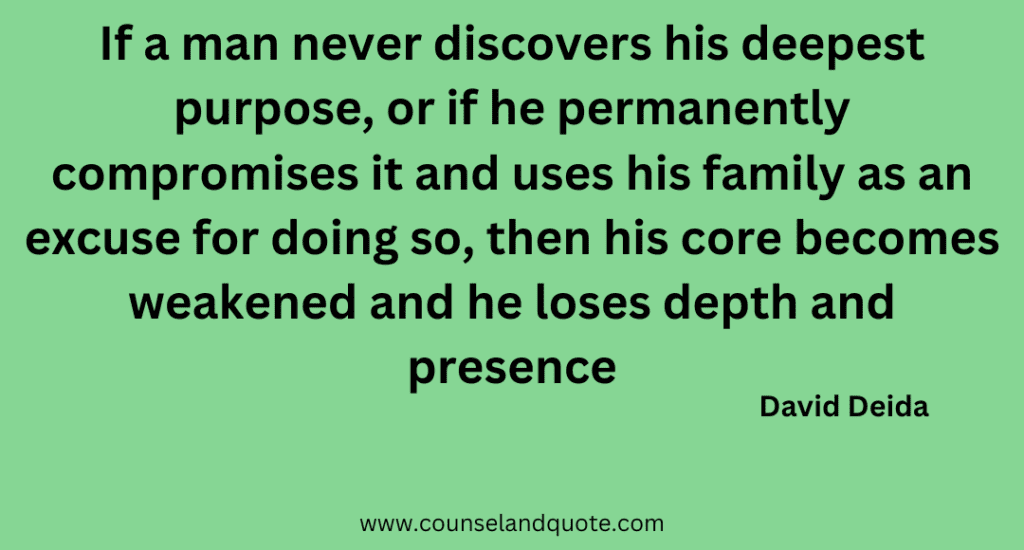 Deida says weak men use their family issues as an excuse for their failed choices in life.
He says that our deepest and best relationships are with our family members and every man must know it and admit it. When you use your family and their members as an excuse for your debacle, then you become irresponsible and uncaring for them.
Even though you become successful at any point in life, you will remain unhappy and depressed because of this defeated attitude.
If a man doesn't know his deepest purpose in life and compromises it with excuses, then his core weakens and it affects his masculinity and maturity. He becomes more on the feminine side and less on the masculine side.
When a man's lifestyle has a more feminine phase and less masculine phase then he will be unhappy and unenergetic because he is spending his life against the bigger purpose and core values.
Principle 5- If you don't Know your Purpose Discover it Now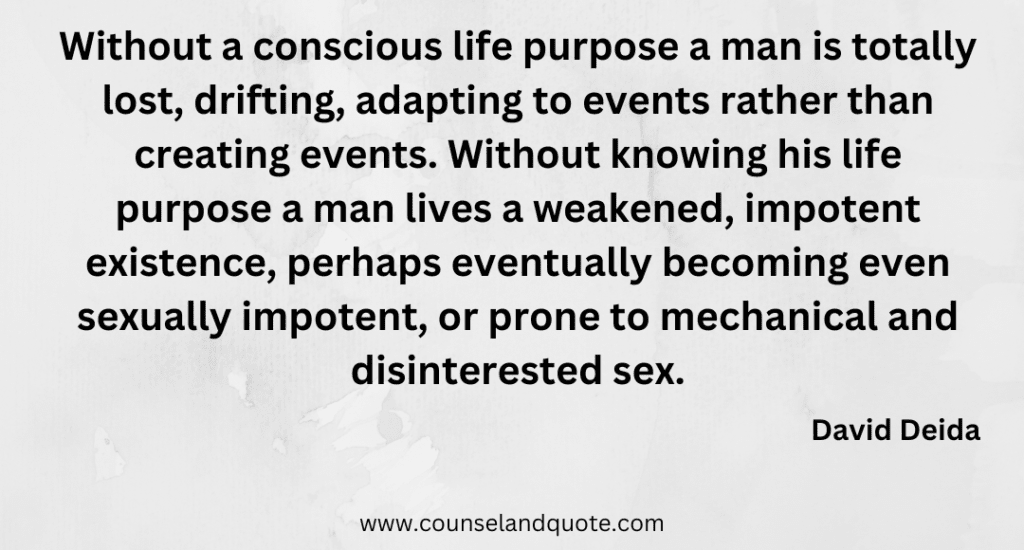 We all have some special genius in us that we are born to share with others, says David Deida. If we fail to deliver them, we feel incomplete from within. That is why it is important to know your purpose.
When a boy doesn't know the real purpose of his life, he wanders in malls, theatres, restaurants, etc. He also chases girls and fanciful things. This way he wastes his creative energy and willpower to achieve meaningful things in life.
It is extremely important to know the real purpose of life. When you don't know your purpose, you fail to recognize exactly what you have to do and accomplish in life. Your purposelessness turns into the weakness of life. It gives shape to an unattractive personality in life. You don't attract anyone.
Know the purpose of your life and get it with full energy. This way a boy converts into a mature man. This way you become more masculine and you attract feminine.
Purpose 6- Your Purpose must Come Before your Relationships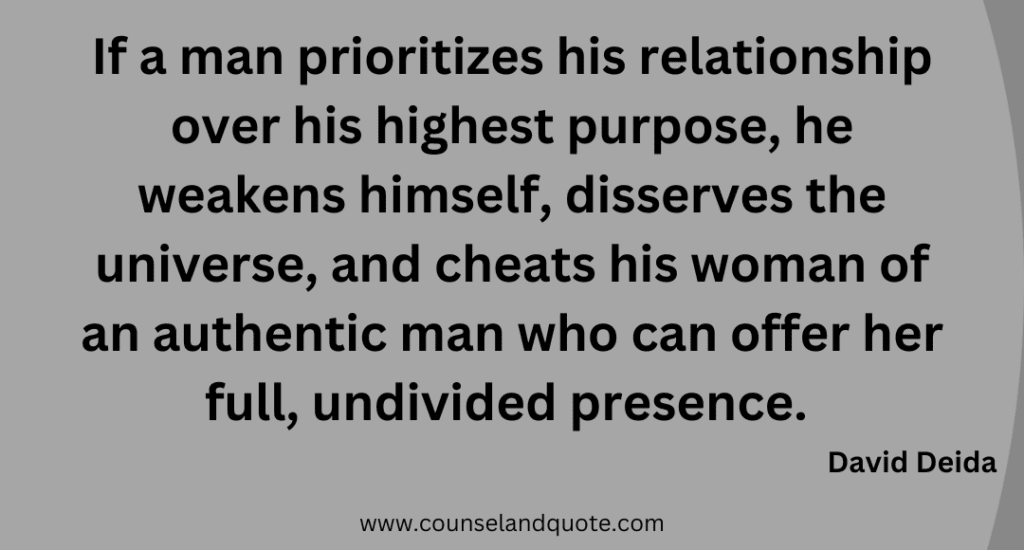 David Deida says your purpose must come ahead of your relationships. He says every man and woman knows this fact the the aim of life is not limited to maintaining a romantic relationship.
If any man gives his relationships more importance than his life purpose then it is a trait of a weak man.No woman wants and loves a weak man. A weak man doesn't attract anybody.
David says you only feel fulfilled when you serve your purpose. Otherwise, you feel empty and disappointed.
Deida says your mission is your priority. Unless you know your mission and have aligned your life to it, your core will feel empty.
Principle 7- Be Willing to Change Everything in Your Life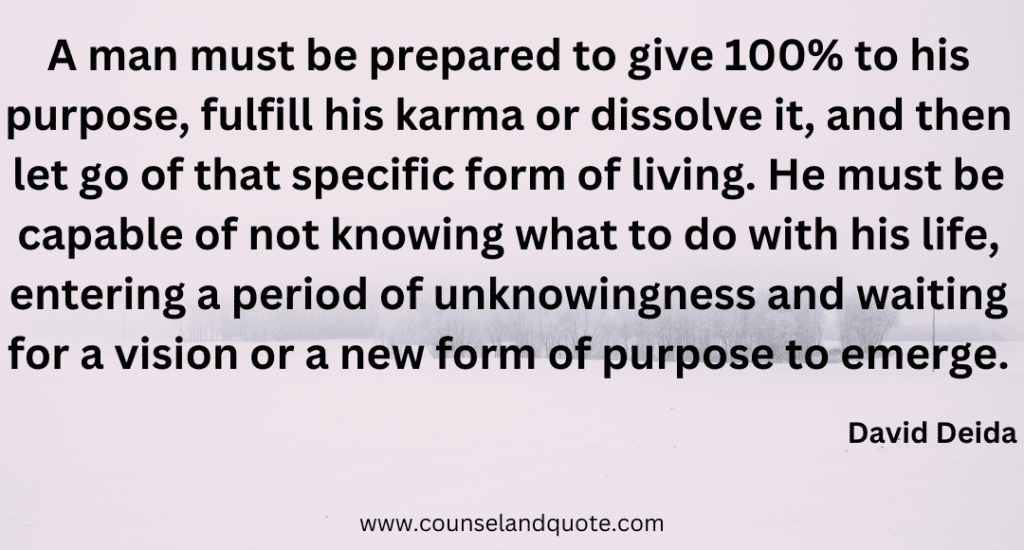 David Deida says every man must be devoted to his purpose. If he gives anything less than cent per cent to his life purpose, he will remain dissatisfied and disgruntled.
Deida says irrespective of your life pattern, whenever you awaken to your life purpose, be ready for any change in life. Because if your thoughts, lifestyle, actions, etc don't match your purpose, you will never be able to accomplish them.
When you are misdirected, neither you get what you are born to do nor what makes your life better. When you get yourself ready for your purpose you see that everything around you helps you get them and gives you happiness and satisfaction which your success requires.
Principle 8- Enjoy Your Friend's Criticism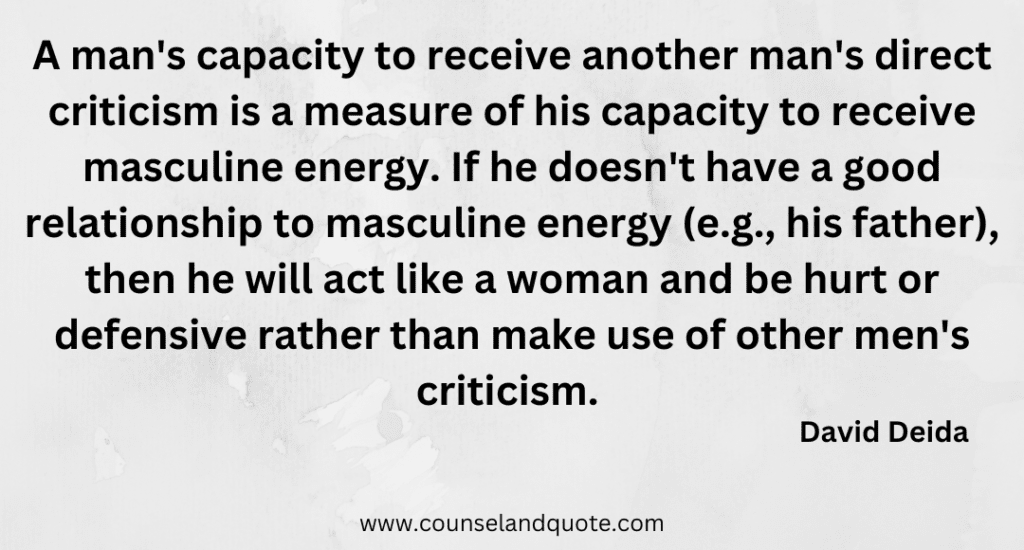 David Deida says if you can't survive your friend's criticism, you make time pass friends similar to you.
If you have friends around you who don't challenge you against mediocrity and negativity, then they will never appeal to your masculine energy which your success requires.
Make friends who can criticize you and push you towards your goal. Who can direct you and say the right things to your face, who can guide you and bring out the best in you
Choose friends who are living on the edge of their comfort zones and braving their fears. You will prosper in their company and achieve your best in life.
Buy Book/ The Way Of The Superior Man Book PDF by David Deida Download Free
Buy the book Download The Way Of The Superior Man by David Deida on Amazon. Get the book PDF free to download.
| | |
| --- | --- |
| Book Name | The Way of the Superior Man: A Spiritual Guide to Mastering the Challenges of Women, Work, and Sexual Desire |
| Author | David Deida |
| Language | English |
| Pages | 224 |
| Publication | Sounds True |
| Book Rating | 4.7/5 |
| Price | $8.45 |
| Purchase the Book | Book Link on Amazon |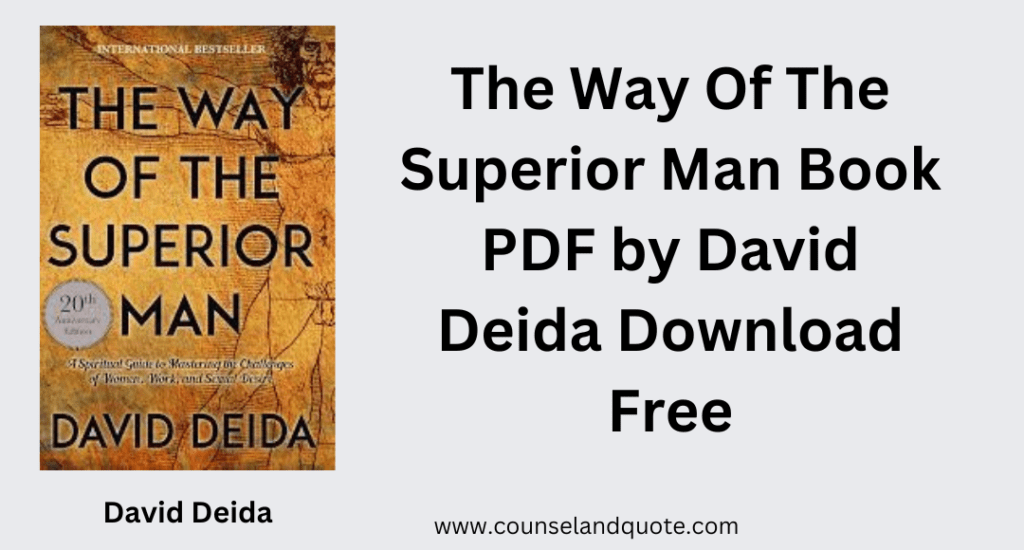 The download button for the book is given below.
Click the button to download the free book PDF.
3 Recommended Readings For You
The three best books free PDF is given here for book lovers. Download these complete books PDF by clicking the download button given below.
1- Attitude is Everything by Jeff Keller
Know how your attitude builds your life. 
Click the download button and find the complete book PDF.
2- Your Infinite Power to be Rich by Dr Joseph Murphy
Riches are everywhere around you. Learn how to recognize them.
Download the book PDF.
3- Awaken the Giant Within by Tony Robbins
Your destiny is hidden in your thoughts and actions. Take control of your mental, physical, emotional and financial destiny.
Get the book.
Conclusion
The Way Of The Superior Man by David Deida's Book Summary and its important lessons are highlighted here. The Way Of The Superior Man by David Deida Book Fee PDF is also shared for book lovers.
It is a must-read and a remarkable book which will definitely etched into your mind. 3 more books are shared to satisfy your reading hunger.
Please share the post and intimate us regarding the book summary you want to read. You can contact us via your comments in the comment section.
May God Bless You. Amen.
Thank you.