Usain Bolt training tips and rules show his determination and dedication. Usain Bolt is considered one of the best sprint athletes in the world.
He has an extremely impressive 23 medal tallies and Olympic medals.
Usain Bolt Training Tips & Rules
Usain Bolt Training Tips & Rules
Usain Bolt Training Tips and styles are shared here. They give us a comprehensive idea of how he became a successful athlete in sports. We get here many lessons to learn.
Get the 20 most impressive training tips application.
Usain Bolt suggested them in his various interviews and speeches.
Tip- 1- Always Have Clear Goals In Your Training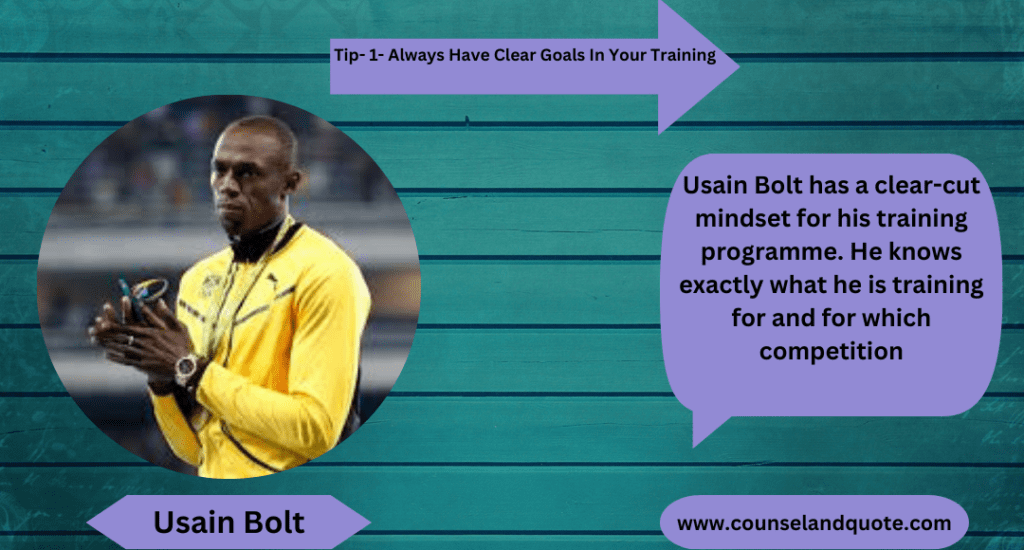 Usain Bolt has a clear-cut mindset for his training programme. He knows exactly what he is training for and for which competition.
Setting clear goals helps you in focussing and giving you an environment for the competition. You get that level of atmosphere and feel.
Bolt says that different competitions require different levels of training. Training means preparation in advance. It always enhances your performance and improves your records.
Tip- 2- Follow A Strict Training Regimen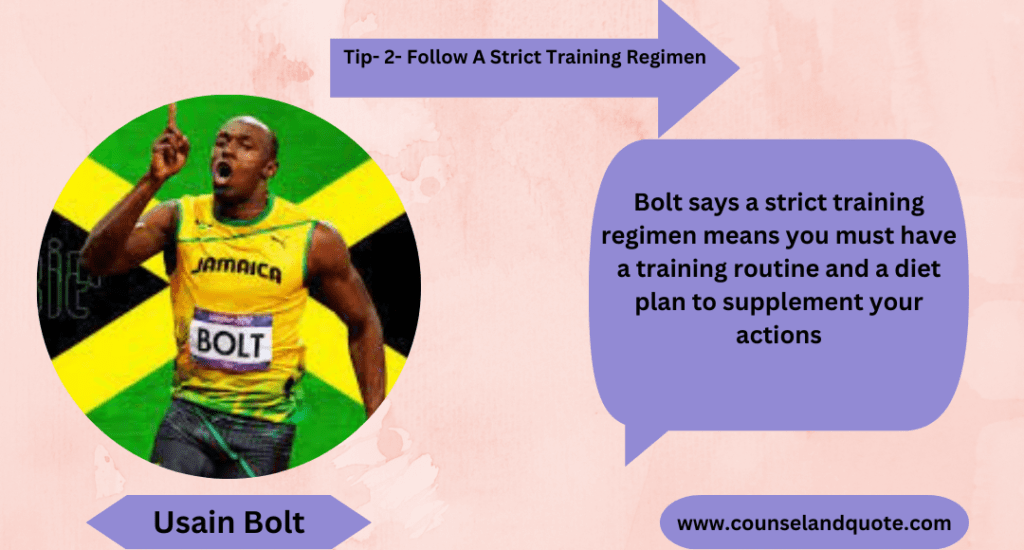 Bolt says a strict training regimen means you must have a training routine and a diet plan to supplement your actions.
It keeps you glued to your goals and helps you in winning matches.
Bolt says a strict training regimen shows your focus and intensity. It shows your seriousness for the ultimate goal. Winners have winning habits. A strict training regimen is a winning habit.
Tip- 3- Let Motivation Drive Your Training

Bolt says he is highly motivated to become the best athlete in the world. Running and winning keep him motivated.
Usain suggests his supporters show passion and motivation in life. They will take you to many new beginnings in life. They will keep you going when you are low and doubtful.
Bolt says motivation helps you in training better. When you are triggered by motivation, you are more resilient.
Tip- 4- Compete Against Tough Opponents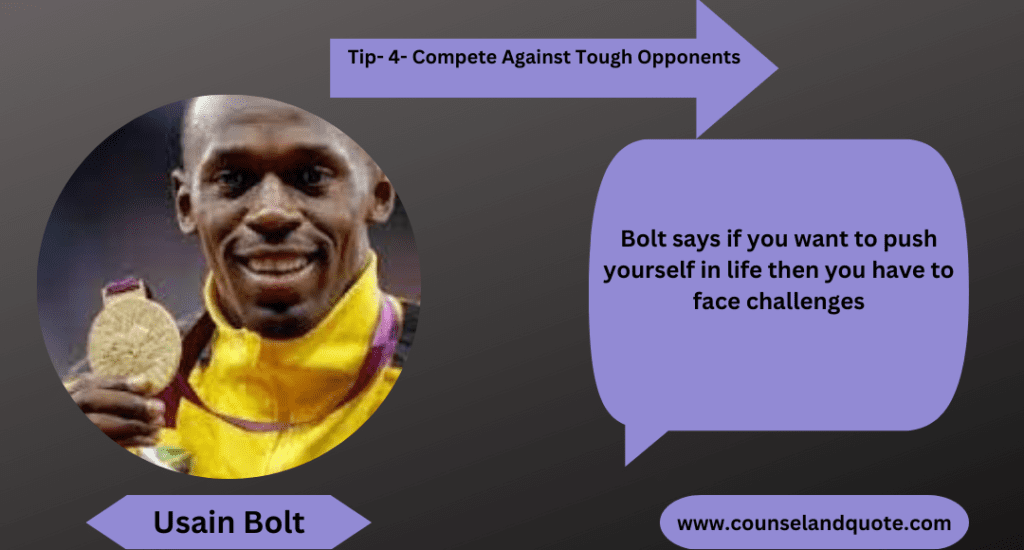 Bolt says if you want to push yourself in life then you have to face challenges.
Training yourself against tough opponents expands you as a professional.
Embrace challenges. It gives you opportunities to grow and improve.
Tip- 5- Train To Work On Your Weaknesses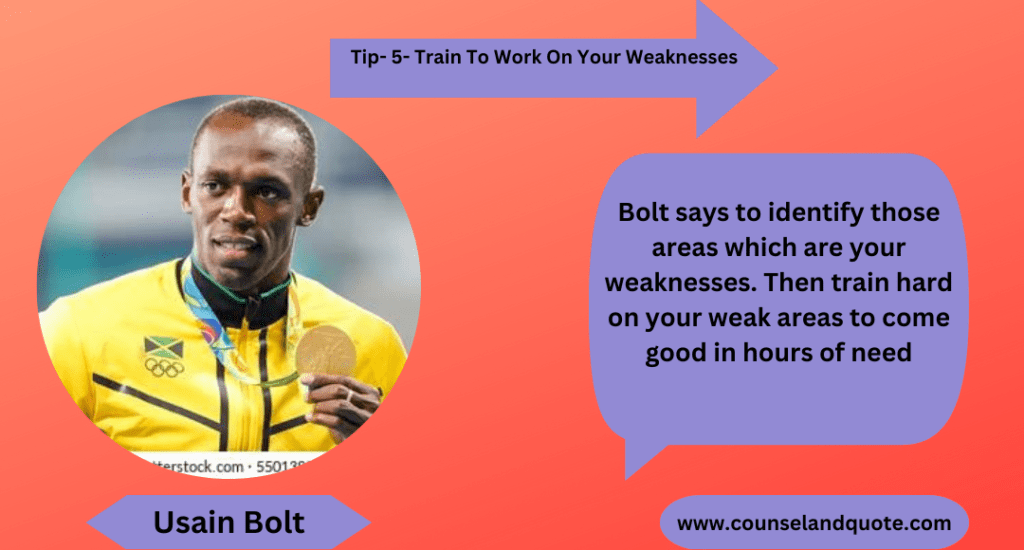 Bolt says to identify those areas which are your weaknesses. Then train hard on your weak areas to come good in hours of need.
Usain Bolt says when you run away from your weaknesses, they defeat you publicly.
Your opponents can cash on your weak points. Train hard to remove them.
Tip- 6- Learn From Your Defeats & Train Hard To Improve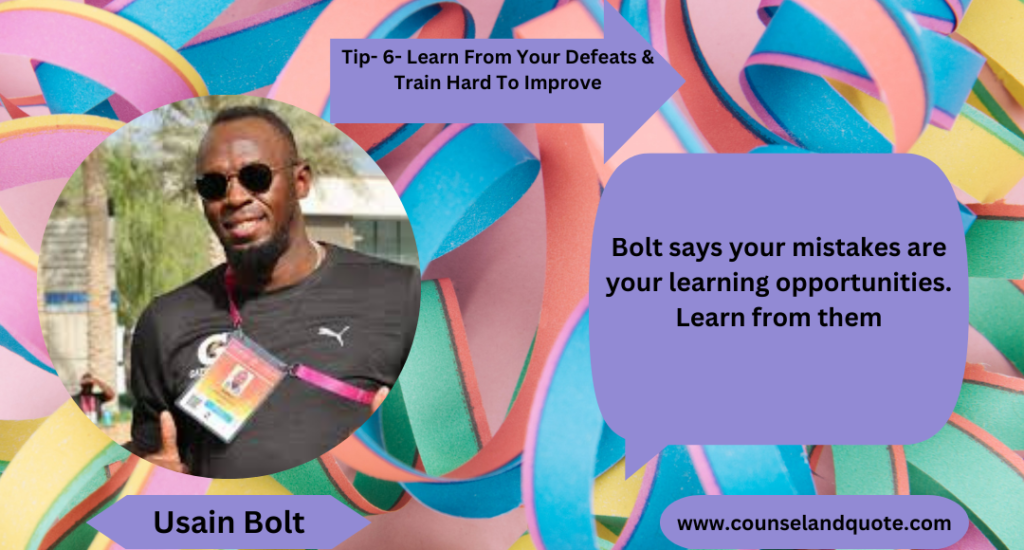 Bolt says your mistakes are your learning opportunities. Learn from them.
When you make tactical errors, run the marathon & sprint less prepared, you are bound to get unfavourable results.
Every defeat has a lesson hidden in it. Learn from them and build yourself through training and commitment.
Tip- 7- Surround Yourself With Your Support System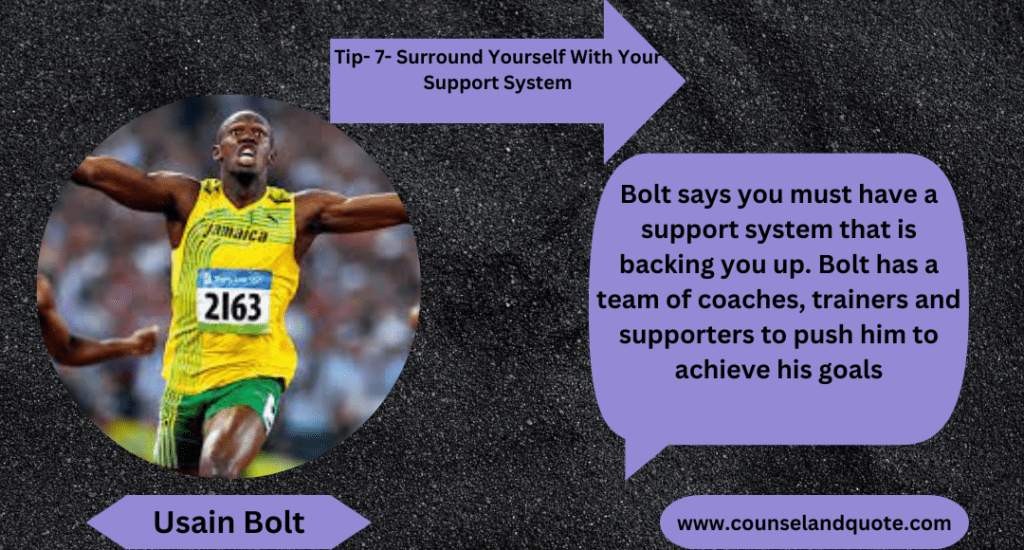 Bolt says you must have a support system that is backing you up. Bolt has a team of coaches, trainers and supporters to push him to achieve his goals.
Surround yourself with like-minded people who help you in achieving your target.
Your training is the outcome of your level of understanding of your goals.
Tip- 8- Stay Focused On Goals & Training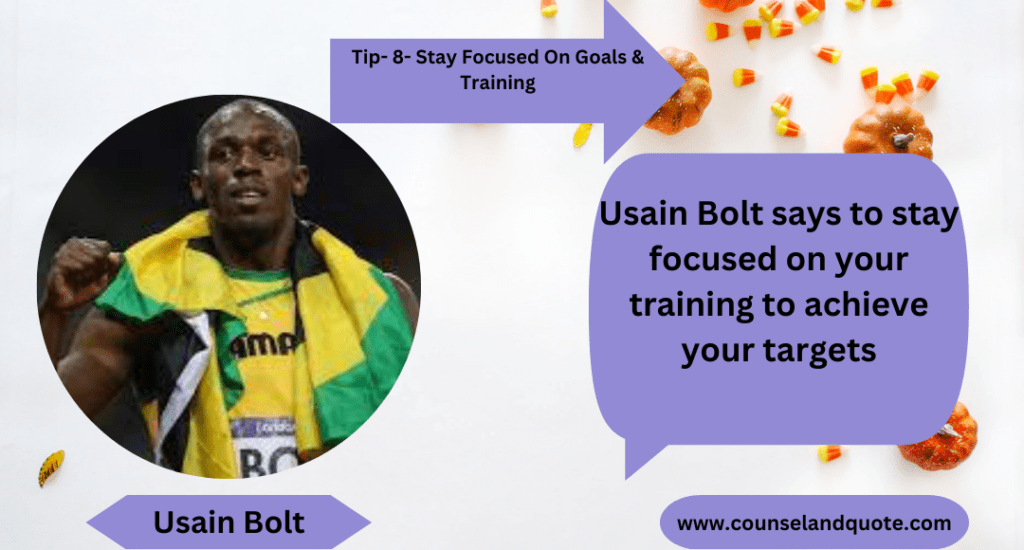 Usain Bolt says to stay focused on your training to achieve your targets.
Many distractions will come in life. They will dissuade you from your course. But if your long-term goals are pulling you, you will always be on track.
All big achievements come in life after testing you. You will always be tested against adverse conditions. Keep yourself ready for every situation.
Tip- 9- Visualize The End Result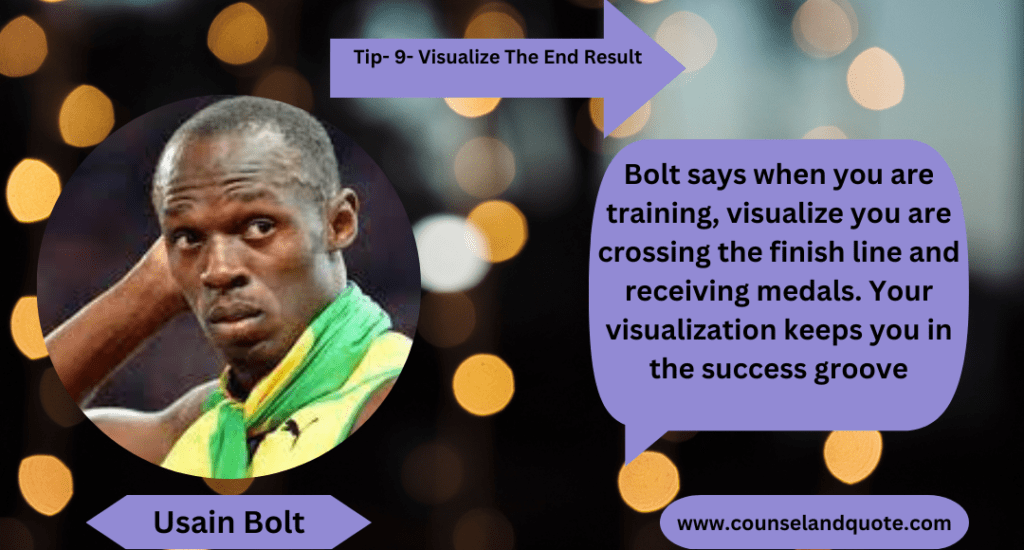 Bolt says when you are training, visualize you are crossing the finish line and receiving medals. Your visualization keeps you in the success groove.
Visualize success to motivate and inspire. It will reflect in your training.
Visualization is a technique which helps your conscious mind to accept the favourite result. Your continuous visualization sets winning habits subconsciously in you.
Tip- 10- Take Care Of Your Body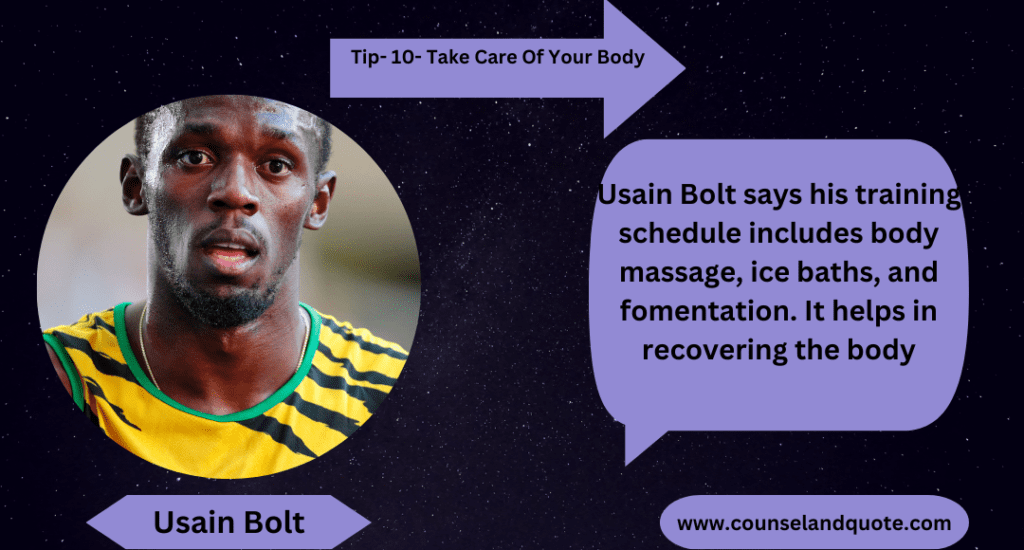 Usain Bolt says his training schedule includes body massage, ice baths, and fomentation. It helps in recovering the body.
Take care of your body. It has no replacement.
When your body is fit and not injured you set new winning records.
[81 Best Usain Bolt Quotes & Wallpaper]
Tip- 11- Push Yourself To Improve Endurance & Strength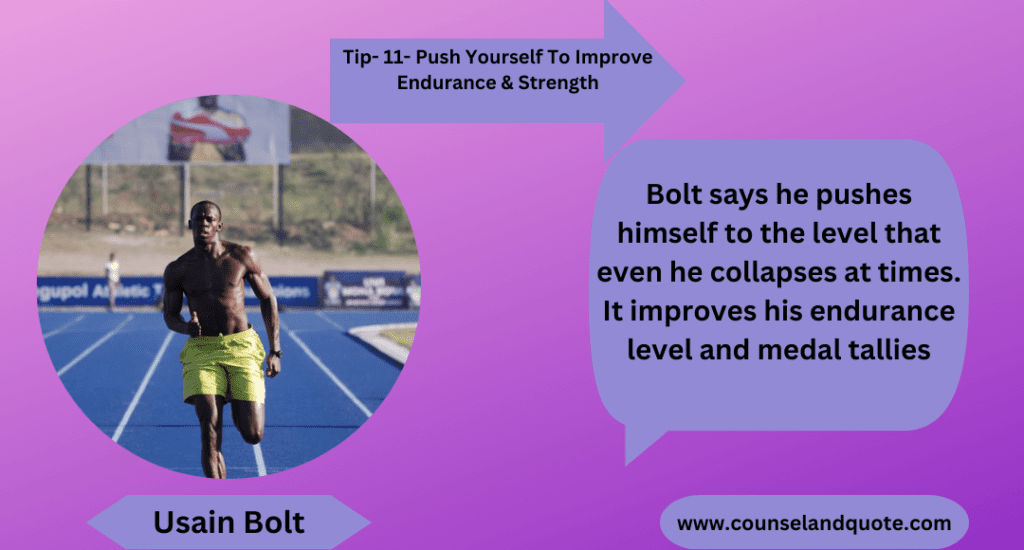 Bolt says he pushes himself to the level that even he collapses at times. It improves his endurance level and medal tallies.
Push your body in training, sprinting, and running. The harder the endurance level the better the performance.
You have unlimited capabilities. When you push yourself, you get the incredible you.
Tip- 12- Stay Positive & Have Self Belief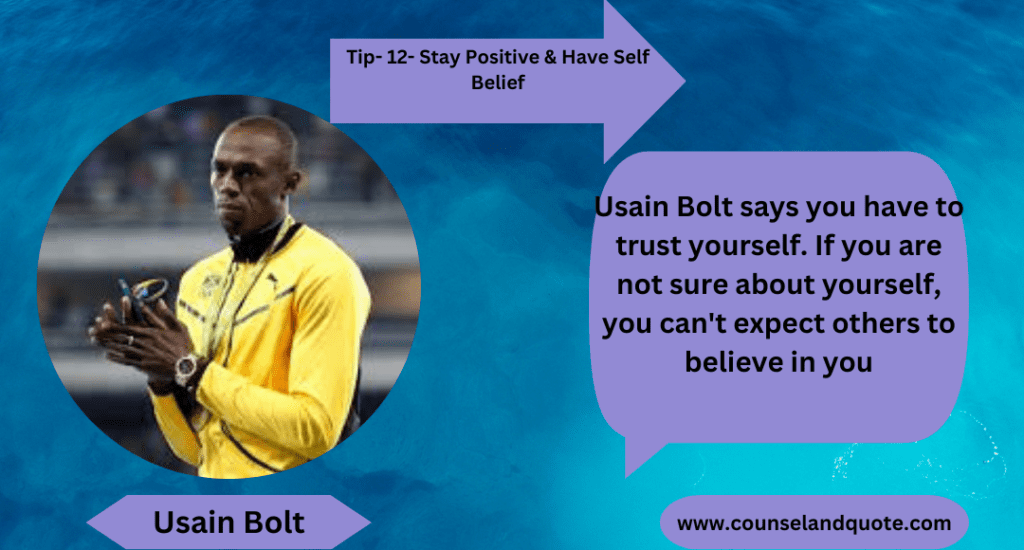 Usain Bolt says you have to trust yourself. If you are not sure about yourself, you can't expect others to believe in you.
Stay positive. When you are optimistic, good things happen to you.
When you face setbacks in life, your positive attitude saves you from annihilation.
Tip- 13- Stay Consistent In Your Training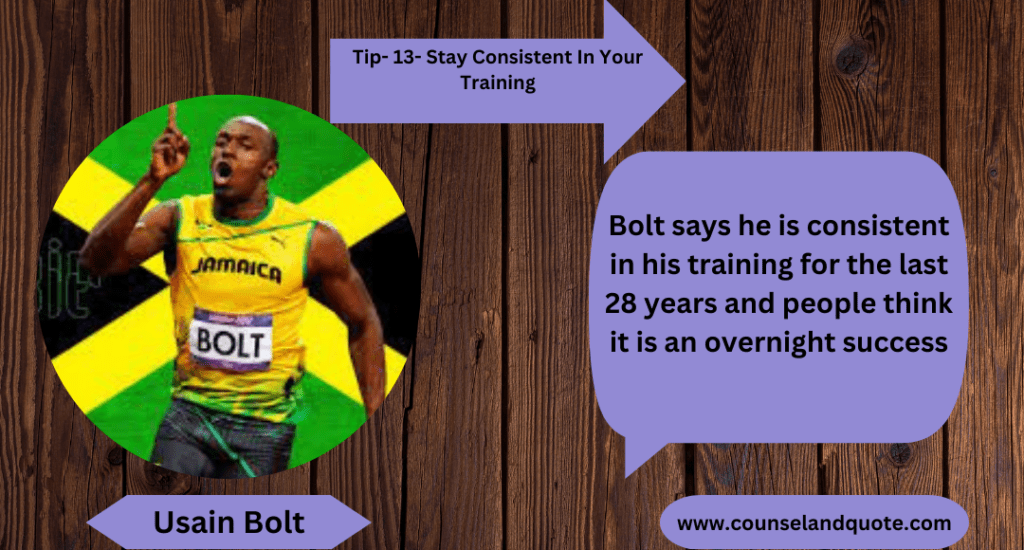 Bolt says he is consistent in his training for the last 28 years and people think it is an overnight success.
Your consistency in the same act shows your mental power and purpose.
Stay consistent to achieve your training goals and success in life.
Tip- 14- Stay Hungry For More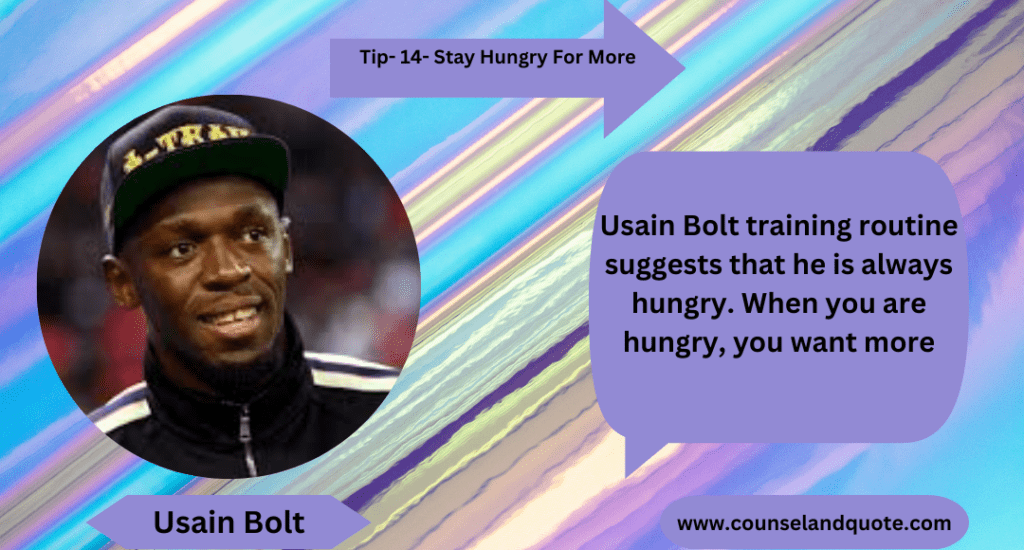 Usain Bolt training routine suggests that he is always hungry. When you are hungry, you want more.
Don't be complacent. Stay hungry, stay working.
When you are hungry for more, you stretch yourself and try out new ways. Your new ways bring new results for you. Your new results bring new opportunities in life.
Tip- 15- Take Breaks To Prevent Burnout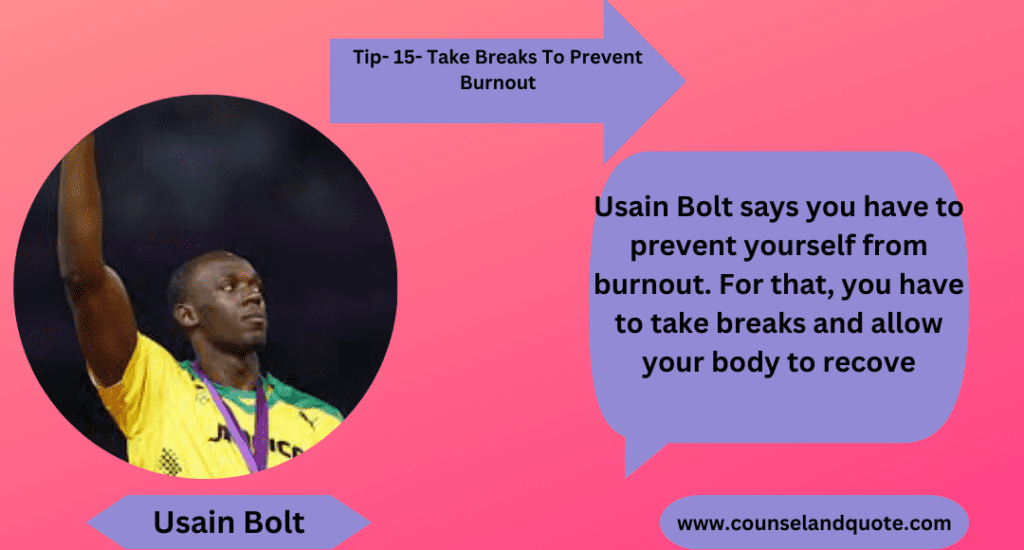 Usain Bolt says you have to prevent yourself from burnout. For that, you have to take breaks and allow your body to recover.
Take breaks from your training and allow your body to recover from wear and tear.
Tip- 16- Stay Patient While Training Hard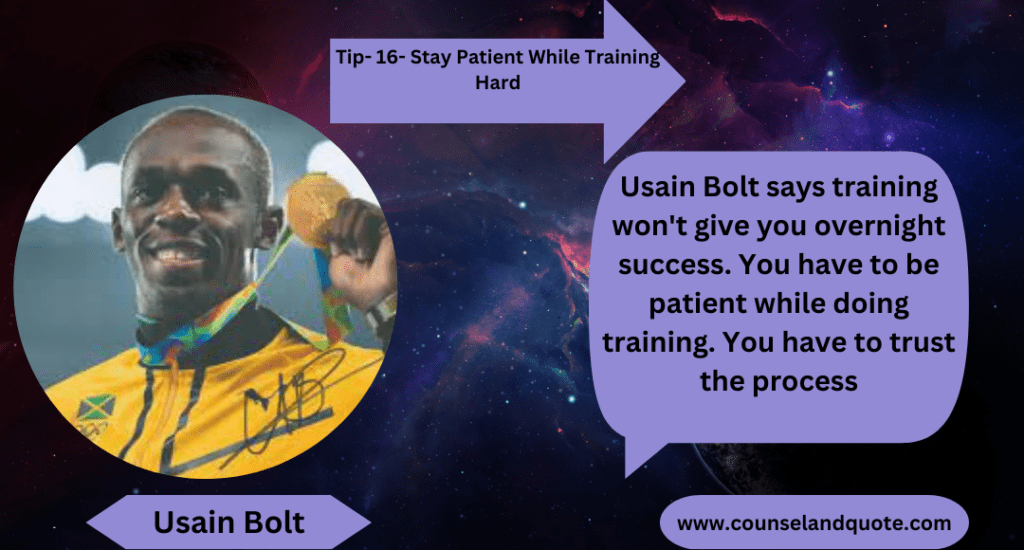 Usain Bolt says training won't give you overnight success. You have to be patient while doing training. You have to trust the process.
Years of hard work and patience give you desired results. Don't hesitate, be patient and consistent.
When you are patient, you are in control. You are not swayed by unfavourable situations.
Tip- 17- Celebrate Every Victory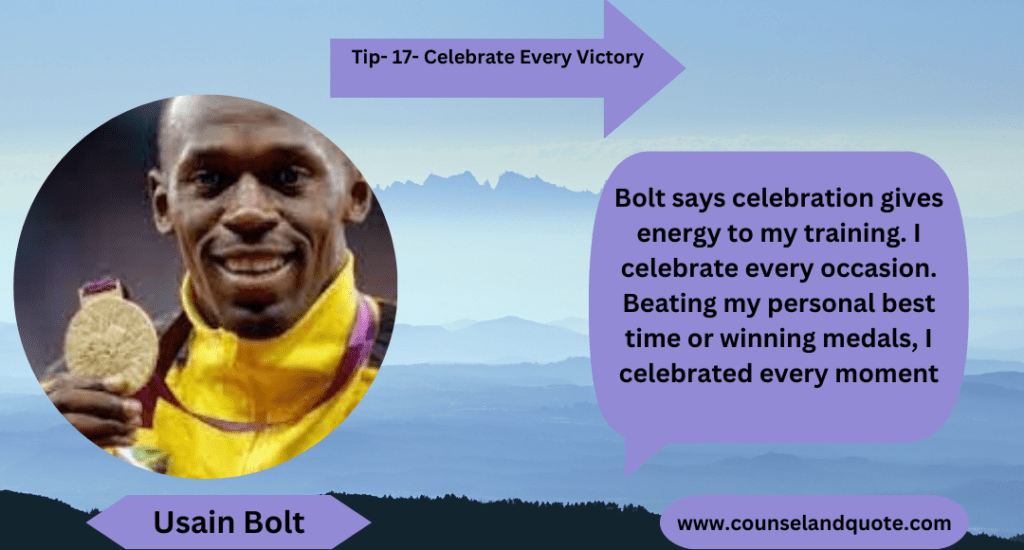 Bolt says celebration gives energy to my training. I celebrate every occasion. Beating my personal best time or winning medals, I celebrated every moment.
The celebration encourages you. You train even harder for improved performance.
A celebration is also a form of acknowledgement that you are performing better.
Tip- 18- Enjoy Your Training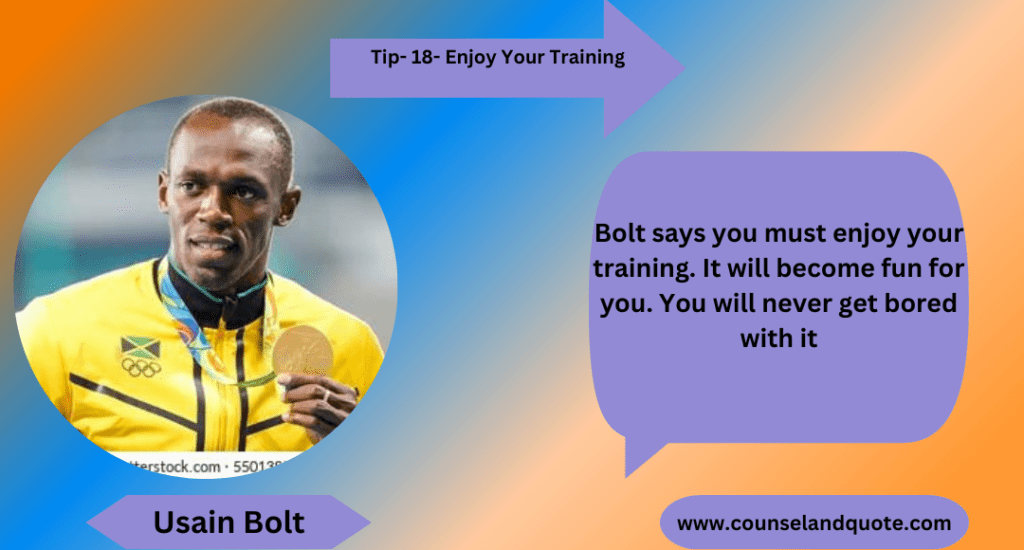 Bolt says you must enjoy your training. It will become fun for you. You will never get bored with it.
Bolt loves the sport of running and would often have fun during his training
What you enjoy, you continue that for a long time without getting fatigued.
Tip- 19- Learn From Competitor's Techniques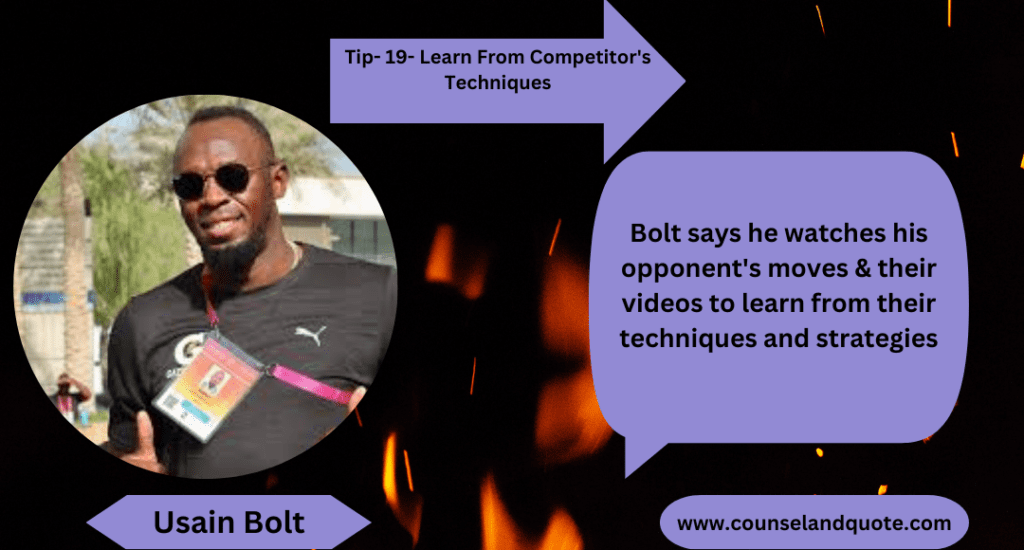 Bolt says he watches his opponent's moves & their videos to learn from their techniques and strategies.
You have to learn from others to improve your training
Always keep yourself open to learning from others
Tip- 20- Never Give Up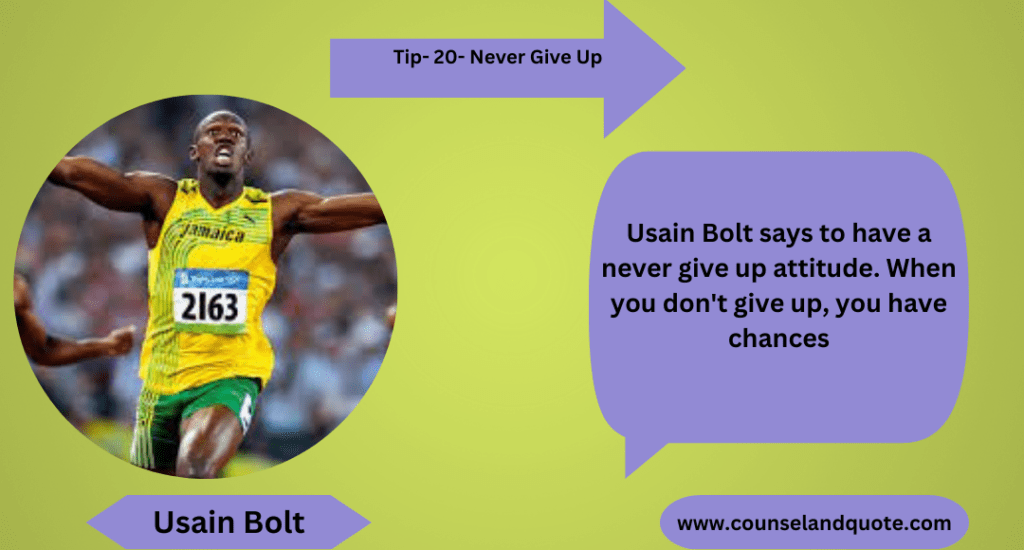 Usain Bolt says to have a never give up attitude. When you don't give up, you have chances.
Giving up finishes you as an athlete.
 Never give up on life. You have plenty more things to come in your life.
Conclusion
Usain Bolt training tips are shared here. These suggestions are highly useful for all those people who want to have similar successful results in their life.
The 20 tips are profound. They are full of ethics and rules. Follow them to change the result of your life.
Please share these life-changing tips with your friends and relatives. You can become a catalyst for their better life.
May God bless you. Amen.
Thank You.