Rubin Carter Book The Sixteenth Round, is based on his real-life story.
Rubin Carter Book "The Sixteenth Round: From Number 1 Contender to Number 45472" is his autobiography.
He had written this book when he was imprisoned. This book is about having a dream and crushing a dream to give birth to another dream.
He had written this book when he was imprisoned. This book is about having a dream and crushing a dream to give birth to another dream.
He was the number 1 contender in boxing, and destiny landed him in a cell with prisoner number 45472.
He was popularly known as Rubin Hurricane Carter. He was a professional boxer and a prominent member of the civil rights movement.
[Also Read The Struggles Of The Greatest Boxer Muhammad Ali]
He was born on May 6, 1937, in Clifton, New Jersey, United States, and passed away on April 20, 2014.
He was a negro boxer in the middleweight boxing category. He had a promising career and was considered among the boxing greats of his time.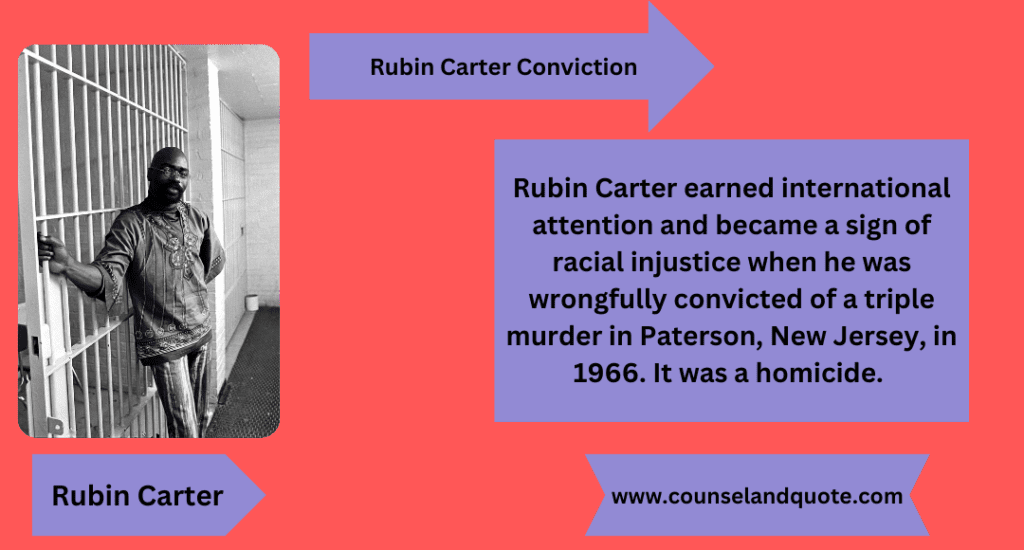 Rubin Carter earned international attention and became a sign of racial injustice when he was wrongfully convicted of a triple murder in Paterson, New Jersey, in 1966. It was a homicide.
He and another person John Artis were nabbed and convicted for the murder of three people when they were at a bar called the Lafayette Grill.
Though there was no concrete evidence against them but false evidence was framed against them and proved them guilty.
It was 1967 and they were sentenced to life imprisonment.
Carter challenged his trial throughout his imprisonment period. Rubin Carter's convictions were eventually overturned in 1985 after years of legal battles and multiple trials.
He was released from jail. After that, he dedicated the rest of his life to the cause of criminal justice reform and wrongful convictions.
The movie "Hurricane" was picturized in 1999 on his life struggles and it became a huge box office success.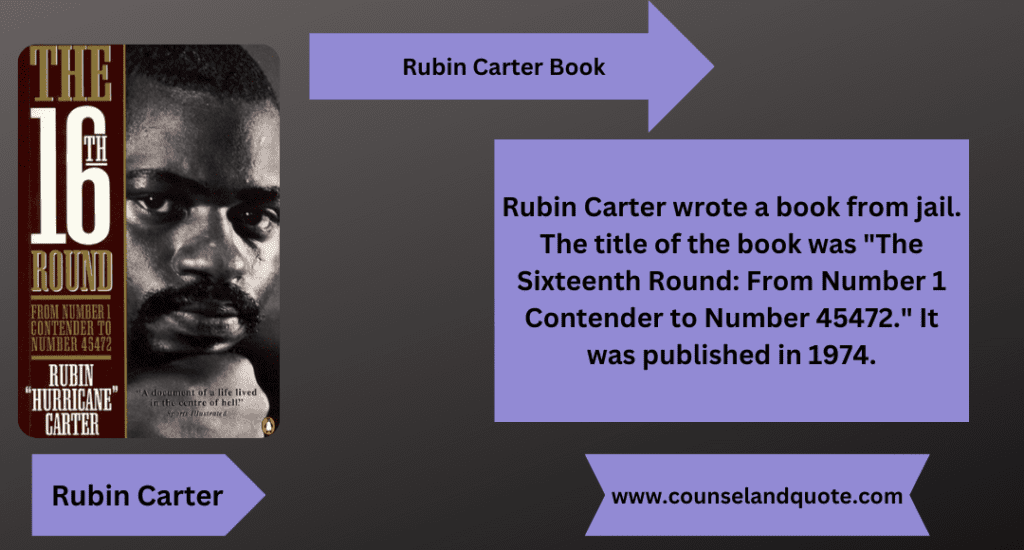 He wrote a book from jail. The title of the book was "The Sixteenth Round: From Number 1 Contender to Number 45472." It was published in 1974.
This book tells his life story. It includes his rise as a professional boxer and his wrongful conviction for a triple murder, which led to his imprisonment.
Carter's book "The Sixteenth Round: From Number 1 Contender to Number 45472" sheds light on his experiences in prison and his fight for justice.
The best 10 lessons from the book are shared here. These lessons are important for all of us to make us better and improve the moral fabric of society.
10 Lessons From Rubin Carter Book- The Sixteenth Round
10 Lessons From Rubin Carter Book- The Sixteenth Round
Rubin Carter was imprisoned when he'd written the book. This book reflects the mindset and concerns of Hurricane Rubin Carter.
Best Lessons from his autobiography.
Lesson 1- The Power Of Resilience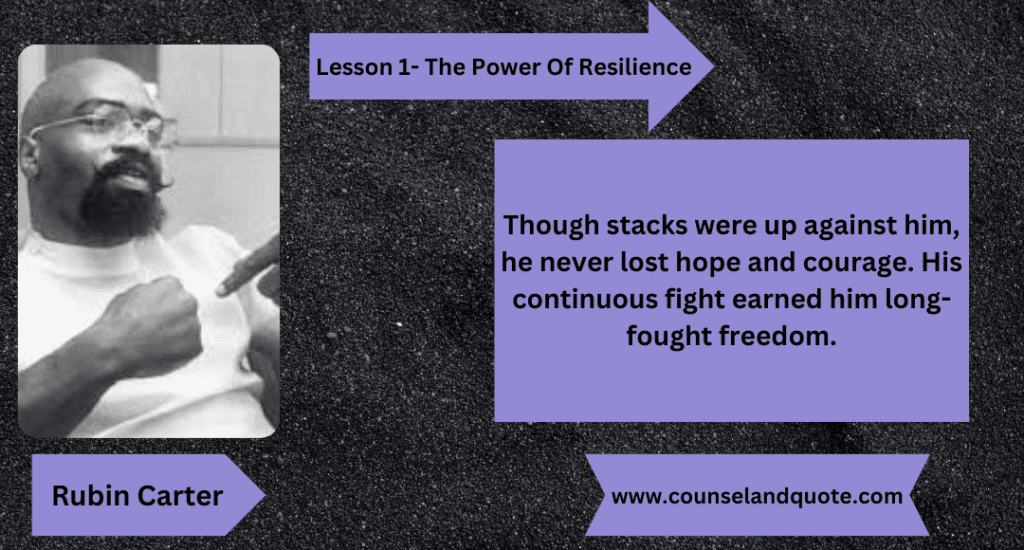 Rubin Carter was wrongly framed and convicted. You can see his resilience in this book. He was unwavering and strong.
Though stacks were up against him, he never lost hope and courage. His continuous fight earned him long-fought freedom.
Lesson 2- The Impact Of Racial Prejudice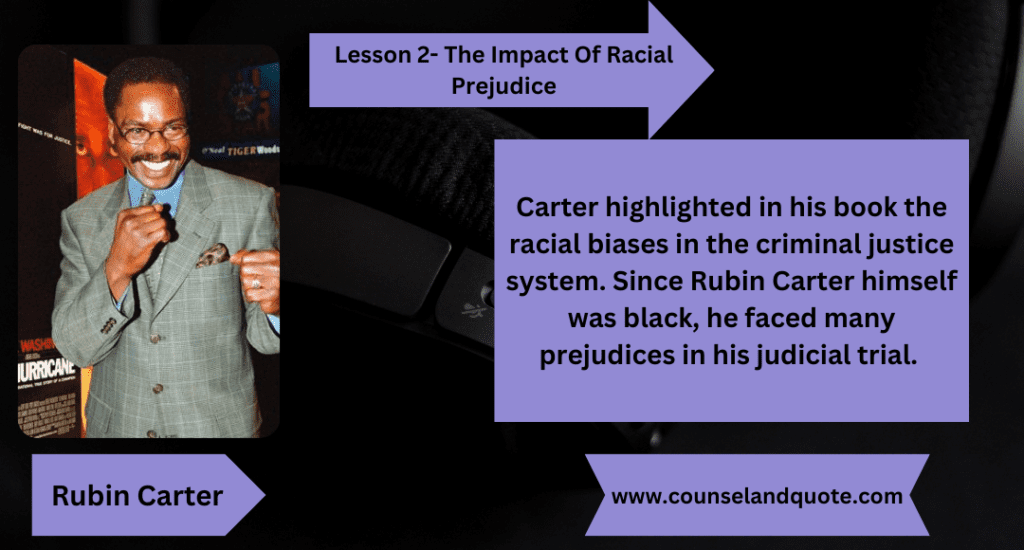 Carter highlighted in his book the racial biases in the criminal justice system. Since Rubin Carter himself was black, he faced many prejudices in his judicial trial.
Later he took the cause of the systemic reforms in the judiciary happening only because of race and religion.
[Also Read Nelson Mandela Struggles & Guidance As A Leader]
Lesson 3- The Importance Of Education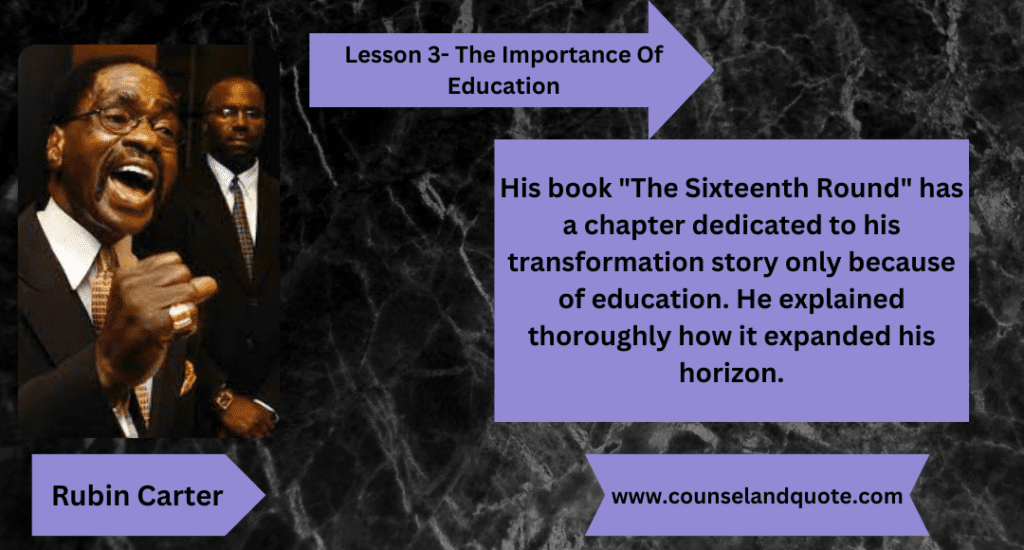 When Carter was incarcerated he realized the importance of education. He pursued education and read self-improvement stuff to make a stronger perspective and understanding.
His book "The Sixteenth Round" has a chapter dedicated to his transformation story only because of education. He explained thoroughly how it expanded his horizon.
Lesson 4- The Strength Of The Human Spirit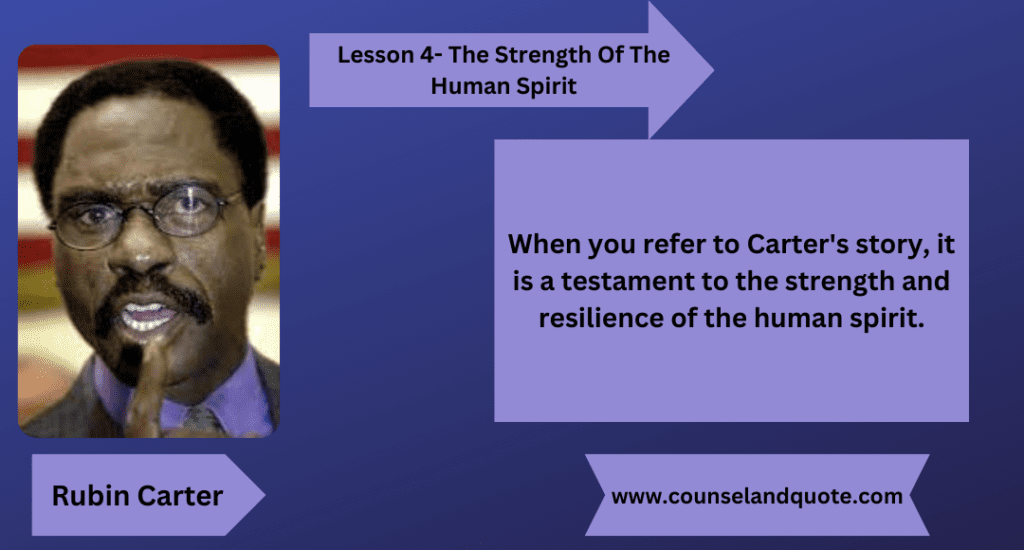 When you refer to Carter's story, it is a testament to the strength and resilience of the human spirit.
He is a role model for many people who are fighting against injustice and continuing their battle against all odds. He was wrongly convicted and put behind bars, but he never lost his fighting spirit.
[Also Read: Golden Words Of Rubin Carter]
Lesson 5- The Role Of Community Support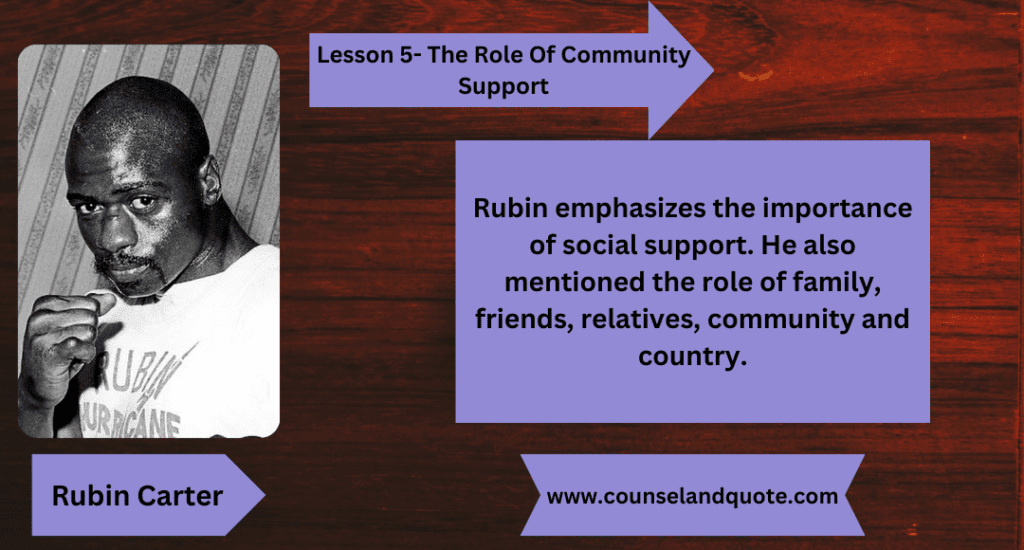 Rubin emphasizes the importance of social support. He also mentioned the role of family, friends, relatives, community and country.
He described at length the importance of following our roles religiously to set good examples in society for others.
Lesson 6- The Need For Criminal Justice Reform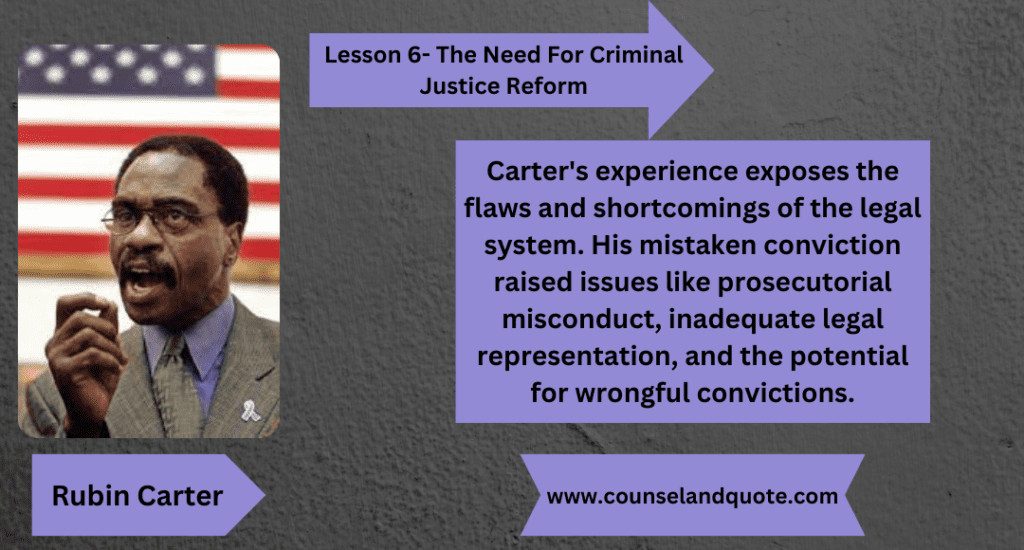 Carter's experience exposes the flaws and shortcomings of the legal system. His mistaken conviction raised issues like prosecutorial misconduct, inadequate legal representation, and the potential for wrongful convictions.
The Criminal Justice Reform became the talk of the town. He waged a solid battle which proved to be beneficial for many wrongfully incarcerated people.
Also Read: Rubin Carter & His Fight For Justice
Lesson 7- Courage To Challenge The Status Quo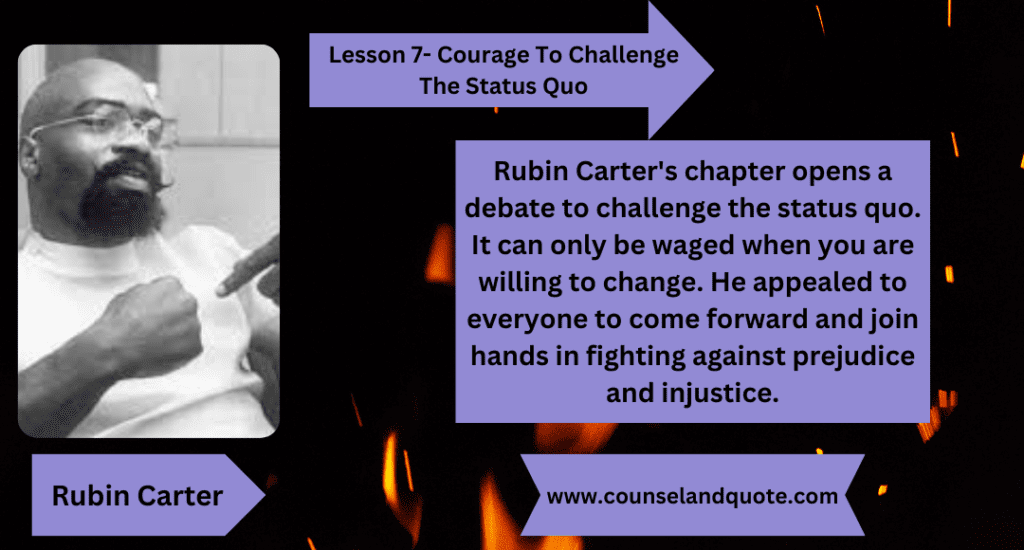 Rubin Carter's chapter opens a debate to challenge the status quo. It can only be waged when you are willing to change. He appealed to everyone to come forward and join hands in fighting against prejudice and injustice.
Lesson 8- The Indomitable Nature Of Hope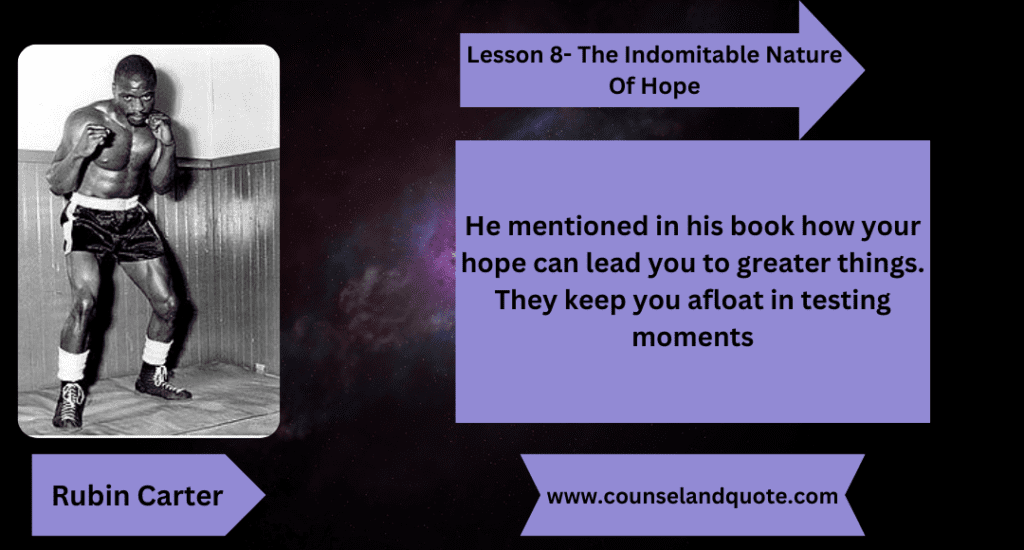 He mentioned in his book how your hope can lead you to greater things. They keep you afloat in testing moments.
Even if everyone leaves you, you never feel disheartened. Such is the power of hope. Rubin Carter says he has achieved all the big things in life by keeping hope.
Lesson 9- Finding Redemption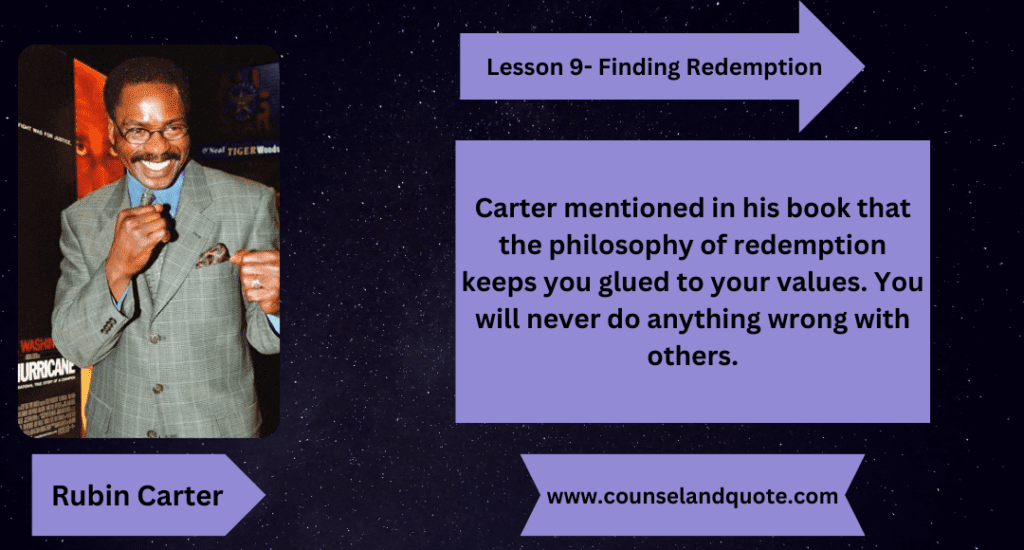 Carter mentioned in his book that the philosophy of redemption keeps you glued to your values. You will never do anything wrong with others.
He was locked in the lockup but his fight was against a system and not against any individual. He wanted every soul to live happily and peacefully. He fought for the smile on their faces.
Lesson 10- The Power Of Forgiveness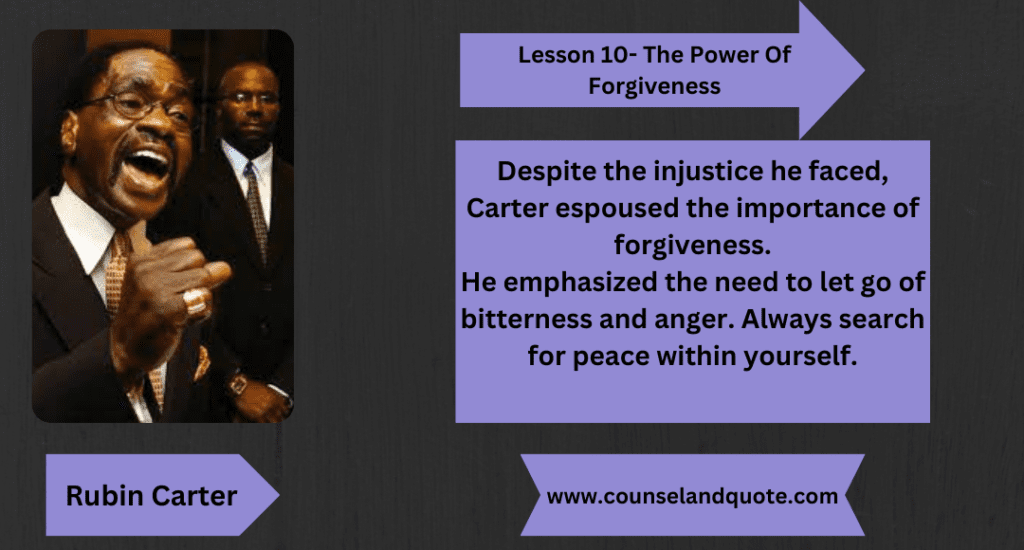 Despite the injustice he faced, Carter espoused the importance of forgiveness.
He emphasized the need to let go of bitterness and anger. Always search for peace within yourself.
Conclusion
Rubin Carter's Book The Sixteenth Round: From Number 1 Contender to Number 45472 has many lessons. The best 10 lessons are shared here.
These lessons have 'inspiration and motivation' for us. They show us the right approach to life and guide us towards becoming better human beings.
Please share them with your friends and relatives. This little help can bring a change in their life.
May God Bless You. Amen.
Thank You.