Virat Kohli Quotes give us an impression of his dynamic superhero-like trait when he is on the field.
He is popularly known as a confident, proactive, and passionate cricketer in the Indian National Cricket Team.
Kohli is widely regarded as one of the greatest players of all time.
Virat Kohli, who bagged the title of male cricketer of the decade by the International Cricket Council is also a player of Royal Challengers Bangalore in IPL.
We all know his passion for cricket and his journey, now let us dig into his head a little.
Here are conclusive sayings and quotations of this phenomenal player, under the title of Virat Kohli Quotes.
In addition to this, we have also particularly mentioned Virat Kohli Motivational Quotes on success, family, cricket, love, fitness, aggression, hard work, and more.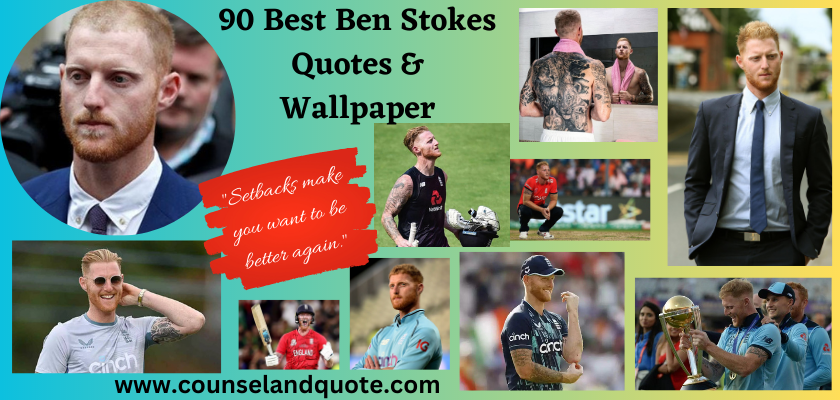 And to enlighten you about famous personalities' views on Kohli, we have also given Quotes On Virat Kohli.
Without further ado, enjoy!
Happy Reading!
Virat Kohli Quotes
Virat Kohli Quotes
1- "Take responsibility of your life and always lead from the front."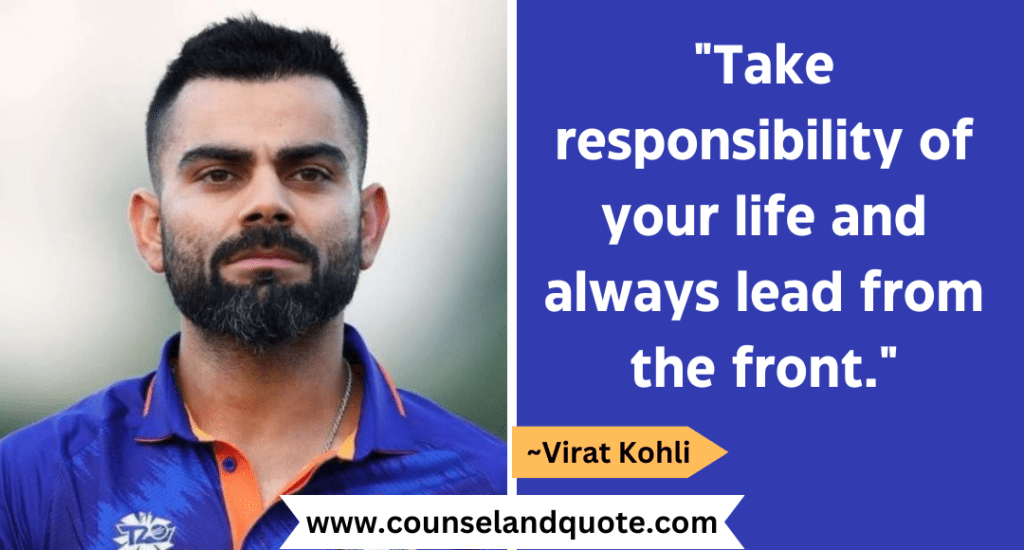 2- "The bat is not a toy, it's a weapon. It gives me everything in my life, which helps me to do everything in the field."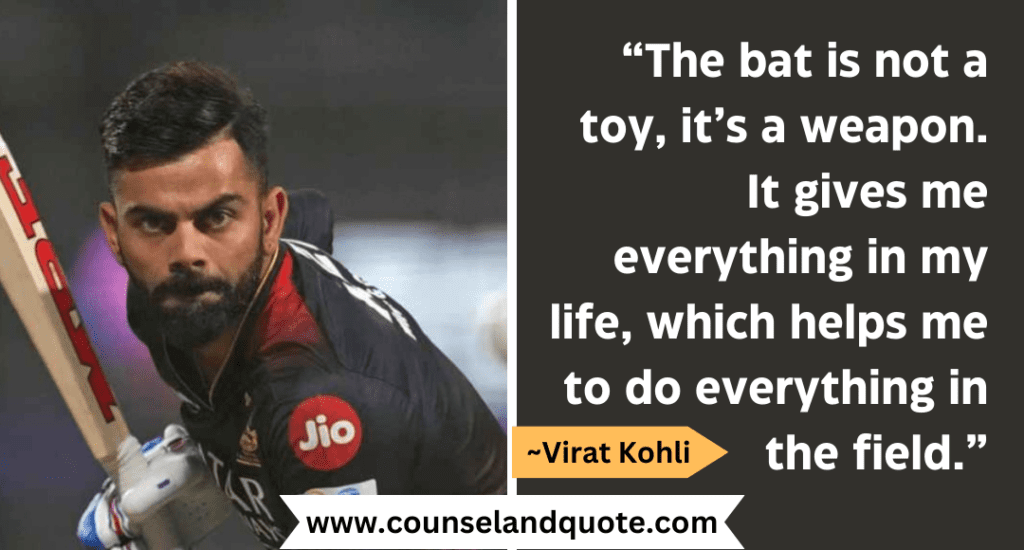 3- "I'm not someone who sits at home and doesn't like to go out, doesn't like to watch movies. I like to live my life."
4- "I support Real Madrid. I'm a big fan of Cristiano Ronaldo."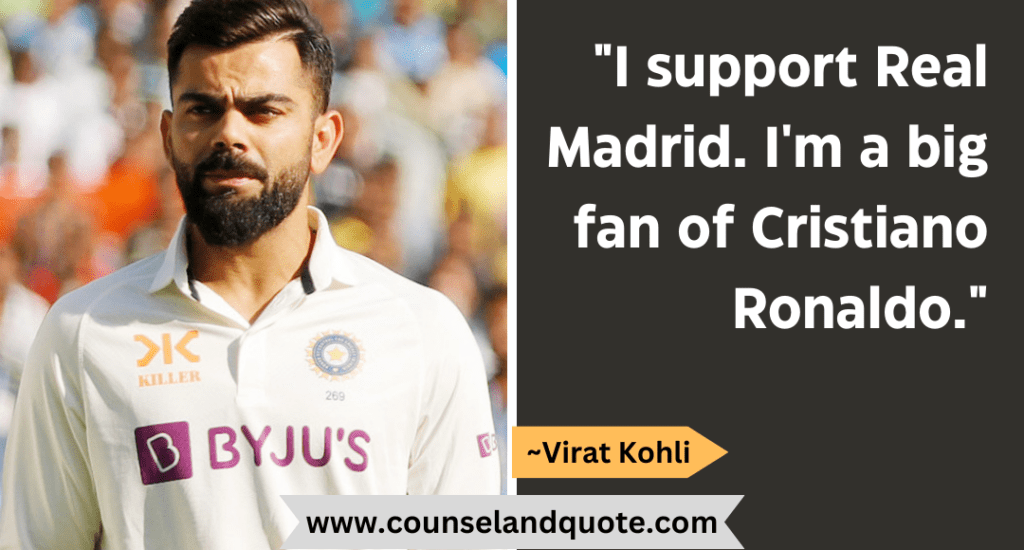 5- "My priority is cricket. Everything that I get apart from it is a result of the effort on the field. Everything else follows. I am pretty aware of my priorities, and I don't really focus on things that are not as important to me as cricket."
6- "I feel only my friends and family need to know what is happening in my personal life."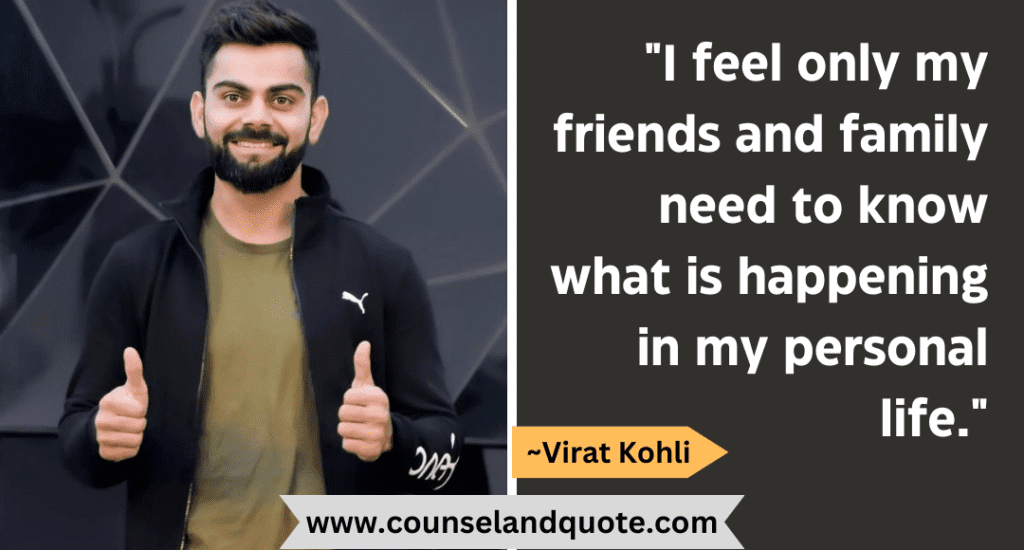 7- "My shopping habits… I am not very brand-conscious about clothes. I buy whatever looks good on me. Likewise, I don't just shop only in malls or high-end stores."
8- "Pretension is a poor joke than you play on yourself. Snap out of it. Recognize your strengths, work on your weaknesses. Real achievement is liking what you see in the mirror every morning"
9- "I wasn't very good in academics, but I could have been if I could have studied well. I was a smart kid."
10- "I like to be myself, and I don't pretend. For instance, I don't dress up for occasions; I am what I am."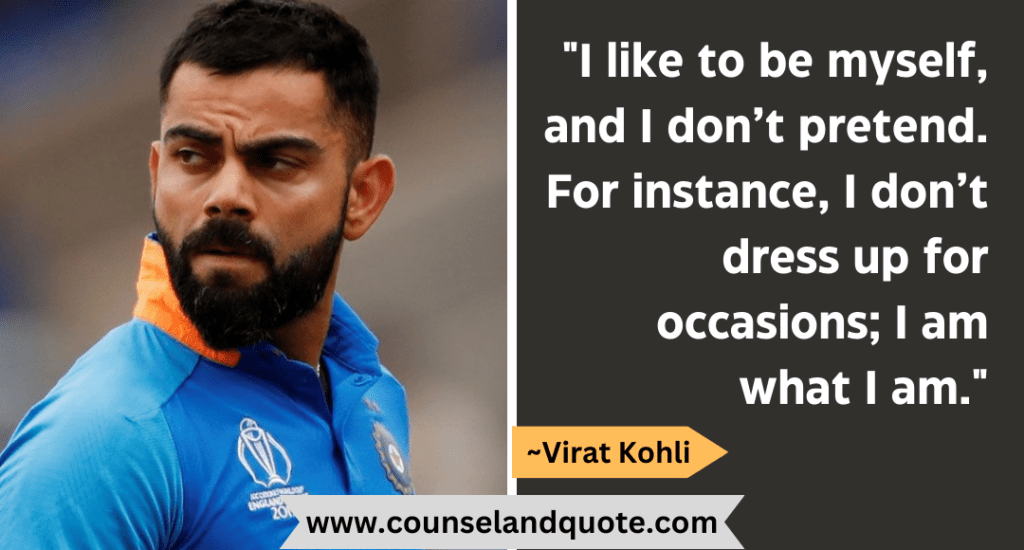 Virat Kohli Quotes
11- "In cricket, my superhero is Sachin Tendulkar. He has always been my hero and will continue to remain so. Apart from him and outside cricket, my mother has remained my inspiration. Whatever difficult time I had faced, she was always there for me. She has given me all the strength. She maintained her composure and supported me in tough times."
12- "During my school days, I was doing a play, and my costume fell on the stage. I really wish it didn't happen."
13- "I love soccer, love tennis… Roger Federer has been a favourite for a long, long time. The kind of consistency he has shown, 16 Grand Slam titles… The way he handles himself in pressure situations is admirable… He is so calm… In soccer, I'm a huge fan of Barcelona… I like watching Cristiano Ronaldo, Lionel Messi and David Villa."
14- "Nothing extraordinary happens to a cricketer if you time his career – which is very short."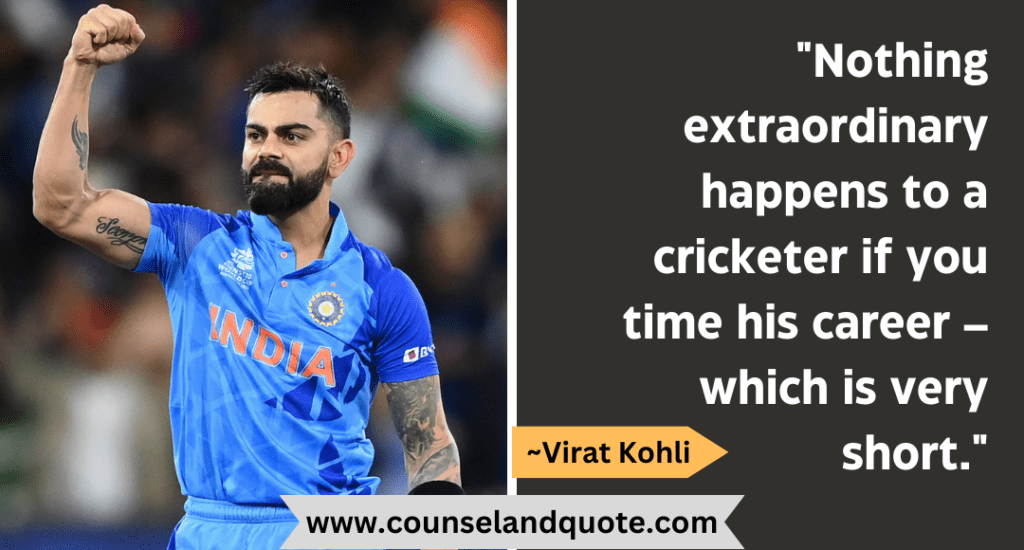 15- "I'm a big fan of Aamir Khan… Among actresses, I like Aishwarya Rai."
16- "The people you choose to have around you make all the difference. My family and close friends keep me grounded. You have to have a mind of your own and a strong head on your shoulders. Cricket is the most important thing to me, so the rest of it pales in comparison."
17- "I want to be relaxed in my personal life. I really do not like to be hassled."

18- "I love trying out different cuisines. In Delhi, I love Megu at the Leela, and TK's at the Hyatt. I also enjoy Khan Chacha's rolls. In Mumbai, it's Royal China and Shiro. And in Bangalore, I like the food at Bricklane."
19- "I delayed my father's funeral because of cricket."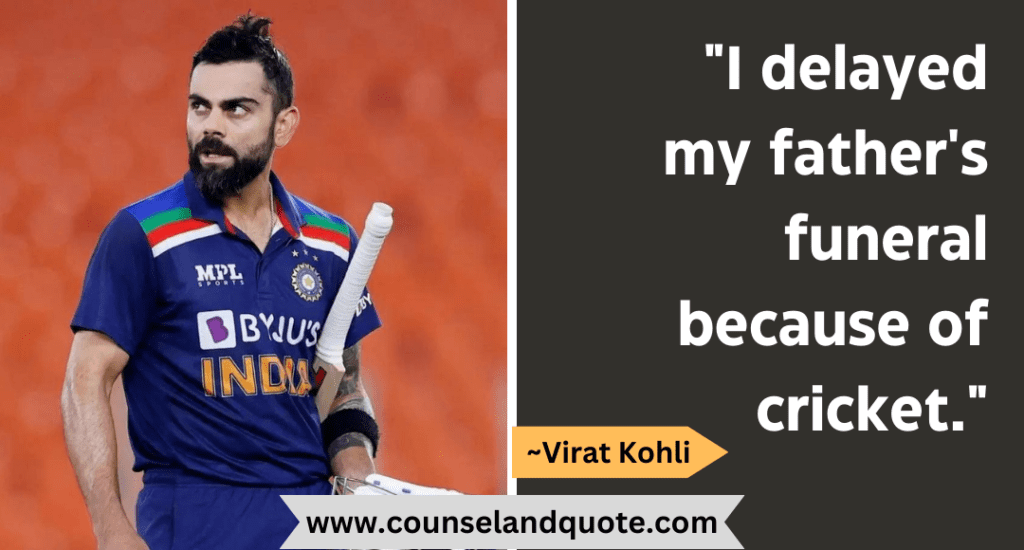 20- "I always like to lead from the front and set an example for whoever is playing with me or around me. I like taking responsibility. That is my natural thing."
Virat Kohli Quotes
21- "Delhi means everything to me. This city has given me everything, and I love it."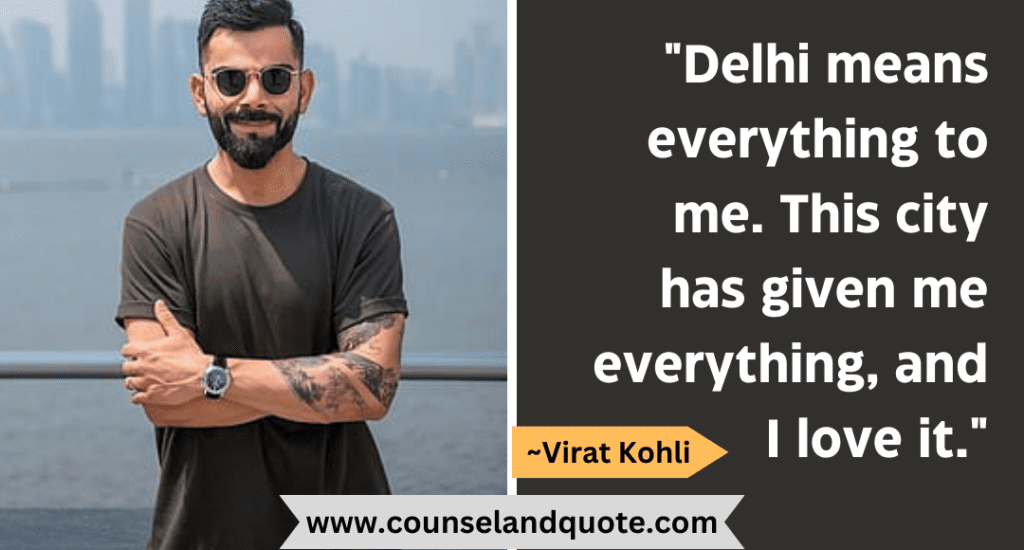 22- "I do believe in God. But you won't find me visiting temples every now and then. I believe in self-realization. Peace of mind matters a lot to me. What's the point in doing something just for the sake of it? I'd rather do something I like doing as long as I'm being true to myself."
23- "As a kid, even I knew everything about my favourite cricketers. I used to know everything possible. Now I see kids knowing about me. It feels good."
24- "I like people who do not need everyone to like them."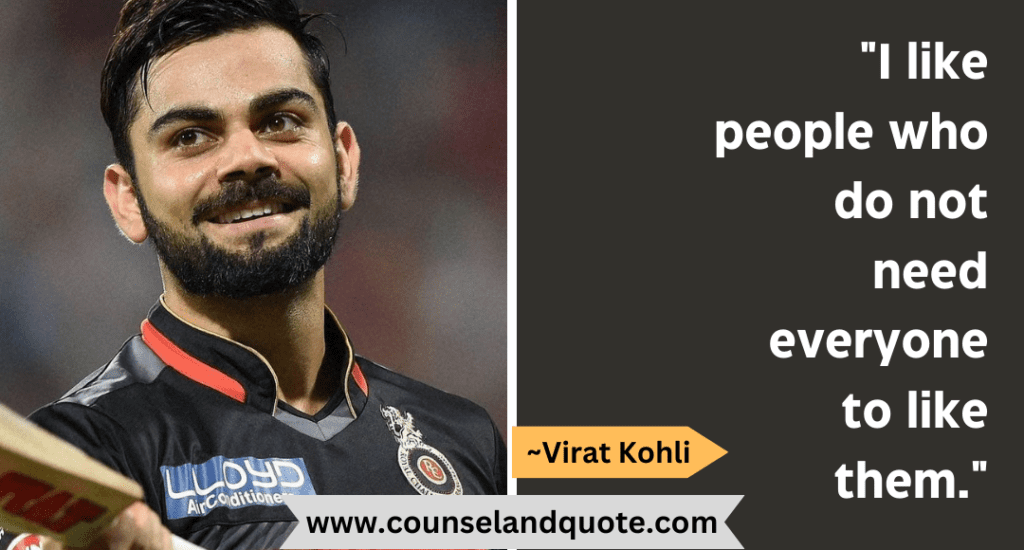 25- "I want my wardrobe to be full of good clothes, so that when I'm deciding what to wear, I don't run out of options. I love shopping!"
Virat Kohli Motivational Quotes
26- "The more centuries that I am able to score, the happier I will be."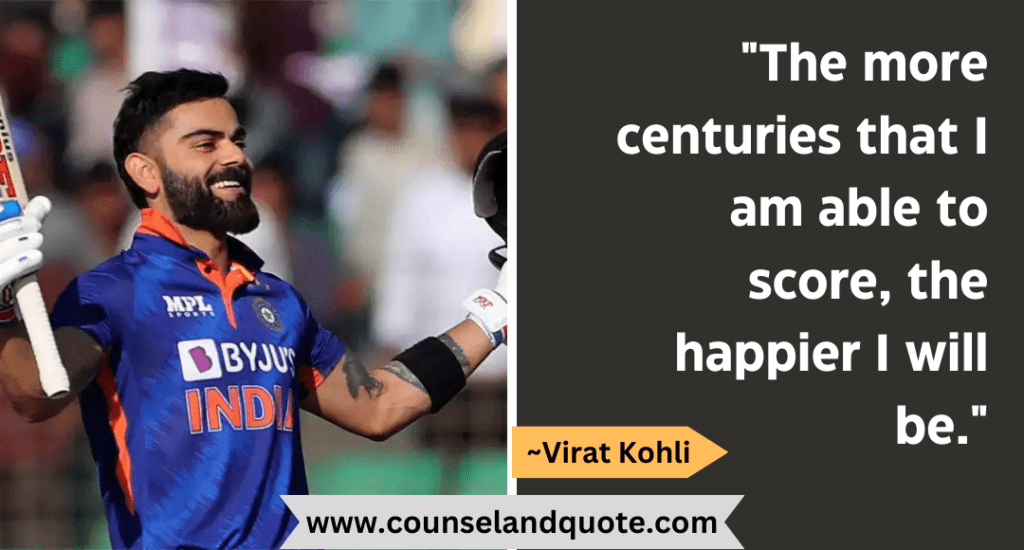 27- "Never give up. Today is hard tomorrow will be worse. But the day after tomorrow will be sunshine."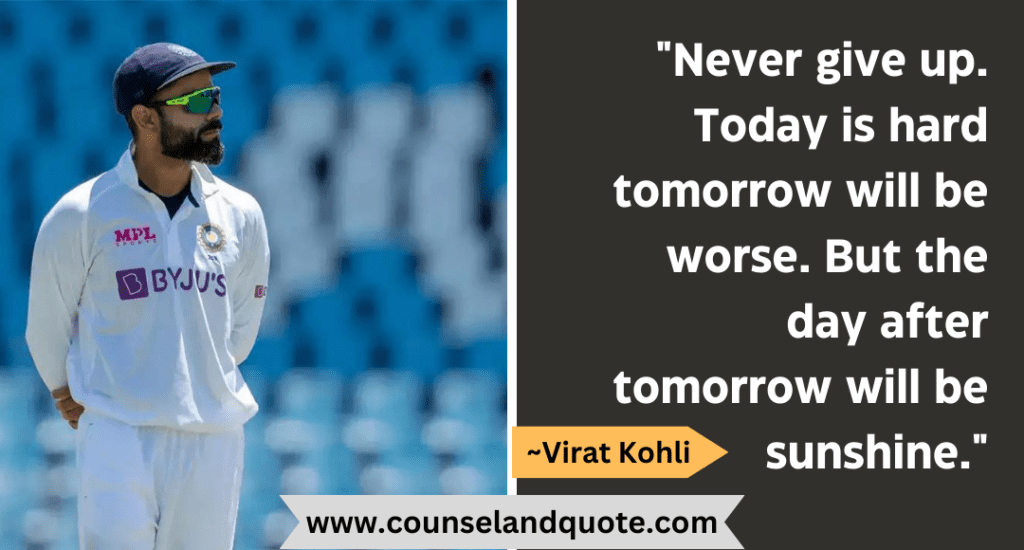 28- "Whatever you want to do, do with full passion, and work really hard towards it. Don't look anywhere else."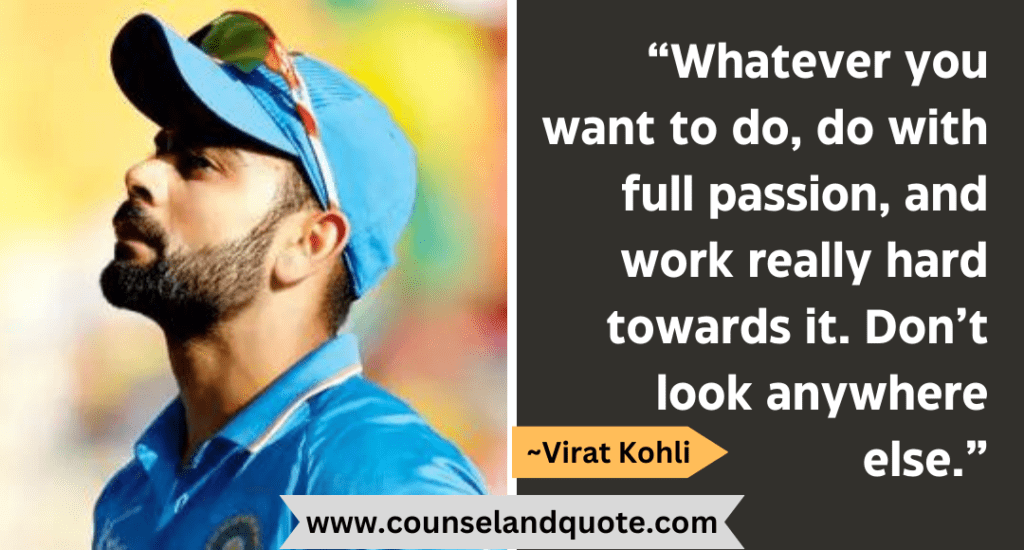 29- "In the game of cricket, a hero is a person who respects the game and does not corrupt the game. The one who doesn't or corrupts the game, they are the villain. They should be punished, and they have been punished in the past."
30- "There are two bowlers who I think are very tough to play against – Dale Steyn and Morne Morkel."
Virat Kohli Quotes
31- "You have to stay fresh and blank in your mind when you go out to bat. You complicate things, and you're gone."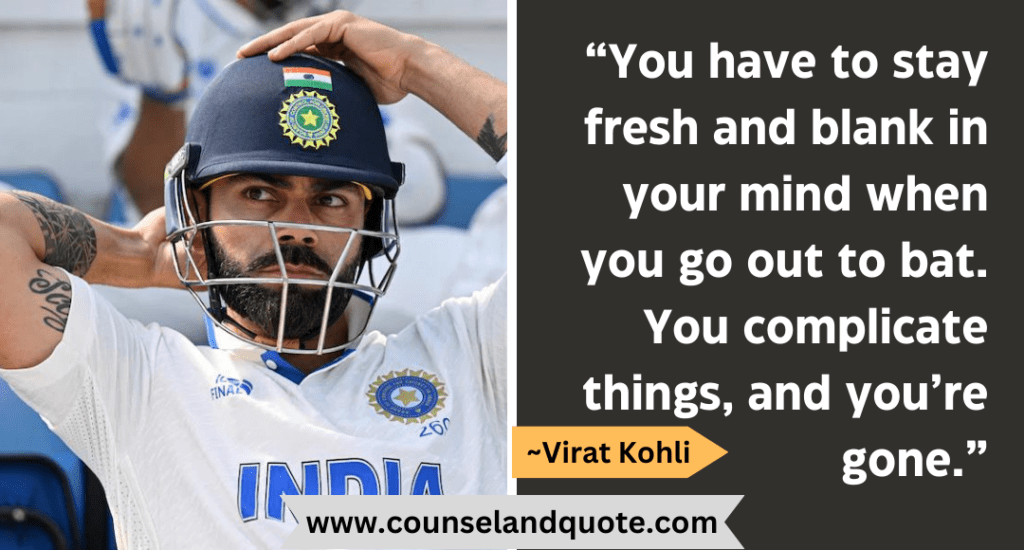 32- 'I've never fought with anyone. A lot of people talk to me, and they're like, 'Oh, you would have been fighting all the time when you were younger,' but I'm like, 'I never fought with anyone because I always knew that if I hurt myself, I might lose important time in my cricket career,' so I never got into any fight, ever in my life."
Quotes On Virat Kohli
33- "As of now, Virat Kohli is the greatest batsman of the world."
– Sourav Ganguly
34- "Virat Kohli is the PRINCE of Indian cricket."
– Ian Chappell
35- "Virat Kohli is a bigger player than anyone else in last 10 years."
-Kapil Dev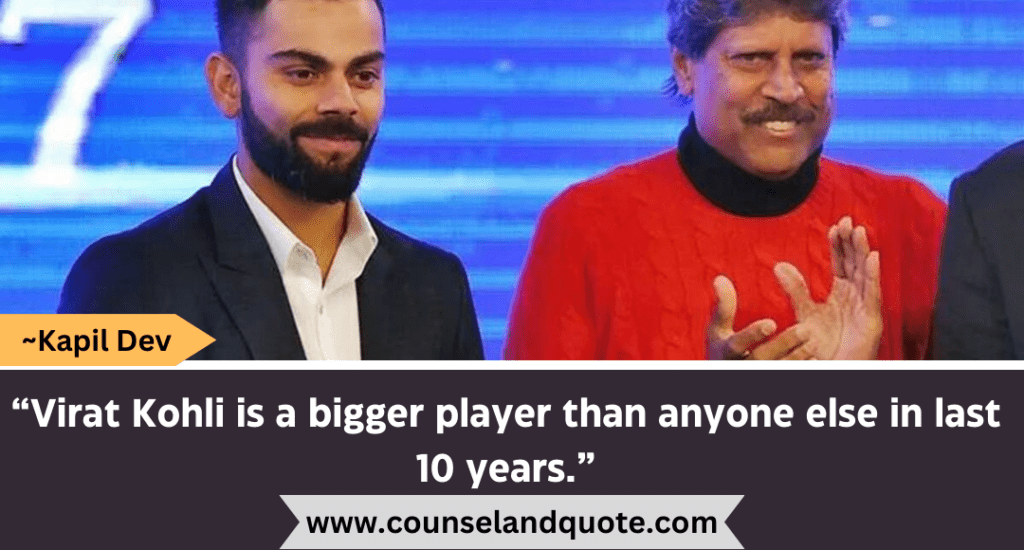 36- "There's no shame in being beaten by a genius. Virat Kohli is a freak."
–Michael Vaughan
37- "It's Joy to Watch Virat Kohli Bat. I Hope He Can Break My Records"
-Sachin Tendulkar
38- "I love watching Virat Kohli bat. I love his aggression and the serious passion that I used to have. He reminds me of myself."
– Viv Richards
39- "I have watched Sachin bat and I must say he (Kohli) seems to have the ability to bat like him."
– Ian Healy
40- "Even if they used a marble, Virat Kohli would still see it like a balloon."
–David Warner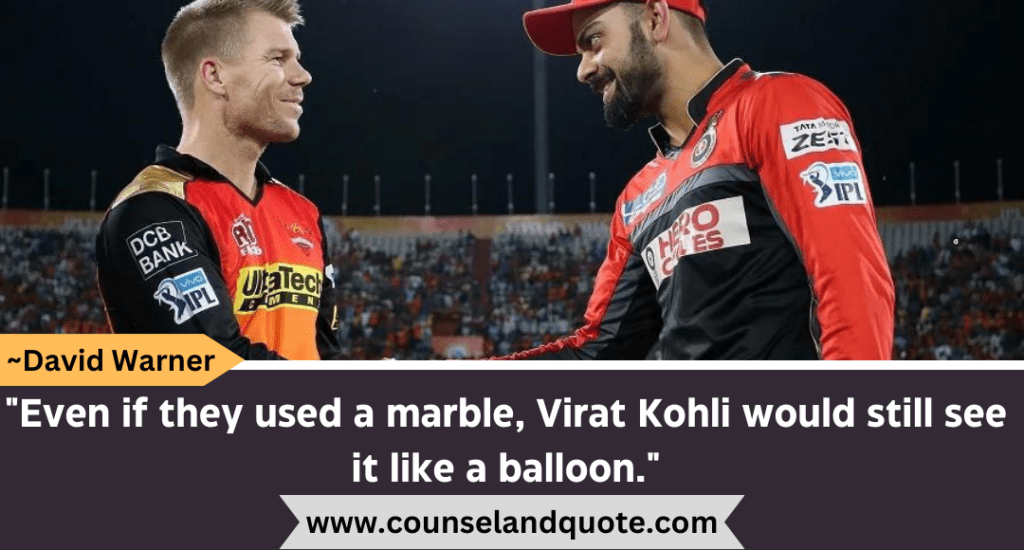 Virat Kohli Quotes
41- "There aren't too many batsmen in world cricket today, who love chasing and the burden of trying to overtake a big score. The more the pressure on Virat, the better he plays."
– Harbhajan Singh
42- "To become a good player, you need talent. To become a great player, you need an attitude like Kohli."
– Sunil Gavaskar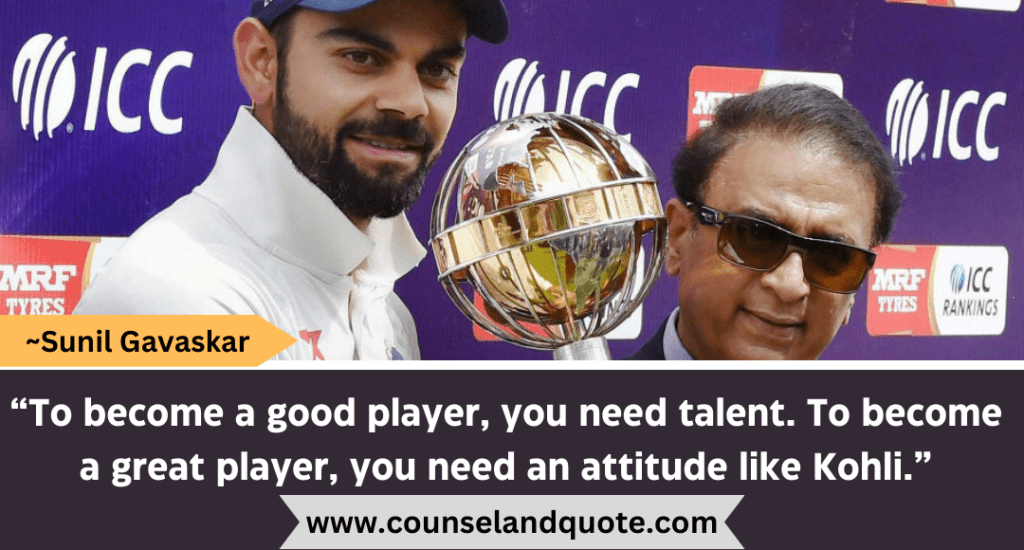 43- "The kind of form he's in, he picked this ball yesterday afternoon."
–Harsha Bhogle
44- "If I have to pick the best batsmen in world cricket right now, only 2 names come to my mind. One is AB de Villiers and the other is Virat Kohli."
– Nasir Hussain
45- "Virat Kohli Is The Best, And Has already reached a status where he is close to (being) a legend. So, I'm Very Happy For Him."
-MS Dhoni
46- "Watching Kohlit Bat reminds me of Tendulkar."
– Michael Clarke
47- "Virat is a rare talent. I was fortunate to be part of that process of seeing him grow and that gives me immense pleasure."
– Gary Kirsten
48- "Virat's success does not surprise you. His failures do."
– Sanjay Manjrekar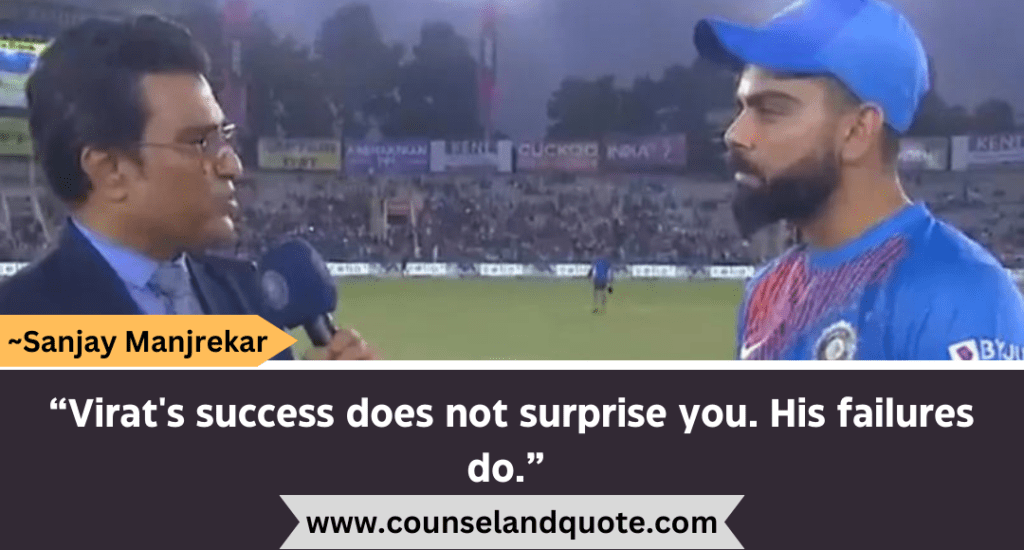 49- "There are players who are in form and there's Kohli who wins you matches again and again."
–Yuvraj Singh
Virat Kohli Inspirational Quotes
50- "I always dreamt of holding the bat and winning games for India. That was my inspiration to take up cricket."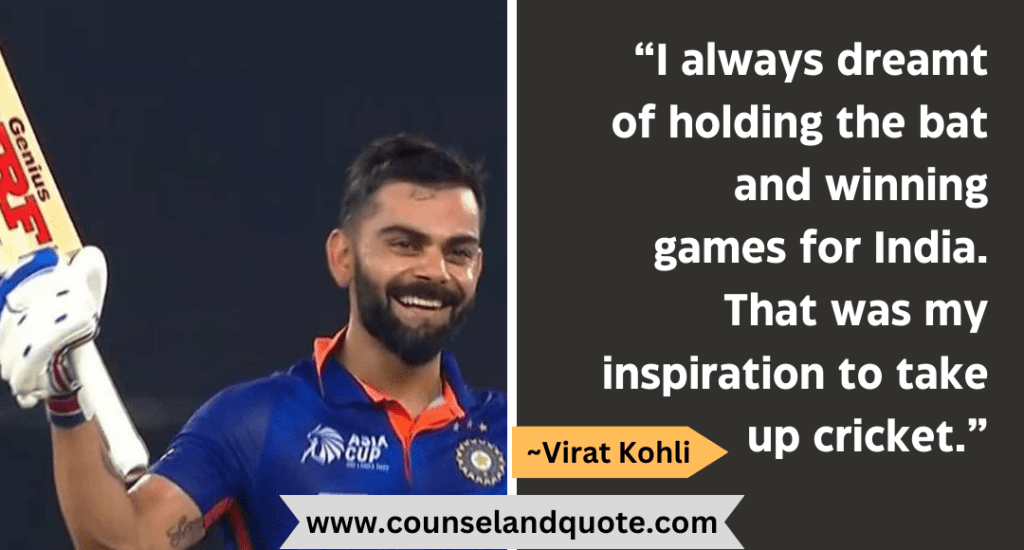 51- "Becoming an inspiration for kids is great. I want to inspire them to do whatever they want to."
52- "I get really motivated when I put on the Indian jersey. It is a responsibility, so I want to perform the best way I can."
53- "Good Punjabi music before a match pumps me up. It gives me a kick."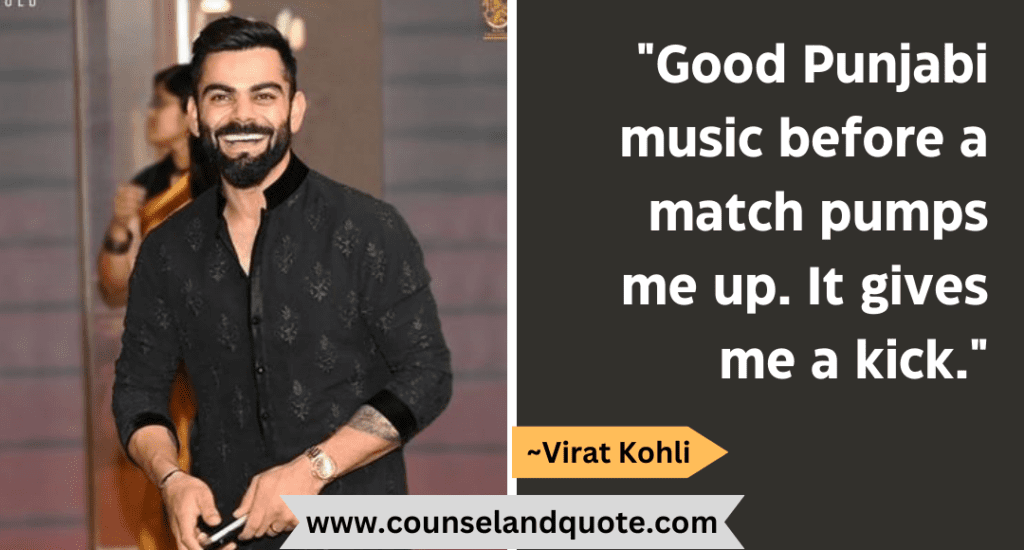 54- "On the field, you will be facing the ball alone. If you fail, you will be the one blamed. So you should be the one deciding for yourself."
55- "Music, for me, is vital. Punjabi, Bollywood, Sufi, RnB… I listen to it all. When I'm not listening to music, you will find me chatting with friends. Off the field, I just let my instincts take over. I certainly don't think about batting, or which bowlers I'm going to face."
56- "I love playing under pressure. In fact, if there's no pressure, then I'm not in the perfect zone."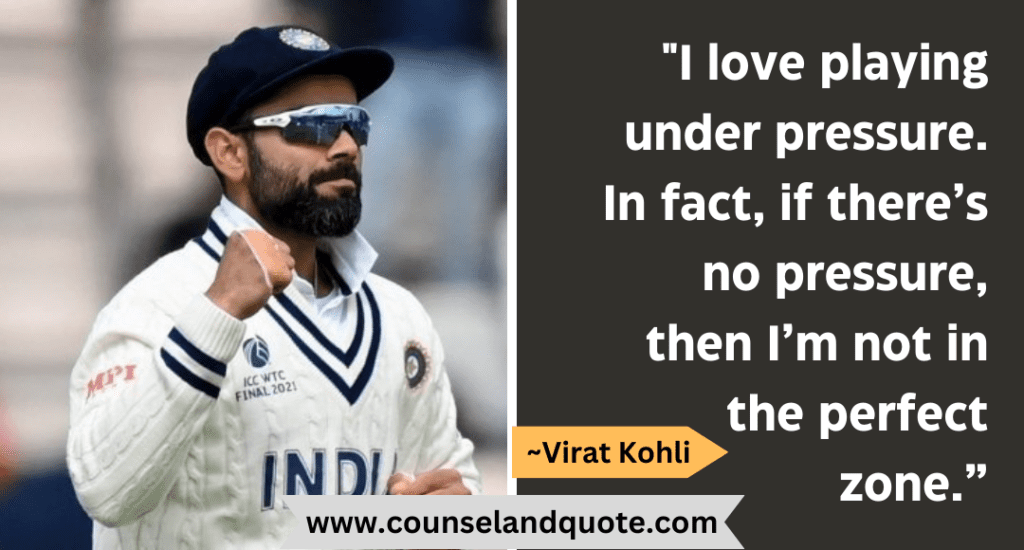 57- "Everyone loves a win in India. No one wants to lose a match. It is the cricketer who absorbs all the pressure."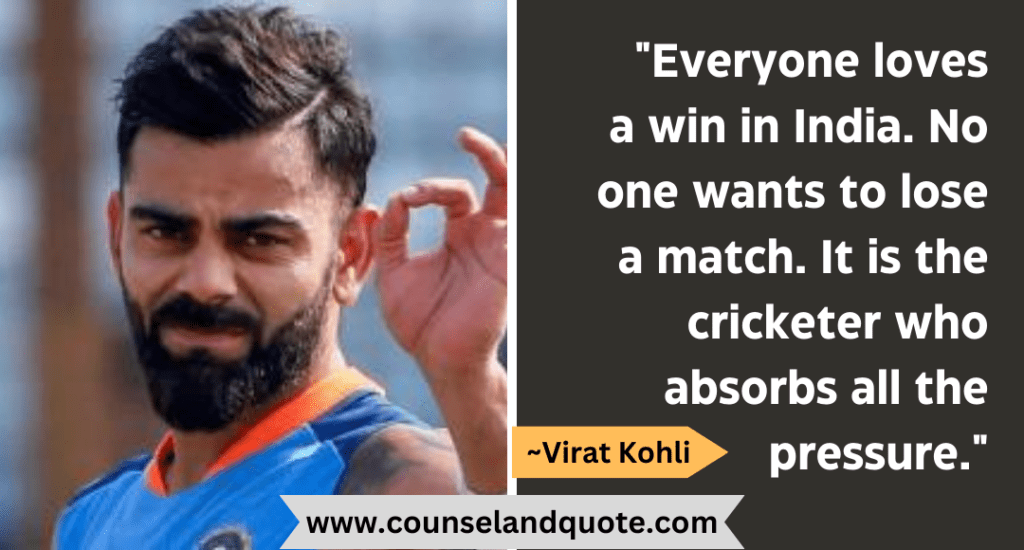 58- "I'm not comparing myself with anyone, but I am very confident about my captaincy, as I have already led India and in the IPL also. I have confidence I can bring out each player's ability fully and also give them a lot of confidence… I would like to stick to what I know best and what I have confidence in."
59- "I always had a sense of discipline in me. However, there was a time when I couldn't divide my time properly between off-field things and on-field assignments. The focus would be missing at times, and that would affect my preparation for matches. I managed to change that."
60- "I love wearing whatever is comfortable, and that could be something which was in trend years ago. So, I don't follow fashion."

61- "I wasn't sure of the exact mindset you should have when you go into a Test match. So I probably became too defensive when I played my first Test match. Short balls in one-day cricket, I have never thought of just defending."
Virat Kohli Quotes Wallpaper HD
62- "I should play and enjoy the game and inspires the next generation."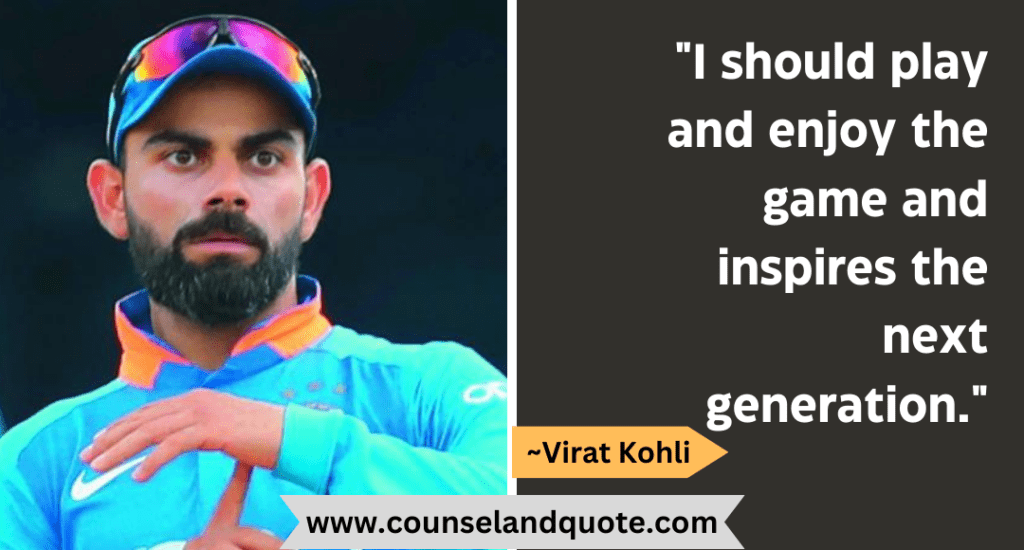 63- "I am pretty aware of my priorities and I really don't focus on things that are not as important to me as cricket."
64- "I do not abuse players. I talk to myself and I abuse myself. It's my way of letting off steam."
65- "In the game of cricket, a hero is a person who respects the game and does not corrupt the game."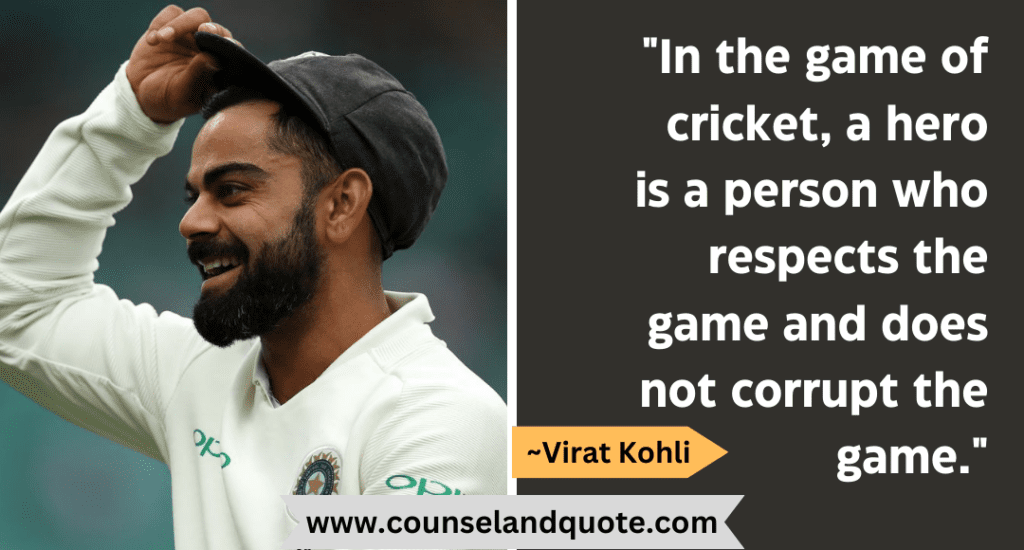 Virat Kohli Quotes On Success
66- "Self-belief and Hard Work will always earn you success. "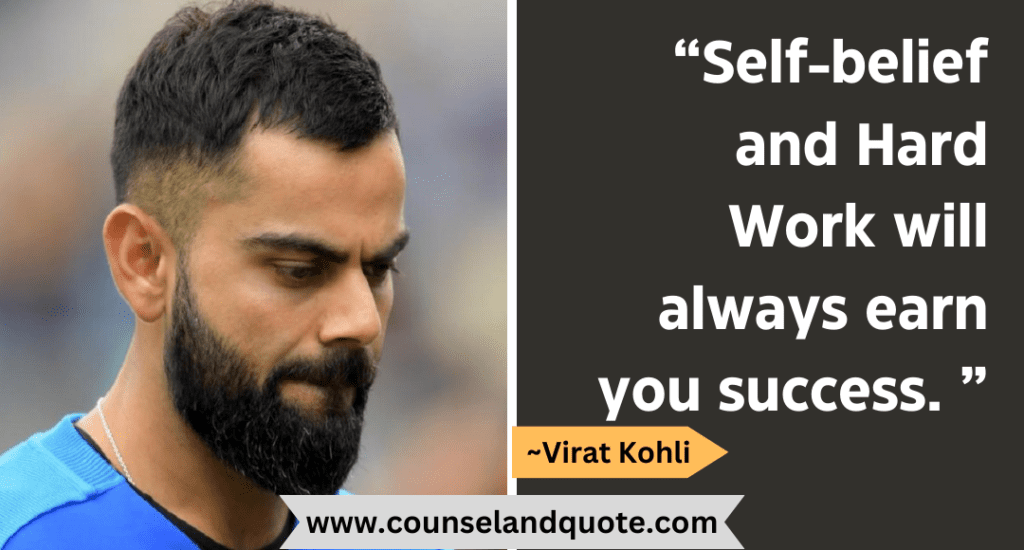 67- "There will be a few distractions, but if you can be true to yourself, you will be successful for sure."
68- "No cricket team in the world depends on one or two players. The team always plays to win."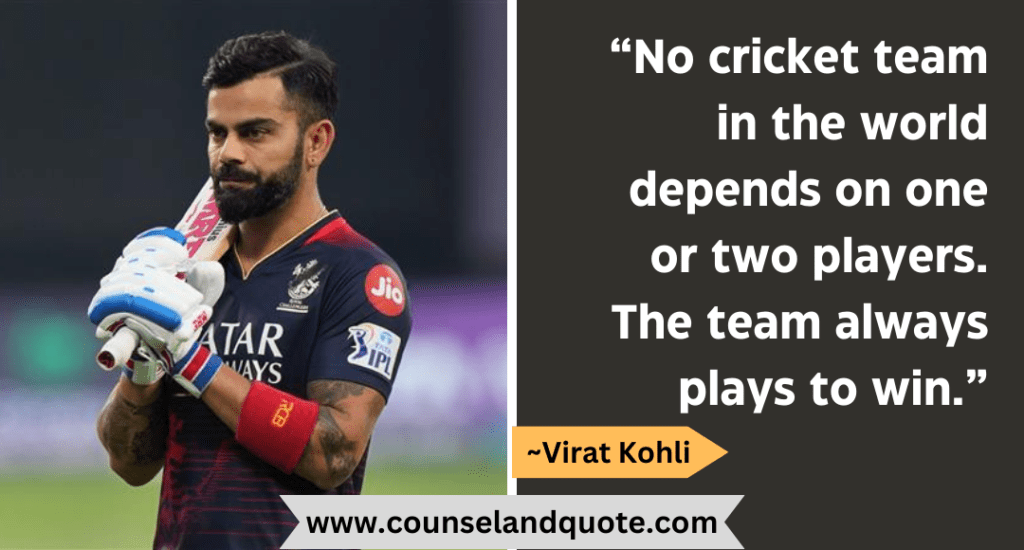 Virat Kohli Love Quotes
69- "The people you choose to have around you make all the difference."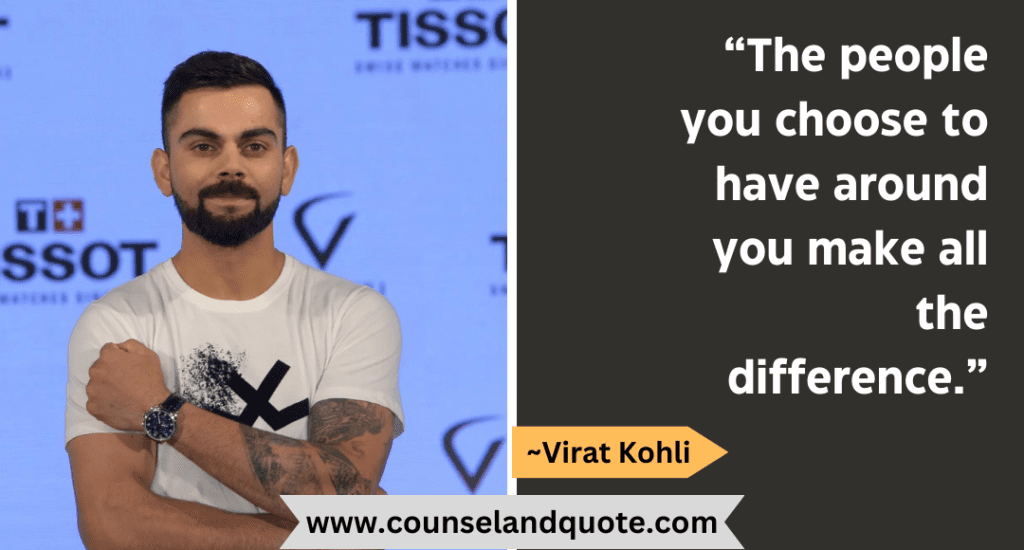 70- "My superhero has always been Tendulkar, and it will be Tendulkar for life. He is someone who has inspired me immensely. Just watching him play for India, I used to dream of winning games for India because he used to do it single-handedly."
Virat Kohli Aggressive Quotes
71- "I am a guy who likes to play with intensity. Once that is gone, I do not know what I am going to do on the field."
72- "Whatever I am, it's natural… I don't have to pretend to be aggressive, don't have to show the opposition that I am on the field. Being aggressive comes naturally to me, helps me perform."
73- "On the field, aggression can sometimes be a positive emotion. It boosts performance and can lift your game. But over the years, I have learnt that restrained aggression is a better animal. That way, you will conserve your energy and won't spend yourself quickly."
Virat Kohli Fitness Quotes
74- "When you are fit, you feel as if you can do anything."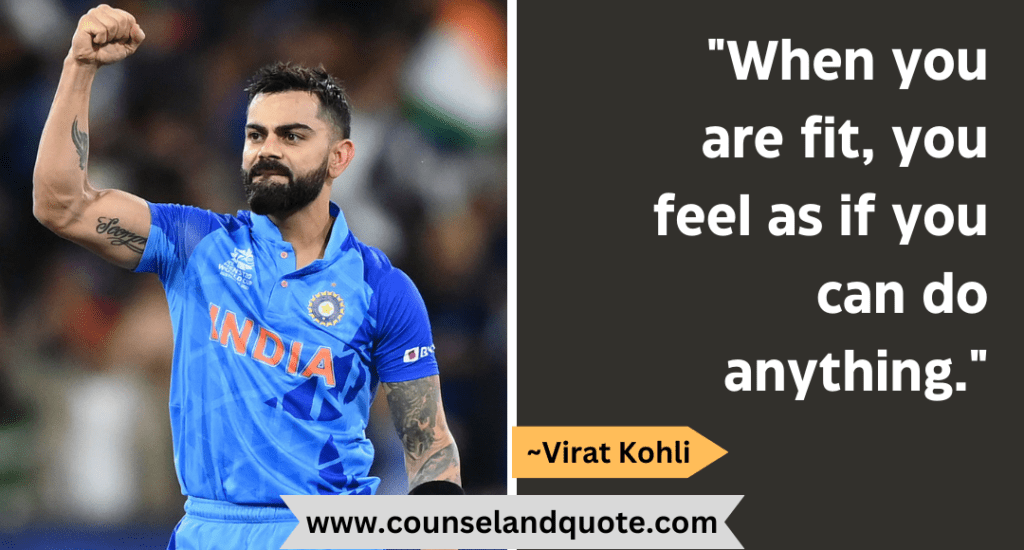 75- "A Fit body gives you confidence."
Virat Kohli Hard Work Quotes
76- "I keep telling myself 'Improve, improve from the previous match, previous shot. You can do it."
77- "In T20, you don't have time to get distracted – it's so quick, you have to run around in the field, and while batting, you don't actually think about anything else."
78- "Irrespective of whether you have a talent or not, one has to work hard. Just being talented doesn't mean anything. You can end up wasting it before you realize it."
79- "I don't think there is anything wrong with earning money from the sport you love. If you work hard and get benefits from it, there is no harm. The day you feel that you are not working hard and are only looking at the benefits, that's where the problem is."
Virat Kohli Positive Quotes
80- "If you can stay positive in a negative situation, you win."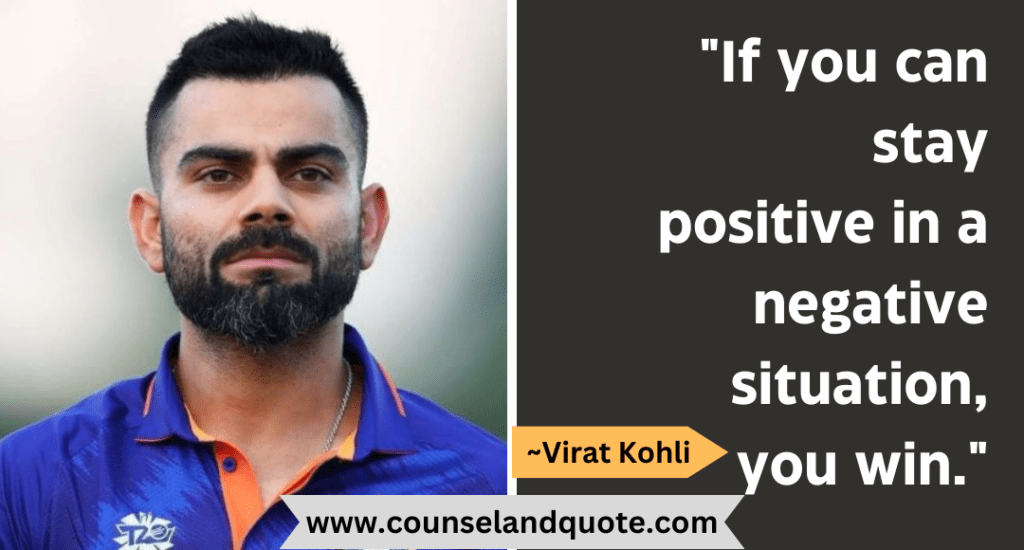 81- "There's nothing more impressive than a great attitude, which you can wear on your sleeve. But you have to remember the difference between being rude and being confident."
82- "I keep telling myself "Improve, Improve from the previous match, previous shot. You can do it."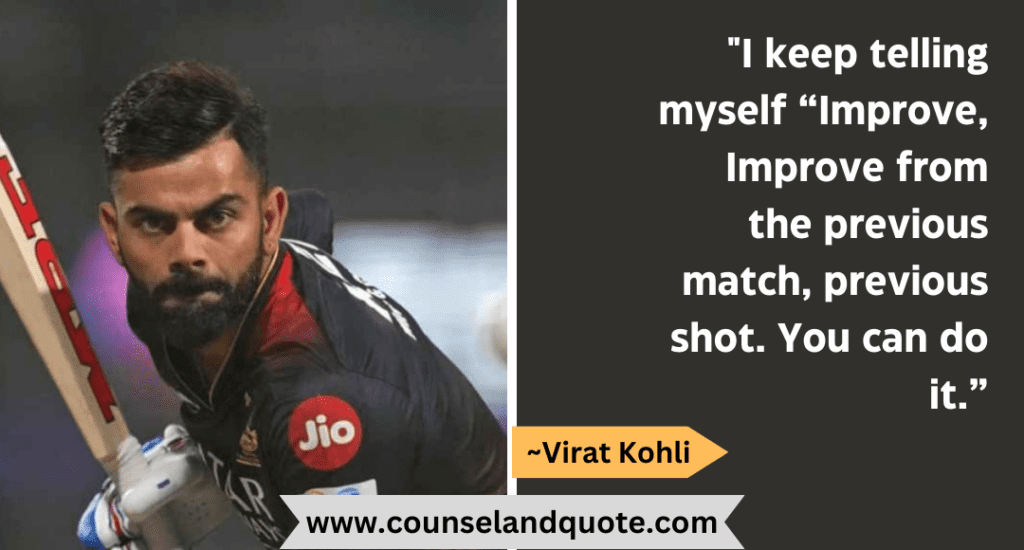 83- "It was a personal decision for me to stand and say that cricket is all I have in life, there's nothing I need to do other than cricket. If I want to achieve whatever I thought as a kid, I need to work hard and not let it go to waste."
84- "I don't really focus on these things – on what tags are given to me or what people think of me off the field – stuff like that. My main focus is always to do well on the field for the Indian cricket team. When people say good things about me off the field, I am more than happy to accept them."
Virat Kohli Funny Quotes
85- "Probably because I'm from a middle class family, I have that nature in me that I don't get too excited with big things."
86- "I believe that fairness creams protect the skin against the harsh effects of the sun."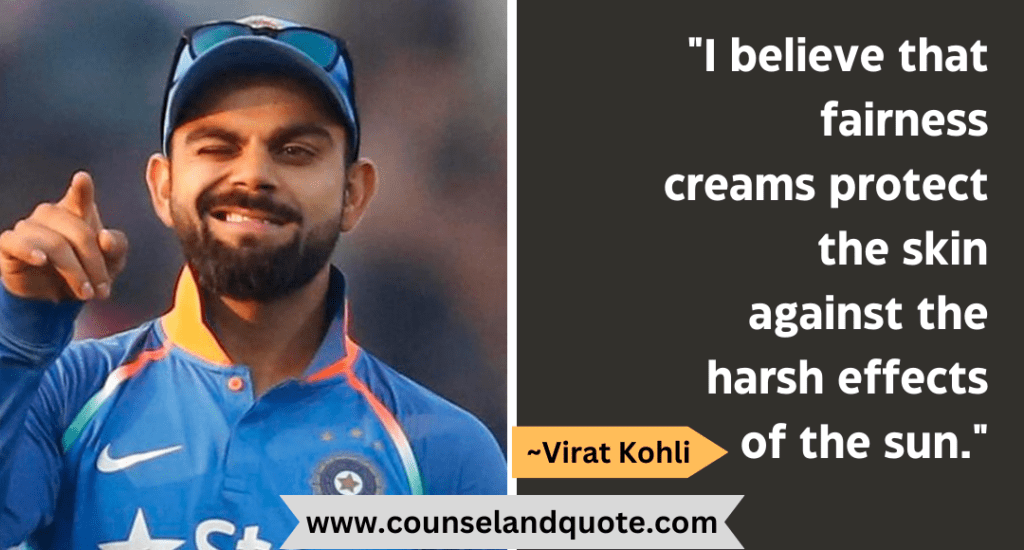 87- "It undoubtedly feels nice when you are being appreciated and you get complimented by girls. Who doesn't like that? Having said that, I don't take it as any pressure."
88- "During my school days, I was doing a play, and my costume fell on the stage. I really wish it didn't happen."
Struggle Virat Kohli Quotes
89- "Never at any point did I feel like missing a training session. I was very keen on improving as a cricketer and as an international player."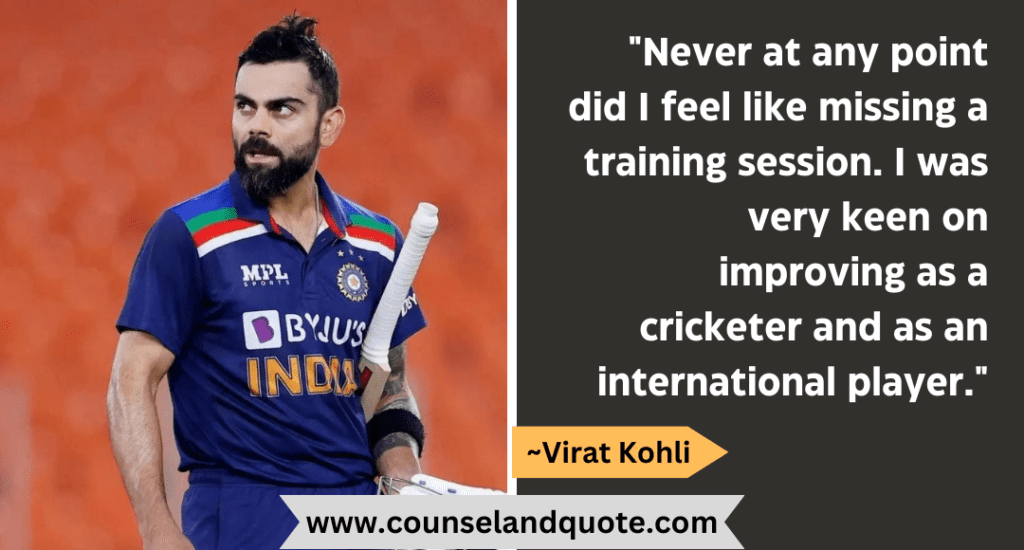 90- "A lot of people tell me a lot of things about my conduct, my game, my future… but I try to stay away from their words of wisdom. I don't let it distract me. On the field, you will be facing the ball alone. If you fail, you will be the only one to blame. So, you should be the one deciding for yourself."
91- "I love tattoos. And mine symbolise who I really am. I have a Samurai on my left arm. At a subconscious level, I connect to this warrior and model myself on his discipline, skills and honour. There is also a tribal tattoo and a Chinese symbol of faith. I have seen a lot of people getting tattoos just because it's a trend."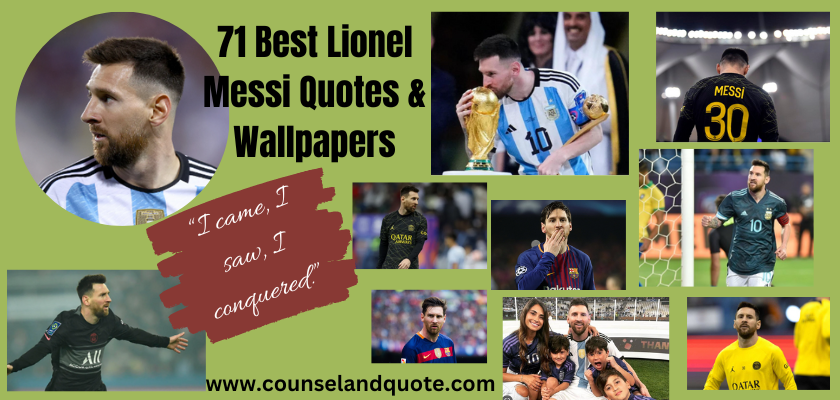 Conclusion
Hope you have enjoyed Virat Kohli Inspirational Quotes.
We would love to hear your favorite Virat Kohli Quotes below in the comments.
Also, do share this piece with Virat's fans, I can bet you will make their day.
We are always open to hearing your suggestions to up our work.
Spread the word and help the world!
Thank You!