13 Things Mentally Strong People Don't Do Summary is a gist analysis of Amy Morin's best book work.
This 13 Things Mentally Strong People Don't Do Book Summary by Amy Morin teaches us some valuable lessons.
These are vital for our lives.
This book is the offshoot of a devastating pain and trauma in her life. She suffered three sudden losses including her mother, husband and father-in-law in a short period. She was only 25 then.
The concussion was huge and overcoming them was never easy.
Her psychotherapist mindset and 13 principles helped her come back to the mainstream of life.
[Also Read: Carol Dweck Revisits the Growth Mindset: Free Mindset Book PDF]
13 Things Mentally Strong People Don't Do Summary by Amy Morin
13 Things Mentally Strong People Don't Do Summary by Amy Morin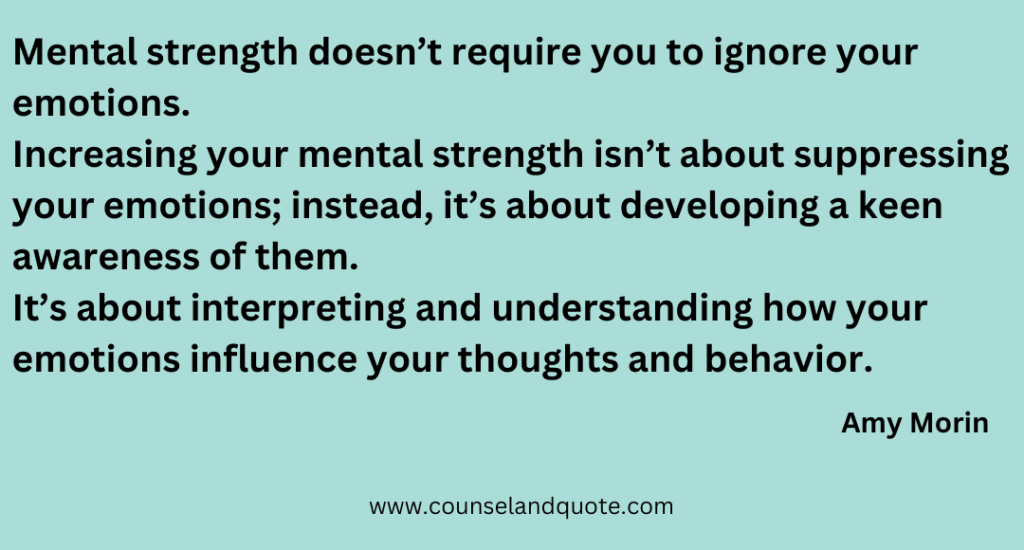 Amy Morin says in her book 13 Things Mentally Strong People Don't Do,' Your mental health and mental strength are two different things.
Similarly, your physical health and physical strength are two different things.
She says your strength represents your tenacity and toughness. On the other hand, your health is an overall condition of your psychological, emotional and physical system. They complement each other.
13 Things Mentally Strong People Don't Do Summary reflects the central idea of the book.
She has given 13 Rules in her book. These rules keep us mentally strong and save us from making mistakes. She writes in the book about how mentally strong people think and act.
She says in an interview that if we control these three aspects of our lives then we will be able to take hold of these 13 rules that mentally strong people don't do.
The book's idea is distilled in cultivating 3 habits. All 13 principles revolve around these 3 habits.
[Also Read: Robert Green Book- Mastery Book Summary & Free PDF to Download the Book]
Habit 1- Mentally Strong People Don't Make Ungrounded Beliefs About the World & People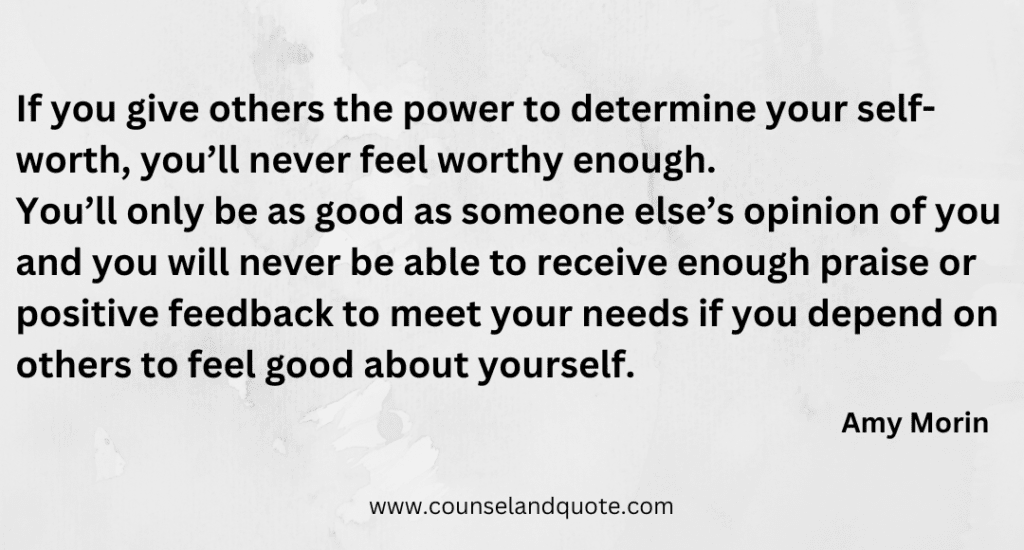 Amy says in one of her 13 rules, mentally strong people don't think the world owes them anything.
Amy says it is not the responsibility of the world to serve you.
Mentally strong people take responsibility.
They know if something is wrong in their life, then it is not because of others.
If their performance in business or services is not up to the mark, then they think they are wrong somewhere.
They try to evaluate and improve themselves continuously. They don't hold others accountable for their failures.
All mentally strong people think positively in challenges. This mental state gives them energy and enthusiasm. They move ahead and progress in life.
On the other hand, those people who are mentally weak think that time is not in their favour, circumstances are not supporting them, people are not friendly and no one is trustworthy.
Their focus is always on other people and the external environment. They rely on external factors and lose focus on themselves. They derail the journey of their lives. They get frustrated easily and lose the momentum.
Amy Morin says in the book even though you are the most intelligent person or suffered the hardest times in life, it doesn't give you any guarantee that everything will be okay in life.
She says never ask this question to yourself- Why did this happen to me?
It is a misleading and depleting question. This question contains a complaint against destiny.
Think for a moment, there are many people around who are competent and hardworking but facing difficulties in life. Many innocent people are stranded in war-torn countries.
There are many intelligent people around who are devoid of basic education and amenities.
Amy says when you look at them, then it will shift your mental perspective.
You will not be complaining any more. You will think about your contribution in this world, in this life, in your life, in their life.
Always think about serving others
Mentally strong people help others. They excel in serving people, society and country.
Think about helping others. Serve people, you will feel better. Whenever you have pestering thoughts about your circumstances, think about those people who are having painful times.
It will shift your mental focus and you will understand many people are living in worse conditions. You will feel gratitude and thank God for whatever you have.
Help people, serve society and country. You will feel satisfied and happier. Don't grudge, only grin.
[Also Read: How God Changes your Brain Book Summary & Download Free PDF Book]
Habit 2- Know your Area of Influence and Only Work Within Them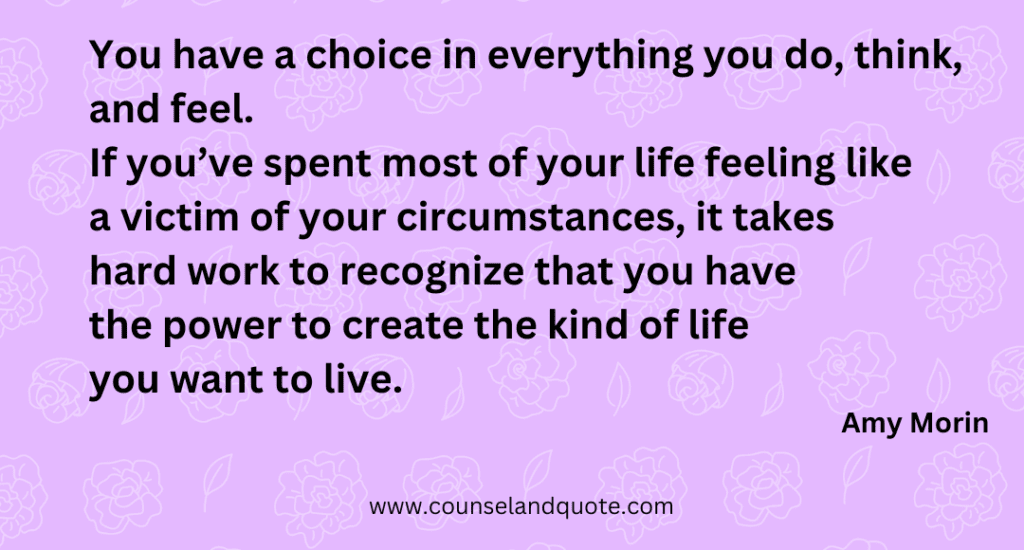 Amy Morin says all mentally strong people know their area of competency. They know their area of influence. They know what they can control and change. They know where they have to spend their energy.
They serve their strength to those things which they are capable of. Thus, they make an impact in whatever they do. They are not stuck in absurd things.
They smoothly lead their life. They are optimistic people. They are happy, satisfied, and high performers.
But if you are thinking about all the events and not focused on things you can control then you will remain dissatisfied and disturbed.
You will become pessimistic and fearful. You will not take wholehearted actions and bog down your progress.
Amy Morin cites the example of Heather Von St. James. When she came to know about her cancer disease, her toddler daughter was only 3 years old.
It took one year of pangs. The whole year finished in recovering from surgery, chemotherapy and other disease-related treatments. She was so anxious for her daughter.
Heather was fearful that cancer could return any time and her child would become motherless. These negative thoughts destroyed her mentally and physically.
She was so devastated by her plight.
One day she wrote down everything on a piece of paper, all her grievances, all her pangs, all her predicaments.
Then burnt the paper. This burning of paper gave her feelings that all her sufferings are also burnt down. She felt relieved and relaxed. She had annihilated all those feelings and thoughts which she had no control of.
Cancer was there but anxiety and fear were not there any more. She got the courage to fight the disease.
Now, she was not a sufferer, she was a liberator.
She started serving other cancer patients and forgot about her illness. Her positive mindset improved her physical and mental state.
Now she is perfectly alright and helping many patients. She runs a foundation for cancer patients to help them mentally and financially. She is a role model for many.
You are your best judge. You know what you can control and can't control.
Work on those things which you can control, and don't worry about what you can't control.
All mentally strong people know their area of influence, and what they can control and change.
Mentally strong people aren't upset about what they can't control and what is out of their sphere of activity.
[Also Read: 12 Brain Rules by John Medina & Download the Brain Rules Book PDF Free]
Habit 3- Mentally Strong People Don't Repeat the Same Mistakes Everytime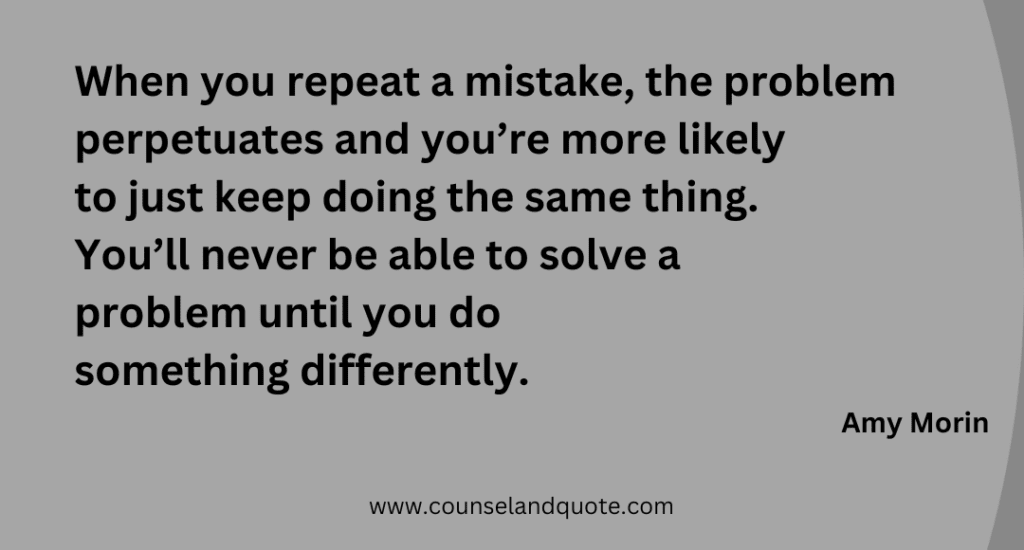 Amy Morin says if you fall, then it means that you have to get up and not give up. It is how mentally strong people think.
They try to know why they fell in the first place so that not commit the same mistake again. It is a good habit to learn from them.
Mentally strong people don't hide their mistakes and they keep on adjusting and bettering in life.
Amy says making mistakes is not the problem. But, making the same mistakes and not learning from them is the problem. She gives a solution to check and rectify your mistakes.
She says to look at the triggers that are making you act in a certain way and check your habits and beliefs. These things have the address of your mistakes.
Modify your beliefs, actions and behaviours accordingly so that you don't repeat them.
Morin says in the book, to attach your every thought and action with your life-long purpose. You will always be focused and directed.
These three habits of mentally strong people incorporate those 13 things mentally strong people don't do. By internalizing them you become mentally strong, successful and happy.
The 13 Things Mentally Strong People Don't Do Summary of the book is to understand the concepts and live them.
13 Things Mentally Strong People Don't Do- List by Amy Morin
1- They don't waste time feeling sorry for themselves
2- They don't give away their power
3- They don't shy away from change
4- They don't focus on things they can't control
5- They don't worry about pleasing everyone
6- They don't fear taking calculated risks
7- They don't dwell on the past
8- They don't make the same mistakes over and over
9- They don't resent other people's success
10- They don't give up after the first failure
11- They don't fear alone time
12- They don't feel the world owes them anything
13- They don't expect immediate results
Download Free PDF 13 Things Mentally Strong People Don't Do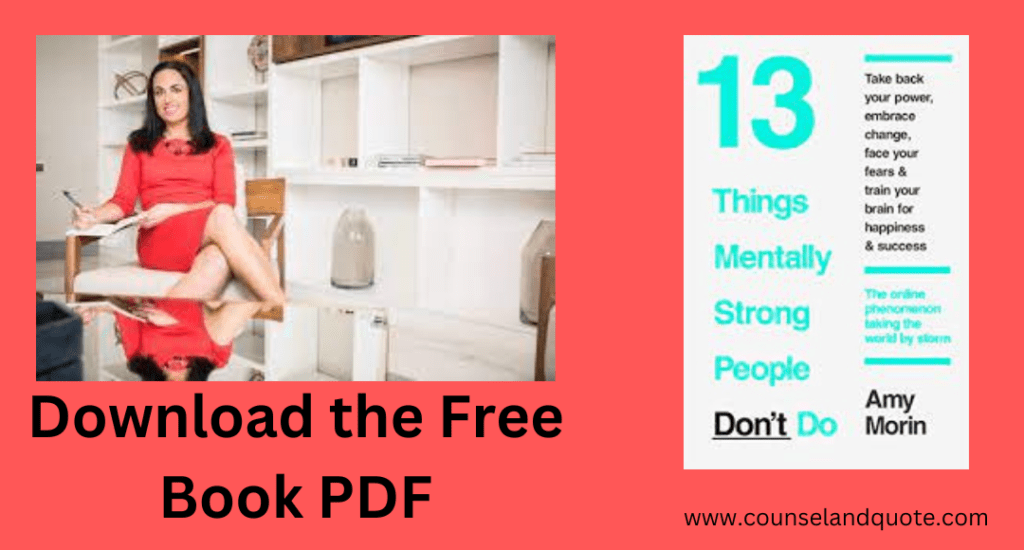 Below is the free pdf of the book 13 Things Mentally Strong People Don't Do.
The details of the book are given. If you want to purchase the book then the Amazon link is shared for you.
| | |
| --- | --- |
| Book Name | 13 Things Mentally Strong People Don't Do |
| Author | Amy Morin |
| Language | English |
| Publication | William Morrow Paperbacks |
| Pages | 288 |
| Paperback Book Price | $11.51 |
| Amazon Link of the Book | Get the Book on Amazon.com |
Click the download button to get the PDF of the book.
The book is given here. It is the latest and unabridged version of the book.
Conclusion
"Learning from each mistake requires self-awareness and humility, but it can be one of the biggest keys to reaching your full potential." Amy Morin
"Each time you avoid saying no to something you really don't want, you give away your power." Amy Morin
"Developing mental strength is about improving your ability to regulate your emotions, manage your thoughts, and behave in a positive manner, despite your circumstances." Amy Morin
The entire book guides us for building mental muscles. When we are mentally strong, we do better things. We progress and gain success.
We become valuable and emit positive vibes. People who are associated with us also improve.
Please share Amy Morin's thoughts with your relatives and friends. It can make their life better. Your this small service can improve their quality of life.
May God Bless You. Amen.
Thank you.