O my spouse, please listen 
I am so depressed and lonely in my marriage.
O my spouse, please listen, 
I am losing hope, as happened in my last miscarriage. 
O my spouse, please listen
I am dying bit by bit is the underlying message.
O my spouse, please listen, 
Come back to me before our marriage becomes wreckage.
                                                                                           Sajid Mumtaz
I Am So Depressed And Lonely In My Marriage
O my spouse, I am so depressed and lonely in my marriage, only because I am suffering in silence in our relationship. I want to tell you all these things only because I still love you. I am worried day in and day out only because we had a glorious past together.
Why The Spouse Is depressed And Lonely
These are the emotions one of my friends shared with me in their four counselling sessions in the last 15 days. 
Every counselling session improved their relationships, and that encouraged me to write this article for you.
They loved each other, married and lived together happily for two years. They used to live happy and lovely life. Gradually one of the spouses felt lonely and unheard. 
They talked together about the issues many times without any solution, and every communication led them towards more apathy.
One of the spouses felt lonely and depressed and claimed that 
my spouse doesn't understand me

my spouse doesn't listen to me

my spouse is inattentive to me

my spouse doesn't show any care for me

whenever I say something, my spouse blames me and throws a solution at me and walks away

my spouse doesn't show love to me

my spouse promises that 'next time no misunderstanding' but breaks it every time
we now very seldom go out and socialize
our intimacy is dying

I feel a sense of mistrust in my marriage

my spouse behaves more like an independent individual that doesn't need me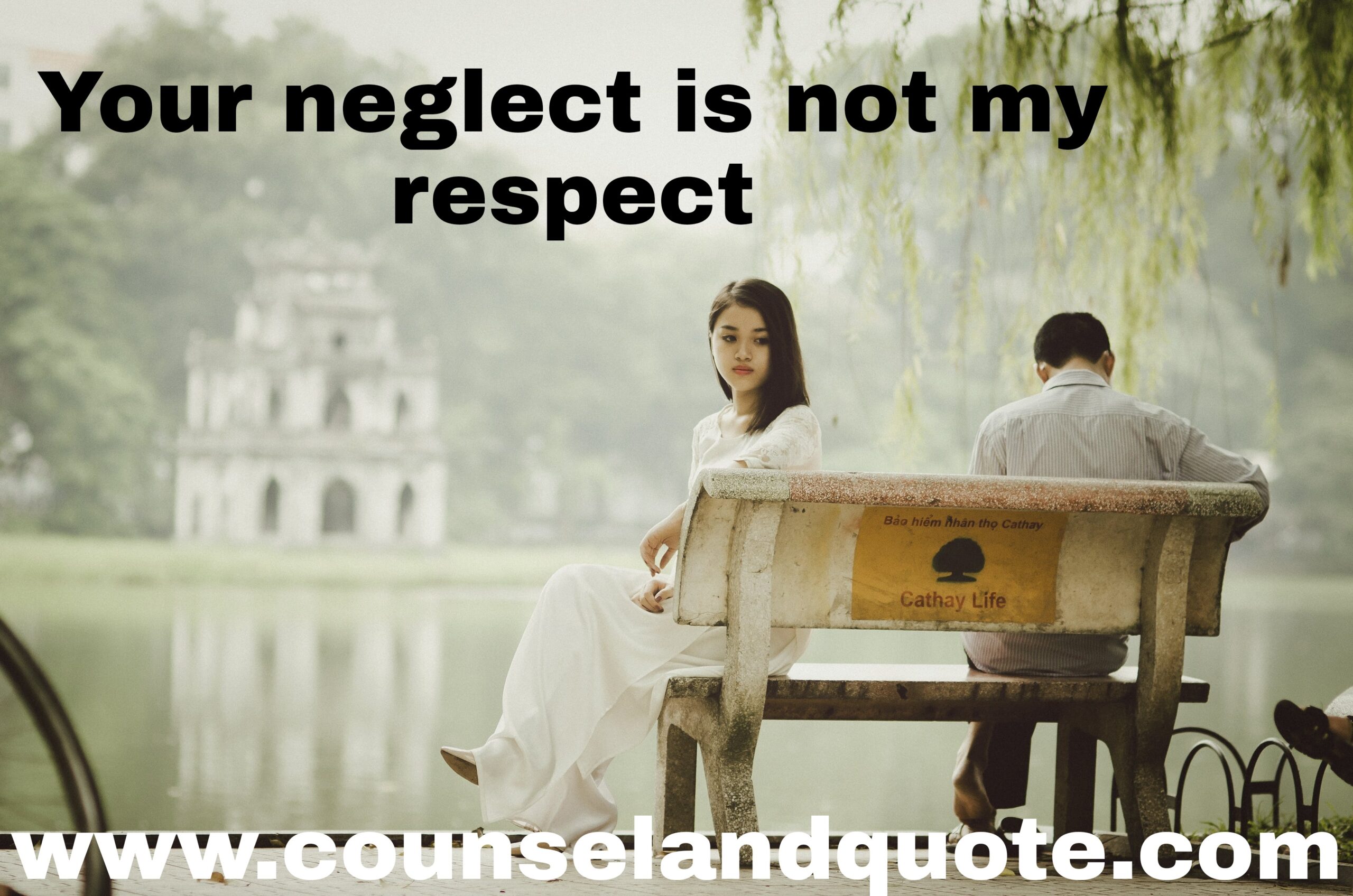 These all are WITHDRAWL Symptoms From A Marriage.
It's possible to become complacent with your spouse and take each other for granted after marriage. 
As you are together every day and every moment, a routine and boredom creep into your life.
This behaviour lays the foundation of unconcern and negligence. 
It is the fundamental reason behind the depression and loneliness of either spouse.
You miss the thrill and scintillation of love and marriage. 
This feeling gains exponential growth when you see that other people in your circle are enjoying a happy married life and you are always at tenterhooks. Your trivial issues become magnified.
These are the common problems of most marriages.
These are day-to-day issues in marriages but take a monstrous look when fed with doubtfulness and misunderstandings.
Many Spouses And Marriages Pass-Through The Same Phase
I am writing this article for two tribes. 
A) Those couples who are passing through the same feelings in their marriages. 
B) Those partners and spouses who don't want to lead an unhappy married life.
If it saves one spouse from a broken relationship or saves a marriage from divorce, it has served more than its purpose.
This piece of advice is to educate you and teach each spouse how to live with each other to iron out their differences.
How Not To Be Depressed And Lonely In Your Marriage
Depression and loneliness are feelings. These are your emotions. When you are depressed and lonely in your marriage, it means that you are emotionally starved. It further means that you miss the happiness and togetherness of your spouse.
Read these points one at a time, analyze them, think about them, assimilate the gist, relate it to your case, and get the message home in your personal life. 
It will make a change in your married life, as these solutions come from modern human behaviour research and psychological theories.
90% of spouses face at least any one of them or more, of the reason behind their differences and frustrations. 
1- O My Spouse, Please Listen Also With Your Eyes
We live in a digital world. Everything around us is technology-based. Look around, and you will get a feel of it.
We are so glued to our devices that several times we forget our surroundings. 
More technologies have somewhat stolen our human touch, and we become a little callous and insensitive towards our near and dear ones.
When your spouse is talking to you and you are busy watching T.V. or looking at your mobile or replying with nods of your head or continuing operating your mobile or watching T.V. then they get frustrated talking to you.
This attitude also conveys an overt message that you are not interested in the conversation. It happens to be a big turn-off for your spouse.
Your spouse construes it as you are not interested in their interactions, and you don't want to be involved in their affairs. 
Your spouse sees it as a threat to their long-lasting happy married life because they feel unheard and neglected in their marriage.
This attitude lays the foundation of 'LONELINESS IN YOUR PRESENCE' for your spouse. They feel frustrated and depressed.
To prevent this unhealthy environment in your married life, make it a rule that- YOU WILL ALWAYS LISTEN TO YOUR SPOUSE WITH YOUR EARS AND YOUR EYES.  
Communication and children are the bridge to connect spouses for a lifetime. Don't neglect them. Your negligence may lead you to a broken relationship or permanent depression and loneliness for your spouse.
When you listen to them properly, they share their thoughts with you they feel satisfied and happy. 
Listen to your spouse with your ears and your eyes, as it keeps your married life happy. 
Their happiness is your peace, their satisfaction is your prosperity, their smile is your laughter, and their chirping is your singing.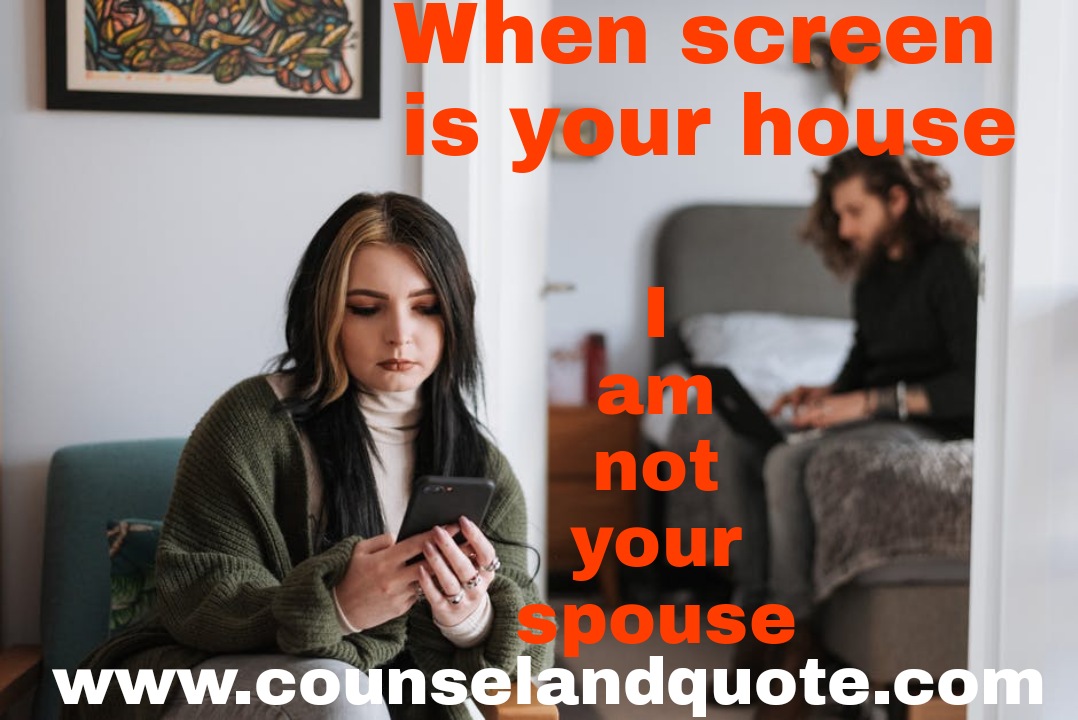 2- O My Spouse, I Am Not Your Project
It is another very unusual practice among spouses that begets a suffocating environment in married life.
When you begin parenting your spouse, correcting them and teaching them at every possible place and situation then you swap your position with a Boss or Instructor.
When you become a boss, your spouse becomes an employee. That relationship is not good for your married life.
The warmth of the relationship sinks and the transaction of the relationship begins. You begin to take responsibilities as assignments. 
Responsibilities have accountabilities, assignments have finish lines. Assignments focus on task completion. Responsibilities focus on commitment. 
How do you discharge your acts together? Do you take it as an assignment or as a responsibility? Both have different repercussions. 
Your spouse ceases to be a spouse and becomes your PROJECT, which you have to finish flawlessly in time.
With your Project, your Reputation is attached, and not your Affection. 
This mindset shifts your priorities with your spouse and their every act becomes a matter of reputation for you and not of any affection.
You look at the flawlessness in your spouse and carefully try to craft and chisel out the so-called inadequacies in your project.
What is good for your project is bad for your marriage. 
Your project is your Object. In an Object, USEFULNESS is seen, and you start searching for the usefulness of your spouse.  
Your spouse is not a superhuman, so chances are high that you may find them 70% useful or 80% useful or 90% useful, but this figure is nowhere near perfection.
It gives you a feeling of incompletion in your spouse and you become either nonchalant or inhuman towards your spouse. 
These things are so subtle that you do them, thinking you are helping your spouse to make them better. You remain confused that why your spouse is so repulsive to changes. The harder you try to correct them, the more resilient they become towards change.
They become depressed and feel lonely even in your presence.
Your spouse is not against you, your spouse is against your methods.
Don't treat your spouses as an object, they are Humans.
In an object, USEFULNESS is seen. In a Human, GOODNESS is seen.
See the goodness in your spouse, admire them and love them. Your spouse will feel pride and confidence in your presence. Your love will grow, and your marriage will last.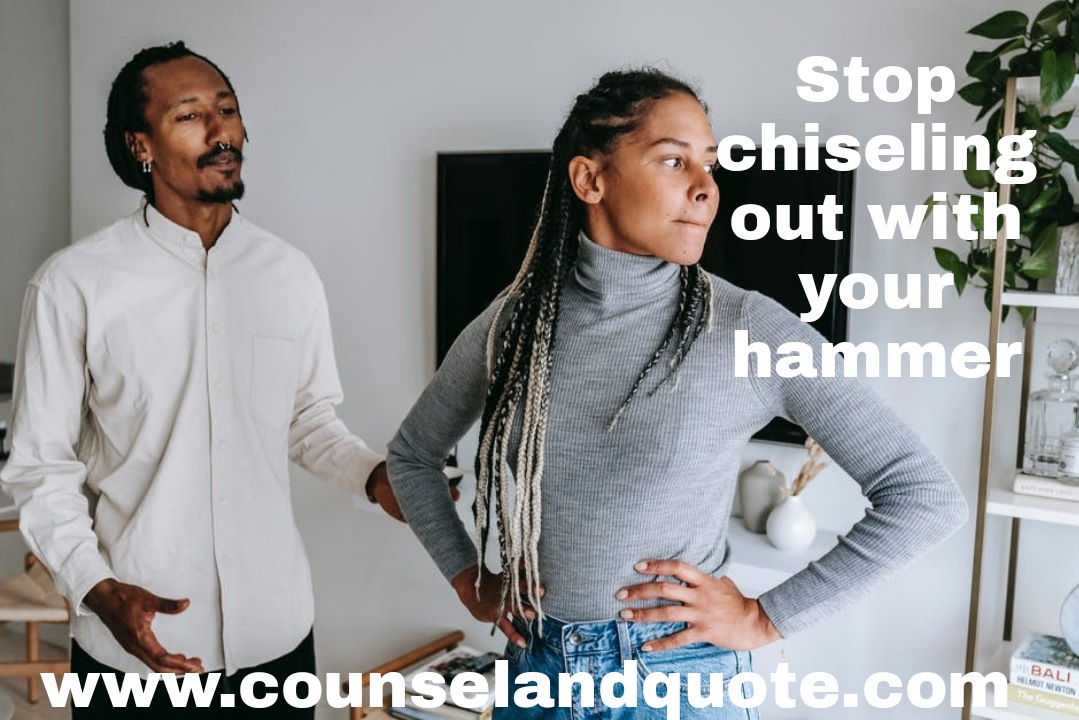 3- O My Spouse, I Need Empathy, You Give Solutions 
It is the third blatant depressing point for spouses. 
Often dealing with an issue between them, they give priority to a solution over emotion.
In a very close-knit relationship like husband and wife, empathizing with the spouse is more important than throwing a solution at their face.
Spouses overlook this fact and go for solving problems every time. Solutions are also important but that must not come at the cost of sacrificing the intimacy of a spousal relationship.
Many times your spouse shares something with you just to relieve their heart. 
They feel heaviness and want to be relieved in your proximity. They only want to share, care, hug, and empathize. This practice is very common among loving spouses. 
They want your presence only. They energize and recharge your cosiness, blush, and glow in your nearness. 
They don't die for solutions they live for emotions.
When you neglect their feeling, then you also neglect your presence in their life. 
Your spouse withers in your solution mindset, and you dither in their emotional frigidity.
Your spouse moves into a dark tunnel of depression and loneliness and loses all hope in their marriage.
It is a primary cause of worry among couples. 
The problem with only a solution-oriented mindset in a spousal relationship is that – solutions are governed by Rules. 
Rules understand the language of RIGHT or WRONG. 
You become more rule-oriented in your married life and judge things as only right and wrong. Your spouse swings between right and wrong based on their actions. 
When you continuously judge your spouse as right or wrong based on their actions, then they become more like a mathematical problem that a formula is required to crack.
Your spouse becomes more mechanical, and you become less human.
This mindset and thought process tear the very fabric of intimacy and bonding.
Your spouse needs you. There are so many people around who can provide them with the solutions, but you are the only person who they can confide in, console, seek approval and acceptance, trust, and find rest. 
Don't try to be very precise, o my spouse, please only empathize.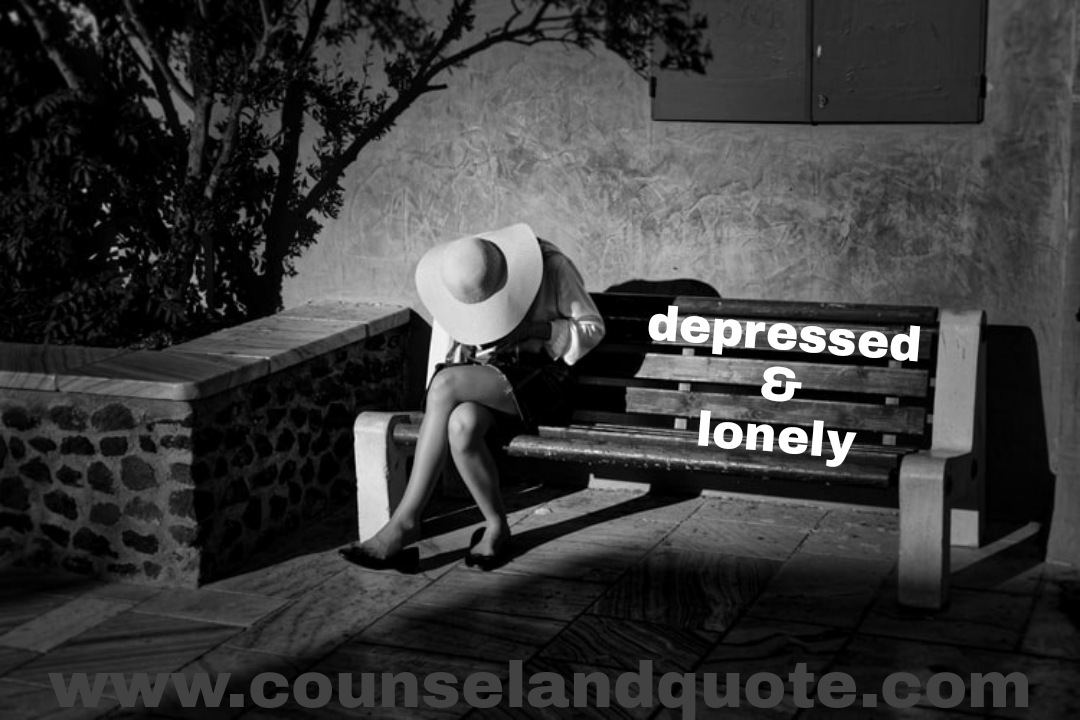 4- O My Spouse, Marriage Is Not A Routine
Taking marriage as a routine means you are in a relationship where there are no surprises, adventures, thrills, or excitement.
A happy marriage is much much more than that. 
How can you bind your intimacy to a timetable?
When your spouse starts photocopying the same experiences day after day, they get bored.
They become dull and desultory, in their married life. They take it as their fate and lose hope in you. 
They become reticent and don't share much with you. You are busy in your rut of routine and overlook the changes in your spouse.
Your spouse becomes depressed and feels lonely even in your company.
Let's stop for a moment and evaluate- is your marriage going the same way? 
When did you spend quality time together last time, laughed madly, teased playfully, blabbered incessantly, dressed nicely, prayed quietly, and enjoyed endlessly? 
You know the answer better.
When you talk to your spouse, share things, dine together, make future programmes, and love them, then you both get more involved with each other.
It opens a new conversation in your married life. New conversations lead you towards new experiences, new ways, new ideas, new lifestyles, new thoughts, new actions, and new results.
These new feelings maintain the energy and enthusiasm in your married life. 
Your spouse is waiting for these new experiences with you.
Don't give them depression and loneliness, give them titillation and happiness.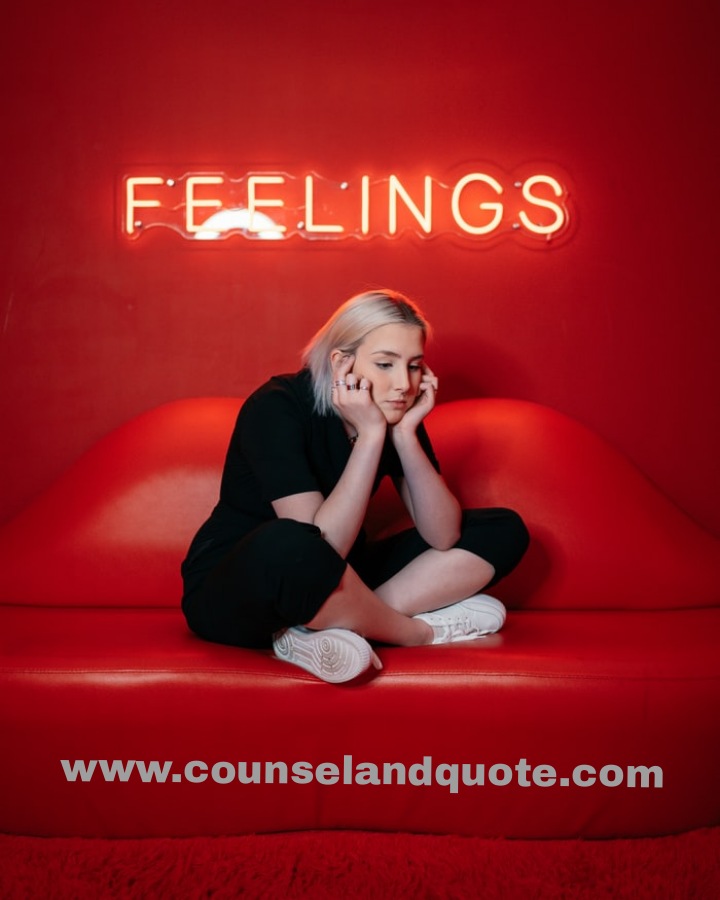 5- O My Spouse, You Are Not Independent
When you feel Independent then you behave like- I am enough, I can do, I can choose, I am sufficient, I am capable enough, I know, etc. 
These are individualistic feelings and when you impose them on your married life then you become a Dictator of your marriage. Your role was to be a Decorator of your marriage.
Rather than guiding your marriage and spouse, you start ruling your marriage and spouse. You behave like a king, and your spouse relegates to the position of a slave.
They are only to follow orders.
We all sometimes sway in this direction and behave like a master in our married life. 
It starts in patches and is not checked in time, then developed into full-fledged 24*7 activity. 
It gives wind to an abusive relationship and converts into bullying. 
You become vulnerable to your spouse. 
Your spouse would not sustain this continuous onslaught and buckle under pressure.
Their frustration mounts and they become inwardly violent and outwardly silent. 
They become depressed, lonely, hopeless, and lifeless. 
They are like living dead.
Happy & Lovely married life is built, when spouses are INTERDEPENDENT.
When you are interdependent then you think that- we can do it, you are capable, we will succeed, we are sufficient, we will choose, etc.
Here, you both live as one unit.
You both collaborate, cooperate, create, and climax.
Conclusion
This post gives you an insight of spousal relationships. You both are one as a unit. You have different identities not for separation but for union.
You and your spouse complement and greet each other. Interdependence strengthens your love and relationship. It gives you freedom in each other.
These are 5 very important rules for spouses. Sow them in your married life and reap the harvest of happiness and love.
Thank You.